1st of all, No one is claiming there is or is not any other major cities
2nd, We are all aware that it has been stated that Los Santos is the only major city (Dec. Game Informer)
This is, rather, a topic for debate as to whether or not another city could possibly exist in this "largest map ever" from R*.
We know they've said one thing & done another, We know they can surprise the sh*t out of us.
& quite frankly I've yet to see on here a decent debate about why another city can/can't or should/shouldn't exist.
So let this thread be it.
Here's some points, be they good or bad, all open for discussion. Feel free to add to them.
Let's go:
A) Jimmy's forearm tattoo:
"edifica adversario tuo aureum pons ad receptum trans" = Build your opponent a golden bridge to retreat across
golden bridge = Golden Gate Bridge reference?
B) Trains, they need somewhere to go. Pointless to go in circles w/o major stops. Granted they'll probably stop at
small towns & what not, but realisticly they'd be hitting major cities also.
C) los puerta freeway sign:
there's been lots of debate about this one. It translates loosely to the door in spanish, as in San Diego is the door
to the US for many Mexicans. though puerta can also mean "the beginning of an undertaking" which also fits in with
the games theme.
D) large passenger planes - where else they fly to?
There is also a spot in Michael's trailer @ 1:06 that shows multiple airlines.
Perhaps traveling to different cities?
E) Leaked Vehicle List: it included the "snow plow". So possibly a resort town type area w/ snow?
e) used to be the dam, but obvously it's a take on the Mulholland Dam & Hollywood Reservoir
F) highway like road heading south:
Its as wide as the major highways shown but heads directly south...to where?
http://s22.postimg.o..._GRQy_Vl6_C.jpg
G) RUETS:
At 25 sec in to Michaels trailer you can see a "tag" that says RUETS.
He is a graffiti artist from San Fran
H) @ 32 sec into Franklin's trailer on the graffitied wall is what looks like an SF, San Fierro?
I) the game is said to be built around heist. Minus a few huge thing in LA(LS) are we just going to be robbing bank after bank?
Maybe an art collector or other rich douche? Wouldn't it make sense to have a parody of one of the most profitable cities in the
country, Vegas? A casino would be the ultimate hiest & great climax to a game based on heist.
J) It's called GTA V, not GTA: Los Santos, so the possibility is out there since it's not named after a particular city. (& yea, IV was too, we know that, but still plausible)
K) This is supposed to be the largest map R* has done. So what, we get a decent sized city & then 8 times(or whatever) that in woods & water. even with enterable buildings & a ton of underwater, that still leaves a lot of room on the map for land & possible major cities (granted, smaller than LS)
L) the ocean/cargo ships: ships could just circle the map (kind of boring) what about drug runners, say from México (Tijuana))
A good heist would be infiltrating a shipment, be it on the water or at the border (Tijuana/san Diego)
M) this pic: the similarities in the arch & also the 619 on the liscense plate (619 being SD's area code)
(courtesy of Chrill)
N)If the colorful spot in the lower center of this pic is a parody of salvation mountain...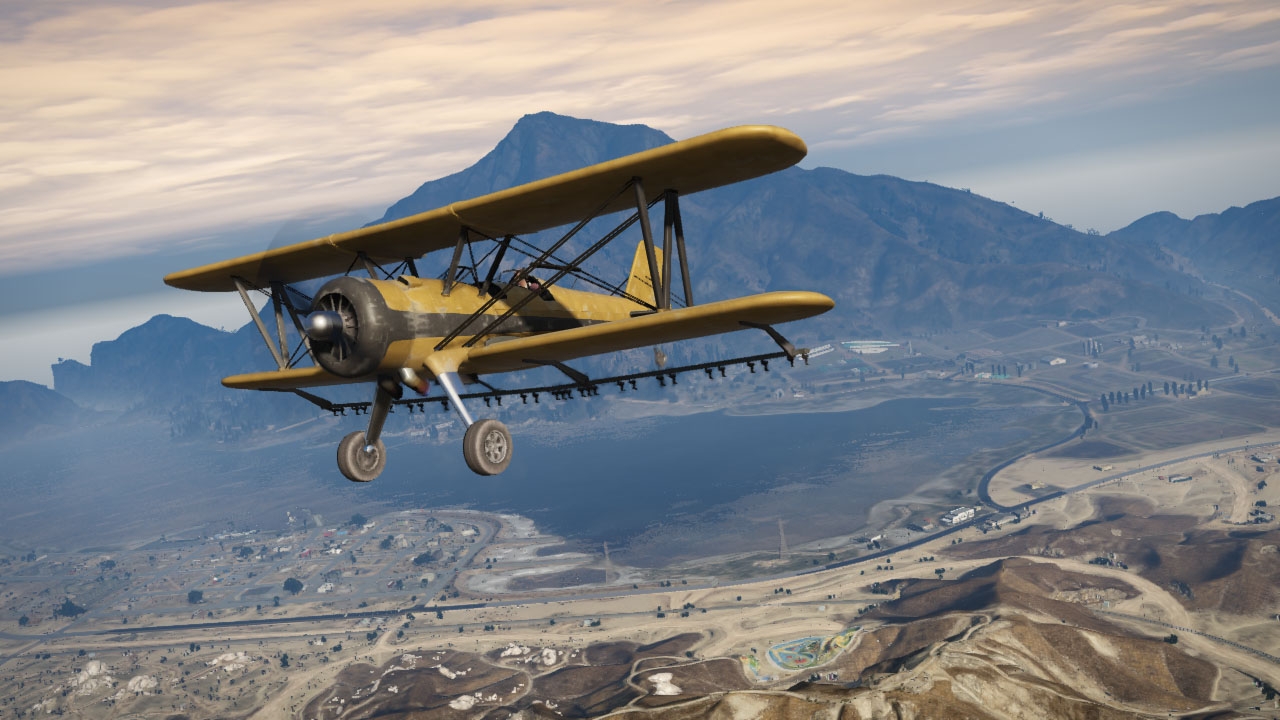 this is salvation mountain
it's in Calipatria, California near the Salton Sea in Imperial county = which is right on the border of Mexico
O) Bay City sign & sign behind Trevor: Also note that it appears to be a different city/town than in the pic above.
(courtesy of deffpony)
P) Another airport. also note what appears to be large city like buildings on the left side of the pic, off in the distance.
They don't seem to be LS.
Q) the building\s to the left of the cactus here: certainly not skyscrapers, but of a significant size
not as big as the ones in P) but could indicate a decent sized town
R) Grapeseed based on Temecula, CA
Most logical city to parody for vineyards in SoCal
S) Another speculative town, from another thread.
Courtesy of gta54me:
QUOTE
This screenshot Reminds me a lot of Batiquitos Lagoon in Carlsbad CA ( San Diego ).



In real life, that Lagoon borders La Costa. Both La Costa and Carlsbad are nice areas with manicured trails to walk around the lagoon. Which it appears is included in the screenshot.

That lagoon is only several miles from R* SD btw.

I know we are not clear on what is the in mid and north east part of the map, but the more I think about it the more I believe it will mock the coast line from LA to San Diego.

Additionally, Oceanside ( Huge military town ), is directly next to Carlsbad.
now this is not an additional arguement for SD, rather for somewhere like Carlsbad.
South of LA in real life, but we know the map varies in that regard (alamo sea)
know as "The Village by the Sea" by locals - village, so we're not talkin city here.
But plenty of things could be parodied with this place:
Legoloand, La Costa Reslort, the 1st modern skate park, & R* SD...to name a few, as well as being located near a military base.)
T) Courtesy of One Poor Fool-
http://en.wikipedia.org/wiki/Gold_Base
not necessarily a town, but it's more so it's own community/compound but could certainly be as big as the towns we've seen.
Also, note the shape of the blue buildings, kind of looks like the other side of the mountain from Paleto.
**see the pic in (N) near the tail of the plane is similar looking structures
"On the hillside above the base is a heavily camouflaged "sniper-style nest bunker" called Eagle that overlooks the entire property and the surrounding area.[2][21] It was reportedly used as a lookout post where security staff with telescopes noted the license plate numbers of vehicles that lingered too long near the compound"
-excerpt from th wiki article...structure at the top of the Mt. maybe
***SO, that's some things. On the even more ridiculous side, others have apparently tried to hammer the other city theory home.
For your viewing & reading pleasure I give you these:
I recently saw this, the worst damn sh*tty reasoning for other cities ever, not to mention horrible song & just
plain F'n dumbass video. If you want to lose a few minutes of your life you'll never get back, here's the link:
http://www.wintube.r...va4roojg/video/
Also for completely redunkulous hillarity there's this article:
http://gawdalmighty....e-ultimate-gta/