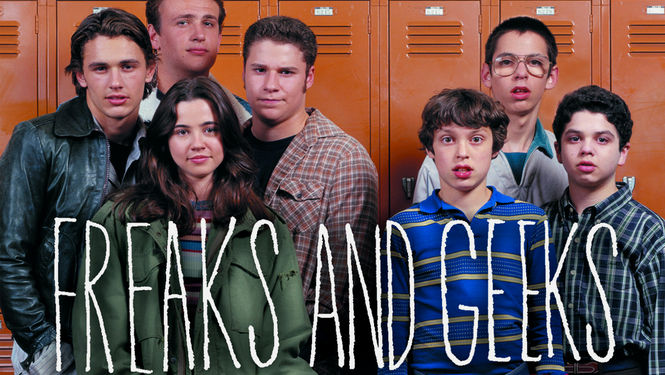 Freaks and Geeks was created in 1999.Freaks and Geeks is an American teen comedy-drama television series, created by Paul Feig and with Feig and Judd Apatow as executive producers, that aired on NBC during the 1999–2000 television season.
I really wanted to share it with you guys, and it is very easy to get hold of.

You can get it on Netflix.

Please tell me if you have ever seen this, tell me your opinion [good or bad], and tell me what you think if you haven't seen it before.
___________________________________________________________________________________
Character List

Weirs



Lindsay Weir


Lindsay Weir—played by Linda Cardellini—is the elder of the two Weir siblings. As a child, Lindsay was close friends with Millie Kentner. Early in her scholastic career at McKinley High School, she would be recognized as a bright and thoughtful student, as well as a brilliant member of the Mathletes). However, when her grandmother dies, she begins to question religion (she became an atheist after her grandmother, who was the most decent and good person she knew, said she saw "nothing" right before her death), social structure and the general direction of her life. She begins hanging out with a gang of less academically minded friends (known commonly as "burnouts" or "freaks") which worries both her family and her old friends (Millie in particular). She starts out being very deferential to the freaks and ignoring their rudeness towards her--mostly from Ken and Kim Kelly--but she loses any fear of them as the series progresses, and after she rightly calls them out for being seflish and having no futures, her ties to the group were solidified on a level of mutual respect. Despite her new social situation, she remains an intelligent and considerate person. She is continually questioning the world around her in order to find a place to fit in. She often wears her dad's old army jacket most of the series.


Sam Weir


Sam Weir—played by John Francis Daley—is Lindsay's younger brother. Like his sister, Sam has an excellent sense of morals and manners, though he's somewhat shy outside of his circle of friends. He has a slightly androgynous appearance and, being somewhat shorter and less physically developed than his peers, is often picked on because of it. He shares many interests with his close pals Bill and Neal, including television shows like Saturday Night Live, comedic actors such as Bill Murray and Steve Martin, and science fiction. Being so into such subjects while at the same time being somewhat socially impaired has left Sam and his friends labeled as "geeks". Though he enjoys being with his friends, he struggles continually to be seen as more than a geek (especially while trying to impress his school crush, Cindy Sanders), and does seem to be better-regarded by popular students like Cindy and Todd Schillinger than his friends are. Unfortunately, the constant bullying by kids such as Alan White often leads Sam to feel more embarrassed than cool. Entertainment Weekly selected Sam Weir as the son for "The Perfect TV Family".


Harold Weir


Harold Weir—played by Joe Flaherty—is the head of the Weir household. Harold is usually stern and strict in his role as the dominant male in the family, but is also a loving father who is always trying to look out for the best interests of his children. Though Harold is frequently yelling at the dinner table about bad role models and dealing out sometimes unreasonable punishments, he has a good sense of humor and enjoys seeing his family happy. He works hard to support his family by running his A1 Sporting Goods store, though he is worried about the possible impact that megastores will have on his business. Harold's biggest concern with his children lately is that Lindsay is falling in with a bad crowd, and he has a strong distaste for her "burnout friends" although he later takes a shine to Nick after he gets kicked out of his house, by letting him stay at the Weirs' house and encourages him to practice drumming. Harold tells Lindsay that he is more helpful to Nick than to her because he expects more from her, and says that Nick's father is a "hard man" who reminds him of his dad; it's also strongly implied that Harold's father physically abused him. It is shown often that he is very proud of Lindsay for her intelligence and maturity and Sam for his kindness and morals.


Jean Weir


Jean Weir—played by Becky Ann Baker—is the caring homemaker of the Weir family. Jean is frequently making wholesome meals for the Weirs and trying to give her children helpful advice about school while they have discussions at the dinner table, although at times she appears blissfully aloof to the realities that her children are experiencing. Though she wouldn't mind more appreciation now and again, Jean is always kind and generous to everyone and loves nothing more than her family.

________________________________________

There are many other characters, but i'm pretty sure nobody would bother to read it.