Hi, I'm new to the forums.
I know the IV Coding request thread was in here:
http://www.gtaforums...howtopic=422955
but I don't wanna post there cause most of the things I post there just gets drowned by the other posts and I wanna keep track of it.
Anyway, straight to the point, I was a bit disappointed when I searched google for skyrim mods for GTA IV and search results gave me nothing which is truly sad cause it would be nice to be Dohvakiin for a while.
I know of the FUS RO DA and Skyrim Steel sword mods, but I want more.
So, here are my requests:
Skyrim Armor replacement: Replaces playerped.rpf
Replaces the default skyrim jacket with the Iron armor, etc.
Optional: default Nord (skin or face texture/model)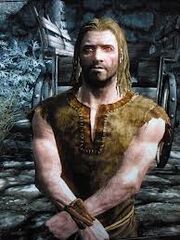 Skyrim Weapons: replaces the weapon.img
Replaces knife with the skyrim steel sword

Click here for the video



Replaces bat with steel warhammer
Replaces Sniper with bow and arrow ( ANIMATIONS REQUIRED TO MAKE IT LOOK LESS sh*tTY OF A MOD

)
Replaces Molotov with the Torch misc item. (It needs to glow too)
*Optional: Molotov animation is like holding a torch*
The others, well, POST YOUR IDEAS

Replace peds with the NPCs in skyrim
Replace cops with Imperial forces
Cops = random imperial grunt armor and faces are still the same, I don't wanna be so hard on you guys


SWAT = Imperial heavy armor
FBI = Imperial general armor (The one general tullius was wearing, know wha'm sayin?)

Optional mod
An ASI mod or Scripthook.net mod that lets you join Stormcloaks or Imperials force and they have a war


Horse mod
We all know that there was a horse mod in GTA SA and I was thinking of maybe we should get one like that in GTA IV.
I have an idea, though how to make it (though I can't script, but I imagine that it will be less of a pain in the ass than replacing a car to a horse). You can make it that the horse replace a ped, or a dummy ped or cutscene ped or ANY character that isn't seen regularly. Then, make an asi that parents Niko Bellic on top of the ped so he looks like he's riding it. Tell me if I'm wrong though. Although, it would also be good if you replace the horse with a car and you can do driveby shootings using the horse, but the catch is that the horse is gonna be rigid and it would suck.

Dragons mod
Replace helicopters with dragons and breathes fire, just like in the game.

Sneak mod
Makes it that you can sneak based on the lighting (if it's daytime, you can't sneak but in the evening, it's gonna be a walk in the park.) Of course, you can still sneak if you press Q, or hide in alleys to escape cops.


Skyrim Map mod
I know this is impossible, but hey, they did something with GTA SA and imported it into the rage engine, why not with skyrim too?
Some team should collaborate and make this.
Visit this thread sometime if you are looking for skyrim mods cause I'm gonna update what's made and whats still pending. Alright, cheers