Blog in English:
Blog in English
Blog in Portuguese:
Blog em Português-Portugal
Forum:
http://gta-sa-sw.umforum.net/
(
Click here/Clique Aqui
)
Download is in the Blog (the link redirects to the forum post) and Forum (Need register to download, otherwise is impossible...)

Download Post:
Download Post
What's "GTA Star Wars Mega Mod"?
"GTA Star Wars Mega Mod", is a set of all Star Wars mods for GTA San Andreas, which contains vehicles(X-Wing, Speeder Bikes...), skins for player or bots (Stromtrooper, Clones, Jar Jar...), maps (Kashyyk, Endor Moon...), weapons (Lightsaber, Dual Lightsaber, Laser Minigun...), animations (Jedi Moviment Animation) and sounds (Star Wars musics, Star wars Weapons Sounds...) and contains some mods "not star wars" like "War Gangsters across the area of San Andreas"...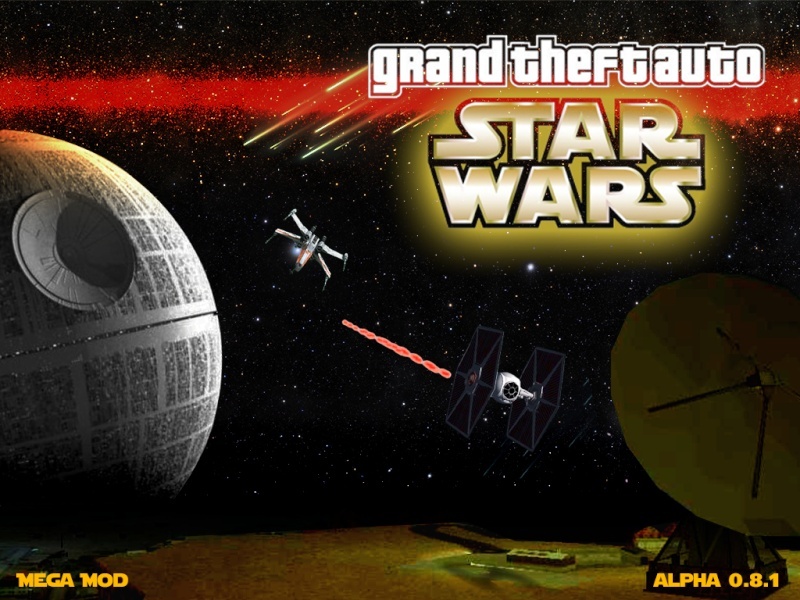 Fun Fact:
This mod also modifies the cop, the army and gangs... All normal police are Sand Trooper; the County Sherif are Red Stormtroopers and the Desert Sherif are Yelow Stormtroopers; Swat are Blue Stormtroopers, the Motorcycle cop is a Scouttrooper, Army are Stormtroopers with small green tracks, the Ballas are Stormtroopers, the Grove are Clones and the Los Santos Vagos are Battledoids, etc...
Versions/Versões:
There is at the moment, one lastest version, the 0.8.1 alpha ENG (in english), but we will have in portuguese to Portuguese and Brazilian guys!
Em português só existe a versão 0.8(não recomendada), mas irá sair novos updates com a versão em Inglês e Português.
Join to the dark side! Join us and we will conquer the universe!
Join us and help on forum and modding! We need recruits!
http://gta-sa-sw.umf...cruitment-ideas
THANKS! OBRIGADO!


.