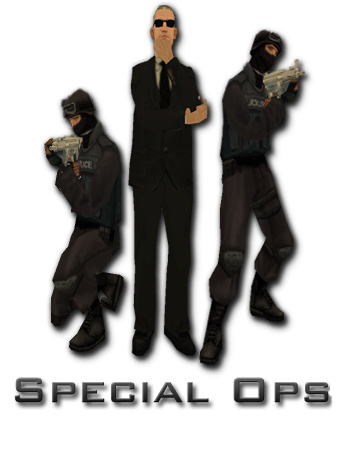 You are Reaper, a new member in the secret government organization known as Task Force 008, which aims to take down any terrorist entity threatening the region of San Andreas, CA. They will neutralize all threats by any means necessary, discreetly and with lethal force.

Prove to the agency that you're the right man for the job. Just don't reveal your identity or the existence of TF008 under any circumstance or you and all records of your existence will be made to disappear.
| Character Name | Character Description |
| --- | --- |
| Reaper | The protagonist/playable character. He's been in service for few years and has finally been picked up by Task Force 008. |
| Sierra Papa | Task Force 008 leader. He's the one giving orders in the field. He's calm and knows what to do in intense situations. |
| Dimitri Reznov | A russian terrorist, TF008's most wanted. He's been moving buisness to San Andreas. This man got the guts to start a war if he wants to. |
More characters to be added as the story progresses...

| Mission | Description | Download |
| --- | --- | --- |
| T.F.008 | First day in the agency. You must undergo some training before you're fully accepted. | Link |
| Better Than Nothing | Your first operation. Raid a warehouse swarming with enemies to find Reznov. | Link |
| SFPD Infiltration | Sneak into the San Fierro Police Department to interrogate one of Reznov's inside men. | Link |
| Running Out of Time | Assault a container ship in search for nuclear material. | Link |
| Last Chance | Secure a highly valuaable package before it gets in the wrong hands. | Link |

Narcis_speed6: GFX Designer
Graven: GFX Designer
Meta187: Help with topic design
Dutchy3010: DYOM Co-founder
PatrickW: DYOM Co-founder
secritek: Mission Tester
ThaBoY: Trailer Designer
Mission Players