ENBSeries Multipass effect.txt shader plugin
for ENBSeries 0.076 GTA San Andreas
Dafuq what is this?
ENBSeries is able to load an additional shader, the effect.txt; with this handy little thing pixel shaders can be executed which can apply many effects and image modifications. The effect.txt's of the generic ENB versions before GTA IV ENB were extremely limited in the scope of functions due to singlepass only support, that means not much effects could be combined (other than GTA IV, Skyrim etc, these ENB's can have dozens of really advanced shaders).. Finally, after request, ENBSeries 0.076 San Andreas was released which as along with some other stuff, multipass support like the "big brothers" of GTA IV etc. Now, advanced shaders like Depth of Field and many other ones are possible (some of them were possible before this new version came out but no one implemented them). Master Effect should combine most of them. You get many new shaders, and you don't have to choose which effect you want if you have two which you'd like to see in your game.

What do I need to use it?
(
I am not responsible if your game crashes, you do this on your own risk. It works for me and most of the modders out there, keep that in mind. But of course feel free to post questions and ideas here.
)
If you have ideas how to improve the mod, think I didn't explain something correct or did a mistake (or two (or three)), please feel free to tell me those

ENBSeries 0.076 (download here:
http://www.mediafire...gkb67tu4wj1r6v1
I'm not providing the original link because of some stupid direct linking protection)
Copy the d3d9.dll, enbseries.ini and my effect.txt to your SA main dir.
For correct calculation for some of the effects make sure "AlternativeDepth" is set to 0 in enbseries.ini!
Now start your game, minimize it, open up the effect.txt and start enabling effects, changing values etc. Every value is documented.
If you want to enable an effect, remove // before #define [Effect], if you want to disable
it again, put two slashes before the #define [Effect].
Enabled effect: #define [Effect]
Disabled effect: //#define [Effect]
Features:
Image Grain
Grain (or Noise) is important to make your image look more real. In reality, if you look at a dark place, nothing is completely uniformly black or dark colored, there's a slight variety in color and brightness which changes really fast, like a TV with no signal but much lower. This shader adds it.
Dither
San Andreas is a non-HDR game. Therefore gradients aren't smooth because the color range isn't that much. Here's for better explanation: if you can go only steps of 1, a stair of 1 to 10 goes like this: 1 2 3 4 5 6 7 8 9 10. but if your single step is bigger than one pixel on the screen ( e.g. 3) it looks like that: 1 1 1 2 2 2 3 3 3 4 4 4 5 5 5 6 6 6 7 7 7 8 8 8 9 9 9 10 10 10. Some pixels next to the other have the same colors which result in so-called LDR artifacts. e.g. the sky is tiled into bars of the same colors. This is a picture with not much color steps, and to be honest, this looks like sh*t: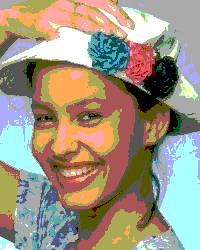 Dither tries to interpolate between the borders of two color levels to simulate more colors SA can output/your display can show. It's like if your screen can only show black or white, dither would create a chessboard, which looks viewed from distance greyish.
Vibrance
Vibrance intelligently saturates (or desaturates if using negative values) depending on their original saturation. Pixels with less saturation get more saturation than pixels whose original saturation was already high.
Chromatic Abberation and Lens Distortion
Lens Distortion adds a Fish-eye effect but before I jabber for 5 hourse, pictures tell more than words:
Lens Distort:
Chromatic Abberation:
Fast-Approximate Anti Aliasing (FXAA) v3
A non-optimized rendered image of a 3d application often has jaggy edges on borders of objects, which look like stairs and also like sh*t. Anti Aliasing tries to find a balance between blurring an image to cover these jaggy edges and keeping the sharpness. The FXAA here is more performance-friendly than the ingame Anti Aliasing and is compatible to the ENBSeries MRTRendering which improves performance of an enb config.
HDR
This is no actual HDR, DKT70, the author of this shader called it like this. It features:
- fog color, boosts red, green or yellow
- exposure control (brightens up screen but also more white is visible)
- Gamma control for darker or lighter shadows and dark areas
- blue shift (shifts entire screen color into blueish)
- sharpen of the image if FXAA is too powerful
Anamorphic Flare
Again, pictures tell more than words: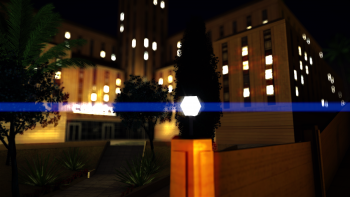 Anamorphic flares appear on bright sources if using anamorphic lenses, depending on their orientation bright lights get a broad beam over the image. used as after effect in Star Trek.
Godrays with coloring
Hard to explain, this shader doesn't really work like introduced in other games, this video here shows very good how it looks in SA (jump to 0:30)
two coloring options are possible, tintcolor and forcecolor. Tintcolor only shifts the godrays color, the godrays use the color of their source, red objects emit red rays, blue tintcolor would produce violet flares. Forcecolor first grayscale the rays before coloring so the original color information gets lost. Red, blue, yellow, whatever which color an object has, they all emit blue if blue as forcecolor is set.
Filmic Pass
Many options to recreate movie-like image look, you can control every color channel, e.g. adjust the contrast of red and stuff like that. experiment a bit!
Reinhard Tonemapping
Another tonemapper which improves the overall color look.

Bokeh Depth of Field
Needs AlternativeDepth=0 and useMRTRendering = 0.
To explain this better, think about what happens if you hold your finger in front of your face and focus on it. What happens? The finger is sharp, the background is blurred. If you now focus on the background, the finger gets blurred. That's the base of theDOF shader, it blurs the foreground if the focus point (by default screen center) looks at something in the depth and the other way round. Bokeh means that bright sources are highlighted, a christmas tree without bokeh would look like a green mash, but here are the bright pixels highlighted with a circular shape:
Gamma Correction
Simple as that, adjusts gamma
Filmiccurve
another
tonemapping operator which modifies the gradient from black to white
HD6 Vignette 3 modes
This vignette is different. The standard vignette creates a spotlight effect in the screen center by darkening the screen corners. This vignette adds movie-like vars to the screen borders.
-mode 1: top and bottom (like a movie in the cinema)
-mode 2: left and right
-mode 3: corners get blacked
Boris Vorontsov Vignette with optional coloring
Standard vignette, creates a black gradient to the screen corners.
Cross Processing
Simulates the effect of processing color film with the wrong chemisty, looks like that (before/after)
Color Mood
Something like cross process, google after iCEnhancer 1.2 or 1.25, icelaglace used this effect in these revisions
HSV color grading
HSV based color grading allows
complete control
over all color tones. HSV stands for Hue, Saturation and Value, different from RGB:
Hue: degree of rotation on the color circle
Saturation: how colored the color is, saturation = 0 means grey
Value: the brightness of the color
Credits:
Matso, Ceejay.dk, SSontech, icelaglace, AgainstAllAuthority aka openzdl, Reinhard, HeliosDoubleSix, PetkaGtA, DKT70
DOWNLOAD
Comprehensive information how to enable the effects and what each value exactly does is included.