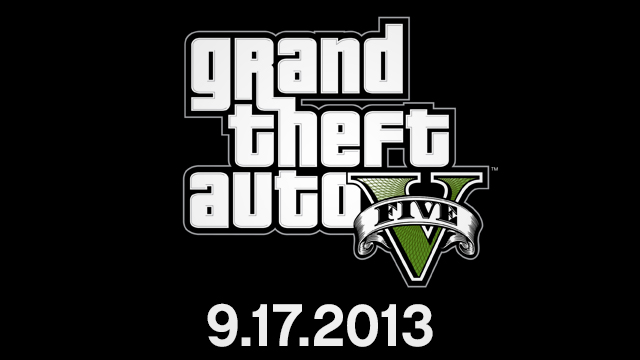 QUOTE
Dear all

Today, we have an official release date to share with you: Grand Theft Auto V will arrive in stores on September 17, 2013.

We know this is about four months later than originally planned and we know that this short delay will come as a disappointment to many of you, but, trust us, it will be worth the extra time. GTAV is a massively ambitious and complex game and it simply needs a little more polish to be of the standard we and, more importantly, you require.

To all Grand Theft Auto fans, please accept our apologies for the delay, and our promise that the entire team here is working very hard to make the game all it can be. We are doing all we can to help ensure it will meet if not exceed your expectations come September – we thank you for your support and patience.

Yours,
The GTA Team
Press release:
QUOTE
Rockstar Games, a publishing label of Take-Two Interactive Software, Inc. (NASDAQ: TTWO), is proud to announce that Grand Theft Auto V is expected to launch worldwide for the Xbox 360® video game and entertainment system from Microsoft and PlayStation®3 computer entertainment system on September 17, 2013.

Los Santos: a sprawling sun-soaked metropolis full of self-help gurus, starlets and fading celebrities, once the envy of the Western world, now struggling to stay afloat in an era of economic uncertainty and cheap reality TV. Amidst the turmoil, three very different criminals plot their own chances of survival and success: Franklin, a former street gangster, now looking for real opportunities and serious money; Michael, a professional ex-con whose retirement is a lot less rosy than he hoped it would be; and Trevor, a violent maniac driven by the chance of a cheap high and the next big score. Running out of options, the crew risks everything in a series of daring and dangerous heists that could set them up for life.

"Grand Theft Auto V continues to push the series forward in new ways; Rockstar North are creating our deepest, most beautiful and most immersive world yet," said Sam Houser, Founder of Rockstar Games. "We are very excited for people to learn more about the game in the coming months."

The September release date moves the launch back from its original projected release window of spring 2013 in order to allow additional development time. The biggest, most dynamic and most diverse open world Rockstar Games has yet created, Grand Theft Auto V blends storytelling and gameplay in new ways as players repeatedly jump in and out of the lives of the game's three lead characters, playing all sides of the game's interwoven story.

All the classic hallmarks of the groundbreaking series return, including incredible attention to detail and Grand Theft Auto's darkly humorous take on modern culture, alongside a brand new and ambitious approach to open world multiplayer.
http://www.rockstarg...ng-9172013.html
Regarding the boxart:
QUOTE
Hey all, we understand many of you guys are disappointed with this news – unfortunately sometimes such delays are necessary in all forms of entertainment, and especially in the case of a game experience as massive and complex as GTAV. However this does not give you free reign to be abusive in comments. The general rules of common courtesy, decency and behavior as listed above the Comment Box still apply here, therefore anyone continuing to post abusive comments will have their privileges suspended. Also for those of you asking about the official box art, that will be coming out a bit later as well. Thank you all for understanding.
Edited by DizzeeXL, 31 January 2013 - 03:42 PM.