First of all, let me point something out.
This isn't my mod
, it was made by
Ducati996
, and he gave me permission to re-upload his file, due to the fact his boat mod cannot be found anywhere, it "died" over the years. (SA can still be found on several websites)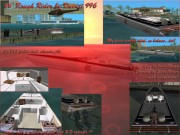 MVL config. was made by me, it includes all the custom data, color scheme & name tags as mentioned in readme file. Enjoy!
DOWNLOAD 1: (MVL) 46' Rough Rider
DOWNLOAD 2: (MVL) 46' Rough Rider (Wing)
DOWNLOAD 3: (VC) 46' Rough Rider