"If the goal is to be king of the world and own a lot of stuff ....well I've played that game, and I'm tired of it.

I don't want to have a million dollars sitting in my bank account half way through the game and yet The Holy Trinity are still doing dangerous missions for a grand here or there. It makes no sense. I want to keep getting pulled back, I want to feel their greed and to feel that I need things to make that money burn a hole in my pocket, each dollar slipping away like sand between my fingers." - Waingro
It's been often discussed in prior Grand Theft Auto's and certainly in the most recent that after a short time into the storyline has passed money seems to lose it's purpose as you progress and learn the quickest ways to get the few things you actually need to navigate through game missions.
Rockstar has done a visibly good job of listening to fan feedback in recent years and has cited now on more than a few instances that money will have a much more functional use and a vital economy will thrive in this newest installment. It's certainly a hope that this will apply not only in the single player but in the multiplayer as well.
As we enter the final stages going into the (hopeful)
Spring
Fall release I ask the dedicated fans of this series, what do you think would actually make money work and have value in the series? It seems like a simple enough question but there are a lot of factors to consider.
Popular open world games like
Fable
and
Saints Row
seemed to adopt the property buying system that was so well liked in
Vice City
and
San Andreas
and have carried it forward in all of their installments but at some point GTA took a turn on this and decided that their game was something more than simply being the Kingpin of the World, who wants for nothing and owns every corner of the map at the end of the game with nothing left to do but roam aimlessly in a slightly anticlimactic kind of way.
While GTA is ultimately a crime fantasy at it's core, it is also a reflection of our present culture and more broadly an impossible opportunity to see the choices we would make given an unprecedented amount of freedom to move within it. While many video game conventions remain, character development and plot development have taken center stage as the people who originally designed this game have themselves matured and changed priority about what they feel is a relevant and
quality
filled gaming experience.
While I'm sure the core group of fans get what Rockstar has done thus far and we trust their collection of savvy developers and writers in all departments to produce once again the most innovative, entertaining and ground breaking game to date and to also make sound choices in regards to gameplay, it is always good to hear back from us about what works and doesn't work at the end of the day.
I'll just kick off this particular discussion with what a few of us privately spoke on here behind the scenes and open the floor to anyone else who wants to add to this or bring something of their own to the table. Once again, just really take a moment out and think really hard about what you like about spending money in a game and when that particular angle of the game no longer seems entertaining but becomes a static accumulation on the corner of your HUD.
Supply & Demand
or
Money For Nothing and Your Clips For Free
One thing that becomes fairly routine for veteran GTA players upon first entering the shiny new sandbox aside from the great experience of exploring is finding the work arounds. Where is the health, where is the armor, where are the exploitable glitches? Don't have a rocket launcher to take out that large group of enemies in the next mission? No problem, swim across some water and grab a rocket launcher off a rock in the bay. From there go home, save your game and go back for another. Rinse, repeat until you're satisfied.
It's not exactly cheating is it? But it is kind of boring. It's there on the map and readily available if you know where to find it but you put in very little effort to acquire it.
Now lets imagine for a moment a simple change, that all power ups, armor and weapons were removed from the World Map. If you want a pistol well you'll have to do something dangerous to get it. If you want a shotgun or assault rifle you'll have to gather the funds or perhaps burglarize a well fortified gun enthusiast's home to get it. You want that previously mentioned rocket launcher for a big battle. No problem that rocket launcher is at
Ammunation
where you can purchase many conventional weapons and body armor BUT it's in a backroom, not sold to the public and has a 6 inch steel reinforced vault door blocking you from accessing it in a simple smash and grab. Well you'll need C4 explosives to get through that door but the
Cluckin' Bell
ain't exactly handing that out as the free toy with their Kid's meals.
It is however in a military warehouse on an Army base on the north side of town. With a little know how about when the guards do their rotations or a decent set of wire cutters perhaps you could breach the fence, and make your way to the warehouse to snag the explosives and THEN make your way back to clean out their backroom for a one time robbery of the rare artillery they keep there.
You won't be able to come back tomorrow and reclaim your prize. The door will be repaired and you'll have to start the process over again. Not an impossible task but certainly more fulfilling than simply finding an unearned college degree lying on the street with your name on it.
In a nutshell that really is what it comes down to in games, as a player we appreciate far more the things we earn as opposed to the things we are given. The ultimate value of an item comes down to the time and effort we invested in acquiring it. It's an old fashioned notion perhaps but that's often how the human psyche attributes worth to things. The one consolation I would offer the
"give it to me now!"
crowd were something like this to go through is there will always be weapon cheats for people who could give two sh!ts about reasonable game pacing or character development.
Looting, now it's personal
GTA V Multiplayer

In Max Payne 3, money really seems to lose it's value 20 levels in and it just sort of sits there as you grind towards level 50. In GTA IV it determined your rank to some degree. How about having a limited and active economy within the MP Crew system? When someone loots you they don't just take a fictional, random amount that doesn't affect you either way but they actually take money from your inventory! This makes the stakes higher and the sting of losing money to an enemy much more personal.
You choose a mode or lobby to play in and pick the setting of how much you're willing to lose and how much you're looking to rob from the next guy. Similar to the wager system possibly but with different tiers. Chump Change to High Stakes and your Crew rank's collective bank roll tells the tale of who's making moves and who's getting got. Money should have value! It should buy you ridiculous sh!t you think you want or need and hurt like a son of a bitch when you lose it.
Let's say for example you and your Crew, plan a heist. You pay for the weapons, the armor, the vehicles and even the ammo from your own personal collective funds. You go to rob a bank, the only problem is there's another Crew looking to rob the same bank and shooting it out with you and the authorities as you both struggle to make off with the loot. In the end one Crew invested wisely and got away successfully with the heist reward, the other Crew is left broke and holding the bag as the police close in on them to conclude the match.
The more successful heists you complete against other Crews, the more your Crew's collective money and rank reflect that.
Sound good?

=================================================================================================
Added Comments & Ideas
Hired Help
QUOTE (ThePinkFloydSound @ Thursday, Jan 10 2013, 15:48)
For years I've loved the idea of paying your crew/recruited gang members in-game.

I think there should be 5 or 6 difficulty type banks and other business  to rob. Level one is like corner shops and launderettes/retail stores. That can be done alone. 

Level 2 would be like bigger business that are more difficult as they usually have at least 2 or 3 security guards.

Level 3 is like a bank. You will be better off with a partner. If you are seriously skilled you could pull it off by yourself.

Level 4 is like you need 2 people and it's advised to have 2 more but if you are really skilled you can use 3. Levels 5 and 6 require a full crew with the best of weapons. 

You need to pay the crew. You can also upgrade weapons for the crew, pre-heist and purchase armored cars etc. The more money you earn from a heist depends on how much you are willing to spend to get what you want. Holding out a bank for longer gives you more money. For example, if you kit your crew out with the best gear, armor, cars, bullet proof vests, you can take longer, stealing the cash. If you don't kit out your guys you'll have to do a quick job but settle for less. The temptation will be to hold out longer and get more cash but at risking your life.

I'd love to see this outside of the storyline. So it can continue forever. Until you get bored of robbing 6 Star security banks and casinos etc. Of course you can pay a crew and then botch up the mission and it will leave you broke.

OR...you can ask the crew to work for you. When you get paid, they get paid. If you don't get paid from the hesit but you had no money to begin with, you'll go in to the red and you will owe money like SA. People will come to collect it politely once and every time after that they will just try kill you.

I think it's important to be able to go in debt. I think Rockstar will put this is again.
One of the things from San Andreas I was hoping would be fleshed out a bit more was your ability to command a small group of people. Having to Bankroll your own impromptu side mission to pay for their services could potentially provide hours of fun.
Sadly, your homies in San An were often terrible shots and incredibly ineffective in an actual firefight. It seems like there was some effort to keep the AI a little dumb as not to do all the work for you. You'd turn to this guy who is supposed to be protecting you with his life and he's either just standing there or firing repeatedly into a wall no where near the enemy.
However, some years back there was this little game called
Freedom Fighters
that was a 3rd person type shooter. It was generally fun and appeared on a couple of platforms but wasn't a massive hit. The one thing this game did remarkably well was their in game squad command feature. You could literally direct your freedom fighters to any place you could move your reticle and direct them to a priority target on the field to focus fire upon. This particular mechanic defined the game and worked incredibly well.
Mass Effect
tried to use it a bit but fell short, the efficiency in which you could move your unit to defend, advance or attack felt as reliable as being on the ground level giving orders in a high profile Real Time Strategy game.
Imagine a group of hired criminals moving with you helping you do a independent side heist in this fashion? That would certainly be worth paying for and doing multiple times. You could invest in their gear and weapons as you suggested and even an armored vehicle to make a getaway in. When one died you'd feel the sting because that's someone you actually invested money into making an affective accomplice. This sort of activity could be fun and have a lot of random factors well after you completed the game.
QUOTE (DTUMan @ Friday, Jan 18 2013, 05:46)
I would absolutely love the idea of being able to pay money to hire a crew which can be used in various side tasks throughout the game. I would like the system that the Lost and Damned had where you had your crew from the Lost riding along side you in many of the missions and side missions; and as you completed these missions and side missions your crew would gain experience and as such, would eventually become more proficient in fighting - of course, your crew could also die and the problem with that is that you couldn't replace fallen Lost members. So if something similar is to return in GTA V, paying a reasonable sum of money to replace fallen crew members or to hire new crew members (there of course would be an upper limit) would be very welcome.

Following on from the idea of being able to use money to hire crew members to fight alongside you in side missions; the idea of being able to upgrade your crew members as they gain experience would also be a fantastic idea IMO. I'm speaking of a similar system to what has been seen in recent Assassin's Creed games - where your Assassin recruits would gain experience which would build up until they gain a level and when they level up, you could an experience point to upgrade their attack or armor. The system in the Assassin's Creed series is pretty shallow though so for it to be included in GTA V, it would have to be heaps more fleshed out. For example, my thoughts for such a system in GTA V would be the following, your crew members would start off at level one and are able to advance up to level ten. When they level up, you can upgrade their various attributes which could include hitpoints (amount of health/armor), evasion (ability to sneak into places or assassinate specific targets), stamina (ability to escape from danger without tiring), attack (ability to use force), accuracy (ability to hit/snipe targets from a distance) and defense (ability to defend turf and other crew members). Upgrading these attributes would cost experience points as well as money - but it would also mean that you would be able to shape your crew members to your own liking. i.e; a defensive crew member versus a more attacking type. Furthermore, being able to purchase weapons for your crew members would also upgrade their stats based on the weapon. Also, all of the stats wouldn't be able to be maxed out from simply leveling up, either, emphasizing having a good mix of attacking, defensive, accurate and evasive crew members.

But where would the money come to be able to replace, hire and upgrade crew members? Simple. Either send them out across the map to various locations and have them perform various criminal activities such as robberies, heists, vehicle theft, drug sales, etc or as mentioned, partake in side tasks - with or without your crew. Of course, there would obviously be a risk for reward system in play here in that the higher the risk, the bigger the reward if successful. A heist may gain you a lot of money, but you have a high risk of loosing some of your crew members in the process. You could also have your crew take over territory, with the player being able to set up vendors in these territories (not fully fledged businesses, per se, but more of an underground operation) that offer various black market and illegal goods and as such, accumulate money over time, which would allow the player to pump more money into upgrading not only your crew, but also your illegal operations thus earning more money.

Of course, as with anything, taking over territory and setting up black market operations in these territories shouldn't come without risk. A thing that irked me in GTA: San Andreas is that even though the player could own a crapload of territory, there was no satisfaction in it as besides territory being easy to take over, you often felt as though you were doing all of the work with little or no control over your gang, if any at all. The same with GTA: Vice City Stories - there was very little challenge with the business empire system. Having a dynamic system where the frequency and severity of attacks on your territory as you gain more of it and thus build a bigger profile in the city would solve this problem while on the flipside, having very little territory and a low profile would mean that attacks against your territory are minor and infrequent. Yes, you can become rich through acquisition of neighbourhoods throughout the city but don't expect the other criminals overlords in the local area to take kindly to it. When a neighbourhood comes under attack, you can either send your crew out to fix the problem or go there and deal with it personally or do both. Of course, if you send some of your crew out to the attack zone, you risk loosing some of your crew members.

I also really like the idea of being able to break into military bases or any other high security places in order to steal more advanced weaponry, and this is where a highly experienced crew on your side would also come into play as they could be highly beneficial depending on how you choose to upgrade them. A crew member with more attack then other stats would be able to break into high security facilities and break down walls more effectively then someone who is a defensive type. Someone who is more evasive may even be able to find their way into the facility, grab whatever it is you are after, and sneak back out without being seen. Of course, if they are seen; they can't really do much else but surrender.

All in all, I think that the amount of money a protagonist has should influence and be influenced by, the amount of control he has in the city. As more money would mean being able to effectively control more areas, more underground and illegal operations and being able to have more powerful and effective crew members at your disposal.
Good post. I really am a fan of the group option they introduced in
Assassin's Creed: Brotherhood
, I think it def adds something to feel like you are operating within a group. I do like the RPG like aspect of having your individual characters level up in skill and ability but again I urge anyone who likes the idea as well who hasn't watched that Freedom Fighters video in the opening post to do so. The way in which you could literally tell each of your squad members to defend, recon (go spot an enemy and return to the group), attack or stay was 2nd to none. It's crazy that such an effective game mechanic hasn't been used since. The closest thing I can think of since may be
Battalion Wars
on the Nintendo Gamecube but that was more RTS than a 3rd person shooter.
To really and truly having that precise specific control over the positioning and actions of each and every one of your crew members makes a marked difference and gets you a lot more involved in any firefight. I'm sure a bit of that thinking went into the three protaganist mechanic as they've stated they don't want people to feel like there are any dead spots in the mission. You get bored driving, switch to the guy shooting or the guy sniping across the street. There's a lot of potential in that. To have the ability to control a small group outside of Michael, Trevor and Franklin's co-op missions and to have smaller repeatable side tasks for them to do would add a ton of replayability to this game after it's been completed and a good reason to spend and invest money.
QUOTE (DTUMan @ Friday, Jan 18 2013, 14:57)
Yeah Meta, I did watch the video of Freedom Fighters in your opening post and you are completely right; the squad control mechanic on display here is never used in video games apart from, as you said, pretty much that one time - it is quite saddening in my opinion that great ideas are only used in video games once and are never ever touched on again. If a crew system is added in GTA V, having that level of control over your crew for non-story side tasks (or even in free roam as well) would be simply amazing. It would be certainly handy in prioritizing as well if RPG elements are added to such a crew system (as mentioned in my last post) as you could order your more experienced crew members into the thick of the action while having your less experienced crew members being able to follow their lead and flank their targets. It would certainly add to the overall sense of influence and control that each of the protagonist can possibly have. I also agree, having such tasks would greatly extend the replayability of the game for me as well outside of the story.
QUOTE (Waingro @ Tuesday, Jan 29 2013, 19:05)
My main question is concerning: SIDE ROBBERIES

-We've heard about the Armored cars, but what are the chances that there will be other "baby heists" we can perform while roaming around the city? ATMS, people, drug deals, etc?

How "open" will the pursuit of money be, without verging into gaming the system

(like horse betting in San Andreas)?
You've brought up an excellent question there. Typically and by design side missions, fetch quests, activities, mini games - whatever you want to call them are set in place to give a video game protagonist a constant way to grind revenue and experience. If we are approaching this game with the desire that we want
significant
amounts of money to be much more difficult to acquire, the last thing we want is for revenue to be
farmable
.
This is where the random encounter element could really come into play in that certain opportunities come and go. Like for example you mentioned, drug deals. Drug deals should not always present themselves as a constant activity you can just go to and constantly do. You get a call or a text and you have to bring what's asked for by a specific time to a certain random location. If you agree to that and don't show perhaps someone comes looking for you. If you pass, you have to wait several game hours before someone else seeking narcotics gives you a call. When you arrive at the transaction things could go as expected or you could be walking into an ambush, if you survive that you walk away with the money
and
the drugs. If you decide to double cross the other guy, once again people come looking for you and it's a much longer period of time in-game before anyone else calls you to set up a deal because you're viewed as untrustworthy.
Also applying a reasonable degree of difficulty to the value of what you want to take would work wonders. You want to break into an ATM and possibly you bring along some tools to do so, however doing it manually takes an extremely long time, we're talking 3 or 4 minutes in game, hoping police don't walk by and notice in which case you'd jump to 2 stars immediately.
Maybe you lose your patience and hook up a wench to the ATM and yank it out of the wall or smash directly into a store front (I actually witnessed this in real life working Night Audit for a hotel in Orlando once). From there you actually drag the box down the street or chuck it into the back of your truck all the while fending off a 4 star wanted level. From there you have to crack open that ATM like an oyster but it still takes a good couple of minutes to make it happen.
And for that ultimate big game hunter who wants to rob a bank on their own without the other two protagonists, sure you can, cowboy. The only small problem with that is that robbing a bank on your own without a plan or backup IS REALLY f*ckING DIFFICULT! Like the hardest side thing you could actually do in the entire game. Police response should be severe and immediate. Pulling out a gun on the bank teller may net you a couple hundred dollars from her cash drawer but if you want to stick around and crack open that vault you should be required to have specific tools for doing just that, have to carry the money in cumbersome duffel bags and be prepared for a tooth and claw gunfight during the entire process after say a brief warning.
"Come out with your hands up or were coming in!"
over a megaphone, buys you about two minutes before snipers start taking pot shots and SWAT members start kicking in the front door. On the chance you are successful, grabbing a hostage may get you to your car but that's about it. Snipers will take the shot if they have it and the police will pursue you aggressively and to the fullest extent until they are well convinced you are either dead or gone.
Pulling off something like this would make you feel like a bonafide bad ass and be truly rewarding because the chance of failure the entire time was likely and no one factor was predictable.
Flipping the Script
QUOTE (E28 @ Thursday, Jan 10 2013, 19:28)
dealing drugs
That's the 2nd time that's been mentioned and I actually thought that was one of the more fun things to do in
GTA - China Town Wars
. Drug exchanges and sales of narcotics could be compelling if handled correctly. I liked the ability to buy something cheap and then turn it over for a bigger profit to someone else when there was a greater demand for it. I also liked that you only had so much time to set up the exchange and sale, that kind of added some urgency to it.
QUOTE (Cyfa @ Thursday, Jan 10 2013, 20:42)
Drug Dealing was hands down the most fun minigame in the entire GTA franchise. That is all I want from GTAV, personally, I'll be disappointed if there isn't some form of drug dealing. Nobody can tell me it wasn't fun to start out with like 10k and go buy and sell drugs for an hour and turn it into 80k. That was the definition of a fluctuating economy.
Very few jobs seem particularly practical in GTA V's past in context to being a criminal. Taxi Driver, Pizza Delivery Guy, Ambulance & Fire rescue? It seems pretty out of character and I'm sure that's a big part of why it was cut. It wouldn't have made sense in the storyline for Niko to being doing any of those things outside of driving a Taxi for his cousin, Roman for employment.
Selling and buying narcotics is risky and dangerous and comes with a whole series of X factors that makes it an appealing challenge. The fact that the entire premise around it involves money makes it well worth revisiting in a future Grand Theft Auto.
QUOTE (TheGreatGig23 @ Wednesday, Feb 6 2013, 14:51)
With regards to the drug dealing business, I'd love to see the inclusion of this. It could be one of those things that help the game extend its playability. The only criticism I have is the idea of "turf". Unfortunately, San Andreas has tainted my view of it so it immediately comes to mind as something that's just annoying. Although I'm positive it can be turned into something that is enjoyable. Like GTA-King said, taking over the fronts of shops and bars sounds like a great idea. Very simple yet incredibly fun. It could range from kicking the living daylights out of a single wannabe punk to taking on a bunch of armed bikers. Perhaps the level of difficulty in attaining the area is an indication of how popular it is. This would then lead to the less-popular areas being attacked less as there isn't as much competition, even when attacked it's only by a couple of gun-toting fools. Conversely, the more popular area is attacked on a regular basis by heavily armed gangs. This would lead to an excellent solution for people like myself who want to get involved with drug dealing, but don't want too much drama, whilst also satisfying those who want a more full-on experience.

Apologies for sort of drifting away from the subject of money, but I can't really think of anything to add to what has been said already. Still, if Rockstar have taken even a small amount of this topic into consideration, I think we're looking at something quite special.
Whaaaaaa? No need for apologies, m'man it all ties together.

Money doesn't just magically fall out of the sky into large glowing perfectly stacked bills...urm..um, OK bad example but as much as we've already touched on drug dealing in this thread it's well understood that procuring money through the distribution and sale of illegal narcotics, in a decidedly more tangible, methodical way could make for a very compelling side activity and really give us something to feel involved with in the overall economy of this game.
To speak to what you mentioned, I wrote a
GTA TriState
proposal some years back and in one section of the map you had the infamous Carcer City from Manhunt. I was really fixated on the idea that if you drove into this area of the map, "
a bad part of town
", if you will, that ped and traffic scripting and possibly lighting would change dramatically to really drive home the point that you've stepped into a place you shouldn't have. People would watch you suspiciously from inside broken down tenement buildings, gang members and locals in general standing around in the streets and on the corners would give you a long slow, hard look as you drove by, really establishing that you don't belong there.
You're idea about having a sort of localization of what may be considered a more desirable area of the map to sell drugs in verses an established turf on a color coded grid could really work well if applied in a subtle fashion. In San Andreas you were given a message that you'd started a gang war in a certain section of the map and a clear indication when that section of the map had been "conquered".
How cool would it be to be called up and asked to go to some unfamiliar spot on the map, you initiate that activity as we previously described it, delivering the product to that certain location within a set time only to find out when you arrive that the double cross isn't coming from the guy who set up the deal but rather from the greedy locals who've taken notice that something is obviously going down and they aren't contacting the police to take care of it.
Confusion arises as people you don't know show up with guns drawn and accusations of a set up are made from both sides. Every thing breaks down into a mad firefight as the last man standing gets to scramble away with the product and the money. However the jilted contact's people may assume the worst and send someone to come looking for you after the fact.
Once that situation is resolved you may be able to operate in that area of the map for a time with less hassle or the level of hostility may increase depending on who's unspoken turf it is making an attempt to beef up their presence to see who was causing all the ruckus to begin with.
Checking In, Checking Out
QUOTE (grope_4_that_date @ Friday, Jan 11 2013, 01:55)
• Motels, hotels and other temporary safehouses are essential.
QUOTE (Whiskey @ Friday, Jan 11 2013, 15:14)
Love the idea that you can never have too much money. I am also with the idea of abolishing pickups. It just makes the whole concept of money more important than just buying $1 burgers and clothes. I would rather go on a crime spree stealing cars and mugging people to afford my weapons so I can move up the criminal ladder. I think they should have different tiers of heists. Starting with random stores and outlets where you just run in and 'Smash and Grab' with little consequence, maybe a few wanted stars.

Then you can move up the ladder to things like jewellery stores where you have to plan your heist, then you have to spend your hard earned money on things like disguises, vehicles and weaponry/gear. (like the jewellery heist in the first trailer, where they were in the Bugstar overalls) Then you can have high level banks like Three Leaf Clover where you can run in and perform a robbery like the film 'Heat'. Maybe the highest level heist could be a facility where the government stores all it's gold. The heist should be highly rewarding but extremely well protected and would need some serious planning and equipment to pull off.

Hopefully if they carry over the inventory system, you can purchase wearable bandannas or balaclavas for heists. Which when worn they will conceal you so when you take them off the cops have a less chance of spotting you since they never seen your face.

Also with the heists. While the heist is in progress, any money you've stolen should be placed in your inventory. Then placed into a vehicle like an armored security car which you've purchased or stolen in preparation for the heist.

As said earlier in the thread you should be able to rent properties as safehouses instead of purchasing them so instead of getting them for free and forgetting about them you can rent them on a need-to basis. Giving you something else to spend your money on. Then when your heist is in progress you have to get your vehicle with the money in it to the nearest safehouse you've rented. (You can rent as many as you like so you have a plan A, plan B ect) Then a few hours pass, a fresh change of clothes and the money is yours. But with items like jewellery or vehicles, you can either keep them or fence them for cash.

Two potentially good ideas there.
Physical Money:
Making money, particularly large quantities of it a physical thing you actually have to pack into a getaway vehicle and carry back to a personal vault to spend later on large purchases. Holy sh!t, that would break every previous gaming convention from the mainstream. There is literally no popular game now that puts a limit on how much money you can carry aside from a wallet size in
Far Cry 3
or
Zelda
but to literally have to stack up cash and haul it from point A to point B would be visually very satisfying. A lot of us our visual and tactile to a large degree so actually seeing a big stack of mula on a pallet in the back of a van
down by the river
would make us feel like
Scrooge McDuck
swimming through the money vault.
Rentable Properties/Locations:
That would indeed give us a great reason to spend money. You want to plan for a heist at a particular location but you also want to set up shop somewhere nearby, so you rent a room at the seedy motel across the street to watch the guard rotation and police presence or whatever. You can't buy the place but you can rent it and watch the general routine around the bank and run back there to save should you need to. Great idea, really.
QUOTE (GTA_stu @ Friday, Jan 11 2013, 16:41)
Gotta say I do like the idea of money being a physical thing too. That you could only carry a certain amount on you, and keep the rest tucked under your mattress, or in a vault/safe somewhere. If they're doing it with money though, surely they'd have to do it with other things like weapons as well. It'd be a bit weird if you could only carry a certain amount of notes in your pocket, but it's ok to have 10 massive guns that you just store in your anal cavity.

I'd actually like to see how a similar system to Resident Evil 4's inventory could work. Where you have a set limit, and basically each item takes up a certain amount of space and it's up to you to try fit it all in. It probably looks a bit crap just by these pictures, but I'm sure anyone that's played it will tell you that it was pretty god damn awesome.


QUOTE (Forty @ Friday, Jan 11 2013, 16:48)
That inventory system reminds me of Diablo, and while it's not a bad idea, I'm not sure I see it fitting into what I expect in a GTA game. Not saying it wouldn't work, but they've always done it differently.
I really like the inventory system from RE but I do know so far Rockstar has favored a weapon wheel (RDR, Max Payne 3) or a bumper switch (GTA IV) to keep the player in the action. Accessing a menu to select a weapon wouldn't be the worst thing in the world but it would temporarily take you out of the action. A possible hybrid could work, where it's simply understood that whatever weapons you packed into your briefcase are the ones you can tab between. The rest of the items packed in the suitcase would simply be case sensitive tools of the trade for the specific job you're planning to do.
QUOTE (grope_4_that_date @ Friday, Jan 11 2013, 17:23)
Motel features:
• You'd be able to save your car there.

For some reason that made a funny little idea pop into my head. Imagine you leave your vehicle at the Motel, Hotel, Holiday Inn (
Say WHAT
!) well past your stay and they have someone come and tow your vehicle to an impound lot. From there it becomes a little side mission of sorts to break into the yard and steal your car back. Good opportunity for hijinks there.
Credit where Credit's due.

QUOTE (Carl CJ Johnsons Brother Brian @ Thursday, Feb 7 2013, 00:15)
It is always good to see great topics like this one! I admit that I haven't read through the topic but nevertheless some things caught my eyes. I like the idea of

physical money

because it would add realism to the game and it would make you think twice before you buy something expensive like a luxus car or heavy artillery or whatever when you are miles away from your home, perhaps somewhere deep in the countryside. Let's be honest, it always was sort of boring to have several million dollars and it seemed like you have infinite opportunities but then... you realize that the opportunities are limited compared to the ammount of money you have. It's something you get used to but I think it's time for a change. It was also a bit weird that you could buy all possible stuff at once to let it appear as if you have millions of dollars in your pocket in past GTA games and that's why the bank system could be useful, add more to realism and avoid to buy things that you don't really need. It wouldn't be a bad idea if GTA V would have a working bank system and a restriction of how much money you can carry with you.
It really is an interesting idea to revisit the idea of physical money and having a limit on how much you can carry under certain circumstances. Reasonably, all the money you have in the world you keep at a bank or a personal vault at your residence, from there you can carry around two thousand in cash in your starter wallet and have about a $500.00 spending limit on your starter credit card. As you go through the game and spend more your credit rating goes up and your limit increases allowing you to make more expensive purchases. This gives you something to work towards and encourages you to make frequent purchases throughout the game.
Tools of the Trade
QUOTE (Waingro @ Wednesday, Jan 23 2013, 20:23)
So besides character goals, what are the protagonists spending their money on?
QUOTE
-Missions specific tools that cost $
Cutting torches, C4, wire cutters, small electronic gadgets to get past complex security systems. I very much like the premise of actually using tools to advance through certain missions and areas or being given more options because you brought the right items. It totally fits the theme.
Imagine early on in the game your little mismatched group does not have the proper tools for a job while attempting to crack a safe in a Credit Union, the alarm trips and two of you are forced to hastily lug the medium sized safe out the back door and throw it into the back of a van. From there without many options on how to open it you take it to the top of Mt. Chilliad and chuck that f*cker over the edge while one of you waits at the foot of the mountain in hopes that it'll crack open upon impact once it hits the valley below.
Later on in the game when you have the right tools to disable the alarm and expertly crack the safe that will seem like a humorous anecdote on how you used to go about doing things.
QUOTE
-Character specific items for show
It was addressed earlier in the thread but there's plenty of room to expand on having these characters buying things that are aesthetically pleasing for their home and person that fit their character. That could even expand to personal touches on the vehicles. Tacky bumper stickers for Trevor, a little Hawaiian hula girl dancing around on Michael's dashboard, a sports decal in the back window of Franklin's favorite whip. Just little touches that define their tastes a bit more.
QUOTE
-Phone upgrades/In Game Apps for your iFruit?
This really hasn't been addressed but a few modest apps with actual working games or useful functions in the game would make a lot of sense. With the recent official art of the beach bunny holding the device it seems like a likely inclusion.
Again, it's been addressed and marked in the intro but having useful items and locations that are not permanently owned, especially in case sensitive situations or areas of the map would give you a good reason to spend money on them again.
Ever since it was first pitched and ditched in San An people have typically shouted down any notion of having a functional gas tank in the game. The typical reason being no one wants to run out of gas and be stranded in a remote area of the map and then have to slow ride some poor farmer's tractor back to civilization.
With the new system in place I can see this being a good opportunity. Say you run out of gas as Trevor and you call up Franklin in the city to come pick you up. You switch to Franklin and drive out to find Trevor making unwanted advances on a less than willing farm animal and admonish him for his uncouth behavior. Everybody wins.
Bribery's been done quite a bit in open world games but it never feels like a particularly satisfying portrayal of what that would actually entail. I don't think it should be a proper option until you actually seek out and find that weak link on the force who's willing to look the other way or make a legal problem less visible. You should become intimately acquainted with that person or small group of persons and they should be exclusively the people you deal with every time you're trying to grease the wheels as opposed to paying some faceless entity or just any cop you meet on the street within the game.
Pretty sure that's been confirmed somewhere in one of the main articles a month or so back, def looking forward to what they do there.
Selling drugs has been a big point of discussion so far, actually doing them could produce somewhat comical results like we saw in IV during the social outings producing a whole line of dialogue and behavior you wouldn't have gotten to see otherwise. That would certainly be worth paying for.
QUOTE (Waingro @ Friday, Jan 25 2013, 16:15)
-I definitely do hope for the Apps, mission specific tools, and some sort of function that makes it necessary to keep doing these heists. If the theme is the "pursuit of the almighty dollar", and (according to game informer) a set amount of money will be needed to get to some of the missions.....we the players need to feel that pull for wanting/needing more cash as fast as possible.

If the goal is to be "king of the world and own a lot of stuff"....well I've played that game, and I'm tired of it.

I don't want to have a million dollars sitting in my bank account half way through the game and yet The Holy Trinity are still doing dangerous missions for a grand here or there. It makes no sense.  I want to keep getting pulled back, I want to feel their greed and to feel that I need things to make that money burn a hole in my pocket, each dollar slipping away like sand between my fingers.
The

s in the Details
QUOTE (Znd @ Friday, Jan 18 2013, 15:03)
I've always thought it might be cool if you had ways to make money in GTA that were conventional, and mundane even. Things that are more true to life. Regular jobs at offices, stores, restaurants, bars, theaters...maybe some trade-oriented gigs like plumbing, carpentry, mechanics, massage therapy...

Some people might say "Why? That's boring."

I don't think it is, because if you still have the nefarious ways & criminal trades we're used to in GTA, it creates a nice contrast. A contrast that says you can do the things you don't like doing in real life, but when they are packaged within a world that is imaginary, where there are much more options and where nothing is permanent, they become fun, because they further immerse you into the world by making it so familiar and relatable.
In a way that really sounds like a modern day version of what they tried to do with
Fable
. Outside of adventuring in every village and town you could do menial tasks like chopping wood, cooking, making armor and playing music to generate revenue as you have full freedom in those games to engage in heroic or evil activities. I don't necessarily think it's a bad idea or boring but I can see the argument being made that it pulls away from the theme of the game which is crime at the end of the day. Still, from this end, I wouldn't be opposed to it aside from knowing that typically such activities function as mini games and require the same resources and coding that the more expected and fundamental aspects of the game take up.
QUOTE



And if you really wanted to, you could create your own kind of narrative

outside of the one rockstar has created about crime...your narrative could be how you got into crime...or how you got out of it.

Maybe at first, you're not doing big missions with the other 2 characters that much. Maybe you're just going to work, washing dishes or working at some gas station, but you gradually choose to do more and more of your other job, which may be drug dealing, or burglary.

Or maybe, you've been doing a lot of missions, a lot of crime, a lot of dirt, but you are used to that kind of world and those kinds of choices, and you've seen a lot in it, and even in this video game world which tends to trigger our ids a lot and not trigger our consciences, or our fear of consequences, you just crave a relative peace, like most people do in real life.



Those are all things that are applicable to this game, but in the future, I think they could take this whole concept of the user being able to control and create a whole other narrative outside the main storyline

.

You could make your character struggle with a drug or alcohol addiction, which could alter their mental and emotional states, their mannerisms, and eventually their appearance.

You could have a whole circle of friends and family, but you could make choices that would effect your relationships with them, and they would each have their own personalities, which would cause you to react differently to each of them, and then they would react to your reactions. So maybe you think you have a lousy friend or family member and you're rude or short to them, and they're angry and resentful of you?
I think a knee jerk reaction to such an in depth level of interactions and even addressing the main protaganists emotional state would be to dismiss this as you're suggesting Rockstar should create a Sim.
I've heard time and time again on this very board that people don't want to play
Grand Theft Sims
or something similar whenever people start breaking things down to mundane daily functions and maintaining your characters mood and so forth. I would argue that that level of detail and interaction isn't a bad idea at all, it really carries things forward but within this generation of consoles it isn't practical when you consider once again all the scripting, coding and money that has to be spent simply to create these simple every day functions we take for granted.
Say I want my character to be able to in a very realistic way eat a bowl of cereal for breakfast. He needs to walk to the fridge and open the door (script), he then needs to pull out a gallon of milk, (script) he then needs to retrieve a bowl from the cupboard (script), sit at a table, (script) pour the milk without spilling it (script) and eat the ceral with a spoon (script). From there he may wash his dish (script) or put them in the dishwasher (script) and return the food items to their respective places in the kitchen (script). Every bit of that has to be designed and paid for, it adds something to the game, certainly a bit of immersion to be sure but add that and a hundred other every day things into what is already one of the most expensive and lengthily produced game series being made to date and we start to lose our way.
Within this generation of consoles there's a real "
choose your battles
" mentaility when it comes to Open World Games. Does it add something to the narrative or theme? Does it work properly? Hell, is it even fun to do? Those are the central factors that have to be considered when deadlines start to meet their end and budgets are being met within game production.
Maybe one day a few console jumps from now, you will come home to your apartment from a hard day's work turn on your tele or monitor and then come home to your
other
apartment, switch on the tele in that world, watch some programs and then step outside and go off to be as chaotic or mundane as you choose to be but we're not quite there yet. Online Games like
2nd Life
are attempting to have that level of interaction and immersion but they start to feel very fake, very fast a day or so in. But, like someone said on the last page,
"A brotha can dream
".
Retail Scavenger Hunt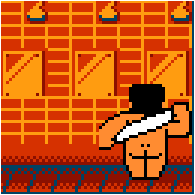 So going way back as far as I can remember to my original favorite, free roam, open world, naked man in a sauna game,
River City Ransom
, I have to say that buying lots and lots of miscellaneous sometimes useless retail sh!t in a game has always been very appealing.
Whether it's fast food, fine dining, expensive gadgets or flea market T-Shirts with a Rottweiler airbrushed and sequined to the front of it we all take immense satisfaction in spending money on something other than our actual bills. Disposable income is a cultural addiction for people here in the good ol'U S of Arse so any game that lets you do it ad nauseam immediately has some intrinsic appeal to it.
And we can see that in any number of hugely successful games.
In
World of Warcraft
it's an open market place where Ren Fest refugees and Blood Elves merrily exchange magical crystal strap ons in a musty auction house. In
The Sims
it's a bigger flat screen television to watch while speaking in tongues and pissing on your living room floor. In
Fallout
it's bartering rusty brown and green items for other rusty brown and green items. These games are very different in theme and format but they all have a common link in playing at our desire to acquire material things.
Now lets look at Grand Theft Auto. As GTA players, broadly speaking, we steal anything that isn't nailed down, occasionally buy a hotdog and a new Hawaiian shirt and we're on our way.
One very common complaint, especially from sadist nutcases like myself who just
have
to finish these games at a 100% is the monotony of chasing down the collection items. Yes, yes I know it gives you some incentive to explore the map but at the end of the day what the f*ck is a south central, Los Santos Gang Banger going to do with a Horseshoe and an Oyster other than take
Sea Biscuit
out for a romantic night on the town?
So what
if
...what if instead of looking around for these weird little floaty icons, the things we collected all over the map were located at clothing & department stores, restaurants, roadside illegal immigrant fruit stands, fast food joints and neighborhood convenient stores?
Again this was previously suggested in some part:
QUOTE (dead horse for a reason)

In regards to customization outside of vehicles you also have a lot of potential for customizing your character's residence. No, you won't be buying up safehouses in this game as it's been stated BUT you could certainly embellish the living sh!t out of the places the three protagonists do live. I would love, love, love to see Trevor deck his trailer out in tacky white trash sh*t like Christmas Lights, Deer Heads and Velvet Elvis paintings. Fun, cool things that fit each character and define their personality a bit more. It would be fun to see and provide a definite incentive to spend money.

I really enjoyed that aspect of Vice City as you completed missions and side tasks you'd find new mementos and trophies lying around in Tommy's apartment and Mansion. I'd like to see a return to that aspect for sure.
So not only make these collection items ones that you acquire for your home for doing side activities and beating special storyline missions but also make it part of what each character seeks out while exploring retail locations all over the map.
In every place on the map you are able to purchase food, clothing, weapons, condoms or otherwise there will be ONE unique item that needs to be purchased as part of each protagonist's personal home collection and allow that to fill the massive void of no longer having an unsuspecting glowing orange pigeon to shoot hidden precariously under a homeless guy sleeping in a stack of Huggies boxes.
You get out there, you have fun, you buy souvenirs like the hopeless exploring little tourist that you are at heart, by the end of the game you come home to that cool one of a kind
Claude Speed
commemorative movie poster, a knock off
Super Degenetron
emulator in front of the television and a rug that
really tied the room together, man
. You never know the medicine bag that panhandler standing outside of the Truckstop sold you may contain the long lost patchouli smelling ashes of
The Truth
.
So You give each guy 30 or so unique things to find and presto you've collected 100 plus trivial items to satisfy the GTA Gods that you've hopped through the hoops and collected the cheese adequately.
Sound reasonable?
rTunes
QUOTE (deffpony @ Saturday, Feb 9 2013, 17:05)
Hey Im not sure if something like this was mentioned but another member posted this in a thread and I thought it was a great idea.

You should be able to download in game radio songs to an iFruit player and listen to jams while running around. Its small but I think it would be a great way to spend money.

Honestly there's a
huge
potential there for Rockstar. I mean a full on viable opportunity to generate instant DLC revenue for them and to keep the experience of free roaming fresh with a whole new enhanced soundtrack playing in the background in the months following GTA V's release.
Music is such an integral part of the Grand Theft Auto experience imagine if they acquired new music rights every quarter so that you could upload a whole new selection of songs to your iFruit which you could listen to anywhere on the map outside of a storyline mission. Once you've purchased and downloaded the new Soundtrack music set with Microsoft points and or off PSN respectively you are then free to spend in game dollars on those songs for access on your iFruit.
Sounds simple and doable and it would certainly keep things fresh when you're 200 plus hours into the game and have heard what
used
to be your favorite song playing now for the 50th time in a row. Being able to look forward to new listening choices would be an absolute boon for players who are sticking around to play well after the main storyline is finished like when they introduced the new radio stations in
Episodes from Liberty City
. Doing that but on a more frequent basis could be incredibly lucrative for Rockstar and rewarding for players who are a bit nuts over constantly hearing new music like myself. Seriously though, I'd already bought both DLC's off of marketplace on day one. I literally purchased EFLC for
Vice City FM
.
iFruit Apps continued..Say Cheese.
An additional feature of iFruit that would certainly be worth spending money on would be a decent built in Screen Cap option. San Andreas has a portable camera which I personally spent hours taking pictures of boobs with. More recently, games like
Halo
have really utilized the screen cap feature to allow us to take some amazing action shots in game of action as it happens. I can say something that intensive might be a little much for filming GTA in it's current capacity but at the very least being able to take a moving screen shot of you farting around in the free roam lobby with friends or doing something in game would be an absolute blast and give us something interesting and fun to upload to Rockstar Social Club.
Are you already ahead of us on this one, Rockstar?

Pay to Play
So with the 10th anniversary of Vice City hitting us this last month I've been replaying it from scratch and really enjoying revisiting an old friend who holds up surprisingly well after 10 years. One thing that I didn't recall that happens in this game about halfway through the storyline is that the narrative simply stops. Once you complete
Copland
and unlock the asset purchase option across the map and complete all side missions. The game does
nothing
to direct you on what to do next. No mission markers, no hand holding. If you did nothing else at this point but hang out at the Vercetti Mansion and drink margarita's you would be led to believe that you essentially beat the game.
It is not until you actually start purchasing the available properties such as the Malibu and Cherry Poppers that storyline missions resume and you become engaged with story progress again.
How interesting would it be to not only work to reach a certain amount of money to progress forward in the storyline but also having to work a bit at learning what that money has to be spent on in order to do the next big thing?
Property Value
QUOTE (Baseball)

The one thing I'd really get a kick out of in terms of spending money is if you were able to buy/start a small business, maybe invest in a nightclub, a restaurant, a bar, or something like that. Hire some staff and watch the business expand, putting money into your pocket.
Well as we know, Rockstar has already said that there won't be immediately purchasable properties in this newest installment but... but I really would say this in regards to that choice. Buying up a bunch of generic businesses and storefronts all over the map may have not been particularly compelling in previous games on the whole, however some of the best businesses in all of the Grand Theft Autos were the ones that were built directly into the storyline.
You buy the Malibu Club in Vice City and from there Tommy Vercetti and all of his confidants stage a half a dozen or more mission starts. It also becomes the planning grounds for the games biggest bank heist. The end result in making this place a "go to" is it became part of Tommy's identity by the end of the game in a way that no other business was.
In the Lost and the Damned, the clubhouse in Alderny was the start point of a majority of Johnny Klebitz's missions but it could have just as well served as a bar and a local hangout.
In the Ballad of Gay Tony, Luis roughly starts out as the manager and head bouncer for Maisonette 9 and takes a very active hand in the nightly operations of the Club, even partaking in many of the fringe benefits that go along with that lifestyle.
More than any of those mentioned, I really feel they got it right in ToBGT. It was sort of a ephiphanous moment there where they realized to make owning a business rewarding you don't just make it a generic acquisition with a pricetag that occasionally cycles and churns out some money for you to pick up but rather you make the business an actual part of the story, something you have to apply a hands on approach to running and from there it becomes compelling and worthwhile as a source of income and something that defines your characters motivations.
If they can recapture that approach again in a future DLC or installment, it's a winner.
Downward Spiral
QUOTE (grope)

Rockstar needs to remember how Manhunt unfolded. In Manhunt, players started out with small melee weapons, while guns and heavy weapons were gradually introduced to the story. 'Bleed Out' was my favorite mission in GTA4. We need more missions that are non-gun based. We've had plenty of GTA4 and it just felt repetitive. Guns need to be slowly introduced to the game, just like Manhunt.
I'm a big fan of
Manhunt
, played the living crap out of it and am probably a bit scarred for life as a result but I really liked what you said about it in regards to scaling violence.
Crime in and of itself is not always necessarily violent. It starts petty and graduates to a more serious degree when an individual takes on more risk. When it does turn violent it is usually out of necessity or the heat of the moment. A criminal who makes his living boosting cars or another who plans elaborate bank heists first thought is not necessarily to solve every issue by shooting up the place. They'll look for the most convenient professional way to pull off their task and apply force where necessary. Even in dealing with an adversary they may not necessarily look to outright kill the person until all else has failed so yes, there's something to that gradual decline into stronger violence that would lend momentum to the game and give you poignant cues that, "
Hey, now it's getting serious, dude
" because prior to the first time you pulled out that pistol and put someone down you were creeping around doing crimes, occasionally roughing people up but you didn't have to resort to that sort of thing until your hand was forced.
I'm not sure that kind of scenario will make it into this game as the opening missions seem to be likely set in stone at this point in production but it is still a very interesting idea to explore for possible future DLCs or installments. A lot of people really enjoyed
Jason Brody's
descent from frat bro to island savage recently in
Far Cry 3
and there's certainly a place for that sort of character transition in a GTA storyline as well but the pacing for it to be convincing has to be handled in a very nuanced way if they ever really want to convince us a valid character change has occurred. Jason sort of went from a rightfully scared out of his wits tourist to
John Rambo
within the opening three storyline missions so that dynamic got cast aside early on for the sake of getting on with the action. I can't even say that was a mistake from a game design standpoint because your average gamer wants to get to the action right away but I'd certainly appreciate the effort if I played a game where I was doing conventional non violent crimes or living a normal day to day life, going to work, paying bills and had to go through a process of learning to be more violent as a result of circumstances becoming increasingly desperate and close people betraying my trust. There's a story there within that idea that hasn't yet been told in the gaming industry.
Additional Multiplayer Ideas
QUOTE (Cyfa @ Tuesday, Jan 15 2013, 06:22)
I think if they truly want Crews to succeed in GTAV, then there needs to be a money aspect. Heists, wars on gang territory,

safehouses even

. Rockstar knows what they have to do to make the game special, but the question is, can they do it with the current hardware?
With the framework they've set in place for Max Payne 3 the Crew structure is there. To have sort of a Crew interface where everyone meets at a safehouse in a small free roam interior and gets geared up for a big heist before going against others online would feel absolutely cool and add an original aspect never seen before in a multiplayer game. It would be like having a sort of social home base for your Crew prior to getting into the serious business of competing against others. The more that picture forms in my mind the more amazing it sounds.
Imagine as your crew grows in rank and money that that Crew homebase grows and the interior improves with added items, decor and equipment? You'd have a physical sense of your accomplishment (or lack there of) gearing up for multiplayer everyday. Nice.

Other Multiplayer Add Ons1. Max Payne 3 Rank Acknowledgement:
Be it a special symbol, skin, character T-Shirt, a cool DLC Social Club weapon or commemorative monogrammed adult diaper SOMETHING should be done for the loyal fans for time served slagging it out and ranking up in MP3 in a way that shows in GTA V. I imagine Crew ranking to some degree is going to start fresh with GTA V but a solid nod of some kind from Rockstar to those who laid the groundwork for the Crew concept to be a success should be included just the same. To a lesser extent you could even give a nod to Legend Ranks in Red Dead Redemption or 100% players from GTA IV. Continuity is sexy.
2. Crew Rank Structure:
I've pitched this idea a few times to your mouth off email and even on the Newswire once or twice, I believe but having special Ranks within the Crews would be very cool and make them feel a bit more special to be a part of. You start with a Crew leader, who would then be able to assign the role of "Captain" to a handful of his best players. This would give those individuals the exclusive ability to actually recruit other players to the crew. From there you could assign "Lieutenant" to loyal players who show potential and may be looking to move up. At the base you'd just have a generic membership, I suppose or maybe a few wacky titles you could pin on people as a sort of hazing process to see if they stick around. "Everyone welcome, Meta Pathos Crew Ranking, Numb Nuts to the Crew"!
This would actually show in the Kill Screen as part of their custom titles or what have you for bragging rights or slight humiliation depending on what end of the food chain they're currently at. I realize "Captain" and "Lieutenant" sound a bit military or mafioso which may not match your theme so feel free to sort out what titles you feel are appropriate.
3. Crew Factions:
This ties a bit into the last one in that you could give Crews the option of picking out themes for their Crew that would actually determine their look and Crew title options. Given the location, so many things are possible. Everything from a black or latino based set of gang bangers to a group of old hippie burnout surfers looking to rob a Bank (Point Break), to a group of corrupt police death squad (Training Day) or unlikely group of people coming together for a Heist (Heat, Reservoir Dogs). Maybe a bunch of car jacking street race enthusiasts (Fast & the Furious, Drive) or some down on your their luck Vinewood wannabes that turned to the adult film business to get on camera (Boogie Nights). Seriously, the possibilities here are endless and as serious or comical as you wish to go with them. I say that because Ballad of Gay Tony brought the fun, over the top humor and flashy club scene night life back to GTA in a big way and I'd still like to see that even in a more serious, grown up GTA we can go back to our roots a bit and keep the tone of MP fun and not taking itself overly serious.
I also feel rather than cycling through these faction types as you do in Max Payne 3 the Crew should actually commit to one theme so it becomes a part of their identity. Free Agents who haven't selected a Crew would be free to choose any theme to get a feel for what they prefer and in a generic Free For All Deathmatch you could try on other skins for a laugh but your Crew as a Group should pick a theme and commit to it, possibly unlocking more titles and custom skins as you play within that theme set as you go.
QUOTE (nismo13 @ Sunday, Jan 13 2013, 22:54)
Lastly you can use the money in multiplayer (which is probably the most likely thing to happen).


I was talking about this with a friend the other night and I think if Rockstar carried over the money from single player to multiplayer in any way whatsoever they'd have to be
extremely
vigilant and there simply couldn't be anything in the game whatsoever that represented a cheat or an exploit to gain money. They'd probably be having to patch the game constantly as people continuously managed to find work arounds and then crossed over to MP with a lot of undeserved Rank and status.
What is more likely if they were to do any tie in is that you could work to save money in single player to buy certain items that could be used in multiplayer not all of them mind you but a few that would carry over and show you actually invested a good chunk of time in the single player campaign before you started in with trying to build up your multiplayer assets with money gained in that mode.
QUOTE (deffpony @ Tuesday, Jan 15 2013, 01:20)
However I do think that there should be assets that can carry over into multiplayer. Like perhaps a car or clothing at least
Well that's more or less what I said, once you've purchased or completed certain tasks in the single player game this should unlock a few unique things in the multiplayer you wouldn't be able to get in multiplayer otherwise. I'm thinking a few trophy items to show you actually play both ends of the spectrum:
100% T-Shirt -
"I completed V at a 100% and all I got was this lousy T-Shirt"
1 unique vehicle loadout for collecting all 75 vehicles for a chop shop.
1 unique weapon loadout for spending over 500 K on weapons and ammo.
1 unique skin for purchasing all clothing items.
1 unique skin for going Legend 10 in
Max Payne 3
*cough*
1 unique ability for completing all side activities for each main protagonist.
+25% Money Acquisition in Multiplayer if you robbed over 500 Million from in game banks and businesses.
The possibilities to tie it in that way are endless and give a nice incentive to play on both sides of the board.
QUOTE (Shinsta)
Further Acknowledgement of previous R* titles: Adding on to Meta's idea of rewarding Max Payne 3 players, I believe players should be rewarded further for playing previous R* titles. For games that have multiplayer capability and a rank system, such as RDR, MP3 and GTA IV, you're only rewarded if you hit a certain Prestige level. For other titles, such as L.A. Noire, Bully: SE, and MC: LA, you're automatically rewarded just for having a save file in your XBOX or PS3. Regardless if it's a exclusive avatar character, or just a simple title that you can wear, it's a nice nod and a fun way of rewarding loyal R* fans, not just GTA fans.
I honestly can't see any harm in that. One of the coolest moments ever in gaming history was when
Psycho Mantis
from MGS1 accessed my Playstation One Memory Card and told me he could see that I liked playing
Konami's Suikoden
. For a company that's constantly re-purposing their older material having little trinkets and titles that nod to purchasable Marketplace Rockstar games seems pretty nifty.
QUOTE (Shinsta)

More Incentives to Legend-ing Up: As mentioned before, both RDR and Max Payne 3 have a "Legend" rank system that gives players the option to move up a legend rank. While you're given a new title and a few other things, you end up back to square one and all of your weapons and other items that you've worked hard to unlock are locked once again, which is enough reason for several players on RDR and MP3 to choose to stay at Lvl. 50. While the choice to "legend up" should still be given to players, there should be more incentives and benefits added to the Legend ranks.

Now assuming that GTA V multiplayer plays similarly to RDR multiplayer, and assuming that GTA V will have ten legend ranks, I believe certain special weapons, vehicles and other goodies should only be unlocked if you have reached a certain legend level. If R* is up for it, they should even do multiplayer events for players who've reached a certain Legend rank and higher. Just another way of rewarding players.
You and I have actually discussed this over LIVE a few times. Leveling up, Going Prestige, Advancing your Legend - whatever it may be should give you something special and useable beginning players do not. I say screw that namby pamby assumption that simply because a more seasoned player has a small edge from things he's earned in game you run the risk of scaring off newer players. If anything, it should make them work harder to get the things you have and be on that level. Survival of the fittest. And if competitive play is not your thing than obviously there are other options within what's coming, no worries there. A solid reward for time invested
should
be evident in your look, abilities and gear every time you advance through a multiplayer cycle.
End Game: Going Legit / The Road to Ruin
In the ending for
GTA IV
and the subsequent DLC's that followed you had decidedly different endings. Niko stood in front of the
Statue of Happiness
with nothing but a bit of revenge for a recently slain loved one and a sobering realization of the current warped state of the American Dream. Money couldn't buy Niko happiness or replace those he'd lost. He'd have to settle for an eye for an eye.
In the ending to
The Lost and the Damned
we see a similar theme:
QUOTE (Wiki)

It is revealed that Billy is planning to testify against the Lost, pin all its crimes on Johnny, and enter Witness Protection Program. Johnny leads the remaining members of the Lost in a daring raid on the state prison in Alderney, where Billy is being detained, and personally executes him. With Billy dead, the surviving members of the Lost return to their clubhouse, where it is revealed that the only surviving members are Johnny, Clay Simons, Terry Thorpe and the paraplegic Angus Martin. With their club and brotherhood destroyed, they decide to burn the clubhouse to the ground. The last shot is of them watching it burn, contemplating what comes next. Ashley promises Johnny that she will enter rehab, with Johnny wishing her the best.
TLaD ends in an incredibly somber tone and once again a "happily ever after" seems non existent in this new serious and gritty Grand Theft Auto universe. Survival and protecting those you care about seems to be the only "success" one could hope for at the end of the day in Liberty City
Then comes along
The Ballad of Gay Tony
which turns that very depressing notion on it's ear.
The final mission is fun to do, it's very Hollywood action movie, not terribly difficult and has you jump out of a plane with a kick ass song cuing up in the background. In the end the homeless guy gets the money, friendships are renewed, the comic relief, Yusef steps in to give out hugs and love to all around and hope for legitimacy in the future. Everybody wins.
So what we see is the possibility for all negative and positive outcomes to exist within these themes.
What are the best possible hopes and probable downfalls for our three main characters now? I'm sure that's been written in at this stage of production for the most part but it is interesting to consider with the limited amount we do know about each character and their backgrounds what would be one persons "happily ever after" and what would be another's dark day? Do these outcomes conflict with one another forcing a probable betrayal amongst the three or can they coexist in the final moments allowing each one to go his own way and live a legitimate life outside of constantly committing crime to get ahead?
And to tie all of this speculation back into the subject at hand will we have to make the proper contacts, choices and financial goals to see one outcome or the other take place?
Perhaps on a good day, Michael will go corporate, discovering a way to turn his life experience and ill gotten gains into a lucrative retail empire that sustains him as a legitimate business man who's only worry left in the world is to deal with his dysfunctional family.
Trevor could make an actual go at
Trevor Phillips Enterprises
and open up a chain of pharmacies and online mail order pharmaceutical wholesale drug distributors to pacify a medicated populous.
Franklin could graduate from simple repo man to the successful owner of a handful of used car dealerships and settle down with a nice girl (or two).
On the flipside if story requirements were not met, jobs were botched, money was misspent and bridges were burned we could find all of our guys turning on each other in the final moments of the game or perhaps two facing off against one who ended up being the weak link who resorts to something petty and desperate in a mad grab at the final big score.
It'll certainly be interesting to see how the

crumbles.

=================================================================================================
This topic is now

approved.
QUOTE (RSGNYC Mouthoff <mouthoff@rockstargames.com>
Hey Meta,



We take your point entirely and we can tell you that we do pay a lot of attention to fan feedback, whether it's on our Newswire, via Mouthoffs or on outside forums like gtaforums.com. We are very lucky to have such dedicated and thorough fans sending intelligent feedback like you have here, and we do appreciate it.



As a small token of our appreciation to you personally, if you'd like to send us your t-shirt size and mailing address, we'd be happy to send over a package with a few items you might enjoy.



Cheers,

Rockstar Games

=================================================================================================
$

o

?
What are some of
your
thoughts? I'd like to hear them and perhaps add a few to this intro if they resonate with our readers.
CODE
[url=http://www.gtaforums.com/index.php?showtopic=540985&st=0][IMG]http://i50.tinypic.com/2cmkd43.png[/IMG][/url]