Ok first of all I wanna make clear that I know there are some threads about GTAV PC, and also there was a lot of topics about rumors. But the purpose of my thread is not to talk about rumors or to talk about if there is or not a version or to be transformed in another useless debate/ flame war with consoles.
These are all facts, that I mentioned before but that people miss, because they hardly read the whole threads and this time I'll post all the sources of these informations, instead of just listing them. So I think once and for all I should make this thread that originated a few articles on the Internet on websites I didn't even knew with the list I made but that many people questioned because there were no facts to support it, ok here we go:
1 -
Rockstar wrote on Steam News the in the exact same day it was announced to be out for consoles Spring 2013 (console games aren't announced there unless they are also planned for the PC platform):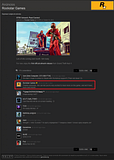 As you can see it wasn't a fake account like some first said, and they even replied to the users that most of the time said they were happy because was coming to PC, and things like that and Rockstar never said otherwise.
Later this sort of comments started to appear, so why would Rockstar pissing users so much? Either cofirm it or not, but not post information on a platform that "won't get a release":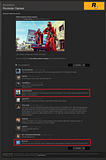 Oh and I did a search on Steam, and there were also published news from Rockstar on L.A. Noire, GTAIV, Max Payne 3 and others but not a single one on Red Dead Revolver.
____________________________________________________________________________________________________2 -
Rockstar made the mistake of including parts of their test files in a Social Club Update (that or some employee about to get fired did it), they made another update right after and removed the content and the folder labeled GTAV but tthey never gave any explanation: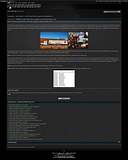 http://rockstarnexus...lub-files-on-PC
____________________________________________________________________________________________________3 -
The leaks/ mistakes of well known websites like IGN, Gamespot, Amazon that listed the game for PC even after the platforms announcement. Some removed it others didn't, and let's be honest IGN was in R* HQ I'm sure they know a bit more then we do but the NDA/ Embargo would get them in trouble if they said something, they already got in trouble a few times for leaks like those: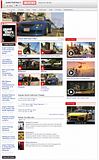 http://uk.ign.com/ga...auto-v/pc-20593
____________________________________________________________________________________________________4 -
The 2 CV leaks from Rockstar employees that mentioned they were working in GTAV and was being developed for Xbox360, PS3 and PC:
http://www.gamefront...ops-in-october/
____________________________________________________________________________________________________5 -
The few messages sent to Rockstar support where people made technical questions about hardware and specifications with them answering as if they knew what the game will need for PC, when the normal answer would be "we don't have any information about that".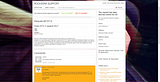 ____________________________________________________________________________________________________6 -
The EB Games Store that had PC BOX (not the final cover) but same as the consoles but with the PC label on given by Rockstar for PC Pre-Orders (someone opened a R* box too soon I bet):
http://img.photobuck...zps9257c53e.jpg
____________________________________________________________________________________________________7 -
Store posters with GTAV artwork where you can read Xbox360/PS3 and PC.
They where the ones who posted it:
http://www.gamemania...88&gmgame=26695
Although the link that had the image is now dead and I don't know where I've put the image I downloaded back then:
http://www.rockstarb...to-v-pc-version
EDIT: The links are working again, and just by any case, I'm posting the screenshots of the website and the advertising ad of this Dutch & Belgium retailer, notice that it is set as "Hot Pre-Order" no one would do this if they weren't sure about it. Also notice that the Box Art is exactly the same of EB Games and it's not GAMES FOR WINDOWS LIVE like many claim, it's GAMES FOR WINDOWS, which is a common label for all PC Games with support for Xbox360 controller (this must be the common artwork box given by Rockstar too retailers for PC till they get the final one out):
http://img.photobuck...zps2669bf6c.jpg
http://img.photobuck...zps67e2a496.jpg
http://img.photobuck...zpsd219f755.jpg
http://img.photobuck...zps8ee0b649.png
____________________________________________________________________________________________________8 -
Some interventions in this same website few years ago, where Rockstar Toronto stated that they would treat the PC platform differently with next GTA and they would unleash the real capabilities of the engine that was still "too young" and they were just learning how to handle it properly.
I can't find where exactly that is, If I remember right was when they posted the first information about the coming Patch and everyone asked why no DX10 and other technical questions, but I'll leave their profile here, in case someone wanna look for it in GTAIV PC Section:
http://www.gtaforums...showuser=352152
____________________________________________________________________________________________________9 -
There was also the leak of information of a guy in this same forum, that he said he worked for Rockstar and he knew the game was too be released back in 2010 the first time, then 2011, 2012 and then was changed again, he stated the game was being developed for consoles and PC and he gave links to some "Inside" posts mentioning GTAV and even that Rockstar had a plan for a GTA kind of Game for online, like APB.
He also mentioned some interesting facts, like the game would have 3 characters, Albert, Franklin and Trevor, the funny thing is that he mentioned this months ago, before we even knew of the existence of 3 characters (clearly the first information of a character named Alberto da Silva was real and maybe that caused a delay in the game release, because was changed to Michael), he also mentioned about the size of the map that was the same said by GameInformer and few other things, unfortunately the link was deleted or something by the Admins of this forum (that have ties with Rockstar, at least one of the Admins does), but I'm sure a lot of people had the chance to see that and maybe downloaded the pics or took screens?
The link was this and was pointed out by a member named
sats
:
http://www.gtaforums...sult_type=posts
EDIT: Found the images I had stored in my HDD (maybe they'll get deleted again, specially if they are "too hot"):
The post with the information leak about the 3 characters with accurate names, except for Albert that later was replaced with Michael (message posted in March 2012 before we even knew about multi characters):

One of the images he posted to prove he was part of Rockstar and the game was originally planned to be released in 2010, like the first rumors said and also you can see and as he stated in another thread I didn't took a screenshot it was being developed to PC since the beginning, what indicates that most likely won't be another port:
____________________________________________________________________________________________________10 -
Rockstar said that the Crews in Max Payne 3 could be used for GTAV, so it wouldn't be fair or made any sense if they said this and the PC players that bought the game expecting to have their friends in their crews for GTA V, be left out.
____________________________________________________________________________________________________
Reason why it wasn't announced yet, my guess is that Rockstar want to milk consoles first specially being this the last year of their "life" at least as the top in the market. And since there was no rumors of any agreements with SONY or Microsoft like there was with GTAIV, and specially because right after GTAIV was released both SONY and MICROSOFT said they wouldn't pay for exclusivity again because they didnt reach their objectives (sell more consoles), it's possible that the PC version is released weeks or 1 or 2 months after the consoles, maybe same like was done with Max Payne 3.
And thats it, not trying to ruin Rockstar plans or anything like it, just stating some facts to give hope to some desperate players that are waiting for the confirmation of Rockstar, specially after reading that "up for consideration article", but the fact is that there was a misinterpretation of it, the question was made for other versions including PC and Wii U and the answer was all is up for consideration, maybe if the question was directed for PC version only, the answer would be different.
I think I'm forgetting something but it's late here and I can't think right, but I'll update this when I remember or I get something more to be added. 
________________________________________________________________________________________________














________________________________________________________________________________________________
Since then a lot of new other indications/ leaks surfaced strengthening these early assumptions, so I'll add them here too. On a side note, not all of them are my personal findings, they are a compilation of all the information provided by many other users in these forums, so the credit goes to each one of them too.
11 - AMAZON.FR made the PC version of GTA V PC available for Pre-Order:
http://www.amazon.fr...e=as2&tag=g5-21
Many people could think this is just a place holder, but this particular division of the giant Amazon was responsible for a lot of other leaks of software and even hardware way before it was officially announced:
http://news.cheatcc....46#.UYrjF8rI_Aw
http://uk.ign.com/ar...premium-edition
http://www.pcworld.c...s-8-tablet.html
http://www.videogame..._by_amazon.html
http://gengame.net/2...-cut-for-wii-u/
http://news.gamewinn....php/news/2322/
http://wegotthiscove...ly-blacklisted/
http://gamerant.com/...ne-trilogy-ps3/
http://www.1up.com/n...r-hero-warriors
A few months after Amazon.FR, other country devisions of Amazon did the same, Germany, UK and Italy:
http://www.amazon.de...58879684&sr=8-2
http://www.amazon.co...58878938&sr=8-9
http://www.amazon.it...&sr=1-3-catcorr
Another interesting thing about this, is the fact that this product already got a "Serial Number", which means it's already in the Company Database, if you search by those numbers you achieve this particular product (in FR for example it's ASIN: B006ISA6VQ).
Also we should use some logic here, why would such well known, respected and influential Company, create a pre-order for a product that they aren't sure that it exists? GTA IV didn't have such an early pre-order before an official announcement and RDR never had a PC version to pre-order either.
Business wise, Take 2 Interactive gave the information to some of the most important retailers and business partners that matter under an embargo, but maybe because so many Companies broke it, they all decided to do the same. Either that or it's some strategy from Rockstar to have the perception of the interest in the game by the number of pre-orders of something not official.
______________________________
12 - A big Romanian retailer also listed the game to pre-order, once again the same thing. We have a respected company "risking" their good name for a title that "doesn't exist". Such tactic doesn't even make sense if it's just a place-holder or lucky guess. By creating such a pre-order for a desired product that people blindly pre-order and at the end not being true, they get nothing with that other then bad publicity:
http://www.emag.ro/j...c/pd/EC94KBBBM/
______________________________
13 - Another big German retailer made available to pre-order GTA V PC, but this time they labeled it "Uncut" version, and even state that by pre-ordering it they guarantee a 100% an uncut version, which is an interesting thing to see. They actually present knowledge of the existence of a particular PC version, which means it's not a place holder but a known fact:
http://www.gamesonly...n__PC_4715.html
But this is not all, the same website at the same time also made available for pre-order a GTA V S.E with the list of items that such version would include, such as: SteelBook with exclusive artwork, World map Blueprint, Stunt-planes challenges, Online-store concessions, Bonus outfits, Bonus tattoos, Special abilities booster, Exclusive weapons.
This created different reactions, but the most common within the GTA community was that it had to be fake, because not only Rockstar never announced S.E versions so soon and wouldn't make such a version with such items.
The fact is, that some weeks later of this happening and with the product being removed after this was found out, Rockstar announced this exact S.E. version with these exact items, which strengthens more the fact that this Company had privileged information of this version and most likely of the PC uncut version too.
_______________________________
14 - And another known German retailer, pre-order with price:
http://www.saturn.de...id=23&et_cid=16
_______________________________
15 - Near the E3 expo of 2013, one of the branches of the organization named E3 Insider when presenting the GTA V publisher Take-Two Interactive, they wrote in the platforms Xbox360, PS3 but also PC:
http://oi42.tinypic.com/2r29boh.jpg
This is a bit strange, because this information comes from the companies themselves and why would they place such information if it wasn't true? Maybe there was so bad communication between T2 and R* and one wanted to announce the game but the other didn't? The fact is, not so long of this being spotted the whole T2 page was changed and references to GTA V and PC were gone. This alongside all the CV leaks with references to PC and later being discarded as typos doesn't seem to be an excuse after a while.
______________________________
16 - A few respected and known websites published Steam Keys for GTA V PC, and it wouldn't be the first time that they ended up revealing unannounced titles this way:
https://www.g2play.n...-Steam-Key.html
http://www.prepaidga...5-steam-cd-key/
http://www.simplycdk...nd Theft Auto V
Once again why would they do this for no reason?
_______________________________
17 - Rockstar Leeds looking for a Graphics Programmer to bring the latest titles to PC: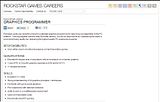 This was removed right after it was spread all over the Internet, inflaming the talks about GTA V PC version.
Now this could mean a couple of things, in the first place it could mean that they need a new Graphics Programmer to replace the old one that left the team, was promoted or fired, or that they reached the point that they need new people to keep with the game development.
But there are some important details here, one of them is that they clearly state the words PC and Next Gen, which means they want to carry their "latest games" to PC and Next gen consoles, and this idea is strengthened with one of the requirements that mention the knowledge of DX9 and DX11, which is the capabilities of the current and the new generation/ PC.
The only latest Games that aren't in the PC yet is GTA V, RDR, The Warriors and MC3 LA aren't "latest" any longer and for sure the only game that can get DX11 treatment is GTA V. Although I don't think they are just starting to work on it now, early in January Rockstar was already looking for people to work on something related to this, and knowing that GTA V wasn't released yet didn't make much sense that they were looking for employees to start working in a new game engine for Next Gen games:
http://www.gameinfor...r-new-tech.aspx
http://www.nowgamer...._platforms.html
In other words I think this is another proof that confirms what I always said, that the PC version will get DX11 support taking the advantage of the knowledge they got with RAGE when they developed Max Payne 3, which points to the fact that GTA V got same treatment and has been in development alongside with consoles and that it will be ported for Next Gen consoles.
Now what is left to know is the "when".
_______________________________
18 - An interesting answer from Rockstar that is a strong fact that goes against all the pessimism from people that don't believe GTA V will reach the PC because of RDR, forgetting completely that after RDR the PC got all the titles and the latest one even got special treatment:
Rockstar been hinting that they are focused on the current consoles version now, reason why they don't answer any PC related questions, exactly like they did with GTA IV, it has always been like this, it's strategic marketing to max out their sales, with people buying the game 2 or even 3 times when it reaches other platforms.
_______________________________
19 - Brady Games, Official Strategy Guide mentioning PC.
So few weeks after the announcement of the S.E. and C.E. versions of GTA V, I've decided to explore the retailers Rockstar Games website had and see IF I could find anything interesting, after all they had some partnership with them. So when I entered in GAMESTOP.com, I didn't find a PC version to pre-order but I found something quite interesting:
This is a shot of a product in that page, the Official Strategy Guide for Grand Theft Auto V and if you pay attention you see their platforms and PC is one of them. Today I went there again and I couldn't find this product, or at least not with the same name, the name was changed and the product image updated, but the description is still the same:
http://smg.photobuck...1fdf0b.jpg.html
The important thing about this, is that this is a Brady Games product that isn't available in their own website yet:
http://img.photobuck...zps0edf9195.png
And if you pay attention every old guide they have there was published prior to the announcement of a PC version, and only say PS3 and XBOX360 as platforms. But this guide for some reason have the PC on it, and hardly this was a typo, this kind of information is usually sent by the company selling the product, in this case BradyGames sent the information to Gamestop that copy-pasted it. So this could mean that BradyGames the company that is aware of the game, map and everything in it in order to create the guides, also know about the existence of a PC version, finished or not.
_______________________________
20 -  NVIDIA made the mistake of mentioning GTA V PC for the end of the year, then denies. After the slip of many retailers and big companies the giant NVIDIA made this "mistake" of announcing a title that isn't known officially to be one of the most awaited games. let's use some common sense, this is like if they said "NVIDIA will enhance the experience in the awaited RDR". It makes no sense in order to say something like this they had to have knowledge of the alignment of games expected for that season, Watch Dogs is confirmed, AC IV too, GTA V most likely is expected but not to the public yet, so after that they had to say it was a mistake:
http://www.bit-tech..../nvidia-gta-5/1
_______________________________
21 - XBOX 360 code leaked before the release allegedly includes code for PC and ORBIS (the O.S. form Playstation 4), if this is true it's a sign that the PC version is being worked out alongside consoles, like Max Payne 3 was and the lines for ORBIS indicate that possibly it is being ported for Next Gen too:
http://www.reddit.co...by_4chan_there/
Its not clear yet if this is real or was made up, but according to whoever did it it is. You can also follow these steps to verify it: 


Enable KDNet on the kit (xbsetcfg.exe /kdnet set ip=<PC IP address> port=50000)
Open windbg on your PC (windbg /k net:port=50000)
Restart the kit, wait for it to connect to windbg on the PC and then run GTAV
Press ctrl + pause break to break into the game (pauses it for debug commands)
Type !dump C:\dump.bin
Wait for it to finish dumping and search dump.bin for fwAllConfigs
If this is true it makes perfect sense, to release GTA V PC alongside Next Gen as a title launch to increase the sales of the new consoles that already broke a record in terms of pre-orders with over 1.5 million and growing.
This could also explain this "tweet mistake" from SONY UK:
http://www.gameinfor...a-v-on-ps4.aspx
It's hard to believe someone in such an important position and projection would make a mistake like this, it is like if they were writing the official price of launch of PS4 and wrote a 2 instead of a 3 and say "PS4 will be out in November for $299", mistakes like this can't happen. So was either a test to see the reaction or something they made wrong and against their agreement with Rockstar. In the last months a lot of retailers are making "mistakes" like these, it's like they are teasing to see the reactions.
_______________________________
22 - Another Polish retailer with the game available for Pre-order includes a release date (29 November 2013), while this is not indicative of the actual release date it's a hint of the possible release window expected, which makes sense with every hint from the claims, retailers and steam keys. 
http://www.3kropki.p...uto_v_gta_5.php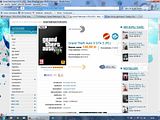 And as pointed out by a user of this forum, the source for the first posters with a release date to Spring 2013 were leaked by a Polish retailer.
_______________________________
23 - The recently released application iFruit to V from Rockstar Games contain a lot of files related to PC, which like the leftover code for V released by mistake in Rockstar Social Club indicates the integration of the PC platform:
http://www.rockstarg...anion-apps.html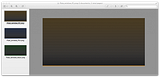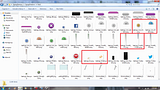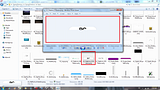 _______________________________
24 - Within the official Social Club website from RockstarGames for GTAV it was found the Social Club PC platform logo, which means the site is ready to handle the PC platform within the files: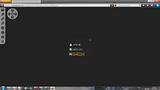 _______________________________
25 - New code found in PS3 game files has lines about PC version bug reports with date from 2012, with features of DX11 and the use of X64 architecture something not present in current gen consoles, indicating not only an optimized version but also an independent development side by side with consoles matching the same scheme of Max Payne 3 development:
http://pastebin.com/EUWhKJhb
http://tny.cz/70a52275
http://www.reddit.co...m_the_xbox_360/
https://googledrive....2MzA/builds.xml
_______________________________
26 - A few users contacted G2Play (mentioned in point 16, selling Steam Keys for GTA V) about how accurate their information was about the existence of the title for PC, and their answer was that it came from their supplier and hardly it would lie to them about the existence of a product even of not announced yet: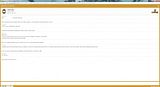 _______________________________
27 - Rockstar support changed their answer to messages asking for GTA V PC information, instead of saying they are currently focused on current gen versions without any information about a possible PC version or ignoring the message completely, they say they are pleased that people demonstrate interest in the game for that platform and to keep track of Newswire for more info. Which means there will be news soon about the PC version, otherwise they wouldn't tell people to keep their eye on Newswire just to read an announcement denying the existence of a product that doesn't exist:
Example of a ticket answer before:

Example of a ticket answer now that the current gen consoles version was released: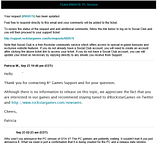 ____________________________________________________________
And thats it. I'd like to leave one last thing and I hope all those concerns about the game because of what happened with RDR end once and for all.
Rockstar reacted in a different way when they were asked by RDR for PC, they always said they had no plans for it, they stated NO, when asked, they didn't use the statements that they usually do when asked about GTA V PC, like "it's up for consideration", "we're focused on the current consoles", "we have no info at this time", they don't deny it, because if they did they would be lying, but with RDR they always said a clear No and they explained it why plenty of times, they needed more experience with RAGE, which they now have.
But they also said this, about their interest and respect for the PC platform:
http://www.rockpaper...ints-to-no-rdr/
They expected that L.A. Noire and Max Payne 3 were enough to prove their commitment with the PC platform, but by the looks of it, people will only understand this when they see GTA V on PC.
EDIT: Added all the leaks/ hints about GTA V PC version since January 2013 (26 September).