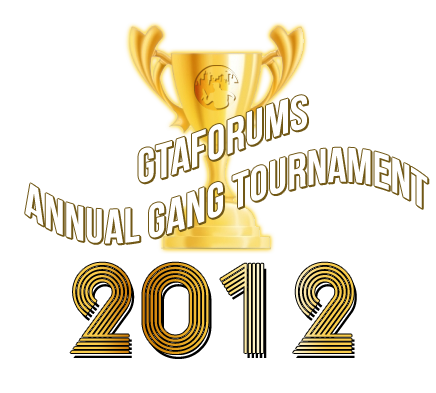 A new era has sprang. Many new clans are emerging on GTAForums and GTA MP preparing for GTA V. As an 02 groundsman (Vice City), want to start a new trend on GTAForums. For XBL gangs, I wish to create an annual event with help from some GFX artists, to organize a tournament. The winner should be given the title of the best clan for the year according to our event. Rewards will also given to leaders. The leaders may give the rewards to their members, based on their performance in the event or the overall gang. The event will span winter break and end before Christmas. Goodluck to all who participate.
| Reward | Requirements | Given To |
| --- | --- | --- |
| MS Points 1600 | 1st Place | Leader** |
| MS Points 800 | Runner Up | Leader** |
| MS Points 400 | Best Player | Winning Nominee |
**Leaders may give the award to any member of their choosing or keep it themselves.


| Participant | Tag | Leaders | Members |
| --- | --- | --- | --- |
| The Colombo Crime Family | TCCF | Don J Colombo | TBA |
| The Mercy Crime Family | TMCF | MxicanSmugller | TBA |
| Shadow Striker Marine Core | SSMC | SSMC General | TBA |
| The Denaro Crime Family | TDCF | Don Denaro | TBA |
| Warriors Of The Night | WOTN | Evil Flyin kiwi (WOTN Kiwi) | TBA |
| The Bad Tempered Soldiers | TBTS | BTS Lightning/BTS Lightning | TBA |
____________________________________________________________________________________________________

Minimize the use of turbos and corner glitching.
____________________________________________________________________________________________________

Any modding giving another team advantage (spawning weapons, juggernaut, etc) will lead to disqualification unless told otherwise.
____________________________________________________________________________________________________

Each gang must bring at least 2 members with name changed, if the gang requires gamertag to be changed.
____________________________________________________________________________________________________

If excess turbos are used against a weak team/gang without any turbos, it may call for disqualification. Turbo use will be judged in lobby before each match based on members and their extra accessories (turbos/mods/etc).
____________________________________________________________________________________________________

All matches must have a representative/spectator from Hidden Productions or Legacy Productions in order to record the game, which ensures exposure of cheaters.
____________________________________________________________________________________________________

No helicopters unless both teams can agree on use. This does not mean kamikaze attacks are permitted.
____________________________________________________________________________________________________

Rewards will be given out to tournament winners. Best player will be judged by kill-death average. Turbo users or modders may NOT recieve this award.
____________________________________________________________________________________________________

Gangs may only bring their own members. Any allies/friends are NOT permitted.
____________________________________________________________________________________________________