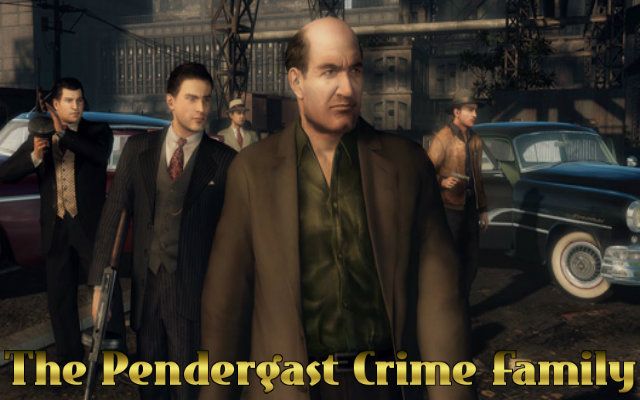 Early history
The earliest history of Italian-American organized crime can be traced back to the DiGiovanni brothers, Joseph DiGiovanni and Peter DiGiovanni, two Sicilian mafiosi who left Sicily and arrived in Kansas City in 1912. It wasn't long before they began making money from a variety of rackets. Their fortunes improved greatly with the introduction of Prohibition and they became the sole bootleggers in Kansas City. At the time other Families were popping up in Kansas City and for the DiGiovanni brothers to stay on top they had to join a family so they didn't get muscled out of the rackets and bootlegging. The DiGiovanni brothers knew of a powerful man at the time "Boss" Tom Pendergast head of the "Pendergast Crime Family" the controlled Kansas City's government at the time. Under Pendergast, Kansas City became a "wide-open" town, with absolutely no arrests being made in Kansas City city limits during the entirety of Prohibition. The Kansas City Police Department was in the pocket of Tom Pendergast. The DiGiovanni brothers wanted protection from the Pendergast Crime Family, so they offered Tom a deal. Tom gets 60% of their earnings and the DiGiovanni brothers get 40%, by making this deal that made the Pendergast Crime Family the richest in the mid-west. The DiGiovanni brothers worked their way up the ranks of the Pendergast Family and became made men. NOBODY could touch them, I mean nobody.

Post-Prohibition
When Prohibition ended in 1933 the family began to extort local-now legal Bars. The Pendergast family was now one of the most powerful and richest families in the United States. They controlled all of Kansas City, everybody respected The Pendergast family. In 1945 Tom retired as Don and put his son in charge Tony Pendergast. As soon as he took Power everything went bad.

The Fall
Other Families saw Tony as a weak and unorganized leader, so they took advantage of him. The Police department started making arrest again. On June 8th, 1950 Peter DiGiovanni was gunned down outside of his house. A week later his brother Joseph DiGiovanni commited suicide because of his brothers death, he knew they were coming for him next. The Pendergast Families main earners were dead. On October 19th, 1985 Tony went to war with the Burtelli Family, Knowing this was either the end of The Pendergast or a new beginning. On January 10th, 1985 Tony was Assassinated inside of his compound. The War was over The Burtelli Family was Victor. Tonys wife and kids moved to Liberty City.
The Rise
-That is to be written by history-

| Rank | GTAForum Name | PSN ID |
| --- | --- | --- |
| Don | -Don Pendergast- | Don Pendergast |
| Consigliere | N/A | N/A |
| Underboss | N/A | N/A |
| Capo | N/A | N/A |
| Capo | N/A | N/A |
| Capo | N/A | N/A |
| Soldier | N/A | N/A |
| Soldier | N/A | N/A |
| Soldier | N/A | N/A |
| Soldier | N/A | N/A |
| Soldier | N/A | N/A |
| Soldier | N/A | N/A |
| Soldier | N/A | N/A |
| Soldier | N/A | N/A |
| Soldier | N/A | N/A |
| Associate | N/A | N/A |
| Associate | N/A | N/A |
| Associate | N/A | N/A |
| | Crew Name | |
| --- | --- | --- |
| Rank | GTA Forum Name | PSN ID |
| Capo | N/A | N/A |
| Soldier | N/A | N/A |
| Soldier | N/A | N/A |
| Soldier | N/A | N/A |
| | Crew Name | |
| --- | --- | --- |
| Rank | GTA Forum Name | PSN ID |
| Capo | N/A | N/A |
| Soldier | N/A | N/A |
| Soldier | N/A | N/A |
| Soldier | N/A | N/A |
| | Crew Name | |
| --- | --- | --- |
| Rank | GTA Forum Name | PSN ID |
| Capo | N/A | N/A |
| Soldier | N/A | N/A |
| Soldier | N/A | N/A |
| Soldier | N/A | N/A |

-Don, The Leader of The Family-
-Consigliere, an adviser to the Don and everything related-
-Underboss, deals with all the problems next in line to be Don-
-Caporegime, Leader of his own crew can name it whatever he wants-
-Soldiers, the muscle of the family-
-Associates, new members who haven't proven loyalty-


Colony Island: This is the compound of the Pendergast Family, it serves as a Hideout, a Hangout, a Meeting Place, and a War Zone. Only one way on and off.

East Hook: East Hook was the second area that Pendergast took over, it was so close to the Compound and Pendergast began importing drugs.

Hove Beach:Pendergast, bought Pestroikas and now is running an illegal gambling ring in the basement.

Beach Gate:In 1990, A rival gang was trying to gun down Pendergast while he was on his way to Pestroikas. Pendergast driver was shot and Pendergast grabbed the wheel before he crashed and turned onto beach gate, He dove out of the car and it went off the cliff. It was him vs. 4 guys. Out of nowhere three cars game full of Pendergast men and blasted all of them. Pendergast bought Beach Gate as a reminder that his crew always has his back.

LeftWood:This is one of Pendergast Crews turf.

North Holland:This is one of Pendergast Crews turf.

Alderney City:This is one of Pendergast Crews turf.

Alderney State Correctional Facility:Pendergast paid off the warden so that when any of his men get locked up, they get treated like royalty.

______________________________________________________________________________________




| Who called the Hit | Date | GTAForums Username | PSN ID | Shooter | Reason for hit | Method | Status |
| --- | --- | --- | --- | --- | --- | --- | --- |
| N/A | N/A | N/A | N/A | N/A | N/A | N/A | N/A |

| Gangs Name | Leader's GTAF username | Leader's PSN ID |
| --- | --- | --- |
| N/A | N/A | N/A |
| N/A | N/A | N/A |
| N/A | N/A | N/A |

| Date | Against | Score |
| --- | --- | --- |
| N/A | N/A | N/A |
| N/A | N/A | N/A |
| N/A | N/A | N/A |

| Gangs Name | Leader's GTAF username | Leader's PSN ID |
| --- | --- | --- |
| N/A | N/A | N/A |
| N/A | N/A | N/A |
| N/A | N/A | N/A |

| Head | Torso | Legs | Glasses | Hats |
| --- | --- | --- | --- | --- |
| Any | 1-5-6-10-13 | Any | Any | Any |

-Never Disrespect a higher member-
-Never shoot a Family Member-
-Never go to war without asking-
-Act mature-
-Attend Sit downs if you can't let your capo or underboss know-
-Put the Family before yourself-
-Keep our business OUR business-
-Don't Rat-


| Question | Answer |
| --- | --- |
| What is your PSN ID? | Answer |
| What is your age? (optional) | Answer |
| What is your skill level? (1-10) | Answer |
| How can you contribute to our cause? | Answer |
| What previous gangs were you in? | Answer |
CODE
[tableb]
[tr]
[th][b]Question[/b] [/th]
[th][b]Answer[/b] [/th]
[/tr]
[tr]
[td] What is your PSN ID? [/td]
[td] Answer [/td]
[/tr]
[tr]
[td] What is your age? (optional) [/td]
[td] Answer [/td]
[/tr]
[tr]
[td] What is your skill level? (1-10) [/td]
[td] Answer [/td]
[/tr]
[tr]
[td] How can you contribute to our cause? [/td]
[td] Answer [/td]
[/tr]
[tr]
[td] What previous gangs were you in? [/td]
[td] Answer [/td]
[/tr]
[/tableb]