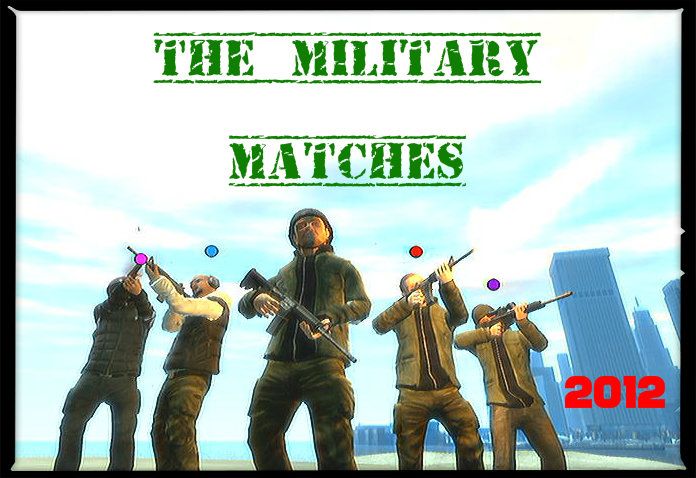 League Table
1. The Legion 2 -0-0
2. United States Forces Command 0-0-0
2. 75th Army Ranger Regiment 0-0-0
3. Bad Tempered Soldiers 0-0-2
Fixtures This Month
Fixture 1 | =L= vs =BTS= (complete)
Fixture 2 | U.S. ARMY FORSCOM vs =BTS= (Incomplete)
Fixture 3 | 75th RR vs U.S. ARMY FORSCOM (Incomplete)
Fixture 4 | =L= vs 75th RR (Incomplete)
Fixture 5 | =BTS= vs 75th RR (Incomplete)
Fixture 6 | US ARMY FORSCOM vs 75th RR (Incomplete)
Fixture 7 | =BTS= vs =L= (Incomplete)
Fixture 8 | US ARMY FORSCOM vs 75th RR (Incomplete)
Fixture 9 | =BTS= vs 75th RR (Incomplete)
The Rules
The Military Matches is an Xbox 360 Tournament held on the original Grand Theft Auto IV. It's an event for all the Military clans of GTA Forums, Which means only Military/Para Military clans may take part. The Rules are simple enough, no mods or turbo permitted, use of either of these will result in disqualification, Auto Aim will remain off regardless of pre match agreements, If all of the matches of a certain fixture are completed before the deadline, next fixture will automatically start, giving the clan more time to arrange those matches, If one gang clearly wants to play, and the other doesn't reply at all, the gang wanting to play will get a 2:0 win, Allies are not allowed to help gangs in matches, because it could result in sabotage. You must play only with your own gang members, outnumbering is not allowed, if one team has an extra player then that player must either leave or spectate, all spectators must view the match from a maverick and must not interfere or kill other spectators, doing either of these will result in a ban of the offending spectator, if on pre match agreements choppers are allowed, only one pilot per team is permitted, Taking Screen shots is important as any side can claim victory without evidence, each fixture will be a best of three. so if one team wins two in a row that is a win for that team, if the game somehow ends in a draw a finale game is then hosted to decide the winner, police will be off and friendly fire will be on, each game must be hosted and spectated by an MM Administrator, Corner Glitching is allowed, Filming the game is allowed, mid match quitting will result in a win for the team left in the game, regardless of score or situation, all rounds must be played or else the game wont count, the final date for applications of new gangs is December 15th, 2012, Gangs that wish to join the Military Matches after that date will have to wait for the 2013 MM. Until then, any Military can sign up, unless the division is full, full in a way that there won't be time for a new gang to finish their matches, each military must add a complete roster of troops who will be playing, if a person who is not on the roster shows up to the game then that player can not participate, If the gangs have agreed on a date and time, 24 hours before the match is to happen, during the given dates for that fixture to be played, and one of them doesn't show up, or doesn't have at least 2 players, the win goes to the other gang that had enough. And finally Before each fixture, gangs will have to notify the event host of any potential roster, name or other changes.
Application
NO MORE GANGS THIS SEASON
*Gang Name:
*Gang Country: (Eg: US, UK, Mixed)
*Gang Roster: (At least 4 members, Link all members to their profile)
*Gang Tag: (Eg: =LGN=)
*Age Range: (Eg: 15 - 18)
Please delete the examples when you post the App.