I didn't think much of this game when it was released, I just wasn't excited about the rougelike gameplay but until I actually saw a LP on it on Youtube I just had to get it. Already clocked 16 hours on it and having lots of fun and frustration. I have yet to defeat the boss but I can extremely close two times. The first I actually did kill the flagship but I died just before as we we're both on one Hull bar and the second time he FTL'd two times and could not defeat it the third time as I was too damaged.
So anyone else play this game? I would like to share tips and stories.
Bonus: How to Unlock Ships

The Nesasio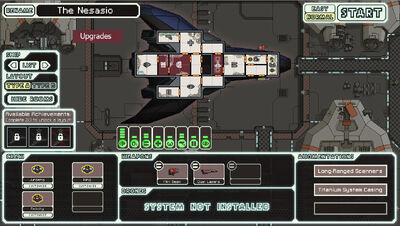 To unlock the Stealth Cruiser, you must have at least one Engi crewmember. Warp to the Engi Homeworlds and find a warp zone where a small fleet of Engi ships are gathering. The node you are looking for does not have any special icons, so no distress beacon, and if you have the Long-Range Scanners augment, no yellow triangle indicating possible ships. Select the blue option available.

The Engi will present you with two quests to complete. However, one of them will be a dead end. You may complete both quests to get some rewards. But if you have already extracted information from the correct ship, then you don't need to pursue the other ship and can warp straight to the last quest point. The choice to finish the battles off or let them go will also not affect the reward. See the Engi Fleet Discussion Random Event.

Mantis Cruiser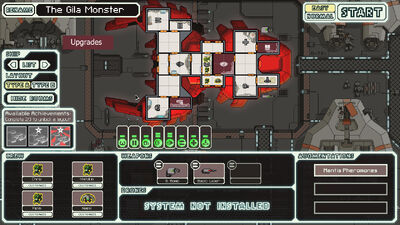 The Mantis Cruiser ship class is unlocked by facing KazaaakplethKilik in the Mantis Homeworld. Long range sensors will show a possible ship detected there, indicated with a yellow triangle with exclamation mark. Before the encounter you must have a Level 2 Medbay and a Teleport (a Mantis crew member is not required). When you encounter the thief, follow these steps:
Attack or hail him (both result in a fight)
Defeat the ship without destroying it
(Teleporter) Quickly teleport additional crew and check for survivors.
(Adv. Medbay) Quickly teleport him back to the medbay.
Note that if you take too long to kill the enemy crew, KazaaakplethKilik will die from his wounds.
The accompanying message is, "It seems almost a waste for such a fierce foe to die in such an anticlimactic fashion. You shrug it off and take what you can."
Note that if you don't have a level 2 medbay, KazaakplethKilik will tell you where his stash is and then die, you will not unlock the cruiser.

The ship must not be destroyed when attacking them, so you must teleport your crew over and assault them, or use a bio beam to kill all enemy crew.
Engi Cruiser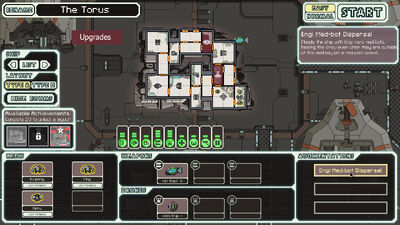 To unlock this Engi ship, you just need to get to the 5th sector.
The Osprey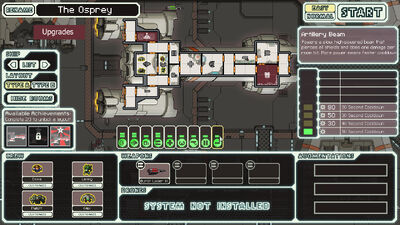 This cruiser is unlocked by beating The Rebel Flagship in The Last Stand sector on either difficulty.
Slug Cruiser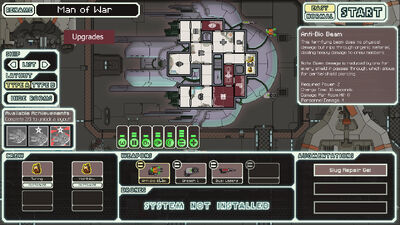 To unlock this Slug Cruiser, you must:
Have either Sensors Rank 2 or a Slug crew member.
Go to the Slug Home Nebula (Purple Sector)
Some Slug ships will surrender once hurt in exchange for what's in their stores. Do this. One of them will have an experimental weapon (Anti-Bio Beam), Instead, ask for some data. You get a quest marker.
At the new quest beacon, choose to tail the enemy ships instead of trying to go charging in, then choose whichever Blue option you have. You'll get in a fight where the enemy is powering up FTL to get away. Kill the crew and congratulations, you get the Slug Cruiser. If you destroy the ship, there is a chance to not unlock the ship.
Rock Cruiser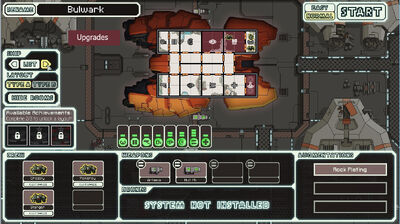 Encounter a Rock Assault ship in the Rock Homeworlds. They will question your intentions, and you need to say that "We're going to save them (The Federation) or die trying."
A quest beacon will appear. Survive this encounter until the ship warps to the next sector. Do not destroy them. You will get a quest beacon in either the current sector or the next one. Go there to unlock the ship (and get a free Rock Plating augment for your current ship).
Zoltan Cruiser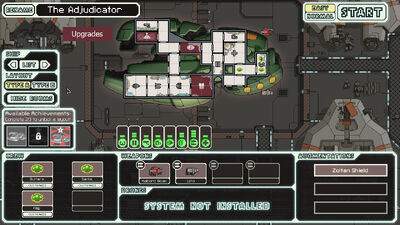 Go into the Zoltan Homeworlds and wander around until you find a normal beacon with an Unarmed Zoltan Transport that you need to "hear out". They will then give you a quest marker in the same or next system.
Upon arrival at the quest beacon, a rebel ship closes in fast saying "you're not getting away this time". Choose to hail it and then say: "Perhaps there could be a reconciliation of our ideals without war?", and finally "True progress can only be achieved without bloodshed".
Crystal Cruiser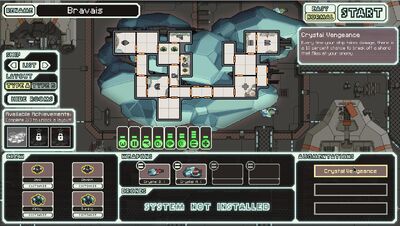 This ship is found by first acquiring the damaged stasis pod and then managing to bring it to the Zoltan Research Facility. Take the blue option to look at the capsule, and you will have the chance to have a Crystal being on your crew. He will then direct you to a quest in the Rock Homeworlds where you must find the warp point that gives another blue option.

Note: The first event will be a Distress single- it will be debris in an asteroid shield that requires a blue option (rock plating and I believe improved sensors). The Second (research station) appears to only be in empty space (aka with sensors you will just see a yellow diamond). The third event will never have a distress beacon.

Note: This is a -very- annoyingly achievement to unlock considering you need 4 random events to all happen in the same order (find stasis pod, find research beacon, find rock homeworld, find unmarked beacon in rock homeworld- its very easy to land in the homeworld and not be able to find the wormhole to crystal sector), and its possible for the rock homeworld to not even be on your map (making it impossible to unlock the ship on that run).

Tips: Start with the rock ship (or the stealth cruiser- The Long Range Scanners really help to find the right spaces to check!) and hit all the distress singles you can find. As you hop around the map, prioritize your path toget adjacent to as many sectors as possible to find said distress sigles- your rock plating will be the blue option to unlock it (possible to find stasis pod in first/second sectors). I belive this distress signal can be found in ALL sectors. Then prioritize engi/zoltan/nebula on your path (research station can be found in nebulae, but not as good an option as zoltan/engi). You'll need to find an "empty" space that doesn't have a ship/distress signal in it (the Long Range Scanner augment helps here). Once that is found, keep in mind the rock homeworld rarely spawns as soon as sector 5, typically its 6/7. Once in the homeworld stay away from distress signals/ships and pray!