I wrote all the text from the image posted by Rockstar with GTA3 and GTA4
script
. I couldn't understand everything so please
try to read yourself and tell me
if I written incorrectly any part of the
script
or if you see different the text or think it's something else. I will update the topic because it is important to understand exactly what the image text says because it has some
beta
unheard things.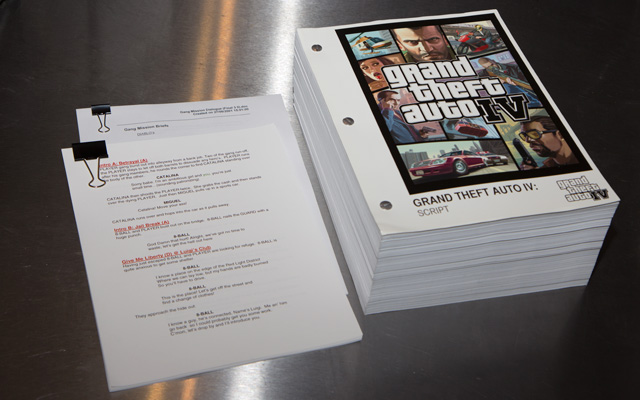 Intro A: Betrayal (A)
PLAYER gang found out into alleyway from a bank job. Two of the gang run-off. the PLAYER stays to let off both hands to disable
any camera. PLAYER runs after his gang members, he sounds the corner to find CATALINA standing over the body of the other.
CATALINA:
Sorry babe. I'm an ambitious girl and you you're just small time... (sounding patronising)
CATALINA then shoots the PLAYER moves. She grabs the cash and then stands over the dying PLAYER. Just then MIGUEL join up in a sports car.
MIGUEL:
Catalina! Move your ass!
CATALINA runs over and hops into the car as it pulls away.
Intro B: Jail Break (A)
8-BALL and PLAYER found out on the bridge. 8-BALL runs the GUARD with a huge punch.
8-BALL:
God! Damn that hurt! Alright, we've got no time to waste, let's get the hell out here!
Give Me Liberty (D) @ Luigi's Club
Having just escaped 8-BALL and PLAYER are looking for refuge. 8-BALL is quite anxious to get some answer.
8-BALL:
I know a place on the edge of the Red Light District
Where we can lay low, but my hands are badly burned
So you'll have to drive.
8-BALL:
This is the place! Let's get off the street and find a change of clothes!
They approach the hide out.
8-BALL:
I know a guy, he's connected. Name's Luigi. Me an' him go back, so I could probably get you some work. C'mon, let's drop by and I'll introduce you.
- now the other paper shown in the picture-
Gang Mission Briefs Gang Mission Images from E. Burro
DIABLOS Created on OCTOBER 06.09.46