Guys of course it's real, don't get too excited. Just read the topic that lzw posted...
I posted some screenshots in this topic.
It's like that:
GTA 3 was supposed to be released as GTA 3 (the same textures etc from PC) on GBA, but it was changed and we have GTA Advance which is supposed to be GTA 3 BETA from PC (burried down ideas).
Major changes are radar in the other place on the screen and some other textures added.
They just released GTA 3 beta from PC on GBA and named it GTA Advance. The main reason was that converting missions to 2D environment was technically too hard + Destination Software was poor. You guys catch this now?
Ok, now please close this topic and next time use built-in search engine. Believe me or not - it does its job. We have too much topics that are being repeated and main topics are being burried.
MENU:
GAME: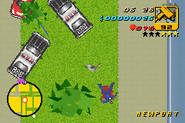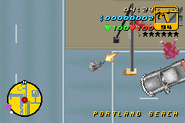 Here's the rom (buy this game!):
http://www.4shared.c...ebtq/GTA_3_.htm