G
T
A
F
o
r
u
m
s
.
c
o
m
F
a
n
t
a
s
y
F
o
o
t
b
a
l
l
L
e
a
g
u
e
2
0
1
2
/
2
0
1
3

Click The Logo to Sign Up
GTAForums.com Admission Code: 159173-46571
To join the Fantasy Football League for this season click on the logo above to sign up. This is the official Fantasy Football League for this season, all you need to do is sign-up (open to all countries) and then select your team with a budget of £100 Million then register your team within the GTAForums 12/13 Mini-League using the code above.
To join go to
Leagues
Tab »
My Leagues
» Choose
Private League
» Enter the code above.
All rules for playing the game can be found on the website, there is a forum with each league that you join but this can be done in this topic as well.
Once you have selected your team, take a quick snapshot of it and then post your team on here and also post the name of your team so it can be posted in this post. Your real names will be locked behind the Fantasy Football League system, but for privacy only your team name will be posted here.
(Rule added 18th September 2012) Any team entered who has not posted in here to tell us who they are will be removed from the Final Table at the end of the season and any pixelated rewards made will be given to the next team down who are known.
Any additional rules and information will be posted here as, when and if needed. So sign up and bring it on.
Teams Entered - As of 27th August 2012 @ 01:00 GMT
The Report 11 - Gareth Croke - [2URL=http://img38.imageshack.us/img38/5630/thereport11.png]Team[/URL]
Mossley AFC - 4 Bagger - Team
Domeux Athletic - Domeux - Team
Prominent FC - PrometheusX - Team
Fishers Phantoms - 02fishera - Team
The Devil's Terriers - NateShaw92 - Team
Faith State - bud23 - Team
Cork United - Colanbarry - Team
Bilbao Baggins - SIKK66 - Team
The Fifteen XV - ajbns87 - Team
Hell In My Hands - ? - ?
United FC - ? - ?
Notso Athletic FC - ChillyPhilly - ?
Entourage - Stefache - Team
SweatyPa1ms - Green Machine - Team
Legends of the maul - ? - ?
Shinjis Porn Stars - ? - ?
Bulls on Parade - ? - ?
The Avengers 1.5 - beep41 - Team
The Ra - King of Monra - Team
Sports Indirect - ? - ?
Downtown Browns - TheCacti - ?
dov3434 - FC Feisar - Team
rhyn - Dutch Ruddersfield - Team
Lethal Nizzle - Chamakh My Bitch Up - Team
Sounders FC - ? - ?
Gavin's Galacticos - ? - ?
Wet Fish FC - CakePicnic - ?
Dirty Harry's Balls - Nixon - ?
Los Lobos - OchyGTA -
The use of the Barclays Premier League Logo is purely for reference and is not meant for profit or to be used in any derogatory way, so suck on that Barclays and the Premier League, cause hell we're advertising you, so ner!.

Props 2 Prom
Gameweek 15 Table
(Will be replaced each week, each Gameweek Table will be found throughout this topic)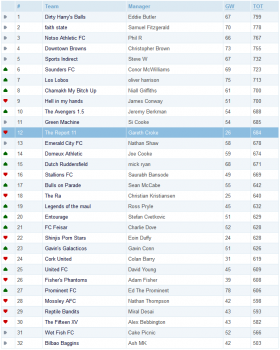 (Click to Enlarge)
Historical Tables
:
Gameweek 1 Table
Gameweek 2 Table
Gameweek 3 Table
Gameweek 4 Table
Gameweek 5 Table
Gameweek 6 Table
Gameweek 7 Table
Gameweek 9 Table
Gameweek 10 Table
Gameweek 11 Table
Gameweek 12 Table
Gameweek 13 Table
Gameweek 15 Table