First of all, I do realize GTA3 has been around for 10 years now, & I do know most ppl are no longer interested in modding it. But either way, here's a tutorial on how to add a flyable vehicle WITHOUT replacing Dodo and/or using flying Rhino cheat!
You're going to need a car... You can either use a mod, or any of the original GTA cars, it doesn't really matter. What matters is that you assign "
154
" ID number to your new vehicle. That's pretty much it, as the game will take care of everything else

Just install it as you would install any other vehicle mod and don't forget to add COL model & data entries, if you're adding a new vehicle!
CODE
150, ghost, ghost, boat, PREDATOR, GHOST, ignore, 1, 7, 0
154, delorean, delorean, car, MRWONGS, DELOREA, ignore, 10, 7, 0, 89, 0.72
This particular vehicle will behave like an ordinary car at lower speed and will take off like Dodo at higher speed. HOWEVER, it's not being controlled like a Dodo plane which makes it much easier to navigate, even to land properly.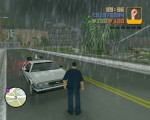 You can use this car to fly between the islands, or to reach remote, distant locations such as Miss Liberty, Lakeside Island, or any other map mod that you might be using.
Feel free to ask any questions & enjoy re-exploring Liberty City all over again