You are made your choice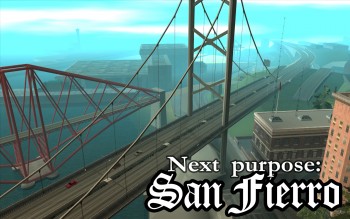 Next city which I'll rework - San Fierro.

Five people voted in favor of San Fierro; no one voted for Las Venturas; in Russian forum thread two voted for SF, two - for LV.

Wait for new screenshots.


QUOTE (TheD94 @ Sunday, Dec 9 2012, 20:08)
The countryside/desert doesn't have so many texture files. Cities require much more texture files because of the buildings.
Also don't forget that the textures in countryside/desert are repeating. R* did a very awkward job here. They could make out of 5 txd files to 1 txd file, because the textures are only repeating. So you can keep for example the desert with towns covered with your textures with only around 50 custom textures. But SF needs more than 150 I guess.
I do not think so.

Fifteen... are may only the ground and roads. But you also do not take into account dozens of buildings and various objects. Given the enhanced mountains - desert has a lot of work for me too... In San Fierro also not 100 textures. Thousand? Maybe.
Here are only textures in my folders with textures in BMP: LAhills - 261 texture, LAw2 - 292, LAw - 235, LAe2 -
614
... etc. Some textures have duplicates (improved versions), also folders have some new materials, but them are not hundreds.
Always seems that the textures are less than are actually.

QUOTE (HPro @ Sunday, Dec 9 2012, 20:36)
Will it get .LOD in it and working perfectly with SA:MP?
Do you mean .LOD like in SRT? I do not know about .LOD mod from SRT and about it realization.
But, guys, later I tell you about other interesting graphic tweaks for HRT 1.4.
About compatibility with SA-MP. I am not sure, but I'll try make compatibility mod with SA-MP.