Max Payne has launched and the mythical 24th May is getting really close. There are indeed 1000+ 24th May topics, so let all further 2405 discussion be limited to here as we use this as a countdown thread.
2 DAYS TO GO!!
What do you guys reckon? Will R* reveal something on this rumoured date? Yes/ No? If so, what do you guys think they'll show us?
A trailer? A picture? Maybe something as subtle as a crypted message?
Only time will tell. For now let us distinguish the believers from the skeptics!
| | |
| --- | --- |
| Believers | Urbanfire, Deepthroatgta6, HeNDo6750, Apollo_33, Kasplarks, crackhead91090, Bud23, gionascm2, SlickSpencer8, DS 17,MetalisticMCena, TheJustinAllenK ,HeNDo6750, GrandTheftAuto..., FrankieP, GtaVComments, MiamiVice1984, wojas, StellarFish20, HydraulicWaRiOr, Los Santos Pedestrian, Inf3rn0, lh1, DizzeeXL, Tori_95, CarLuver69, Rpg_ , HOAXi, the nameless, GtaOutKast, RED_, SL1DE, GTAfanBG, timdehaas, ge714, UsamaGK, casinotown, grope_4_that_date, Ice1980, Versous, ElMafias, BirthOfMayhem, jjwilson, jaykay001, infamous gee, CJ killed Ryder, Pr00f, death783, r0eladn, Magnet_man16, Gunjahfarma, Vidiz, THEMANatwar, icetea256, MartisKaneem, heisan, Soomersault, sclodyon, Diesel311, bran12345, zainzombie, Darrel, AerialRocket, Black Sunshine, Da Perzinga, AK47-Mentalman, Ned Flanders, D.Dodge, scoot, dadachicken, CajunSnipes, Death2Drugs, Dale Nixon, ciccibrillo, sublimelabs, SanFierroMan, Hy2RoGeN, supermati, GTA_Beast122, CaptRobau, Packers, BirthOfMayhem, Royal55, Irviding, RipGore, enjoithepain, A8flyer, btbwuh, -Vox-, Remi749, TrialzGTAS, united4ever, Flashify, Hy2RoGeN, BlackandWhite23, monsterjamp, DaDweez, Gege, Riptide651, Coat., XIcemanEid92X, LanceTVance, Neo Arcadia, sgllocal, razorzz, Edward-Is-A-Flunky45, MERCYOVTHEDEVIL, tr0janman697, Santi990, CubA_iLL_BrothA, tooformay, GTA-Fanboy, roykev3, Goldbringer, JTVGTA, esvi, Oakshaft, GTAfear, FazerfanFIN |
| Skeptics | Punkd, Gtaplayaminigun, Dr. John13, Capricornus, zee, Vormek, pariah87, Gregers08, jumper2011, inflamedeyeball, Evil.Tim, EscoLehGo, Vecis, ak47andgunnin, Tooth, libertycityfilms, Extronic, gtav nut, GrandTheftAuto101, Nino_Jalaldinho, deli2000,Psychotic Mind, GTAction99, RP2012, spongeboob911, ainsz, Jimmyhetfield , FortunateSon, Official General, locolow2011, jesusismyairbag, Inncognitoo, sammclean23, huevos_benedicto_180, vijay.genius1, Street Mix, Dragonjack, krazy_fool_X, gtaftw69, 73duster, Hurrikane, Pilotmonkey, finn4life, UtricularEwe001, najtrows, RomansMoobs, GhostFaze64, lefantome, libertycityfilms, XxcamptechxX, Markhosdangerous, The_Majestic, Kjax39, gpcguy1, Num3rical, JOSEPH X ,Bohan Bomber, cinco1127, Jimmy_Leppard, Florz, johnny_zoo, Topsu, Kyle17, Ferocious Banger, Sean5, PrometheusX, The GTA Guy, Magic_Al, nirushan, SparkyX,gevans81, CorneliusCoffin, zzcool, AutoPenalti, Wenis IV, Wheatley, menny, Synaesthesia, NateShaw92, Snake Without a Tongue, ACR, foohy, xUSMC SSGTx, Wenis IV, Ispintechno, Extronic, GlamFM, JackvanHouten, grovestreet...home, Freezer89, Gtaghost22, matajuegos, mike51501989, BrianJohnsonsBrotherCarl, Miamivicecity, tommyv2468, NateShaw92 |
| Fence-sitters | Honest Bill, Da Perzinga, AtomicPunk, FiS!!HeR, PaddsterG2k3, CLR-GTR, ToniForelli, r0eladn, Mr.c TO the J, Dragonjack. Eagles, Hvitdverg, GTA-King, Mr.Anonymous, RockstarRocksLOL, leftnutmystery, AuSsIeThUnDeR36, xAvenged7x, bran12345, packardcaribien, GTAxYushix, CajunSnipes, MrGfield DirtyHarry44, grozza, ChillyPhilly, enjoithepain, kingcs, mr.e, MartisKaneem, lslarko, FCM, Goldey, liltuner, GameModder8, fusionhunter, SmC12, Racecarlock, Diesel311, Ferocious Banger, Mr. Cozzarelli, Kent Traffic Cop |
So yeh, when 2405 comes, the winning team gets the right to yell "FOOLS, I told you so!!!" Fence-sitters lose by default. Also, what punishment should we give those who are wrong? It has to be temporary in nature and most likely Avatar/Signature related. Comment on what you would like to inflict on the losing party (or on yourself if you lose!) Let the waiting begin!
PS, if you want to be added to the list, please pm me. I cbb going through this topic looking for believers and skeptics.
Due to the number of people unfamiliar with 2405 here's a brief rundown on what it is.
1. Trailer song "Ogden's Nut Gone Flake" release date - 24.05.1968
2. Dan housers birthday (disputed) - 24.05.1972 - same as plane below
3. Side of curb
4. Tbogt end cutscene when packie boards the plane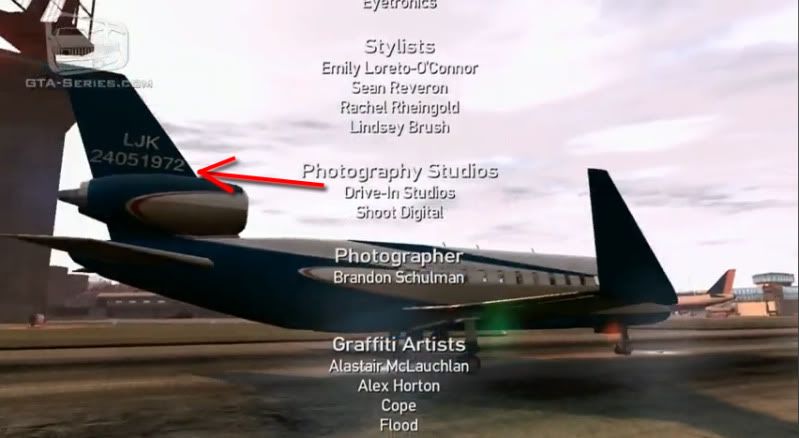 5. In where is the blue topic made a year ago, there were 2 numbers 1102 and 204. 1102 was release of first trailer (how did they know 6 months early?) Add 204 days and you get 2405