Rockstar Games Presents
A Rockstar North Production
Theme Song


(Sorry about the map but it's the best I can do with my limited resources)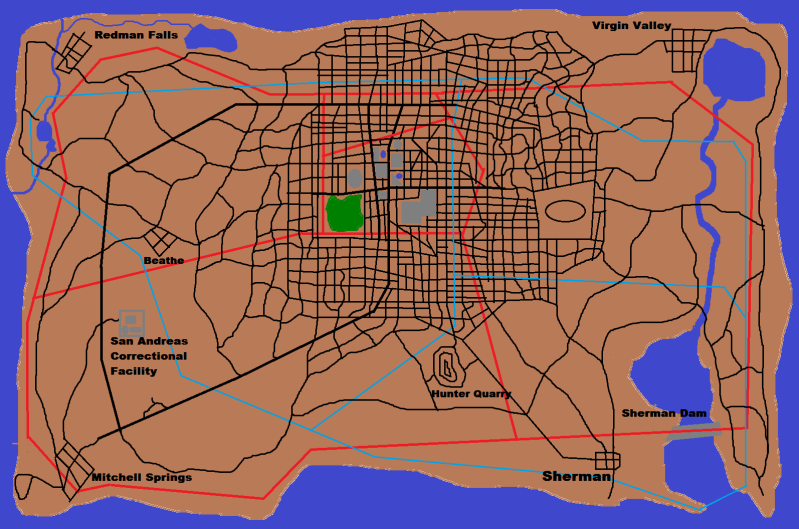 Map Legend





Small Black

=Regular roads


Large Black

=Multi-Lane Roads


Red

=Freeways


Blue

=Railroads



Las Venturas






The City of Sin better known as Las Venturas has long been America's adult playground. Flashy lights, Large Casinos and beautiful women have always been the face of the city. But with the economic decline of recent years has left the city on the brink of destruction. Massive foreclosures and declining tourism has left the economy in ruin. Mexican Drug Cartels such as the Badillo and Ruiz cartels have also pumped the city full of street drugs for cheap and further increased the problem. Las Venturas now has one of the highest crime rates and foreclosure rates in the country with no sign of things improving in the near future.

Las Venturas is the 4th largest city in the state of San Andreas (Behind Los Santos, Los Puerta, San Fierro) and the only major city not located on the coast. It is one of the most visited cities in the country with millions coming to the strip annually. It contains some of the largest hotels in the world but as stated above it was hit hard by the economic recession.

Strip Casinos/Resorts
You can gamble at all of these casinos. More information gambling is located below in "Side Activites"
The Camel's Toe Casino and Hotel
Fellatio Casino and Hotel
Caligula's Palace
Lion's Den
Atmosphere
Four Dragons Casino
Monterey Bay
Liberty City Hotel and Casino
Amir luxury resort and casino (Under construction)

Off Strip/Old Strip Casinos
*=You can Gamble at these Casinos.
Four Kings*
Royale Casino*
Venturas Vic Casino
Treasure Island*
Starfish Casino

Hoover County

The county of San Andreas where the game takes place. It includes all of the Las Venturas metropolitan area and the outlying towns. It includes the Sherman dam and is the easternmost county in the state of San Andreas and is the most arid.




Virgin Valley

A quiet bedroom community located a few miles Northeast of Las Venturas along the shores of lake Richards. The town is moderately sized and contains a few enterable buildings including a Burger Shot, Local Bar, And Ammu-nation franchise.

Sherman

A moderate sized town located immediately east of the Sherman Dam along Interstate-27. A quiet town that has seen better days. Points of interest include a Cluckin Bell franchise and the "Dam n' Blast" Strip club as well as the reservoir Inn on the East side of town.

Mitchell Springs

A town located a few miles Southwest of Las Venturas at the end of state highway 69. This easy access route to the heart of Venturas as well as its seclusion has led to its growth as a bedroom community and for employees of the nearby San Andreas Correctional facility. Points of interest include both a well stacked pizza and a burger shot franchise as well as a diner on the outskirts of town. The city also includes one of the most robbed liquor stores in all of Hoover county and a last chance gas station as your leaving town on Highway 69. The Big Smoke casino is also located in town and accounts for some local tourism.

Redman Falls

A small town located to the west of Las Venturas along the Breck river. Known locally as a spa and resort town away from the hustle and bustle of the Las Venturas strip. Points of interest include the Indian Wells casino and a local bar. As well as an Ammu-nation shop.

Beathe

A very small town located to the west of Venturas. It exists only as a resting spot for visitors to the Silver Bunny brothel located just outside the town limits on the road leading to Venturas. Local points of interest include the brothel as well as a Cluckin bell restaurant and local diner.

Sherman Dam

One of America's most recognizable landmarks and an engineering marvel. Provides much of the electricity used by the Las Venturas metro area and surrounding towns. As well as some of the power for the Los Santos area. Built in 1935 during the height of the great depression and contributed to the growth of Las Venturas.

San Andreas Correctional Facility

Located far west of Las Venturas near the town of Beathe and just north of Mitchell Springs. A large prison that houses some of San Andreas most dangerous criminals. The second largest prison in the state of San Andreas behind only San Quervos Penitentiary near San Fierro.

Hunter Quarry

Located immediately south of Las Venturas this large quarry is mined by San Andreas Rock and Gravel Excavators (SARGE) A business that has been rumored to be under control by one of the Liberty City Mob Families.

Sagebrush Trailer Park

The trailer park located near SACF where Chris and Kyle stole a truck at the start of the game. A large trailer park located along state highway 69 and is home to a local gang known as the trailer park mafia. Who operates in Mitchell Springs as well as Beathe.

Las Venturas motor speedway

Located in eastern Las Venturas this racetrack is one of the most popular in the country and a major stop on the West American Stock Car (WASCAR) tour.

Clark International Airport

The major airport serving the Las Venturas area. Located only minutes from the strip it brings millions of travelers from all over the country into the city every year as well as moving airfreight throughout the country.




Introduction

The game opens with a black screen "Rockstar Games presents, A Rockstar North Production". A lizard runs across the screen and the camera pans up to show a prison with the searchlights on and a faint siren heard. Two men are seen running over the hill away from the prison. The scene cuts to the men entering a trailer park in the desert. The men walk through the trailer park remaining in the shadows but a streetlight catches the back of one of the men. "SACF" is seen written across an orange jumpsuit. Out of the darkness a pickup truck speeds into the trailer park and parks in front of a trailer. A man stumbles out of the truck and storms into the trailer leaving the truck running "Home free baby! There's our chance!" says one of the men and the two men hop in the truck. You take control of the driver and your partner instructs you onto the highway. "Just follow the light! Venturas baby! The City of Sin!" A beam of light is seen shooting up into the sky and a strip of blue, red, gold and white light is seen on the horizon. You and your partner race down state highway 69 toward the oasis of light in the dark cold desert. Las Venturas, the city of Sin a city that has turned good men bad and rich men poor. When you reach the city you pass a large bright sine "Welcome to Fabulous Las Venturas, San Andreas"

Chapter I (Missions 1-11)

When you arrive in Las Venturas for the first time the protagonist says his first words "Feels good to be home" you and your partner drive to a motel located in North Venturas where he says they can get a change of clothes and lay low. Here is where you meet the owner of the motel a middle eastern man named Ramza Salah. He gives you and your partner a change of clothes and a place to stay. Here we learn that the protagonist is named Chris Brenner and his partner in the escape is named Kyle Miller. After a night at the hotel Chris and Kyle head over to Chris' childhood home in Southeast Venturas. When you arrive you find the house deserted with a for sale sign on the outside and Chris' family nowhere to be found. We also learn of Chris' background as a Marine in Iraq who returned to find his hometown in financial ruin and his family on the verge of falling apart. Over the next few missions you and Kyle live at the motel and do odd jobs for Ramza in order to pay for your stay. These jobs include the combat tutorial involving a shootout with crackheads who have infested Ramza's motel and driven away business "I can live with the Pimps, Hos and Drug pushers but the addicts. Can't live with em." say Ramza. Chris and Kyle also take up some work for one of Chris' childhood friends named Patrick who owns a mod shop only a few blocks from Chris' childhood home. Patrick gives Chris a cell phone to keep in touch. And In his missions you do a lot of driving and learn the layout of the city. As well as learn of the new car Mod features and Patrick's list of wanted vehicles for you to steal. The Act concludes with a shootout with the East Side disciples. A local street gang that's been putting pressure on Patrick's business.

Chapter 2 (Missions 11-20)

After Chris and Kyle help out Patrick in defending his shop from the Disciples Chris receives a call from Patrick's sister Kristi whom Chris had a fling with during his high school years. This starts a mission that involves taking Kristi out on a date to a comedy show at the Lion's Den casino. Afterwards you can call Kristi whenever you want to take her out and she becomes Chris' first girlfriend. Kyle gives Chris a ring and tells him to meet him at a bar located down the street from Ramza's Motel. He lets Chris know of a possible business connection with the Gambetti crime family out of Liberty City. He says they were once big players in Las Venturas but were pushed out by the F.I.B in the 1980s but now they want back into the city's crime world. They have set up operation at a quarry located just a few minutes south of the city. Chris and Kyle travel to the Hunter Quarry and meet up with the Gambetti's. The officer in command lets Chris and Kyle know that they have connections within the LVPD and could get police and F.I.B attention off of them if they help them take back some of their territory in Las Venturas. The two cannot refuse this offer. Chris takes the next few missions at the Hunter quarry office trailer working for the Gambettis on a small scale defending their interests from street gangs and the police. He also picks up work from Ramon Frank through his work with the Gambettis. The jobs he does for Ramon involve retrieving information on police corruption withing the LVPD that him and The Gambetti family could use to their advantage. He also tries to dig up some information on the whereabouts of his family by trying to look up any info he can find on the internet. This mission would serve as a brief intro to the internet. The Chapter ends when Kyle and Chris get sent to speak to a contact of the Gambetti family in Mitchell Springs.

More to come later....



*Click on name for an image

Chris Brenner

LVPD Database

Surname: Brenner
First Name: Christopher
Age: 29
Place Of Birth: Las Venturas, San Andreas
Affiliations: Unknown.
Alias: Chris
Criminal Record: 2010-Felony Murder.
Notes:
-Recently escaped from SACF.
-Military trained in Firearms and survival, Approach with caution.
-No known criminal underworld connections.

Info/Bio

Chris is a generally quiet individual who is suffering from pot traumatic stress disorder after service in the War On terror. he joined in 2001 at the age of 18 and served multiple tours of duty only returning a few times over the years. Finally returned home for good in 2009 and found Las Venturas to be a city in ruin due to the economic collapse of 2008 and the decline of the housing market. He slipped into deep depression and turned to alcohol and drugs to heal his pain. He made one two many mistakes and was charged with Manslaughter during the commission of a felony (Felony Murder) when he was attempting to rob a liquor store and the clerk dies of a heart attack. Only 10 months after his return to the U.S he was sentenced to a life sentence without parole and served over two years of his sentence before him and Kyle made a daring escape. When he arrives in Las Venturas he is unable to locate his family and spends a good part of the story trying to locate his family and put his troubled past behind him.

Kyle Miller

LVPD Database

Surname: Miller
First Name: Kyle
Age: 26
Place Of Birth: San Fierro, San Andreas
Affiliations: Unknown.
Alias: Unknown.
Criminal record: 2007-Possession of Marijuana, 2009-Grand Theft Auto, 2011-Second Degree Murder
Notes:
-Recently Escaped From SACF.
-Known to have an unpredictable temper.

Info/Bio

Born in San Fierro as an army brat who traveled all around the country throughout his childhood until his family finally settled down in Mitchell Springs. He was a rebellious teenager often in trouble with the law and that didn't change when he became an adult. His drug use continued and he was still making foolish decisions until 2011 when he was convicted of second degree murder. He helps Chris on his escape from prison and accompanies him to Las Venturas where the two meet up with a Motel owner Kyle knew on the outside.

Ramza Salah

LVPD Database

Surname: Salah
First Name: Ramza
Age: 35
Place Of Birth: Beirut, Lebanon
Affiliations: Unknown.
Alias: Rammy
Criminal Record: 2008-Assaulting a police officer, Drunk in Public.
Notes:
-Owner of the "Ramza's palace" Motel in North Las, Venturas.
-No Known connections to organized crime.
-Motel is a rumored hotspot for prostitution.

Info/Bio

A Middle Eastern Motel owner in Las Venturas. Kyle knows him from his days before prison and used his Motel as a place to get easy drugs and easy women. He allows Kyle and Chris to hide out in his Motel in exchange for a few odd jobs and for doing some of his bidding in the criminal underworld.

Patrick Perry

LVPD Database

Surname: Perry
First Name: Patrick
Age: 30
Place Of Birth: Las Venturas, San Andreas
Affiliations: Unknown.
Alias: Pat.
Criminal Record: 2009-Hit N' Run
Notes:
-Owner of a car customization shop known as "The Ricer Special" in East Venturas.
-Rumors on the street indicate increasing pressure from the East Side disciples Gang.

Info/Bio

A childhood neighbor and friend of Chris. Grew up together with Chris but was denied access to the Millitary due to an extreme case of asthma. He owns a Mod shop in East Venturas known as "The Ricer Special" and a few missions are done for him in the early part of the game. Mods at his shop are cheaper than any other shop in the game due to the friendship discount he gives Chris.

Ramon Frank

LVPD Database

Surname: Frank
First Name: Ramon
Age: 37
Place Of Birth: Alderney City, Alderney
Affiliations: Rumored to be involved with one of the Liberty City crime families.
Alias: None.
Criminal Record: 2010-Soliciting a prostitute, Indecent exposure.
Notes:
-Owns a law firm in Las Venturas.
-Rumored to be working for an unidentified crime family out of Liberty City.

Info/Bio

A Lawyer who is working for the Gambetti crime family in their efforts to re-establish their operations in Las Venturas. He is a very smooth and is usually able to get his way with his silver tongue. But has been known to make some bad choices when his judgement is clouded by alcohol or drugs. He has recently developed a cocaine addiction but refuses to admit that he has a problem only stating that Coke lets him clear his mind and focus on the task at hand.





Melee

Purchased at Ammu-Nation?: No
Modable?: No

-Knife
-Baseball Bat
-Crowbar
-Golf Club
-Police Baton

Pistols


-9MM
Weapon: $500
Per clip: $25
Purchased at Ammu-Nation?: Yes
Modable?: Yes

-Desert Eagle
Weapon: $900
Per clip: $30
Purchased at Ammu-Nation?: Yes
Modable?: Yes

-Revolver
Weapon: $800
Per Clip: $20
Purchased at Ammu-Nation?: Yes
Modable?: Yes

Sub-Machine Guns

-Micro-SMG
Weapon: $1000
Per Clip: $75
Purchased at Ammu-Nation?: Yes
Modable?: Yes

-MP5
Weapon: $1500
Per Clip: $100
Purchased at Ammu-Nation?: Yes
Modable?: Yes

-Uzi
Weapon: $1200
Per Clip: $75
Purchased at Ammu-Nation?: Yes
Modable?: Yes

Shotguns

-Stubby Shotgun
Weapon: $1200
Per Clip: $50
Purchased at Ammu-Nation?: Yes
Modable?: Yes

-Combat Shotgun
Weapon: $1500
Per Clip: $50
Purchased at Ammu-Nation?: Yes
Modable?: Yes

-Assault Shotgun
Weapon: $1750
Per Clip: $75
Purchased at Ammu-Nation?: No
Modable?: No

Assault Rifles

-AK-47
Weapon: $2200
Per Clip: $125
Purchased at Ammu-Nation?: Yes
Modable?: Yes

-M4
Weapon: $2000
Per Clip: $125
Purchased at Ammu-Nation?: Yes
Modable?: Yes

-AUG
Weapon: $2500
Per Clip: $150
Purchased at Ammu-Nation?: No
Modable?: Yes


Long Range Rifles

-Springfield
Weapon: $2300
Per Clip: $75
Purchased at Ammu-Nation?: Yes
Modable?: Yes

-Laser Sniper
Weapon: $2500
Per Clip: $100
Purchased at Ammu-Nation?: Yes
Modable?: Yes

Heavy Weapons

-RPG
Weapon: $10000
Per Clip: $5000
Purchased at Ammu-Nation?: No
Modable?: No

-Heat Seeking RPG
Weapon: $15000
Per Clip: $7500
Purchased at Ammu-Nation?: No
Modable?: No


Purchasing Weapons




Ammu-Nation has returned as an actual store. San Andreas has some of the most lenient gun laws in the country and Ammu-Nation stores are present in the Las Venturas area. You can purchase weapons by approaching the counter and opening a menu that lets you see a weapon and decide to buy the weapon or just ammo for one. Ammu-Nation stores are located in the following locations.

-North Las Venturas.
-East Las Venturas.
-Virgin Valley.
-Redman Falls.

Weapons that are not purchasable at Ammu-Nation can be purchased from black market arms dealers through a contact you receive midway through the game. Give the contact a call and he will show up near your location in a white van and sell you the banned weapons as well as weapon mods.


Weapon Mods

You can purchase weapon Mods from the Black market dealer you meet midway through the game.

Skins

You can purchase skins for every modable weapon in the game. The options include.

-Blue: $50
-Red: $50
-Gold: $50
-Green: $50
-Yellow: $50
-Black: $50
-Camo: $75
-Urban Camo: $75

Scopes

You can add a scope ACOG sight to the following weapons

-AK-47: $150
-M4: $200
-AUG: $200

Extended Clip

You can add an extended clip to the following weapons. The extended clip adds about 10 extra rounds for each weapon.

-9MM: $75
-Desert Eagle: $80
-Micro-SMG: $100
-MP5: $125
-Combat Shotgun: $100
-AK-47: $150
-M4: $150
-AUG: $200

Grips

You can add a grip to the following weapons to decrease recoil.

-Stubby Shotgun: $50
-Combat Shotgun: $75
-AUG: $75

Silencers

You can add a silencer to the following weapons. The silencers make the weapons silent to aid in stealth.

-9MM: $50
-MP5: $100
-M4: $150
-Laser Sniper: $150







Exotic/High performance



Ballista
Banshee
Canerra
Cheetah
Comet
Coquette
Dukes
Infernus
Sabre GT
Stallion
Super GT
Sultan RS
Sultan
Turismo
Vigero



Compacts



Blista Compact
Buccaneer
Faction
Feltzer
Fortune
Futo
Ruiner
Roach
Sabre
Sentinel
Uranus
Paco
Sunset



Four door sedans



Admiral
Buffalo
Chavos
Cognoscenti
DF8-90
Dilettante
Emperor
Esperanto
Feroci
Futo
Hakumai
Ingot
Intruder
Lokus
Marbelle
Merit
Oracle
Pinnacle
PMP 600
Premier
Presidente
Primo
Schafter
Solair
Stratum
Stretch
Sultan
Vincent
Virgo
Washington
Willard



Lowriders



Manana
Peyote
Voodoo




Government/Emergency vehicles



Ambulance
SAHP Buffalo
SAHP Cruiser
SWAT Patriot
SWAT Tank
Enforcer
Firetruck
Police Cruiser
Police Patrol
Police Motorcycle
Stockade



Civil Service and transportation



Air tug
Airport cab
Bus
Coach
Cabby
Mail Truck
Taxi
City Bus




Small trucks and Vans



Bobcat
Boxville
Burrito
Contender
Minivan
Moonbeam
Perennial
Picador
Pony
Rancher
Speedo



Large trucks and utility



Benson
Biff
Bulldozer
Dumper
Flatbed
Fork Lift
Loader
Mule
Packer
Phantom
Ripley
Securicar
Steed
Skidsteer
Technical
Trashmaster
Yankee



Motorcycles/Bikes



BMX
Faggio
Freeway
Goldback
Hellfury
Hexer
Mountain bike
NRG 900
PCJ 600
Roadbike
Sanchez
Wayfarer
Zombie



Aircraft



Annihilator
Dodo
Helitours Maverick
Skylift
Maverick
Police Maverick
Skimmer



Boats



Coast Guard Predator
Dinghy
Jetmax
Marquis
Reefer



Rare vehicles



News Van
Mr.Tasty
Romero



Vehicle Mods



Vehicle Modification returns in LVS. You can Mod any Sedan, Compact, exotic/high performance vehicle or motorcycle in the game at one of the following shops. Not all the modifications are available for each vehicle. Motorcycles cannot have sound system mods or hydraulics.

-"The Ricer Special" In East Las Venturas.
-"Venturas Customs" In North Las Venturas.
-"Valley Mods & Customs" In Virgin Valley.

Colors

You Can modify color on all vehicles the options are listed below. All colors cost $100 or $80 at Ricer Special

-Blue
-Red
-Green
-Yellow
-Gold
-Orange
-White
-Black
-Pink
-Purple
-Gray

Rims

You can mod rims on any vehicle as well. Options and prices are listed below. (Full Price/Ricer Special price)

-Spokes: $150/$100
-Dollar Sign: $200/$175
-Dollar Sign Spinners: $300/$280
-Celtic Cross: $200/$150
-Star: $400/$375
-Clover Leaf: $500/$450
-Clover Leaf Spinners: $550/$500

Neon

Neon can be applied to the underside of your car. Best viewed at night except it can be visible during the day. Options are below. All Neon costs $200 and $175 at Ricer special.

-Blue
-Red
-Pink
-Purple
-Gold
-Green

Sound System

Sound system options are below (Full Price/Ricer Special price)

-Basic Sub Woofers: $150/$75
-Advanced Sub Woofers: $200/$175
-HI-FI Stereo: $100/$60

Hydraulics

Hydraulics can only be applied to Lowriders.

Hydraulics: $100/$50





KZ69
Style: Classic Rock


Eagles-Hotel California
Bad company-Bad company
Kiss-Detroit rock city
Jimi Hendrix-All along the watchtower
The Beatles-Lucy in the sky with diamonds
Creedence Clearwater revival-Fortunate son
Rolling stones-Under my thumb
Styx-Renegade
The Stooges-Search and Destroy
Golden Earring-Twilight Zone
Blue Oyster Cult-Don't fear the Reaper
Journey-Wheel In the Sky
Boston-More Than a feeling
Guns N' Roses-Sweet Child O' Mine
Queen-Another One bites the dust
AC/DC-You shook me all night long
Led Zepplin-Kashmir
Fleetwood Mac-Go your own way
The Outfield-Your Love
The Doors-Break on through to the other side
Foreigner-Cold as ice
Jefferson Airplane-Somebody to love
Jackson Browne-Running on empty
Greg Kihn band-The Break Up Song

LVSOUNDS 99.6
Style: Modern Rap, Hip-Hop & Pop

Flo Rida-Right round
Akon- Right now
Eminem-Shake that
Young Jeezy-Put on
Young Jeezy-Soul survivor
The Game ft. 50 Cent-Hate it or love it
Ice Cube-Why We Thugs
LMFAO-Party rock anthem
The Game-Dreams
Lloyd Banks-Start it up
Shabazz Palaces-Church
Katy Perry-Last Friday Night


Throwback 97.7
Style: Classic Rap and Hip-Hop

Dr. Dre ft. Snoop dogg-Nutin but a G thang
Eazy E-Boyz n da hood
Eazy E-Real Muthaphuckin Gs
Tuapc-Dear mama
Tupac-Brendas got a baby
Biggie smalls-Big poppa
Sugarhill Gang-Rapper's Delight
Ice Cube-Today was a good day

Tube F.M
Style: Punk

The Clash-Rock the casbah
The Clash-White riot
Green day-American Idiot
The Ramones-I wanna be sedated
Sex Pistols-Anarchy in the U.K
Billy Idol-Dancing with myself
Dropkick Murphys-Shipping up to Boston
Generation X-Kiss Me Deadly

Generation X
Style: Modern Rock (90's-Present)

Alice in chains-No excuses
Alice in chains-Check my brain
Godsmack-Voodoo
Tool-Sober
Tool-Aenima
Nirvana-Come as you are
Nirvana-Rape me
Collective soul-Shine
Linkin park-New divide
Metallica-Seek and Destroy
Soundgarden-Black Hole Sun
Creed-With Arms Wide Open
Hinder-Lips Of An Angel
Hollywood Undead-Young
The Decemberists-Down by the water
R.E.M-Losing my religion
Arcade fire-Ready to start
The White Stripes-Seven nation army

Technation
Style: Electronica, Dance, Techno

Justice-Genesis
The chemical brothers-Do it again
Caribou-Odessa
The crystal method-Name of the game
Massive attack-Teardrop
Infected mushrooms-Psycho
Infected mushrooms-Heavyweight
Daft punk-Digital love
Phantogram-Mouthful of diamonds
LCD Soundsystem-Tribulations
The Prodigy-Firestarter
Fatboy Slim-Funk soul brother
Apparat-Arcadia
M83-We own the sky
Nicolas Jaar-El Bandido
Mogwai-Take me somewhere nice


Independence F.M
Style: User created playlist.

This station was also featured in GTA 4. It plays the songs you currently have on your Xbox 360, PS3 or PC hardrive. When you start the game it automatically imports all songs you have on your hardrive and whenever you add songs to your hardrive the game will add those automatically as well. You can choose to remove certain songs on the pause menu. When you select the station in game it will play the songs in a random order and will not have any ads or conversation in between songs like on regular stations.

WKTT (We Know The Truth)
Style: Conservative talk.

Hosts: Erik Johnson and Bill Hickey.
Description: A nationally broadcast conservative talk station that was featured in GTA 4. Most of the time is spent ranting about the Liberal president (Who is never named) and the state of the country and taking calls from people who agree with them as well as disagree with them. The station features two shows that are played at certain time during the day.

Take back America: Plays from 4P.M-6P.M everyday. This show consists of the hosts discussing a topic and taking calls from listeners. Some of the topics discussed are The president, Gun control and the war on terror.

The morning show: A morning show that plays from 7A.M-9A.M. The show consists of the hosts starting of the day by continuing to rant about the government and proposing ways the citizens can declare their independence resist the government (Often humorously small things such as littering, Parking in front of fire hydrants and not picking up after their pet).







Many Side activities appear in Las Venturas Stories and are likely to take up the most of a players time. These Range from side missions to mini-games to simple friend activities. As well as Gambling in one of the casinos.

Side Missions

Vigilante

-Hop in any police vehicle and take the law into your own hands by accessing the "Live Crime Stream" from the police computer. These scenarios are unlimited and randomly generated but completing 20 is required for 100% completion. Missions started from Las Venturas police cars only take place in Venturas and ones started from San Andreas Highway patrol take place mainly in the desert and small towns. The reward for completing 20 missions is a cash reward 50 shotgun shells and an attack shotgun every time you enter a police vehicle.

Most Wanted

-Take the role of a bounty hunter and hunt down wanted criminals all over Hoover County. Chris himself as well as Kyle appear on the most wanted list but he will not hunt them down for obvious reasons. There are 25 criminals to be hunted and killed and a cash reward ranging from $500-$5000 will be rewarded each time.

Street races

-You can take part in street races by calling a contact you meet early in the story. He will tell you the location of an upcoming race and it will be marked on your map. Cash rewards for each race completed and completing all 20 is required for 100% completion.

Patrick's most wanted rides

After you meet Patrick you can start receiving text messages from him for cars he wants delivered to his lockup. The text includes a picture of the car and the last known location. Reward is dependent on the vehicle and the condition its in when delivered. There are 50 vehicles to be delivered.

Mini games

Many mini-games appear in Las Venturas Stories. Most of these can be done with friends and girlfriends.

-Pool: Found at most bars clubs in the game. Play either with a friend or against a stranger.
-Darts: Found in a few bars around the map. Play against a friend or against a stranger.
-Bowling: 3 bowling alleys in Las Venturas and one in Virgin Valley. Play against a friend or by yourself.
-Mini golf: Play a quick game of Mini golf either with a friend or by yourself to improve your scores.
-Full Golf: You can play full 18 hole golf at the Breckenwhite golf club located in Western Las Venturas. Play either with a friend or by yourself to improve your scores.
-Strip Club: Visit a Strip Club either by yourself and enjoy the show or take a friend with. 3 strip clubs in Las Venturas as well as one in Sherman.
-Brothel: You can take a male friend (And some girlfriends too) to the Brothel in Beathe.
-Clubbing: Take a friend out to a night club or go alone. You can dance and take shots and you may even get lucky in the bathroom if you dance well enough.
-Eating: Many local diners and restaurants as well as the standard fast food chains located all over the map.
-Helitours: You can take helitours to take in the sights of the fabulous Las Venturas Strip and local landmarks.

Gambling

Las Venturas just wouldn't be the same without Casinos and legalized gambling. There are 13 casinos to visit in the game and each one has a unique interior but the games remain mostly the same. gambling options appear below. Note: Pulling out a weapon inside of a casino grants you an automatic 2 star wanted level.

-Poker: Works like RDR.
-Blackjack: Works like RDR
-Roulette: Like in San Andreas
-Craps: Wager money on the result of the roll. More information can be found here
-Slots: Very simple and like San Andreas.
-Video Poker: Like San Andreas

Robberies/Burglaries

Robberies

In Las Venturas Stories you are able to rob stores at gunpoint. It is advised to wear a ski mask before you commit a robbery and you are able to call up one of your friends to help you on the robbery. There are many different types of stores that can be robbed. These include:

-Gas Stations (24/7)
-Liquor Stores
-Fast Food restaurants (Burger Shot, Cluckin Bell, Well Stacked Pizza etc.)
-Clothing Stores (Binco, Pro Laps)

The mechanics are simple. You enter the store and aim a gun at the cashier. There are different events that can happen during a robbery. The clerk could hit the alarm and give you an instant 3 star wanted level. The clerk could simply hand over the money without incident or the employees could draw weapons of their own. Once you have cleaned out the register you have the option of opening the safe in the manager's office to get more money. But when you are in the back room the clerk will most likely hit the alarm giving you the wanted level. But if you have a partner with you they can watch the employees to keep them from activating the alarm. The payout from these robberies ranges from a couple hundred dollars to a few thousand. Time of day and the business of the store affect the amount of money they hold. But higher payout stores are most likely to give you a wanted level if you rob them.

Burglaries

Burglaries are another option for earning more cash. Unlike armed robberies these must be conducted with a friend but only after a certain story mission. These are started by calling up the friend and telling him you want to hit a house tonight. If you call him during the day time he will call you once night falls and tell you where to meet him with the van. Your friend will park in an alley somewhere with a black van and when you go and get in the van your friend will list off some houses he has cased out as potential targets. Up to 3 options will be presented on the radar and you commit to a house by pulling into a marker arrow near it. Giving you an opportunity to drive by each house to see which one you want to break into. Once you commit to a house your first objective is to find a way in while your friend keep watch out front with the truck. You are automatically given a crowbar to break open windows and occasionally you will be lucky enough to find an open window. Once you are inside the house you must find an object to steal (TV, Computers, Entertainment systems, jewelry etc.) you can stuff small items like jewelry, money, CDs and DVDS into your bag but computers and TVs must be carried out one at a time. You must also not wake the occupants of the house if they are home. A noise meter similar to the one in the "Home invasion" mission from San Andreas appears on the screen if the house is occupied. If you wake the inhabitants you are given a 3 star wanted level and your partner will take off if you take too long to emerge from the house. Once you have something you can place it in the back of the van. You can go back as many times as you want until the truck is full or until daylight is less than an hour away. Once you are done burglarizing the house without being spotted you drive the van to a lockup where you and your partner sell the loot and divide the money by a 60/40 split in your favor. Payout can range from as low as $100 from an unsuccessful trip to up to as high as $10000 from a very successful one.

Friendships/Girlfriends

Friendships and Girlfriends return in Las Venturas Stories. A lot of people complained about this feature in GTA IV but i liked it. There are some changes though. Friends have no abilities or benefits and benefits and are merely someone to do the mini games and hang out with to hear some interesting dialogue along the way. You can also take your friends on armed robberies and friends are also required to do burglaries with. Girlfriends also don't have benefits and work basically the same way. So friendships are just a little diversion to undertake. Here is a list of possible friends and girlfriends (By order of appearance). All friends are met through the main story.

-Kyle Miller
-Patrick Perry
-Michael Goldman
-Miguel Vega

Here is a list of possible girlfriends.

Story Girlfriend

-Kristi Perry

Love-Meet.net Girlfriends

-Bailey Brooking
-Melissa White

Crapslist Girlfriends

-Vanessa Lopez

Character Customization

In Las Venturas Stories Chris is a lot more customize-able than Niko was in GTA IV. You can change his clothing, Hair cut as well as tattoos. Options are listed below.

Clothing

Purchasing clothes is like it was in GTA IV but slightly altered. There are many racks in a store with your options on them and you can approach a rack and press the action buttonb to view the rack. Since there are many more clothing options than GTA IV activating a rack will simply open a menu type selection system like in Mafia 2. an example can be found here You can select a piece of clothing to try on and then choose to purchase it. The same goes for sunglasses, Hat and watch and jewelry racks in stores. On the Strip you may also come across a street vendor selling hats, sunglasses or T-shirts.



Street vendors



You can encounter street vendors on the Las Venturas Strip. Approach one of their stands and press the action button to shop. You can browse their selection and purchase things from them. Here is a list of things you can buy from street vendors.

-I <3 LV T-Shirt: $25
-Aviator Sunglasses: $25
-Slick Shades: $25
-LV Bandits Snap back hat
-Las Venturas Shirt styled like this.



Binco



A cheap thrift store found in five locations around Hoover county. One in North Las Venturas, One in West Las venturas and East Venturas. There is one in Virgin Valley as well as Mitchell Springs too. Clothes here are cheap but not too flashy.

-Red T-Shirt: $15
-Yellow T-Shirt: $15
-Blue T-Shirt: $15
-Green T-Shirt: $15
-Worn Jeans: $25
-Tattered Jeans: $25
-Skinny Jeans: $30
-Cargo Jeans: $25
-Khaki Shorts: $30
-Jean Shorts: $20
-Blue Basketball shorts: $20
-Red Basketball shorts: $20
-Camo Jeans: $30
-Urban Camo jeans: $35
-White Wifebeater: $10
-Black Wifebeater: $10
-White sneakers: $40
-Black Sneakers: $40
-Red & Blue sneakers: $45
-Black Hi-tops: $50
-White skate shoes: $55
-Digital watch: $20
-Dial Watch: $25
-Aviator shades: $20
-Sport Sunglasses: $25
-Jesus necklace: $30
-Gold Chain: $30
-Chrome Chain: $30
-Black trucker cap: $20
-White Trucker Cap: $20
-White baseball cap: $25
-Black Baseball Cap: $25
-Blue Baseball Cap: $25



Pro Laps



A store that sells sports related clothing. Everything from Basketball Jersey's to Running Shoes. Located in West Venturas And on the South end of the Strip.

-Los Santos Dribblers Jersey: $45
-Las Venturas Bandits Jersey: $40
-Red Basketball jersey: $25
-Blue Basketball Jersey: $25
-Bike Shorts: $20
-Cycling Shirt: $25
-Los Santos Dribblers T-Shirt: $30
-Liberty City Swingers T-Shirt: $30
-Los Santos Saints Hat: $25
-Blue Wristband: $10
-Red Wristband: $10
-Black headband: $15
-Digital Sports watch: $35
-Gray track pants: $30
-Blue track pants: $30
-Gray warmup top: $30
-Blue warmup top: $30
-White running shoes: $45
-Black running shoes: $45
-Blue Running Shoes: $45
-Black Basketball Shoes: $50
-White Basketball Shoes: $50
-Black Sport Shades: $25
-Blue Sport Shades: $25
-Red Sport Shades: $25



Perseus



Sells the most expensive and fancy clothing in the game. Has one location just off the Northern part of the strip. Its inventory is as follows.

-Black Suit: $2500
-White Suit: $2500
-Navy Blue Suit: $2500
-Black Dress Shoes: $500
-White Dress Shoes: $500
-White Faced Crowex watch: $750
-Black Faced Crowex watch: $750

Tattoos

Upper Arm

-Cross: $150
-Praying Hands: $200
-"LV" : $100
-"SACF, I did mine: $300

Lower Arm

-Cross: $150
-"Venturas" : $200
-AK-47: $200

Upper Back

-"Las Venturas": $350
- Welcome To Fabulous Las Venturas sign: $350

Haircuts

-Crew Cut (Default): $25
-Buzz Cut: $15
-Mullet: $35
-Shaggy: $20
-Average Length: $15
-Spiked: $35
-Fohawk: $45





More to come later.....






Police response

Las Venturas is patrolled and policed by the Las Venturas police department. Police vehicles include a Cruiser, Patrol as well as motorcycles and helicopters. The Strip is patrolled by bike cops. The desert and small town are patrolled by the San Andreas Highway Patrol who have Different cars and have their jail and dispatch station in Mitchell Springs. And SWAT appear at higher levels.

Wanted Level

*=One maybe two foot cops come to arrest you.
**=More police respond and will shoot on sight if you are holding a weapon.
***=A lot more cops arrive and a police helicopter joins the chase.
****=The police amp up their response and more helicopter arrive. police shoot on sight with no questions asked.
*****=The local SWAT team appear with the intention to kill. They drop from choppers and arrive in APC's
******=The SWAT team brings out their armored tank and the sky buzzes with multiple choppers and an Annihilator.

Combat

Combat in Las Venturas Stories bares resemblance to the combat seen in GTA IV and Red Dead Redemption and Max Payne 3. The core combat revolves around using cover and includes lock on for weapons. You have the ability to blind fire around corners and over objects. Some elements taken from Red Dead Redemption are the ability to crouch and executions at close range when you are not in danger. Some elements taken from Max Payne 3 are the weapon wheel system and the ability to go prone. You can fire out of vehicles the same way you can in GTA IV. For the first time in the GTA series you have the ability to take human shields. This works like it does in Saints Row 2. You press the

Y

or Triangle button when standing next to someone to take a human shield. Your hostage may or may not fight back and even after they die you can continue to drag them around as a shield.



More to come later.....




Credits

Logo & Headers: Narcis_Speed 6
Vehicle Images: Google Images
Everything else: Me