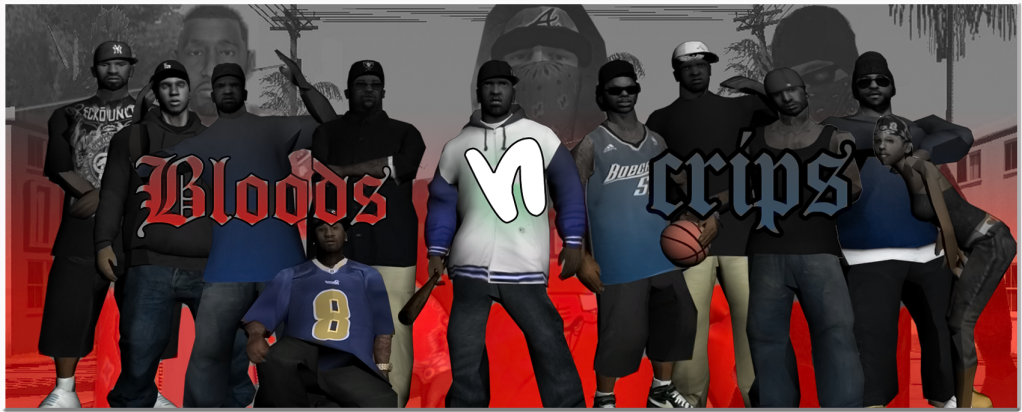 *Note that this doesnt start till GTA V comes out.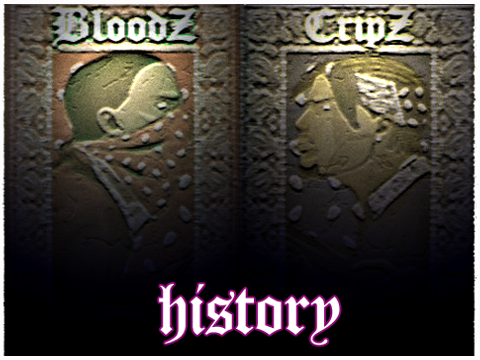 Crips
(Wikipedia content, ill change it later.)

Stanley Tookie Williams met Raymond Lee Washington in 1969, and the two decided to unite their local gang members from the west and east sides of South Central Los Angeles in order to battle neighboring street gangs. Most of the members were 17 years old. Williams discounted the sometimes cited founding date of 1969 in his memoir, Blue Rage, Black Redemption. Gang activity in South Central Los Angeles has its roots in a variety of factors dating back to the 1950s and '60s, including post-World War II economic decline leading to joblessness and poverty, racial segregation leading to the formation of black "street clubs" by young African American men who were excluded from organizations such as the Boy Scouts, and the waning of black nationalist organizations such as the Black Panther Party and the Black Power Movement.

The original name for the alliance was "Cribs," a name narrowed down from a list of many options, and chosen unanimously from three final choices, which included the Black Overlords, and the Assassins. Cribs was chosen to reflect the young age of the majority of the gang members. The name "Cribs" generated into the name "Crips" when gang members began carrying around canes to display their "pimp" status. People in the neighborhood then began calling them cripples, or "Crips" for short. A Los Angeles Sentinel article in February 1972 referred to some members as "Crips" (for cripples). The name had no political, organizational, cryptic, or acronymic meaning, though some have suggested it stands for Common Revolution In Progress. Williams, in his memoir, further refuted claims that the group was a spin-off of the Black Panther Party or formed for a community agenda, the name "depicted a fighting alliance against street gangs—nothing more, nothing less."Washington, who attended Fremont High School, was the leader of the East Side Crips, and Williams, who attended Washington High School, led the West Side Crips.
Crip showing a gang signal.

Williams recalled that a blue bandanna was first worn by Crips founding member Buddha, as a part of his color-coordinated clothing of blue Levi's, a blue shirt, and dark blue suspenders. A blue bandanna was worn in tribute to Buddha after he was shot and killed on February 23, 1973, which eventually became the color of blue associated with Crips. The Crips became popular throughout southern Los Angeles as more youth gangs joined; at one point they outnumbered non-Crip gangs by 3 to 1, sparking disputes with non-Crip gangs, including the L.A. Brims, Athens Park Boys, the Bishops, The Drill Company, and the Denver Lanes. By 1971 the gang's notoriety had spread across Los Angeles.

Initially Crips leaders did not occupy leadership positions, but were recognized as leaders because of their personal charisma and influence. These leaders gave priority to expanding the gang's membership to increase its power. By 1978, there were 45 Crips gangs, called sets, operating in Los Angeles. The gang became increasingly violent as they attempted to expand their turf.

By the early 1980s the gang was heavily involved with drug trade. Some of these Crips sets began to produce and distribute PCP (phencyclidine) within the city. They also began to distribute marijuana and amphetamine in Los Angeles. In the early 1980s Crips sets began distributing crack cocaine in Los Angeles. The huge profits resulting from crack cocaine distribution induced many Crips members to establish new markets in other cities and states. In addition, many young men in other states adopted the Crips name and lifestyle. As a result of these two factors, Crips membership increased throughout the 1980s, making it one of the largest street gang associations in the country. In 1999, there were at least 600 Crips sets with more than 30,000 members transporting drugs in the United States.
Bloods
(Wikipedia content, ill change it later.)

The Bloods gang was formed initially to compete against the influence of the Crips in Los Angeles. The origin of the Bloods and their rivalry with the Crips dates to the 1970s, where the Pirus street gang, originally a set, or faction, of the Crips, broke off during an internal gang war, and allied with other smaller gangs to found the gang that would eventually become known as the Bloods. At the time, Crips sets outnumbered Bloods sets by three to one. To assert their power despite this difference in numbers, Bloods sets became increasingly violent, especially against rival Crips members. The Pirus are therefore considered to be the original founders of the Bloods. During the rise of crack cocaine, the gang's focus shifted to drug production. Bloods sets operate independently of each other, and are currently located in almost all states.

Blood sets on the East Coast are often seen as affiliated with the United Blood Nation, a gang which originated in Rikers Island. The United Blood Nation, simply called the Bloods, formed in 1993, within the New York City jail system on Rikers Island's GMDC (George Mochen Detention Center), sometimes called C 73. GMDC was used to segregate problem inmates from the rest of the detention center. Prior to this time period, the Latin Kings were the most prevalent and organized gang in the NYC jail system. The Latin Kings, with mostly Hispanic members, were targeting African American inmates with violence. These African American inmates, organized by some of the more violent and charismatic inmates, formed a protection group which they called the United Blood Nation. This United Blood Nation, which was actually a prison gang, was emulating the Bloods street gangs in Los Angeles. Several of the leaders of this recently created prison gang formed eight original Blood sets to recruit in their neighborhoods across New York City.

By 1996, thousands of members of the Blood street gang were establishing themselves as a formidable force among gangs and continued a steady drive for recruitment. At this time, the Bloods were more violent than other gangs but much less organized. Numerous slashings (razor blade or knife attacks) were reported during robberies and discovered to be initiations into the Bloods. This Blood in ritual became the trademark for the Bloods. Bloods recruited throughout the East Coast.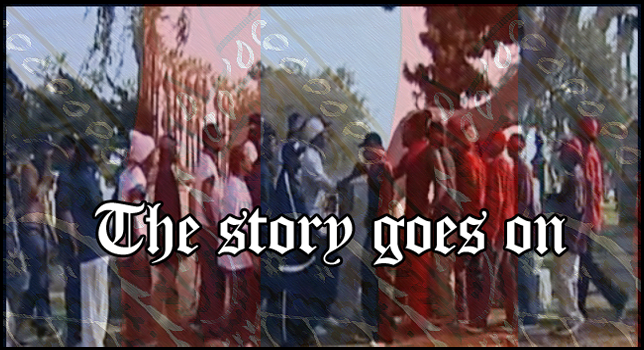 .:Coming soon:.





Out of Game

Questionnaire:
Have you Role Played before?

How long have you been on GTAF?

Do you know any members and if you do who?

Have you Got GTA V?

What is your gamer-tag (Xbox user name)?

What is your characters name?

Give an account of your characters life (optional)?



In Game

You must seek a member of the gang you wish to join. He will then bring you to his leader where you will be given two orders. The first order can be either be

a brutal beat down for a chosen time

or

being sliced numerous times until scared

.After that you need to prove your loyalty, the leader will send you out on your first drive by, if you miss every shot your dropped, but if you get under 4 shots on another gangster then you have to repeat your first order. You will succeed if you get over four shots and a party will be held bringing you into the gang.

After you join the gang you will be sent into a set. A set is a division of the gang. It is slightly explained in the history but an Admin will be able to tell you out of character if your still having issue with it. When you join a gang you will be given a street name after one month, six games is one month. Examples of these names would be : Lil' Stretch or Troll Loc.

After you join a gang scavage some goods and progress you must PM an Admin or post your info here.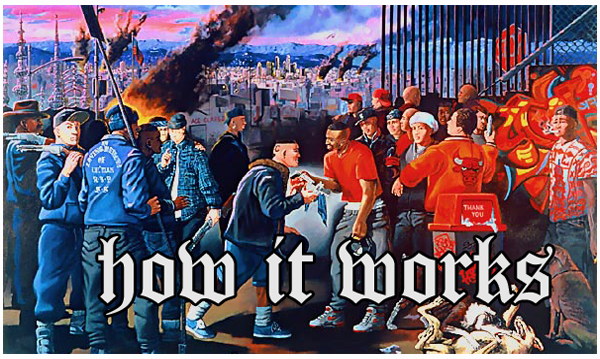 (Rules from Project life See here I`ll be making my own soon)

Random Death Matching - You cannot just walk around killing other players with no purpose.
Example: You walk into a Burger Shot, pull out your pistol and kill another player. THIS CANNOT BE DONE unless you have a valid roleplay reason.


Fear Factor - If someone pulls a weapon out on you, you aren't allowed to bring out a weapon of your own unless they say so. You must obey rule-compliant instructions given by this person.
Example: Swag points a gun at you and tells you to sit down. You must restrain from pulling out a gun and follow his instructions to sit down.


Metagaming - Using Out Of Character knowledge to further your roleplay character's experience.
Example: You read on the forum that a player you are trying to kill lives in Niko's Alderney house. You MAY NOT go to the house in Alderney to kill him unless someone tells you this information in-game.


New Life Rule - When you are killed you have no knowledge as to where you were upon death, who killed you, why they killed you, and how they killed you unless you are informed by the person who killed you. You remember everything else.
Example: Officer Mike shoots Dillon in a setup drug deal. Dillon cannot go to the Officer Mike and express anger or revenge kill because he has no memory that the Officer Mike did anything to him.


Revenging Killing - If you are sent to the hospital by another player, you may not find them and kill them in response to your previous death.
Example: Swag kills you with a roleplay purpose. When you get out of the hospital you drive to his location and shoot him. This CANNOT be done as you lost your memory.


Asspulling - You cannot pull a two-handed weapon out of thin air. If you want to use an AK-47 in a firefight, you must exit a vehicle or retrieve it from a location and continue to hold it until you store it again. Two-handed guns may be stored in cars or houses if you wish to not hold it anymore. This doesn't apply to one handed weapons.
Example: Mike gets a tipoff that police will be raiding his home. He sees them while he is standing in the middle of the street and switches to his AK. This isn't allowed unless he runs to a car that he stored it in to retrieve it.


Car Killing - Your car is not a weapon under any circumstance. It is not to be used in a fight to injure an enemy, nor run over random civilians. The only way this can be used is if your enemy places themselves in front of your car while you are attempting to get away.
Example: Mike sees a rival gang member while he is driving in his Sultan. He excels the vehicle forward and kills his rival by running him over. This ISN'T ALLOWED because he injured the rival via car ramming.


Item Use - Don't use what you don't have. You can't use a shotgun/vest/drug...etc if you don't actually own it.
Example: Mike sells Dillon some weed but Mike never purchased or planted any weed to sell. This CANNOT be done because Mike never had weed in the first place.

.:More Soon:.


Characters


Jonny G


Have you Role Played before? Yes.
How long have you been on GTAF? About 6 months.
Do you know any members and if you do who? None yet.
Have you Got GTA V?: Plan on pre-ordering it.
What is your gamer-tag (Xbox user name)?: MIDEVL MRDR
What is your characters name?: Jon (Jonny G)
Give an account of your characters life (optional)?: He moved to Los Santos from Liberty City when he was 17. He used the skills he learned in Bohan to gain an upper hand in the LS underworld.

Demon Simmons
Have you Role Played before? yes a lot it's my favorite thing to do in GTA 4
How long have you been on GTAF? A couple of months now
Do you know any members and if you do who? ????
Have you Got GTA V?It hasn't came out yet
What is your gamer-tag (Xbox user name)? expressgoalie12
What is your characters name? Demon Simmons
Give an account of your characters life (optional)? Born in South Central LA.He was 9 whern he did his 1st drive by.His brother was killed while defending his gangs reputation



James Clark


Have you Role Played before? Yes I have, very fun.
How long have you been on GTAF? Hmm, a month? I believe.
Do you know any members and if you do who? What?
Have you Got GTA V? Hasn't came out.
What is your gamer-tag (Xbox user name)? Boss Greaser
What is your characters name? James Clark
Give an account of your characters life (optional)? James was a man of sadness. We got bullied everywhere. Then he saw the bloods and saw how they respected one other. He wanted respect so he went for it. He's now a cold killer and a big member of them.



Snoop Dogg


Have you Role Played before?: Yes
How long have you been on GTAF?:Year and a month
Do you know any members and if you do who?: I have RPed with some of them before.
Have you Got GTA V?: Its not been released yet
What is your gamer-tag (Xbox user name)?: XxArTfULL97xX
What is your characters name?: Snoop Dogg
Give an account of your characters life (optional)? I'm a rapper in the crips. I'm black.



Jackson Mast


Have you Role Played before?- Yeah cuz on GTA IV it was what i did all the time.
How long have you been on GTAF?- I have played it for well over a year.
Do you know any members and if you do who?- nah i dont know any members
Have you Got GTA V?- Not yet because its not out but i will pre-order it.
What is your gamer-tag (Xbox user name)?- Varno1000
What is your characters name?- Jackson MAst
Give an account of your characters life (optional)? Jackson grew up in L.A. He lived in Compton and saw violence daily. His friends joined the WestSide Crips and he wanted in too so at 11 years old he joined the WestSide Crips. They asked him too put in work pretty much as soon as he was in, he killed a Blood from Compton and had stained hands ever since. Jackson has potential and some of the members in his set want him to go higher because of his leadership and gunman skills. But his life is only beginning hes only 17




Edited by glenn tha killer, 07 May 2012 - 08:15 PM.