As we can see, there's some conflicts about who will be the protagonist in GTA V, with people pointing their different opinions, let's see the true #FACTS, the clues and probabilities about who may be our protagonist in the game.
I chosed the 3 most reliably questions.
The protagonist will be:
The Hispanic Guy
Because:
.
He has been seen too many times in the trailer (a total of 3 times to be exactly).
.
He has been seen on the driver seat on the robbery scene, and the GREAT MAJORITY of the GTA missions, the protagonist is the one who actually drives the car.
.
He is much more younger (which is more profitable to the old GTA San Andreas features which seems to return) than the Balcony Guy.
The Balcony Guy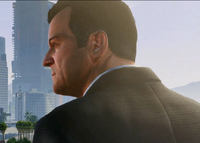 Because:
.
He is narrating his own story in the trailer (just as Niko did in the first trailer of GTA IV).
.
He says "I wanted to retire from what I was doing, ya know? From that-that line of work, be a good guy for once, a family man" while in GTA IV Niko says: "I killed people, smuggled people, sold people. Perhaps here; things will be diferent..." Which is basically the same thing!
.
He has showed in the trailer more times than the Hispanic Guy (a total of 6 times to be exactly).
.
It has been showed a short close-up of him, just like with Niko in the first trailer of GTA IV.
.
It showed him getting out of the van with other 2 guys, even though the Hispanic Guy was the one in the driver seat, he could have sitted there just after the Balcony Guy went out of the Van, because when they need to get out of the jewelry, they'd need to make it quickly, so that's why we see him in the driver seat in this short shot.
.
Rockstar said the game will be a "bold new direction" which could explain why he is rich at the start of the game(contradicting the "GTA Bible").
Multiple Protagonists
Because:
.
We see The Hispanic Guy and the Balcony Guy a lot of times in the trailer, also, two other guys that get out of the van, this could mean that we can play as them.
.
Rockstar said that they won't be making any big DLCs anymore, but we need to enjoy GTA V in any way possible, so GTA V will work like "GTA IV & Episodes from Liberty City"
.
GTA 1, London 1969, London 1961 and GTA2(GBC version) had multiple protagonists, why couldn't we get this again?
PS: Please, let's respect everyone's opinion on this thread, everyone is free to believe in what they want to for now, as R* hasn't confirmed anything yet.