Alright now you may think I'm crazy bringing this sh*t up again and trust me I know. I know what you think you're about to read a bunch of stupid theories that make no sense and honestly, I can't promise that you'll get me but I wanted to finally clear up what that stupid 700 pages of complete randomness actually meant.
Starting with the thread title GENESIS, It's important trust me you'll see why in a minute.
Ok so this is the picture orginally posted by DeepThroatGta4
Now the sub title of the post says follow the nine. It's a trick of words deepthroat means follow the
Line
. What line? you may ask, why the line on Nikos GPS on the mini map. If you look closely at the line it indicates that there is a turn coming up and that you must turn in that direction to get to
Perseus
. Now on that picture is a cut out of a horses leg, that's the horse that John is meant to be getting onto so he can follow the Line.
If you Look closely at the image Deepthroat provided you can see that there is only one road this road lines up perfectly with the direction that the GPS is telling the player to go to to get to
Perseus
look at the picture below.
Now if you look at this picture (Below) you can see the exact location where John Marston was standing in Deepthroats Image.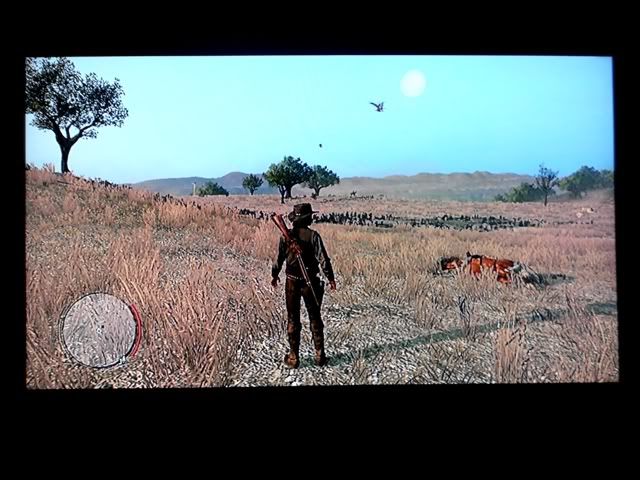 And in this picture(Below)you can see where Niko and Bernie were on the Image deepthroat posted.
Now if you follow the Direction on the Minimap you'll end up on this road here
This Road is important as it at certain point connects with the dotted line Border marker, Now if you look very closely at the border of Great plains you'll see a shape that resembles america when flipped. Now if you will, think about where the only clothes shop in Great plains is. BLACKWATER. And think about the location of where the mission John got started.Now if we Draw lines between all we've learned thus far on the map of great plains watch.
It spells a G, G for Genesis and for GTA.
Now if you think about what I said about West Elizabeths resemblence to the USA the Tailor or
Perseus
would be located in
California
Deepthroat was telling us to get on our horse and go to
California
.
That's just the start though I searched for Genesis club LA and the first two suggestions are a motoring club, and a NIGHT CLUB.
The car clubs Facebook page
http://www.facebook....204880402865624
Remind you of anything? Oh yeah !
Remember the GYM from the trailer?
Oh yes there's a Genesis health club.
http://fitness.ispor...a-quinta-236888
And finally we get to the Mountain. Notice how on Deepthroats Image there is a bit of Mountain missing? That's a reference to this scene from the trailer.
So yeah that's what Genesis was all about. Deepthroat actually referenced many things, if we look at the trailer we can see things we just couldn't see before. Turns out he wasn't as mad as I though he was.
Oh and please don't lock this it's not meant to spam up the forums just to bring some sense about what the topic was actually about.