Rebuilt VC HQ Wheels
Retreaded and Remastered for Modern PC's
Version 2.0 Starting Soon!!
There will be a second attempt at this project with me finding the first unsatisfactory and knowing I can do a better job this time while also making the models more efficient as there was alot of wasted polys on my first attempt. Like the original attempt I will be using the original GTA VC textures, I will smooth them slightly if necessary and also edit some of them slightly, some are not completely round, some have the texture off centre and some will get a little recoloring but in the end they will maintain the same GTA VC feel but only look better. Unlike the first attempt the LOD will not have the same high quality as the close up model but will have a better looking less poly LOD based on the new HQ Wheels, the reason is for game efficiency and also keeping the DFF size down.
Once the GTA III version is finished I will move onto redoing these Vice Wheels.
Version 1.0
I am rebuilding the Wheels using there Original textures and just making them Round and modeled up a little cleaner, also making the Near LOD for the Wheels Exactly the same as my new Higher Quality Version so it will appear that there is always a nice set of wheels on the car.

I also plan to do a Similar mod for all the VC Cars, which would replace there LOD with a cleanup version of the Original Model, thus eliminating LODS and making the game look better.

Once I finish the Wheels I will most likely move onto the Vehicles.

Here is an Example of one of the Wheels I have Done.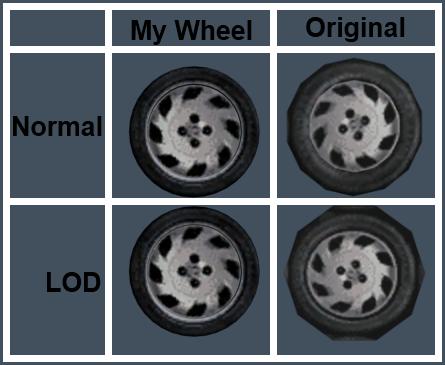 I have finished all the Wheels and they are Now Uploaded and Awaiting Approval.