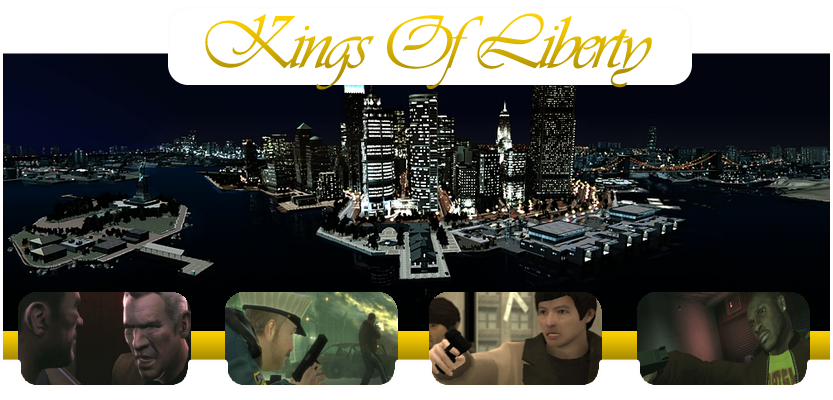 Credits:

Created by:
Mr White0161(D0N Bianco)

Filming/Video Editing:
ygbbrazy(Pazzo Sangue)

Writing/Characters/Original idea:
Mr White0161(D0N Bianco)

Direction:
Mr White0161(D0N Bianco) & ygbbrazy(Pazzo Sangue)

Audio Supervisor:
ygbbrazy(Pazzo Sangue)

Producers:
Bianco Productions

Actors:
The Bianco Crime Famiglia

Voice Acting:
Mr White0161(D0N Bianco) & ygbbrazy(Pazzo Sangue)

Graphics:
ygbbrazy, Blitz, Narcis_Speed6,UNRATED69


_________________________________________________________________________________
Plot Line:
A tale about the trials and heartaches of an Italian crime syndicate trying to survive in an changing world. Fighting other gangs and law enforcement around the city. All in the battle of survival in a city of corruption, lies, and betrayal all to see who are the true kings of Liberty.
*Viewer Note: The series starts out fairly slow, however once you get past the first two episodes the story builds into an epic tale.*
Episodes:


Season 1
Season 1 "Trailer"



Episode 1 "Gank Move"


Episode 2 "Repercussions"


Episode 3 "Lead Rain In Purgatory"


Episode 4 "No Ticki No Laundry"


Episode 5 "Steel Pigeon"


Episode 6 "Insurance Claim"


Episode 7 "Crime of The Century"


Episode 8 "On The Lamb"


Episode 9 "Valley of Death"




Season 2:



S2; Episode 1 "The Song Remains The Same..."



Characters: (There are many different groups of characters in the series)
Bianco Crime Family: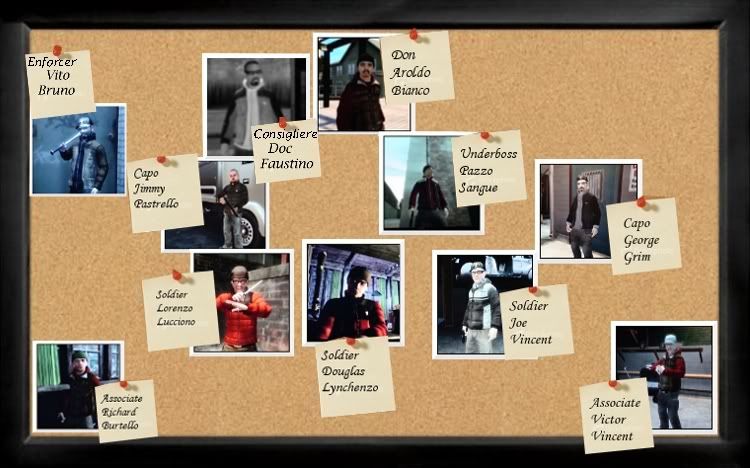 Aroldo Bianco:
Boss of an Italian crime family based in Alderney and Purgatory, known for ruthlessness and determination. Had been a controlling entity for a very long time however times have changed. He used to have many connections in the high offices of government but the leverage has been lost.

Pazzo Sangue:
Underboss of an Italian crime syndicate lead by Aroldo Bianco, Sangue is known to be ruthless and deadly. He is also known by his nick-name "Bats", given to him for the act he performed on a man who failed to pay his boss. Pazzo removed all the man's teeth with a baseball bat, earning him the name "Bats". Sangue is a textbook psychopath.

Jimmy Pastrello:
Jimmy Pastrello is a known Capo for the Bianco Family. Mostly as muscle but quite often is used as a button man. Little is known about Pastrello but apparently him and Pazzo Sangue have known each for years, may explain why they work for the same man. Pastrello resides in a house that used to belong to his mother somewhere in Berchum.

Richard "Rich" Burtello:
Not much is known about Richard Burtello. He came into town about eight months ago from Los Ventures. Seen as a errand boy for the Biancos.

Douglas Lynchenzo:
Soldier for the Bianco family. Known as "the Bar tender" he is seen in one of the Biancos main hangouts.

Lorenzo "Doc" Lucciono:
Lorenzo Lucciono is another known soldier for the Bianco family. After being kicked out of his private practice for stealing prescription drugs and selling them for a profit he came in contact by Jimmy Pastrello soon introducing him to Aroldo Bianco. After Bianco heard that Lorenzo is a doctor he saw great use for him.

George "Grim" Grimoni:
Capo for the Bianco Family and immigrant for Sicily. He runs the Port Tudor operations for the Biancos.

Joe Vincent:
Soldier for the Bianco Family, recently released from Alderney State Correctional after serving a 6years time for a diamond heist gone wrong.

Victor "Vic" Vincent:
Brother of Joe Vincent and associate for the Bianco Family, Victor is a car mechanic by trade but also runs a small chop shop in southern Alderney.


Vito Bruno:
Enforcer for the Biancos who has spent some time on the lamb after a job a few years back.


The Black Chapter:
Tyrone Ceal:
Leader of a the Black Chapter up in North Holland, drop out of the army and failed as a drug dealer he leads a group of heroin addicted junkies in basic car theft and burglary. Thought to be at war with the Bianco family. Tyrone and his crew look as if they work for the Triads; thoughts are that they are paying off a debt for the amount of heroin they have digested from the Chinese. Tyrone and his crew don't seem very loyal, even his own crew snitch for the cops.

Dwayne Joseph:
Goon and right hand man for Tyrone Ceal and the Black Chapter recently released from Alderney State Correctional on parole for assault and battery of his former girlfriend who he caught in bed with Pazzo Sangue.
Triads:
Charlie Tang:
Leader of the Triads in Liberty City, known for starting the new found heroin trade in the city. He has started to expand his operations into unfriendly territory such as Little Italy. Using the Black Chapter as his own personal errand boys he has them doing constant attacks against the Bianco Family. Known location and base of operation is China Town.

Toni Motto:
Right hand with the Triads, he's been in the city his whole life. He started dealing when he was young after his father was murdered by a close relative of Aroldo Bianco. Seeking retribution and revenge for his father's death by helping Charlie Tang fight his war with the Biancos over the control of Liberty City.

Chin-Ming:
Loyal Red Pole for the Triads, long time friend of Toni Motto.
LCPD Gang Unit:
Conner Bryant:
Lead detective in the Liberty City gang unit of the LCPD, heading the investigation of the increase in gangland activity around the city.

Stephen O'Neal:
A beat cop part of the gang unit investigating the recent activity in organized crime in Liberty City.

Chief Simon McLeary:
Simon McLeary is the Chief of the Liberty City Police Department, also a dirty cop. He has a history of taking bribes to turn his back from most things around the city. He's been the Chief for a very long time due to mafia connections keeping him in place.

Special Agent Ronald Burg:
Special Agent Ronald Burg is an agent for FIB investigating the Bianco Family and there business ventures. Keeping close eyes on his informant, but that information is classified.
Schottler Shottaz




Father Ramses:
Father Ramses is the leader of the Jamaican gunrunning Yardies of Schottler. Also known as "The Schottler Shottaz". They are the largest importer of firearms within Liberty City, however are running into trouble just as everyone else.

Little Pharaoh:
Little Pharaoh is Father Ramses right-hand man. He has ties to Dwayne Joesph due to growing up in the same area as kids. However they became distanced from each other when Dwayne began to work with Tyrone Ceal and Pharaoh with Father Ramses.
Additional Characters:
James:
James is your run of the mill scumbag of the streets. His word cannot always be trusted but what his says sometimes can be true.
Phil Leon:
Phil Leon is a junkie with a gambling problem he runs a small laundry mat in north Alderney. He takes out loans that he can't pay off it is going to get him killed some day.
Cyrus:
Cyrus is a hustler in North Holland, he knows everything there is to know about in the streets of North Holland. Long time friend of Dwayne Joesph.

Carlito "Cario" Rivera:
Bohan hustler who used to run with the Latin Kings. However he now does things on his own. Long time friend of Dwayne Joesph.
Juhdoesy Leggs
Leader of a small time Bohan street gang (Boulevard Ballas) . A variation of The Black Chapter but smaller in size and far more competent.

Mega-Loot:
Juhdoesy Leggs right-hand man of the Boulevard Ballas. Also has a major 'beef' with Carlito "Cario" Rivera.