Play me:
Track 02
The Money System

The Money System in Grand Theft Auto 5
Purpose of thread:
Here are some of my ideas on what needs to change with the money system, but I'd like to hear yours. What do you think should change? Do you think it's flawed or perfect? Should GTA5 be more like Red Dead Redemption?
Introduction:
The forum seemed a little slow, so I figured I'd write a topic about something I feel very passionate about. This topic is about "money" – and I think this is what GTA5 will definitely need if it wants to stay on top.
QUOTE
Grand Theft Auto 5 will change three major things:
• The Money System (Link)
• The Wanted Level System (Link)
• And Multiplayer (cs)

Check out the above threads for my ideas and suggestions. Feedback is always welcome. Cheers

$100 Ringtones: A Summary of why GTA4 wasn't fun.


Money should be more realistic. As you remember, ringtones in GTA4 were $100 each. Why would Rockstar do this? Why is this even important? Here are my reasoning:

There are countless other examples; but let's just stay specific. Making ringtones $100 each just shows that Rockstar lacked options for this area of gameplay. Money was pointless – and almost worthless! Therefore, what's the point? What drives players to compete missions? There is no sense of reward. Money needs to be worth something. More importantly, Rockstar needs to put things in the game that we want but can't get yet (Houses, cars, perks, etc).

The "rags to riches" story may be overplayed, but it doesn't matter. "Rags to riches" is simply more fun – and that's more important than anything else. Fun is essential to games. People want to feel successful. People want to feel famous. People NEED money.

Listen, Taxi missions and Firefighter missions weren't fun because we got to drive people around everywhere. They were fun because they had benefits. MONEY! The thrill of driving people around meant you could finally afford that AK-47 that you've been working hours on trying to get. This is what needs to return. Does anyone agree with me?

Look at a lot of the basic computer games. How does the game play out? The point is to make money, and pay for the perks – such as more health, armor, weapons, better weapons, strength, etc. What keeps the person playing is the drive to earn money and get more things. This is what I want GTA5 to be.

• How many people played the Taxi missions just because they needed fast cash?

• How many people tried to win money at the casions, cause they wanted something in the game they couldn't afford?

• How many people lost all that money, and were chased by the Lownsharks?

• How many people liked robbing stores in Vice City?

Concluding, I think the $100 ringtones was proof that Rockstar knew they had a limited amount of things to actually spend in-game money on. By making it $100, it was like they're saying "We need something that they'll spend money on." GTA5 needs to change this.
Notifications, Notifications, Notifications.
A notification refers to the "Respect+" and "Busted" screens that we all got after completing missions or getting caught by the police. These simple reminders are highly important, because they're what physiologists call positive reinforcement. They think it's important too.



GTA4 didn't have any mission endings. The money you made would present itself at the top right of the screen, and you better hope you had your glasses on! I want to know how much money I earned after each mission, and not have to look at the small numbers at the top right of the screen. It's not that I'm lazy. It just doesn't feel rewarding to me.

What ever happened to the old mission endings? The Ballad of Gay Tony sort of had this- but it was terrible. It was too complicated. The mission endings just has to be simple, only including the words "Passed" and the number of money earned. Did anyone miss this? We need to have a system (like San Andres, Vice City, and GTA3) with notifications - and not the Ballad of Gay Tony. We need a system that basically says "Good Job" and "Well done" right to our face.

On a side note, notifications should be used to narrate gameplay. GTA4 was sometimes confusing because I wasn't sure what was going on. You'd only get one notification that would tell you how to how to take a knife/weapon from someone. How many people actually knew that? I didn't.



Example:

After you get arrested, you can have access to all the charges placed on you. Therefore, you can see what crimes you committed and how much you were charged. (Like a really bad receipt.)



Example:

If a cop is pulling us over. A notification will pop up on the top left saying, "A cop is pulling you over for reckless driving. You can either stop or take the risk of running."



Example:

When you have a one star wanted level, you'll get this: "You are wanted for assaulting an officer. Fine: $50. Surrender or suffer the consequences."
Going in Debt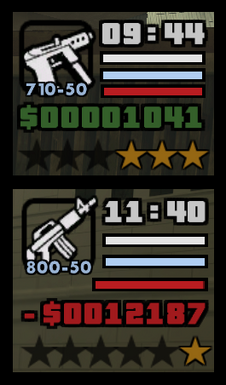 I don't know about you, but this is what I missed from GTA4. I want there to be a moment in GTA5 where I lose everything. I want my safehouse to be a park or under a freeway. This increases playability! Everyone will have their own experiences. Plus, I don't know what is more fun: trying to regain all my money or being chased by loan sharks.
Gambling
Gambling has to make a return. Although GTA5 isn't set in Las Venturas, Rockstar can still implement ways for a player to gamble. Horse racing betting, lottery, casinos, illegal gambling, casinos, online poker, illegal car racing. These are all possibilities.
Banks & Loan Sharks
Banks in GTA5 should be more than just an ATM like GTA4. You should be able to take loans and invest your money in banks. This doesn't have to be as complicated and realistic as real life. It can be simple. For example, take a look at a game called Stick RPG. It should get you on the same page as me.

Loans would add a whole new dimension to gameplay. I loved the casinos in San Andreas because you could get so far in debt that it would actually be fun to get that money back. (It was also entertaining to get chased by loan sharks.) Again, the banking system should be simple. You can put your money or borrow money out. (However, there would be a limit based on your current financial status.) If you don't pay it back, there will be consequences, such as 'Government' loan sharks shoot you.
Safehouse Ideas
• 6 safehouses, 4 apartments, and 4 motels, are available in the game.

Type of houses:

• 4 - Apartments, with on-street parking (1 space)
• 2 - House, one-car Garage
• 1 - House, Two-car Garage
• 1 - Warehouse, Garage - 8 parking spaces.
• 1 - Mansion, Two-car Garage + Helipad
• 1 - Mansion, One-car Garage + Dock (can save one boat)
• 1 - Campground.
• 4 - Motels - (Can order a room for up to in-game 7 days & save your car.)
• 5 - Homeless locations: Parks, under highways, etc. (free)

• You can sell your house to purchase another one, but you'll lose 20% of the original price.

• Each safehouse will have areas to save your vehicle. You cannot save your vehicle there unless you own in, this includes hotels, motels and campgrounds.

• Safehouses will be expensive. You'll have the choice to keep or sell for better property.

• Everyone will have a different experience, simply because there is a wide variety of real estate.If the player wants to live out of a hotel for the whole game, it's possible.
Buying Cars
Buying Vehicles
Can we buy cars in GTA5?
The Benefits
• Purchased cars will always reappear at safehouses. (under certain circumstances)
• You can drive the car you want, rather than driving around for hours looking for it.
Short Introduction

How about a car that saves itself everywhere? You are limited to one car that NEVER disappears. It will always spawn at your safe house, unless something happens to it. (Let me explain.) You can park it in parking lots, parking garages, or anywhere else all across the map. However, there are some cases when it would disappear. If your car becomes undrivable, it should reappear (brand new) at a local Pay n' Spray. The good thing is you wouldn't lose your car completely. The bad news is there would be some fees for the repair, depending on the damages.
Parking
Players can park their car in any parking lot across the game for as long as they want. It will never disappear. On the other hand, if a player leaves their car in the middle of a park or street, it will respawn at a local Pay n' Spray. There, the player will have to pay a small fine for towing. (Keep in mind, cars will only be towed if a player actually leaves the area for a long period of time.)
Damages
If a players car becomes undrivable, it would reappear (brand new) at a local Pay n' Spray. There would be some fees for the repair, depending on the damages. The good news is you can sink it, light it on fire, drive it off a cliff, etc. It will always be your car.
Purchasing Cars
Players can purchase cars online or at the various car dealerships across the game. Car dealerships have a smaller selection, but much better deals. Online websites has every car purchasable, but higher prices. (Link)
Clothing Store Ideas

• 5-6 different clothing stores with more than San Andreas.
• NATIONALITY STORE TBA - Like Niko's Russian shop
• Bernies - Fabulous metrosexual clothes for men
• Richies - High Retail Clothing
• Binco - Regular Attire
• Prolaps - Athletics Store
• Persuius - Tuxidos and Suits store

• Less "Wacky" clothes and more realistic chocies. You won't be running around in a Bear Suit... but that... would be... nice?

Weapons
•The first 20 missions do not involve guns.



Yes. I'm being serious. The first 15 missions of IV were awesome. I loved how it built up to the murder of Vlad. It felt much more meaningful than just killing everyone. Movies can start with a bang, but they're better if they build up to the action. Ignoring guns and focusing on other aspects of gameplay would definitely change the mood. The first 20 missions should involve more hand to hand combat (aka kicking the sh*t out of people). Plus, there are plenty of other possibilities: using melee weapons, stealing cars, running from the police, stealth, lighting fires, etc.

Rockstar needs to remember how Manhunt unfolded. In Manhunt, players started out with small melee weapons, while guns and heavy weapons were gradually introduced to the story. 'Bleed Out' was my favorite mission in GTA4. We need more missions that are non-gun based. We've had plenty of GTA4 and it just felt repetitive. Guns need to be slowly introduced to the game, just like Manhunt. GTA4 sort of had this, but the only gun I remember looking forward to was the bazooka. The game didn't really have a wide variety of 'fun' weapons. We need more melee weapons!
Notable Features:
•Weapons will be expensive, but you only buy them once, and you ONLY loose them if you get Busted. And if you get Busted, dont worry, you can buy your weapons back for half the price they originally are.

•Weapons should be improving over time. You start out with crappy melee weapons, and then crappy guns, until you get better and better.

• You cannot buy a uzi until you PASS the skill test. There is a class for each weapon that shows you how to use it. Bazooka, Uzi, AK-47. And theyre all located in the gun shops.

• You can store weapons in your safehouse in a gun room.
Stealing & Robbing
I had an idea to incorporate Red Dead Redemption's selling and buying system into Grand Theft Auto 5. I hope Rockstar does the same. In this system, the 'prized hunts' would be replaced with stolen goods. Stolen goods include, but are not limited to, jewelry, weapons, and drugs.



Click for video.



Pawn shops should replace the stores from Red Dead Redemption, where we would be able to sell our stolen goods. These pawn shops would be located all across the city. (name: Hardcore Pawn?)

Common, we should be able to rob more than just [email protected] internet cafes! This is a crime game. We should have more options. I want to be able to rob houses, stores, and people on the streets. It's easier if I separate them by title, as each store would be robbed differently and have a different level of difficulty.
Notes:
• If you rob too many stores in the same location, it will be harder to steal. You'll get a faster and HIGHER wanted level. (Ex. the cops will immediately be there and you'll get 3 stars instead of 1)
• Some shop owners will carry guns - and they'll use them too.
Stores:

The easiest places to rob, however some shop owners will own weapons. If you kill them, your bounty will increase. (Available Cash: $0-400)
Jewelry Stores:

Jewelry Stores would be filled with many glass display cases. All you have to do is jump over the counter and start taking as much jewelery as you can. You'll get a higher wanted level though. (Available Cash: $0-1,500)
Banks:

Banks should be robbed as well, but highly difficult. If you get caught by the police, you could be facing double what you would have earned. Your wanted level will be four stars. (Available Cash: $0-5,000)
Houses:

Houses will be similar to Red Dead Redemption and San Andreas. We can open drawers and cabinets, which will have money, jewelry, and other small 'pocketable' goods. We then make money after selling them to pawn shops. Some houses will have alarms, motion censored lights, and even people sleeping! Robbing homes will be a skill. (Available Cash: $0-1,000)
Strangers:

Pick-pocketing should be a skill we develop, like flying a plane in San Andreas. I think this is much more realistic then killing everyone for their money. However, it may not be as fun.
Miscellaneous
Body guard – You can hire up to two bodyguards once you get to a certain social status. The bodyguards will work like the gang in San Andreas. (You can turn them on or off via your phone.)

Bicycle Shops – Small bike shops will allow you to purchase your own bike, which will reload itself at your safe houses.

Phone stores – You can update your phone as you progress through the game.
For example: You may start off with a free phone and make your way to a "Dingleberry" (Blackberry).
Dingleberry's allow you to buy and play music?