Long live the original Wiseguys.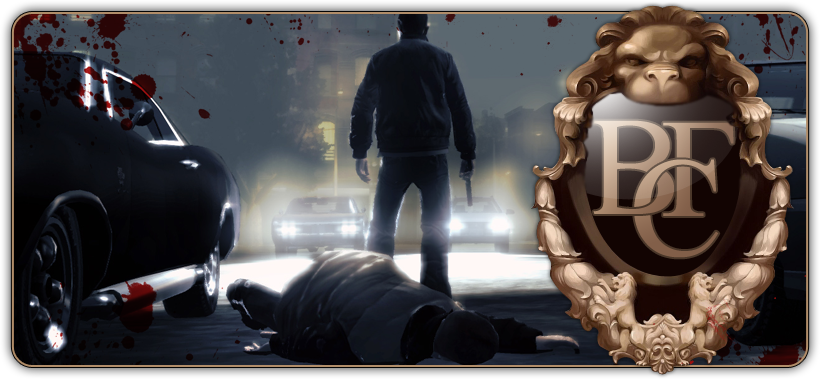 QUOTE
Mission Statement:

Not everyone understands how or why we do what we do. Or even why people join this gang. To put it simply, the BCF is all about the traditional Italian Mafia. We try to take the real world Mafia and make it work for the GTA online format. Operating in a traditional manor along with playing by the same rules and moral codes as the real world Mafia with few conversions to work for GTA's online multiplayer. We are no more then just a crew of honest respectful players who respect the Mafia culture and express it through these forums and how we conduct ourselves in-game. Like the real mafia much symbolism is involved, examples of our symbolism are our "Hits". To us "Hits" are our own way of sending a personal insult, it's not merely running up to them and shooting them in the head. No! it is carefully planned and executed in a humiliating fashion. Done when the 'mark' is least expecting it and has their guard down so when it happens they know it happened. We do not do it for "bragging rights" and or so we can shout "I assassinated you!!!!!" (like so many others seem to be doing these days). That is not how we do business. We keep to ourselves anything and everything we do is only expressed amongst the members of our Borgota. Bottom line, the BCF is an immersive gaming experience where people are apart of something. Where everything you do does matter, where everything has a place and meaning. Along with having a great deal of discipline and professionalism with enough room for just kicking back and relaxing. So please, get to know us before you decide to judge us and remember we're not like every other Mafia. Thank you





Storia:

In 1919 Vittore Bianco came to Liberty City from the small town of Bianco located in the Province of Reggio Calabria in southern Italy for a fresh start. He was hoping to become a banker or a lawyer or some sort of business man. Well he did end up as a business man but not the type of business he had in mind. Vittore began his life in Liberty City by working down at the docks of Port Tudor. Off loading cargo for very low pay, but it had its advantages such as being able to take some of the fruit that may have fallen off of trucks. But Vittore knew he couldn't do this forever. He was young and desperate and needed to start making real money. Vittore had discovered the concept of gambling. Whether it be setting up games of dice around the docks or managing back room poker games. All in all it was just about the money. Then prohibition struck Liberty City making the sale and consumption of alcohol illegal. Vittore saw this as a great business venture, he wrote back home to his families winery. Having them send him cases and cases of wine to Liberty City in creates mixed with oranges and other fruits. With this steady flow of booze being brought in Vittore became a 'big shot' over night. Setting up distilleries and 'speak-easies' throughout Alderney. Creating his own empire of bootlegging liquor.

In 1931 Vittore's son was born, Vito Bianco. During the summer of '33 Vittore was shot and killed by prohibition agents during a raid. Vito left fatherless and a mourning mother he was forced to work on the docks just as his father had done before him. However during his time working on the docks of Port Tudor he had met a young man named Franco Sangue also the son of an Italian immigrate to Liberty City. The two became great friends. In the spring of '52 on Vito's birthday he was approached by a very well dressed man who said he worked with his father. Vito never really knew his father and his mother never told him much about what he did or how he had died. The man who claimed to have known Vito's father told him everything. From how Vittore began his life in Liberty City to creating his small time crew in the streets of Alderney, Vito would have never thought that his father controlled the longshoreman's union in Port Tudor. Now that he was of age it was Vito's turn to take the reins of his father's organization. Vito became an outstanding Don, everyone loved him. He was truthful, fair and honest. He also gave back to those in his neighborhood. Along with creating new job opportunities within the unions of Alderney's industrial sector, Vito Bianco was truly loved by all, hated by few and feared by many. When his son Aldo was born in 1956 the people of Alderney flocked to Vito and presenting gifts for the new born.

During 1985 Vito stepped down as Don leaving his son Aldo in-charge. Even though Vito was still fairly young and able to run the family he wished to take leave to enjoy what little youth he has left. Two years later Aldo's son was born, Vito's grandson, Aroldo Bianco. Aldo busy running the family Vito had much free time, free time he spent with his grandson. On one cold dark winter afternoon of 1996 the unthinkable happened. Aldo Bianco was murdered, killed in a car-bombing outside his home in Berchem. Vito went into a tyrant rage, forced out of retirement he vowed to find those who had taken his son away from him. He called his top button-men to find those who planned and executed his son's death along with everyone who was responsible. Six months later on the day of his one and only grandson's birthday he took his vengeance on those he vowed to destroy. The blood of those responsible for Aldo's death was spilled on Aroldos birthday. Now fatherless Vito decided to take Aroldo under his wing and teach him the way of the "life" so the Bianco Family will live on for generations to come. In early 2008 Vito Bianco died of a stroke leaving young Aroldo to become Don.


Bianco Family Today:

After the death of Vito Bianco, Aroldo was left to take over the Bianco Family. Aroldo didn't know what to do with his grandfather's organization. Still young and in his prime but unfit to be a leader of a large criminal organization he soon began to lose all the soldiers from the golden ages. He had to rebuild, make a name for himself and let the Bianco name be known.

On a dark rainy day Aroldo had been passing through Tudor when he heard gun shots. He stopped, looking down an alley a small gunfight that only lasted seconds. Unsure of if he should check it out or keep on his way. He chose to investigate the outcome of a deal gone bad. Walking through the remains of bodies, guns, blood, and empty shell casings he heard a small groan. One person had survived this ordeal. He approached the person who was on the ground. It was a small time drug dealer by the name of Pazzo Sangue; Aroldo offered him his hand, raising Pazzo to his feet. Aroldo introduced himself, saying who he was. This came as a surprise to Pazzo as his grandfather Franco had spoken of a Bianco when he was younger. This moment was the start of a strong and powerful friendship, a brotherhood between two and the honor and respect of Cosa Nostra.

Aroldo now left trying to hold onto what little he has left. He called upon his new found friend Pazzo to work with and soon became his Underboss. Pazzo may have been a drug dealer but Aroldo never held that against him. He had proven to have a level head on his shoulders and great knowledge of the streets and that is all Aroldo was looking for. The two began the task of rebuilding the Bianco Empire.


Bianco Family Now:



Many months have gone by since Aroldo and Pazzo went into business together. In the past months their small crew had formed into a family. One of the biggest and fastest growing organizations within Liberty City. Gaining more Associates, Soldiers and Capos they grew more and more day by day. Aroldo had noticed a young Irish hustler hanging around one of their key hangout spots. Doc Faustino was his name. Aroldo brought him into the family after doing a few low-keys jobs on the side, Faustino proved to be a valuable asset. Proving his skills in manipulation and negotiation of business time and time again, with these talents it was only fitting that he take over the "white collar" sector of the Bianco Family as he became the Consigliere.

Business was good; things were on the Biancos side. Up until then ran into trouble with a corrupt banker who turned Politician. This man made it his duty to take down the Biancos at any cost after a small run in between both sides. At the start the Biancos believed they could have used him, he wasn't that bright. Perfect target for a puppet with political connections, Aroldo had then given the task of finding out whatever he could to Doc. Doc obliged, he began acting friendly. Approaching the 'mark' as if he was his "friend", along with that he had kept his connection with Aroldo unknown. The Politician was arrogant, full of himself. In-fact he had a god complex even though he was your run of the mill idiot, Doc gave him such a false sense of security that he felt as if Doc had become his protégé. But this was not the case. Faustino had found out his plans to kill Aroldo, along with his previous attempts. Assassins were sent to take Aroldos life but Pazzo made sure they never succeeded. When it became known that it was no more than the Politician himself who was hiring the hitmen Aroldo gave the order and Doc carried it out, beautifully.

Doc called a meeting with the Politician at the Colony Island Cemetery. He had chosen the location for symbolic reasons. The two began to "walk n' talk", slowly wandering through all the grave plots. Up until they came across an open unmarked grave. Faustino stopped with his back to the Politician, unknowingly to the Politician Doc drew a concealed sawed-off shotgun from his jacket. Slowly he turned towards the Politician, as it was dark and he couldn't see the gun. Doc raised it and fired two shots into the Politician's chest, as the body fell to the ground Doc then signaled a Bianco soldier, Phil Scagliani, who had been watching over the meet. The two then "took care of him", burying the worthless scum in the unmarked grave. That day Doc had earned his bones.

Not long after the disappearance of the Politician the Biancos began getting threats from a small disorganized paramilitary group within the city. Aroldo asked Doc to see what he could find out about them and told Pazzo to keep his eyes and ears open on the streets. They later found out this paramilitary group is built up off of a squad of rejects from the Navy. It still remains unclear as to why they were hostile towards the Biancos. They even went far as to sending spies within the organization, however the Biancos kept two-steps ahead of them at every turn. Then they made a bold move, leading an attack upon the Biancos at the family compound in Leftwood. The Bianco guards knew something was strange when the cable repair truck backed up the driveway. When men started piling out from the truck they knew it was a full-scale attack. A firefight took place on the grounds of the Bianco Estate resulting in many casualties for the paramilitary group and only a few wounded Biancos. Luckily the Biancos were on the defensive on their home turf. After this dreadful defeat the paramilitary group resulted in creating no more than propaganda about the Biancos. Reaching out to some contacts in the media the Biancos quickly abolished the nonsense. Soon after all members of the military group were arrested, they were seen as threat a by the Government and unfit for society. After they were sent to Alderney State Correctional Facility it was back to business as usual for the Biancos. About six months after the former Navy Seals were released on parole. Their squad had broken up from their time in the joint. Shortly after their release what remained of the command structure of their unit started up a small clique based in North Holland where they have remained under the radar.

During the middle of the Biancos confrontation with the former paramilitary group a small Russian organization based out of Hove Beach that was ran under the surname Ivanov had entered the scene. Without prior dealings with either Aroldo or any other Bianco these Russians had an undefined vendetta against the entire Bianco organization. While dealing with the SEALS the Biancos began receiving threats from the Ivanov's. Aroldo did not think much of these threats and in fact overlooked their attempts to be taken serious as they had not presented themselves directly and the conclusion not only made by the Biancos but many other groups around the city had reached was that these "threats" were their way of getting noticed. It wasn't long until they finally made an attempt to reach out to the Biancos. Once Aroldo and the Ivanov Pakhan (Boss), Sergei Ivanov, spoke first hand it became clear that they merely needed guidance and a larger and stronger organization to help them get settled, Aroldo entertained with the idea made a mutual agreement with leader to help them get on their feet. As the weeks began to pass very little progress had been made by the Ivanovs and turned out to be more of an annoyance to the Biancos than anything else. Doc approached Aroldo on the subject and requested his blessing to carry out the hit on the entire Ivanov high command. A valid argument was made to the level of their competence and the liability they had posed with that said Aroldo gave the go ahead and Doc made sure that the word was sent out amongst the rest of the family. The following day of the order being given the Ivanov high command was eliminated one by one throughout the city all within an hour of each other. It had happened so fast that warning could not be sent out to rest of the Ivanovs. The first to go were two high ranking soldiers who were ambushed inside the Homebrew Cafe by Bianco soldier Samuel Faraday, upon entering the cafe Samuel had risen from behind the bar and riddled the two with small arms fire. Following the death of the two soldiers Sergei's third in command was killed shortly after in a car bombing that had been rigged to blow by Phil Scagliani, this had taken place inside the Chess Tea warehouse located in Port Tudor which coincidentally is a racket under Bianco control. Not long after the disappearance of the Ivanov's third in-command the second was lead into an Alderney mineshaft where he was executed by both Aroldo and Doc. The entire Ivanov high command had been whipped out in one solid swoop yet one still remained, Sergei Ivanov. Sergei called a meeting with Aroldo which came to surprise considering Sergei was still unaware to the events that had transpired during the early course of the day, Aroldo seized the opportunity to eliminate the remaining Ivanov. A meet was set to take place in an abandoned warehouse district in Alderney's derelict Acter Industrial Park, Aroldo had organized his men throughout the complex along with sending a car to retrieve Sergei and bring him to the meet. As Sergei arrived (video of hit) to the meet the Bianco driver, Saul Fernandez, had stopped and immediately got out of car locking the doors behind him while a gunman emerged from the shadows unloading a shotgun into the backseat of the car killing Sergei Ivanov. Not only was this the end of Sergei Ivanov but also a welcoming to a long time Bianco associate now soldier who had earned his bones in the process. Once the dust had settled the car along with Sergei's body was set on fire leaving no trace behind.

Following the disappearance of both Sergei and the rest of the Ivanov high command it became known that they were all executed by the Biancos. A small group of remaining Ivanov loyalist sought out revenge for their fallen comrades. Countless attempts on Aroldo's life were made all resulting in their failure along with numerous attacks on Bianco members and Bianco businesses. By this time the Biancos fight against the SEAL's had been long over. In the eyes of the Biancos this was no war but rather tying up loose ends. Despite their losses and how weak they were the Ivanovs persisted to attack the Biancos. However they couldn't fight forever considering the losses which had soon caught up with them along with internal conflicts which resulted in them disbanding. Even though these previous events had passed it was well aware to all Biancos that future conflicts would come to light.

Bianco Family - Exodus; I:

The family grew at an extreme rate. Larger and faster than Aroldo could have ever imagined, the Biancos soon became the largest family in all of Liberty City. Leaders and representatives from other families and organizations throughout the city approached Aroldo offering partnerships and other such business deals. Aroldo was not interested in the affairs of any other gang in Liberty City except his own, in turn Aroldo placed the death order of all those who came to them with said business propositions. Aroldo felt that eliminating any possible competition and or weakening them would give him the upper hand, which it did. Because of the strength held by the Biancos they could do whatever they wanted without any repercussions from any other families or the Commission. The Biancos however never stepped out of there claimed territory of Alderney and the few neighborhoods in Algonquin. The idea was to remain small as possible, staying close together in case anything did happen the Bianco name would still be secure and there reputation would not be lost. Unfortunately Doc had a different vision in mind. He wanted to take over the entire city no matter the cost. He asked Aroldo if he could step into the Commission and see how he could overthrow it from within, at the start it worked out very well but in time the families involved with the Commission went to war with each other. It was split down the middle and soon it ripped itself apart, in a way that came as an advantage to the Biancos seeing as how they never wanted anything to do with Commission. With the war-torn Commission each family became an easy target for Doc to dismantle. His success in destroying the Commission lead him to seeking his way over to Broker, the home of one of the families that was in the Commission. He proceeded to seek out the "heavy hitters" in the family, soon turning the Underboss and Consigliere against the families Don and bringing them into the Biancos as associates.

It didn't stop there; Doc asked Aroldo's permission if he could start a crew within the family along with setting up operations in Broker and Bohan. Unknowingly to Aroldo Doc had become power hungry. He got a very simple taste during his campaign against the Commission and he wanted more. Soon Doc and Aroldo's ideology changed. Doc wanted to conquer the entire city whereas Aroldo only ever wanted to keep his small piece which was all the shipping and construction unions in Alderney along with the gambling rackets in Western Algonquin. Because of this Doc pressured Aroldo into making him the Underboss while setting Pazzo aside to become Aroldo's personal bodyguard and driver. Pazzo was fine with the change however his suspicions of Docs true intentions grew. With Doc in-charge of his own crew he began to grow away from Aroldo and Pazzo, taking a few Capos and Soldiers with him, plus a handful of new associates. The family then became split in two. With Docs rising power and influence Aroldo then challenged him to take over running the family for a trial period. To see if he really had what it takes to run a family. Doc jumped on the challenge, Aroldo kept a close eye on Doc by taking over the Underboss position.

A few weeks after Doc had taken over as "Acting-Don" his judgement became unclear. Stressed with the duties and responsibilities of running a family, he let people get the best of him by placing ideas in his head. Members of his crew proposed the idea of a "revolution". Not only was this in change of leadership but also separating themselves from the Bianco family all together. Doc fell upon the pressure given to him by his crew members and then gave the order.

On a very gray afternoon the revolution began. One of the new associates asked Aroldo to help him complete a job that was assigned to him by Doc, unsuspecting to Aroldo it was a trap. They traveled to WestDyke Beach; this is where they were to 'take care of' the target. After eliminating the mark the associate then turned a gun onto Aroldo while his back was turned. Aroldo was then shot by 12gauge buckshot, sending him into the sand amongst the rocks, leaving him for dead. However the gunman did not check to see if Aroldo was dead or not. The shot was to his back and left side, he bled out for a few hours until his body was discovered by a local fisherman. Aroldo was then rushed to WestDyke Memorial Hospital. His whereabouts unknown to many, believed to be dead by the traitors.

When awakening Aroldo was then given the news as to what happened, learning that Doc had taken half of the family. The oath that was sworn by them when becoming 'made' had been broken. Aroldo didn't let the thought of the traitors cloud his judgement, in fact he focused on rebuilding his family. Even though much of their power and muscle had been lost the Bianco name still never the less remained the same. The plan set out by Aroldo by keeping the business close together paid off by the revolution being almost harmless. The only thing that was affected was trust and love he had for those who betrayed him being lost. He swore no vengeance because of the oath they all had sworn when becoming 'made' will soon have its toll on the traitors. Now he can truly focus on what he always wanted the family to be.


Bianco Family - Exodus; II:

*To be added*

Bianco Family Armory:

The Bianco Family uses a wide assortment of weapons but mostly sticks with a short list of easy accessible tools of destruction that can be found throughout the city. Such as the Glock17, Desert Eagle, AK-47, M4 Carbine, Micro-Uzi, Winchester 1300, Molotov, and Baseball Bat.

Bianco Family Garage:

Transportation during jobs or meetings is always a valuable concern. Vehicles must have speed and dependability. Along with being incredibly agile that is why the Bianco Family uses the fallowing vehicles as there main means of transportation. Admiral, Cavalcade, Cognoscenti, Emperor, Feroci, Intruder, Lokus, Marbelle, PMP 600, Presidente, Schaffter, Sentinle. All vehicles used by the Bianco Famiglia would be seen in either one of the families colours,

Black

or Red.

Bianco Family Wardrobe:

These select parcels of clothing contain the Bianco Families colours that make our uniform and represent our Borgata.



| | | |
| --- | --- | --- |
| Hats: | Any | |
| Torso: | 1/5/10/11/13 | |
| Legs: | Any | |
| Glasses: | Any | |
Territorio:
The Biancos mainly operate out of Northern Alderney and Port Tudor. Leftwood holds many small shops and businesses that pay for protection while in the more industrious areas many labor unions are controlled. Mostly in Port Tudor seeing as how it is a major shipping hub for Liberty City. The Biancos have done a good job by keeping a low profile from the FIB. Many city judges and politicians on the payroll along with some law enforcement officers in-pocket allows them to keep a low profile from any unwanted attention.


*Areas marked with

Yellow Dots

are known hangouts and places of business*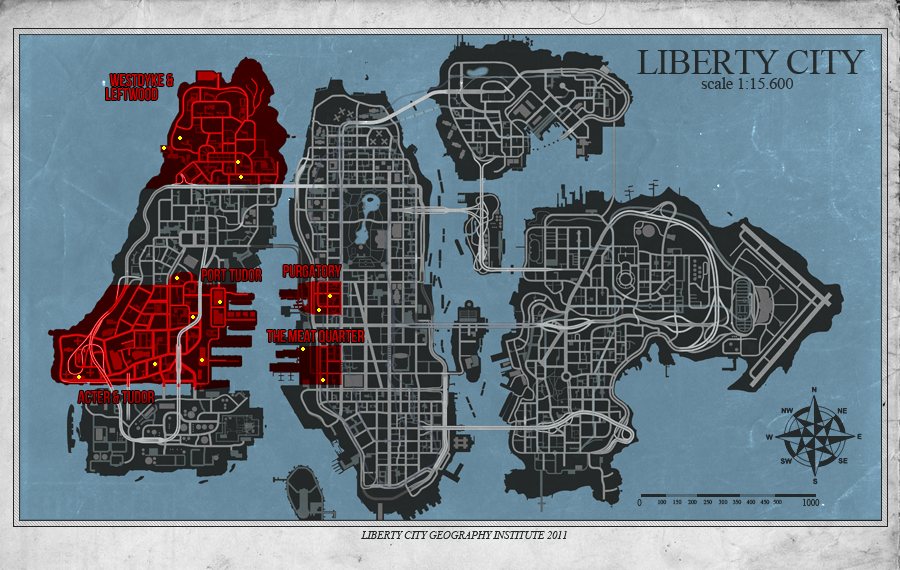 Storia di Territorio:
| | |
| --- | --- |
| District | Westdyke & Leftwood |
| Base of Operations | The Bianco Family Compound aka "The Estate" |
| Racket(s) | Protection, fencing, money laundering, loansharking. |
| Background | After the death of Jimmy Pegorino, North Alderney was left as open territory Aroldo and Doc swiftly seized all of Pegorino's business along with setting up new rackets within the area while staking claim to the top spot of Alderney. None of the other families argued that fact because they saw that our family was made up of model gangsters and low-profile 'men of honour' and the claim was well deserved. In return we would act as an Alderney set of eyes and ears during rough periods in the rest of Liberty City. Thus securing the most important piece of our empire. |
| | |
| --- | --- |
| District | Acter |
| Base of Operations | Alderney Encasement |
| Racket(s) | Construction, protection, truck hijacking, robbery, fraud. |
| Background | After infiltrating a roofer's union, Aroldo was able to secure more and more roofing contracts for construction companies of his friends and family. He would hand contracts to those he knew would never disappoint the customer, thus raising the reputation of all his roofing companies. At this time, leaks and shoddy housing materials in Acter raised the demand for more roofing construction. Becoming a bigshot in Acter meant a lot of things for Aroldo. It meant the townsfolk could come to him with their problems and consider them done. And sooner or later, he became a guardian angel for the whole town, and they would all call him Padrino. With Aroldo's help, the methheads stayed out. |
| | |
| --- | --- |
| District | Port Tudor |
| Base of Operations | Chess Tea Warehouse |
| Racket(s) | Truck hijacking, robbery, import/export, protection, extortion. |
| Background | Thanks to connections in European countries, the family became a leading importer of Cigars, Scotch/Whiskey and stolen Electronics. As the biggest Port in the city, it's easy to let contraband be overlooked. And thanks to intimidation, the longshoremen have either been forced in to letting Bianco goods get smuggled through, or forced in to paying a tax to their mob-owned bosses. |
| | |
| --- | --- |
| District | Tudor |
| Base of Operations | Honkers Gentleman's Club |
| Racket(s) | Prostitution, gambling, loansharking. |
| Background | Doc Faustino took a gamble on a strip club called Honkers. Today it serves as a front for prostitution and has grown to become the biggest in the city. From there, a few apartments were purchased using fake names and dummy corps. to act as makeshift brothels when the heat comes down on Honkers. And its many cop-free zones and junkyards serve as an excellent place to avoid wiretaps and to begin shady business deals. Control of the racket was later given to Big Doug after Doc's succession from the family. After Doug had seized control of the operation backroom poker games started up in various locations throughout Tudor bringing in an entirely new source of income. |
| | |
| --- | --- |
| District | The Meat Quarter |
| Base of Operations | Meat Quarter Stockade |
| Racket(s) | Gambling, robbery, fencing, protection, extortion. |
| Background | After gambling was legalized, the Meat Quarter gained the eye of the Bianco Family. Aroldo saw this as a great opportunity to further expand out of Alderney and soon began pushing on the territory. The Biancos were not the only ones who sought control over the area, many small time crews and lowlife hoods tried muscling in, Aroldo didn't like that one bit, he then assigned Pazzo to make an "example" of the pests. When the bodies of the hoods began appearing in dumpsters and parking lots around the area everyone else had backed off, to many the territory wasn't worth dying over. Therefore allowing the Biancos to seize control of all the gambling along the West River. |
| | |
| --- | --- |
| District | Purgatory |
| Base of Operations | The Lucky Winkle aka "Blarney's" |
| Racket(s) | Protection, extortion, bootlegging, fraud, gambling. |
| Background | Purgatory fell upon the eyes of Pazzo. He saw some good action to made in the area through scamming people with the HighSpeed Highway Car Wash and the Pay n' Spray just down the street. Over charging people for low service turned out to be a great scheme. Not to mention the great potential he found in a local bar by the name of "The Lucky Winckel" cheating people at darts and selling booze out the back door wasn't a bad business. Along with many Deli's in the neighborhood he started up a small protection racket within Purgatory. Making sure no hoodlums or low life street gangs would intrude on his operations or even disturb his clients. |
Activities:

Free Modes/Team Deathmatch: We are greatly populated into the Free Mode and Team Deathmatch game-types.

"Jobs": "Jobs" or formally known as "Hits" are contracts set out to individuals who may have shown disrespect or need to be sent a message.

Table: A traditional mafia term used for 'meet' or 'sit-down'. This is a gathering where members may get together to discuss either business or personal disputes within the Borgata.

Hazing: Some what "training" where any amount of members can go up against one another and practice there street tactics. And or take part in friendly Deathmatch with one another.

Bianco Productions: Many family members take part in filming many Bianco Productions such as our GTA Machinima series Kings of Liberty. Other Bianco Productions can be found on our youtube channel.

Assignments: These are small tasks or jobs handed down from the Administration to members of the Borgata. Assignments will be given out through either PM and or in-game (chat).

Other Games: The BCF is spread amongst other gaming titles other than the GTA franchise. Other games include all Halo titles, Red Dead Redemption, Max Payne 3 and Battlefield - even though this is our homepage we can be found on R* Social Club and Battlelog.

"Hit-List":


Date
GTAForums Username (optional, you can PM it to us)

XBOX

Live

Gamertag (Optional, you can PM it to us)
Designator
Reason for hit optional
Method (optional)
Status
March ?, 2011

WolfBattleCry

WolfBattleCry

D0N Bianco
Disrespectful to the family
Bury the f*ck
KIA Killed by shotgun in Colony Island Cemetery
[tr]
May ?, 2011

XvXHeavyMistXvX

XvXHeavyMistXvX

Pedochu
Frequent protester of the family's actions.
Just take care of him.

KIA

Killed in a drive-by shooting.
May 21st, 2011

Mr.Pown

Mr.Pown

fgcarva1
Low ranking soldier of enemy faction.
Shotgun Execution
KIA Killed by shotgun blast after lead into a trap by Bianco Soldier.
July 25th, 2011

glenn tha killer

Irish RPG

Pedochu
Personal grudges as well as disrespect towards the family.

Victim of gang war
Make it hurt. But as we all know, little kids think the hole is some sort of playpen. So avoid it. The target is elusive, be convincing when you reel him in. Set respawn to 30 and have him kicked before he reappears.

KIA

Killed with 6 Uzi shots to the back of the head, dumped in an Alderney mineshaft.
July 25th, 2011

deadsliez1

deadsliez

Pedochu
Final killing in a war.
"Boddicker hit"

KIA

Clipped by shotgun in back-seat of car before a meeting.Video of hit.
July 25th, 2011

X1xa

x1xa

D0N Bianco
Victim of gang war.
N/A

KIA

Gunned down in a cafe. Again in a car-bomb.
July 25th, 2011

iiTz x NiNjA x

iiTz x NiNjA x

D0N Bianco
Victim of gang war.
Make 'em feel safe

KIA

Shot alongside x1xa.
July 25th, 2011

Belgium Bagel

Belgium Bagel

fgcarva1
Victim of gang war.
N/A

KIA

Carbombed in a warehouse.
August 13th, 2011

xXdillon254xX

xXdillon254xX

A loaded rifle
Disrespect,a pitty to GTAF
Whatever it takes.
KIA
August 13th, 2011
DJ SaVAGe ManE
DJ SaVAGe ManE
A loaded rifle
Disrespect to the family and its allies. (AoD)
Doesn't matter.

KIA

Killed while passing through a tollbooth, Godfather style.
August 13th, 2011

N/A

tanker321

Pazzo Sangue
Perpetually harassing Pazzo Sangue
Get rid of em'

KIA

Lured to the Steinway docks and shot to death
August ?, 2011

IcyTurtle

XxIcyTurtlexX

Mr.Funny12
Insulting the family
"Mineshaft"

KIA

Killed outside an Alderney mineshaft
October 09, 2011

Al Neri

Al Neri

Pedochu
Associate or fake account of Paulie The Stud
Car Bomb him

KIA

car-bombed
October 08, 2011

Paulie The Stud

I R SUPERMAN 86

Pedochu
High treason
Get rid of the scum

KIA

gunned down after raising a sniper
October 08th, 2011

Unholy Salvation

Unholy Salvation

Pedochu
Suspicion of spying
Shotgun Execution

KIA

Shotgunned to death.
October 11th, 2011

N/A

Disregard Casty

Pedochu
Threatening the family, Unholy Salvation associate
Car Bomb

KIA

car-bombed
October 10th, 2011

N/A

Delta Echo

D0N Bianco
Letting a modder in to a Bianco lobby
Get it done

KIA

October 13th, 2011

rofl50

rofl50

Pedochu
Suspicion of using PunchyPhantom to spy within the gang.
SMG Execution

KIA

Shot within a strip club.
October 13th, 2011

N/A

PunchyPhantom

Pedochu
Spying within the gang.
SMG Execution

KIA

Shot alongside boss rofl50.
Late October, 2011

N/A

ToughSine

Pazzo Sangue
Disrespect towards the designator.
Pistol Execution

KIA

Shot to death under a dark bridge.
November 19th, 2011

Boss Mancini

Boss Mancini

D0N Bianco
N/A
Send a message.
KIA Killed during meeting in Acter Industrial
November 19th, 2011

Ace Mancini

Aced Mancini

D0N Bianco
N/A
Send a message.
KIA Killed alongside his boss during meeting in Acter Industrial
November 26th, 2011

TYRANT ENFORCER

TYRANT ENFORCER

D0N Bianco
Disrespectful towards the family in previous encounters
Sleep with the fishes
KIA Shotgunned near southern boarder on a boat, left to sleep with the fishes. Video of hit.
December 1st, 2011

Don Silencio

DonSilencio UTM

Pedochu
Broke his word over a friendly fire agreement.
Killed alone, away from the group.
KIA Killed while piloting a chopper.
December 4th, 2011

N/A

Killer Santos60

lilblood21
Ineligible and too incompetent for recruitment.
Shotgun Execution
KIA Shotgunned on an Acter dock
December 7th, 2011

Don Emilio Barzini

DiolainW

D0N Bianco
Attempted assassin, unrelated to deaths that would follow.
Make it messy
KIA Killed in Leftwood safe-house by buck shot to the stomach by the hands of outside contractors.
December 8th, 2011

N/A

Mike11782

D0N Bianco
Attempted assassin.
Make it messy
KIA Killed by shotgun blast behind Pay n' Spray by the assistance of outside contractors.
December 9th, 2011

N/A

killer at games

D0N Bianco
Leader of attacks towards the family.
Shotgun Excution "Fish Market"
KIA Killed under freeway in Fish Market North.
December 9th, 2011

N/A

xWARHAWKx01

D0N Bianco
Attempted assassin.
Shotgun Execution
KIA Killed in Acter Industrial by shotgun blast, assistance from outside contractors.
December 9th, 2011

N/A

LtCol Testiccle

D0N Bianco
Attempted Assassin.
Pistol Execution
KIA Pistol execution in Acter Industrial
December 13th, 2011

N/A

VIETWAY

Mr.Funny12
Constantly following us from lobby to lobby
Middle park bathrooms
KIA Stabbed and beaten in a bathroom stall.
December 13th, 2011

N/A

Goblin of WoD

Mr.Funny12
Informant who had run out of useful information, attempted assassin. Final killing in a gang war against Paulie The Stud.
As soon as possible.
KIA Shot behind an empty apartment building.
December 16th, 2011

A loaded rifle

A Loaded Rifle

Pedochu
Treason
"Make him jump off a building"

KIA

Convinced to commit suicide off an Algonquin skyscraper.
December 17th, 2011

N/A

SXY POPTARTS

Pedochu
Derogatory statements towards clan structure
SMG Execution

KIA

Shot from behind the bar in the Superstar Cafe
December 17th, 2011

N/A

SXY PANCAKES

Pedochu
Derogatory statements towards clan structure
SMG Execution

KIA

Shot from behind the bar in the Superstar Cafe
December 18th, 2011

N/A

X Blood Hawk V

D0N Bianco
Attempted to recruit family members
Assualt-Rifle Execution

KIA

Clipped by assault rifle while behind desk of his own office.
December 18th, 2011

Diablo Genovese

Diablo Genovese

D0N Bianco
Working with the Genovese
Pistol Execution

KIA

Shot in the back of the head in Leftwood back alley.Video of hit.
December 19th, 2011

DisjoinedDonkey

DisjoinedDonkey

D0N Bianco
Disrespectful to the Don.
Shotgun Execution

KIA

Shotgunned on a Westdyke cliff.
December 22nd, 2011

N/A

sur3 d0ubt

Mr.Funny12
Tried to recruit Bianco members into external gang.
Shotgun Execution

KIA

Shotgunned in an alley.
December 22nd, 2011

N/A

xXTMFXx IRAx

D0N Bianco
N/A
SMG Execution

KIA

Machined in Acter Industrial
December 22nd, 2011

N/A

Gamekido10.

Mr.Funny12
Tried to recruit Bianco members into external gang.
Shotgun Execution

KIA

Shotgunned in home base.
December 22nd, 2011

N/A

Tylermarsh12344

Mr.Funny12
Tried to recruit Bianco members into external gang.
Shotgun Execution

KIA

Shotgunned in home base along with his leader.
December 22nd, 2011

N/A

EvilLegion

Pedochu
Capital offense towards family and Don.
Pistol Execution

KIA

Shot in an Leftwood alley.
December 22nd, 2011

N/A

xBadiator

D0N Bianco
Annoying Don and rest of the lobby.
SMG Execution

KIA

Killed in Tudor alley way.
December 23rd, 2011

AddoxAK47

AddoxAK47

D0N Bianco
Spying on the family; was Rofl50.
"Go fishin'"

KIA

Left to sleep with the fish.
December 25th, 2011

N/A

Smk x Illmatic

D0N Bianco
Attempted assassin
Car bomb him.

KIA

Car bombed.
December 26th, 2011

N/A

x7thCAVxSUBZ3R0

D0N Bianco
Attempted to recruit BCF members.
Pistol Execution

KIA

Pistol execution in home base.
December 29th, 2011

N/A

beastlykilla

D0N Bianco
ineligible for recruitment
Shotgun Execution

KIA

Shotgunned under freeway in Fish Market North.
January 6th, 2012

N/A

SwAGG SWiFT

D0N Bianco
Plotting against the family
Pistol Execution
KIA Lured in to a project complex and shot
January 7th, 2012

N/A

DON M4RC3LL0

Mr.Funny12
Tried recruiting BCF members
Shotgun Execution
KIA Shotgunned behind honkers strip club "taking out the trash."
January 8th, 2012

N/A

iXRo Frenzic

D0N Bianco
Underboss to DON M4EC3LL0
"Burchem Alley"
KIA Ambushed in Burchem alleyway.
January 10th, 2012

N/A

Darius1888

D0N Bianco
Massive disturbance in Bianco lobby. Along with extensive disrespect to family members and other friends of ours.
Shotgun Execution
KIA Shotgunned under Fish Market Freeway. Video of hit.
January 13th, 2012

AC3 0F Z3R0

lll GH05T lll

D0N Bianco
Associate of previous rivals. Rivals in which planned to cause harm to the family.
Shotgun Execution
KIA Shotgunned on old rusted Aldereny bridge.
January 14th, 2012

N/A

SmokeyMcPot420K

Pedochu
Potential assassin.
N/A
KIA Executed in Bohan alley.
January 20th, 2012

N/A

Dropzone dr

Pedochu
Using Turbos in TDM match.
N/A
KIA Executed in Algonquin alleyway.
January 20th, 2012

N/A

Ex Warhawk

Pedochu
Initiation for new associate.
N/A
KIA Executed in Hove Beach alley.
January 22nd, 2012

Italianboy2323

Italianboy2323

D0N Bianco
Too incompetent to be accepted into the Borgata
Shotgun Execution
KIA Shotgunned in empty Port Tudor warehouse.
January 22nd, 2012

xX SAMZZ1 Xx

xX SAMZZ1 Xx

D0N Bianco
Too incompetent to be accepted into the Borgata
Shotgun Execution
KIA Shotgunned in Berchem alleyway.
January 27th, 2012

N/A

ii x NIGHTMARE

Pedochu
Loose end.
N/A
KIA Executed in Beechwood City alleyway.
January 30th, 2012

N/A

Ecstasy Mancini

Pedochu
Hopping clans, favor to Mancinis.
Pistol Execution in park
KIAPistol execution at a park in East Hook.
January 30th, 2012

N/A

DEMON SL1CER496

Pedochu
Threatening a made guy.
SMG Execution
KIA Executed at a bus stop.
January 30th, 2012

N/A

IXI iV3NoMz IXI

Pedochu
Revenge for attacks against the family.
N/A
KIAExecuted at a Firefly Projects chop shop.
January 30th, 2012

N/A

xXTunnelSnakeXx

Pedochu
Revenge for attacks against the family.
SMG Execution
KIA Executed at a bus stop.
January 31th, 2012

N/A

Boss Drex

Mr.Funny12
Allied with djcool.
Shotgun Execution
KIA Shotgunned in an Alderney mineshaft.
Febuary 2nd, 2012

Ex eagle eyes

Ex Eagle Eyes

Mr.Funny12
Heading attacks against the family.
Sniper
KIA Killed by long distance sniper, quick and easy.
Febuary 2nd, 2012

N/A

BAYY AREA 650

Mr.Funny12
For enraging the acting Street-Boss
Shotgun Execution
KIA Shotgunned in projects, gun disposed in Northwood Bay.
Febuary 16th, 2012

N/A

General 383

SwagStag69
Disrespectful to family and 'made' members.
Make him crab food in the West River.
KIA Pistol execution on WestDyke Beach.
February 19th, 2012

N/A

iWr3cK Barzini

D0N Bianco
Underboss to the rival family who has lead attacks against BCF and it's members.
Shotgun Execution.
KIA Shotgun execution by own member near their family HQ.
February 24th, 2012

N/A

ALPHA PANKAKE

D0N Bianco
Got in the wrong car, took a gamble with his life.
Shotgun execution.
KIA Shotgun execution in Middle Park East Alleyway (behind Grotti dealership).
February 29th, 2012

N/A

Kareen 94

Pazzo Sangue
Firing upon members of the Borgata under false pretenses.
"Taking care of our messes"

KIA

Shotgun execution under Westdyke pier, body left amongst the rocks as crab food.
March 4th, 2012

N/A

xFNx Beast

D0N Bianco
Stole Dons car along with interrupting Bianco business.
"Sunken Ship"
KIA Executed in Acter Industrial near sunken tanker.
March 4, 2012

N/A

xFNx Freestyle

D0N Bianco
Interfered with Bianco business.
"Sunken Ship"
KIAExecuted alongside his friend in Acter Industrial near sunken tanker.
March 5th, 2012

N/A

REZEDoutTACO46

Pazzo Sangue
Perpetrated his own death.
"Dyke 'em"

KIA

Shotgun execution at WestDyke beach.
March 11th, 2012

N/A

Guilty Spark IA

Pazzo Sangue
Opening fire on Bianco Underboss
Pistol Execution

KIA

Pistol execution inside Perestroika Cabaret Club.
March 11th, 2012

N/A

Antboy666

Pazzo Sangue
Gambling with his own life.
Pistol Execution

KIA

Pistol execution behind Comrades Bar, Hove Beach.
March 11th, 2012

N/A

P40L1NZ4K1M4D

Pazzo Sangue
Opening fire upon Bianco "men of honor".
Pistol Execution

KIA

Pistol execution in alleyway near Outlook Park roundabout.
March 11th, 2012

N/A

ConarD26

Pazzo Sangue
Trespassing on Bianco territory.
Pistol Execution

KIA

Pistol execution in birth at Normandy Ferry Terminal.
March 11th, 2012

N/A

SMALLandMIGHTY7

Pazzo Sangue
Harassing Underboss.
Pistol Execution

KIA

Pistol execution in alleyway behind Desratar Wine Store, Lancaster.
March 11th, 2012

N/A

qckill26

D0N Bianco
Fallowing Bianco Administration, interfering with family business.
"The Throat"
KIAShotgun execution in Berchem alleyway.
March 11th, 2012

N/A

o DaaZe

D0N Bianco
Perpetrated his own death.
Pistol Execution
KIAPistol execution in North Holland alleyway.
March 16th, 2012

N/A

CHRIZ 390

D0N Bianco
Being an extreme annoyance within Bianco lobby, along with filming game.
"Dyke 'em"
KIAShotgun execution at Westdyke Beach.
March 27th, 2012

N/A

WaterGore41

Pazzo Sangue
Harassing Underboss.
Pistol Execution

KIA

Pistol Execution near Normandy Ferry Terminal.
March 30th, 2012

N/A

Peace Maker1995

Pazzo Sangue
Stalking Underboss with bad intent.
Shotgun Execution

KIA

Shotgun Execution in Alderney alleyway.
March 30th, 2012

N/A

Vincenco14

Pazzo Sangue
Bringing a script modder into Bianco Lobby.
Pistol Execution

KIA

Pistol Execution in Hove Beach alley.
April 6th, 2012

N/A

xGo1eafsGox

D0N Bianco
Representing the Leafs in a game full of Canucks.
"Dyke 'em"
KIAPistol execution at Westdyke Beach.
April 26th, 2012

N/A

o 2SiiK MiL3 Hi

UDLOSE2
Disrespecting family members along with being a major obnoxious annoyance.
Shotgun Execution
KIA shotgun execution in Tudor alleyway.
June 6th, 2012

N/A

ForTheLove0fCoD

D0N Bianco
For representing the worst game imaginable and taking a gamble with his life.
SMG Execution
KIASMG execution MiddlePark East alleyway.
Regole:

1. Always be respectful and honest.

2. Always look out for friends of ours.

3. Never go against friends of ours or the Borgata.

4. Always be mature and hold to moral values.

5. Always be professional and mature.

6. Appointments must absolutely be respected.

7. Woman are to be treated with respect.

8. When asked for any information, the answer must be the truth.

9. Never be seen in a blue vehicle/coquette.

10.People who can't be part of Cosa Nostra: anyone who shows no respect nor self-respect, no moral values, anyone who has loose lips.



*"Friends of ours" means any member within the Borgota (family)*