Im posting here about the Regular Men of War. Men of War:Red Tide, Men of War:Assault Squad and Men of War:Vietnam are not related here
Men of War is a real-time tactics video game and the sequel to the 2006 game Faces of War (which was a sequel to the 2004 Soldiers: Heroes of World War II), developed in partnership with Best Way by Digitalmindsoft and published by 1C Company, 505 Games, and Aspyr Media.
The single player campaign takes place during World War II and features battles set in Europe, the Soviet Union, Greece, and North Africa, across three different campaigns for the Allies, Germans and Soviets. Men of War features Japan as a new multiplayer faction.
----------------------------------------
Gameplay
---------------------------------------------------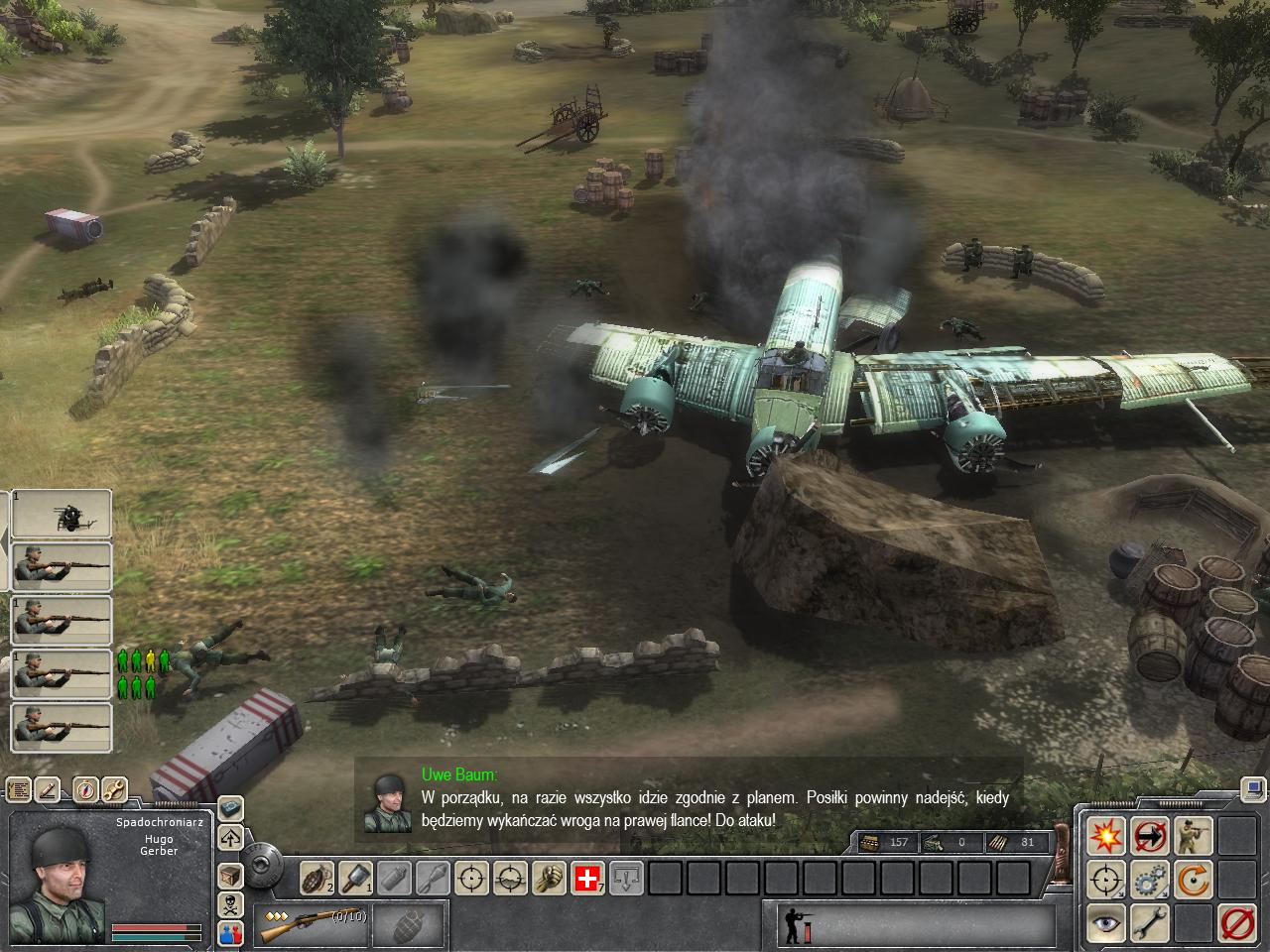 Men of War plays similarly to Faces of War and Soldiers: Heroes of World War II, with a few major differences. In Soldiers, the player controlled a small group of soldiers fighting the enemy. In Faces of War, the player controlled a few men while fighting in large battles alongside many allies. In Men of War, both of those scenarios do take place, but sometimes the player is given complete control over dozens of units. It is not uncommon for a player to have simultaneous control over many lines of defense. To make micromanagement simpler, the player is able to organize his troops into squads. In addition, the player is able to assign individuals into cover for more precision. The player is also able to call in reinforcements in the form of units, artillery barrages (from guns or offshore ships), and air support. Naval units, such as torpedo boats and submarines, are controllable for the first time.
The game includes the soldiers and arsenals of the United States, the United Kingdom (as well as Canada, Australia, and other Commonwealth states), the Soviet Union, Germany, Japan, and various resistance movements (particularly the Russian and the French). The expansion, Red Tide, adds the Romanian and Italian armies.
----------------------------------------
Multiplayer
--------------------------------------------------
In multiplayer, there are 5 different factions to choose from; The United States, Commonwealth forces, Germany, Soviet Union and Japan (though Japan is only available in further patches).
There are a variety of game modes including Combat, Battle Zone, Frontline and Cooperative, all of which were featured in Soldiers, and two new modes - Victory flag and Valuable Cargo.
Men of War will introduce a ranking system based on the ratio of a player's wins to losses with the various multiplayer factions.
The game has the "Direct Control" feature characteristic of the series which allows the player to take over control of a unit's movements and actions with the keyboard and mouse, adding a tactical 3rd person shooter element to the game.
Modifications are still officially supported, and will still have their own Tab in Options. Games using modifications will also go under the name "Modded Game".
Steam has updated the game since 1.17.5, and other US users must manually modify their installations to patch their game for the latest multiplayer versions
----------------------------------------
Reception
-------------------------------------------------------
Men of War has received generally favorable reviews, garnering a Metacritic score of 80 out of 100. GamingShogun called the game a very 'in-depth, tactical game of combat' and stresses its mixed bag of highs and lows while also pointing out the game's budget-minded pricing. IGN agreed with the mixed sentiments, conceding that the game was "tedious and hard as hell" but also that it "offers a view of combat that's every bit as thrilling as the more accessible strategy games that dominate the sales charts". IT Reviews was more positive, claiming that it "puts the emphasis firmly back on strategy, using your meagre troops cunningly to out-think and out-gun the enemy even when they have vastly superior numbers."
Few screens from it (some of them with mods, that you can activave and deactivave easily through the settings , almost all the MOW mods are in www.moddb.com)
EDIT: Forgot to say , there is a Demo of this game on Steam , if you guys wanna test out :
http://store.steampo...1_7_7_151_150_1