Here's a tutorial requested by a user explaining how to create and apply Normal Maps to a pedestrian of you're choice. In order to achieve this you'll need to get Ryosuke839's excellent 'Normal Map' plugin. Below shows the difference between a ped without normal maps, compared to the same ped with normal maps.
The following software are required to successfully achieve this:
TXD Workshop -
Link
Adobe Photoshop (There are other software like 'CrazyBump' and 'Shader Map Pro' that can be used but you'll need to purchase these to get the full version)
Nvidia's DDS Plugin for Photoshop) -
Link
Ryosuke839's Normal Map Plugin -
Link
Mirror
Link
(Also includes Source Code)
Reminder - I'll be using Photoshop for this tutorial
#1 - Open up TXD Workshop, click on 'Open TXD' and search for the TXD file of the ped you want to create normal maps for. Once you open up the ped, click on 'Export' and click 'Export all textures to xxx images'. (xxx denotes whatever format you're happy exporting to, doesn't matter which one you choose, for this tutorial I'll export to PNG)
#2 - Once you have you're textures exported, open up Photoshop. For this tutorial I'll create a normal map for the face of the ped, so import whatever texture you want to start with into Photoshop. The first thing after importing the texture is to convert the image to black and white, a normal map can only be created when the image is black and white. So in photoshop go to 'Image', 'Adjustments' and then click on 'Black & White' (or ALT+SHIFT+CTRL+B).
Once you click on 'Black & White', a window will pop up to adjust how dark or light you want each individual color to be, adjusting these can give you more detail in the final step, but I'm going to skip this. Alternatively after converting the image to Black & White you can adjust the image by changing the 'Brightness and Contrast'.
#3 - Now we'll need to export this image to a dds file, this is where the DDS Plugin is required. Once you're done go to 'File', 'Save As', click on the 'Format' box and select 'D3D/DDS'.
Once you click on 'save', a window will pop up with a few options. First make sure you've selected '8.8.8 RGB 24 bpp | unsigned' option in the top left box, and also select '2D Texture' in the smaller box below. Again there are a few options to tinker around with the image before exporting, but again I'm not gonna go through all of them. You can fiddle around with individual options and click on the '2D Preview' button to see how you're Normal Map is going to look like once exported.
Once done, click on 'save'. Now as TXD Workshop doesn't know what a dds file is, we'll need to import that dds file we just exported and save it as in my case 'PNG' format (You can choose BMP or TGA, whatever you prefer). So import the dds file into photoshop, a window will pop up asking how to import the dds, make sure the 'Load Using Default S...' is selected and click on 'OK'.
Now go to 'File', 'Save As', in my case I'll select PNG format and then rename you're texture as 'xxx_nrm' (xxx denotes name of original texture, so I'll rename my texture as 'face_nrm'). Once that is done click 'save'.
#4 - Now we'll need to import the normal map into the txd of the ped, giving it the right name so that the normal map plugin will work as it's suppose to do.
Go back to TXD Workshop with the txd of the ped open, and click on 'Image', 'New' and select '32BPP'. Scroll down to the bottom of the list of textures and select the new empty texture, now click on 'Import'. Look for the normal map texture that you just created in Photoshop and click 'Open'.
Firstly while the normal map texture is still highlighted, click on the green up button until the normal map is right below the original texture (in my case 'face').
Now we'll need to change some properties for this texture, so still highlighting the texture, click on 'Properties'. In the first box, the texture has to be named as 'xxx_nrm4.0' (xxx denotes the name of the texture, so mine is called 'face_nrm1.0'. In the samples provided by Ryosuke839, you can choose between putting a 1.0 at the end, or 2.0, 4.0, 8.0 & a 16.0. Not sure what the differences between these values are but I'm guessing the higher the value, the stronger the normal map effect is. If anyone can share some information on these values, it will be much appreciated.
Next make sure the 'Alpha is used' option is selected and also make sure it's named 'xxx_nrm1.0a' (in my case it's 'face_nrm1.0a') and if you want you can compress the texture. (Will be a good idea as after doing this TXD files can get quite large, one case even when compressing all the textures, my TXD file went up to 8MB)
Once you've done this for all the textures, save the TXD file and test it out. This is what I got when I did these steps on this ped.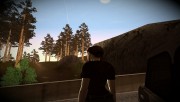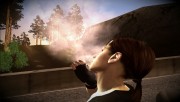 Another ped after doing these steps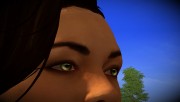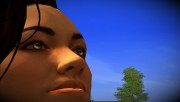 Hope this tutorial is good enough and will help you out. Any questions or errors in this tutorial please leave a comment. Have fun!