Brothers In Arms - Hell's Highway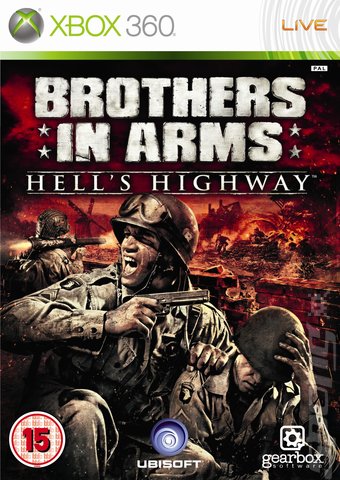 General Information:Platform:
Xbox 360
PS3
PC
Genre:
Action/Tactical Shooter
Developer:
Gearbox
Publisher:
Ubisoft
Online:
Up to 20 Players
Release Date:
Xbox and PS3: 23rd September 2008
PC: 7th October 2008
General Price:
£15
$22
ESRB Rating:
Mature/18
Learning Curve:
Took me a while to get used to commanding my squad, but the controls are good with a bit of tweaking.
Multimedia:
Image 1
Image 2
Image 3
Image 4
Image 5
Trailer
Gameplay
The Rundown:Introduction:
Brothers in Arms: Road to Hell's Highway is a tactical shooter and is a follow-up to the previous Brothers in Arms games. The storyline follows Matt Baker and his squad as they battle through
Operation Market Garden
in the later stages of World War II.
Graphics:
The graphics in this game are very average. Textures are pretty good, but poor character graphics and bad lip-syncing can ruin cutscenes. The attention to detail is decent in this game, for example if you destroy a wall with a bazooka, pieces of brick can be found flying off and on the floor afterwards. If you headshot an enemy, blood spurts from his head and sprays onto the wall around him. Overall, the graphics during gameplay are good, but the graphics during cutscenes tend to ruin them.
6/10
Sound:
The first thing I noticed about this game was the excellent sounds. Guns sound very World War 2ish and all of the weapons sound different. Explosives also sound amazing, when a barrage of mortars hails down on you, the sound really makes you feel like you're there.
9/10
Gameplay:
Brothers in Arms - Hell's Highway brags a squad feature, where you can select different squads, move them around and tell them to engage the enemy. Generally, you have to either instruct your squads to suppress the enemy, while you flank them. There are other methods of engaging the enemy, but the flanking method is used most often. Towards the end of the campaign, levels feel very linear and repetitive - go to x location, destroy x, rinse and repeat. However some tank levels vary up the gameplay
7/10
Storyline:
The storyline follows Matt Baker and his squad through Operation Market Garden in the later stages of World War II. The storyline is pretty bogstandard, until about halfway when things start to get more intense. The storyline follows on from the previous Brothers in Arms game; Earned in Blood. The plot is quite easy to pick up, as I haven't played the previous Brothers in Arms games, but I understood it. After completing the game, I didn't feel very immersed in the storyline, but there were a few very good, emotional scenes.
7/10
Conclusion:
I think anyone who enjoys tactical shooters or anyone who has an interest in World War II should buy the game, as it's relatively cheap. I picked this up for a fiver and completed it in a few hours, but nevertheless it was well worth it.
7.5/10