I was just thinking about playing a bit of GTA 1 / 2 on my laptop, and thought to myself it would be cool if they remade both the games that started the series for current-gen consoles, with some of the tech that they've got these days.
You see all these HD remakes of old games these days on XBox Live Arcade and PS Network (off the top of my head: Worms, StreetFighter 2, Monkey Island, Beyond Good & Evil, Perfect Dark...etc) and IMO it would be amazing to see GTA 1 + 2 remade in this way.
They could even use assets (vehicles, peds, textures, buildings) etc from GTA 4, and just lock it to a top down view. There's a mode in CoD Black Ops called 'Dead Ops Arcade' which basically does what I'm saying: uses character models from the single player campaign and changes the gameplay to something like Smash TV, with the top down view and moving the player with the left stick, shooting with the right.
In my idea of how they should remake this game, that's probably the control scheme I'd imagine, while the buttons (




etc) could do the same purpose as GTA 4 pretty much.
Although, maybe there's a mod for the original games that would just let me fix the controls a bit... but whatever, what do you all think? Who would buy a HD Remake of GTA 1 + 2, with top notch 3D/2D graphics?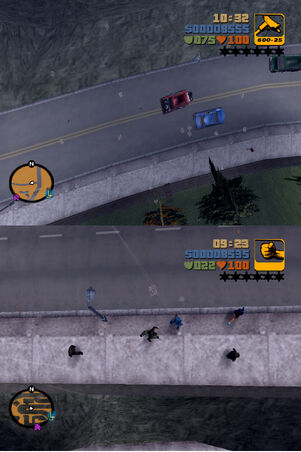 Basically like the above images, but more zoomed out... and in GTA's Liberty City, not GTA 4's or GTA 3's.
(pictures taken from
the GTA Wiki
)