A special thanks to Leray and Blitz for GFX.
QUOTE
About Us:

The Ivanov Family is based off the Russian Mafia located throughout the East Coast area. This is just a layout of what this gang is about, before you join. In IVF, we do alot of RPing (Roleplaying) and alot of competition. We operate traditionaly based along the Russian mob, which will be sort of along the lines of RP. Competition includes clan matches, and more, that will be revealed more in the Activities section of the topic. The IVF operates in GTA IV, no DLCs. We have no turbos, no mods, and if we do have mods we do not cheat with them, however only to spawn fancy cars and have fun in private (FMs) Free Modes.
Sergei Ivanov turns the knob, exiting out the taxi-door, along with his wife and son behind him. Lurking through the streets of the Hove Beach, he and his family entered in a dirty, busted down mini-apartment complex across the Comrad's Bar. Getting ready to live the life of opportunity, he unpacked his clothes, and tightied up his room, with a smirk, knowing that he would succede in this city. As he heard, so many immigrants come to this city, and come out business men, doctors, artists, celeberties. Sergei immidiatly found a job at Comrad's bar, working as a bartender. Weeks went by, able to pay his rent, however his son still not able to attend school. Needing the money for his son's education, Sergei needed to make money, fast. How? Usually there were always a couple of high class Russian men, sitting at the corner of Comrad's Bar, so why not visit them for some extra cash? See if they have anything to offer? So the next day, at work, he sat quietly, waiting for the Russian men to stop talking so he can walk forward and make his move. However, at the corner of his eye, he noticed a skin-head, with a leather jacket approach the men talking in the corner. Sergei just watched him, as he realized the man's hands were in his leather-jacket pockets. Sergei moved closer, over the bar counter, getting ready for something. Suddenly, the man took out a Glock out of his pocket, aiming it point blank range at the group of men. When the skin head pulled the trigger, Sergei lifted his arm, causing the gun to fire in the cieling of the bar. The Russian men remain calm and watch Sergei. Sergei used his street style fighting tactics, causing the skin head to get punched a couple times in the face, along with his gun out of reach, and as a ending result of the skin head lying on the floor, bleeding... One of the well suited men, just smirked as he found a former assasin laying on the ground, dead.

"Mr. Ivanov, you must understand..." said the beaten up man, in a low-toned voice.
[Russian] "You should've payed your debt.." CLICK... KEWW.

Sergei entered in Comrad's Bar, nod upward as he saw a man with a white suit, and a fadora upon his head. Sergei smirked, and passed a Glock across the table, toward the man. The man nodded, and lifts up a doufle bag full of a couple of thousands of dollars, handing it to Sergei. Sergei nodded, grabbing the bag, laying it over his shoulder.
[Russian] "Thank you Mr. Solmon, I'll see you", said Sergie.
[Russian] "Have a good night Sergei... oh, by the way, remember, sit down tomarrow. I need to eh', talk about some things," said Solmon, with a smile.
Sergei nodded once, cracking a smile toward Solmon, but when he turned around, he made a intresting smirk. Solmon, was now the boss of the Bykov Bratva, a notorious mob in Hove Beach. Sergei actually saved him three years ago, from the skin head assasin, that was apart of a rival mob. Solmon brought Sergei what he had today, a nice house, a nice family, a nice car, although, Solmon was very greedy, and very impatient. And in that meeting tomarrow, things had to be done.

The next day... the whole Bratva was in Comrad's. The bar was closed, and the windows were faded down. Everyone came in, getting searched for weapons or wires. Then, all the Russians took a seat, glaring at Solmon. Before Solmon said a word, Sergei rose up, and comfronted him.

"Eh, Sergei.. [Russian] What are you doing?"
"Sorry Mr. Solmon.. regards from the Ivanov Family..."

Ten years later, The Ivanov Family ruled the streets of Dukes & Broker. Although a very powerful mob, it was very organized and persistant. Only a few people knew the secrets to who Sergei Ivanov was, and how he came into power. However, the Russian community was filled with immigrants, looking for work, making the family's numbers rise every minute.

-Roleplaying includes Life RP, Zombie RP, and more. Note that we could have little roleplay segments with ONLY Ivanov members, however those are for side events.



-Family meetings otherwise known as 'sit-downs' are performed every week. They are a gang's get-together to discuss essential events with the crew. However, these can only be attended by Soldiers and above.



Contracting can also be called 'assasinations'. Which is basically like a 'f*ck-you' to a rival gang.



-Dominating FM's are the IVF's specialty.



-Drug Dealing is a type of Roleplay done with two gangs. The two gangs meet eachother in a FM, RPing as if they're giving off kilos/pounds of drugs to the other gang. A fun way to start a healthy relationship with another gang.





• Respect the Godfather, and the Thieve's Code always.
• Be smart, but don't be 'too' smart.
• Loyalilty is an essence.
• Unacceptable behavior will not be tolerated.
• Actions in our line of work must be confidential.
• Once a member, always a member. There's no such thing as resigning.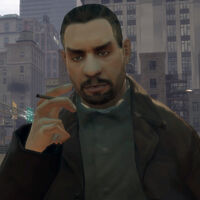 Sergei Ivanov


Hove Beach - The Russian immigrant jackpot. Surrounded by Russian mobsters, and the safe zone for the family.

Southern Algonquin - Extortion has been put into the Big Apple. The many docks around the area make a place for weapon imports. Sergei Ivanov made a few deals with the Chinese so they can have a hold of a huge Chinese restraunt by the docks.

East Holland - Rumour has it that Russian family members surround that area, just because of all the curupt cops working for the Bravta.

Western Star Junction - The Majestic Hotel enlists in Sergei's suit.