"Welcome to Most Dangerous Place in America......"
(Logo by Narcis_speed6)
The Setting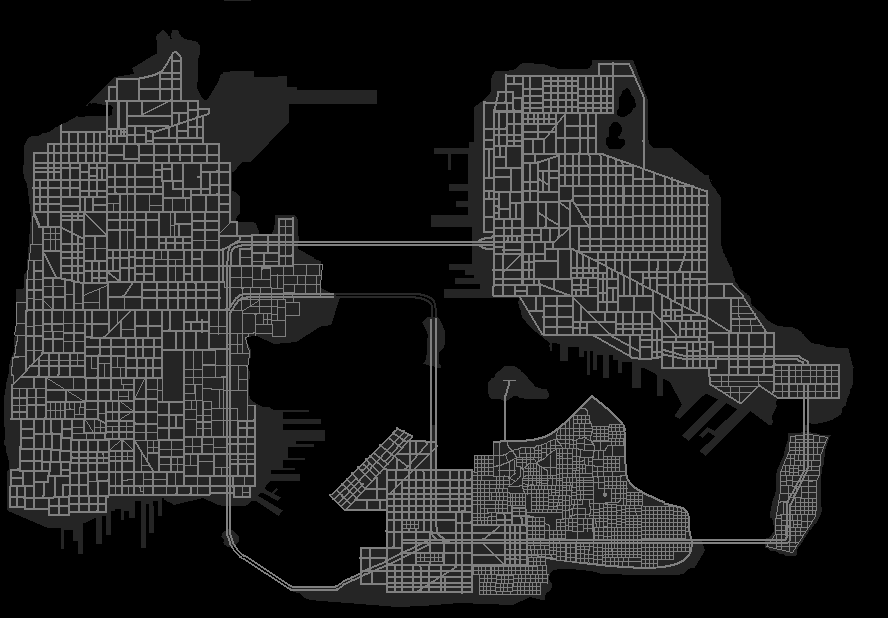 (From left to right: West Carcer, Concord, and Portland.)
Set in Carcer City, 1996. Carcer City, unlike Liberty City or Vice City is not based on any real life location and is entirely made up. Carcer City has a population of 2,666,666 and is slightly larger than Liberty City was in GTA IV. Carcer City is located in a part of Alderney State that was not seen in IV and is only a few miles from Liberty City. It has been described in the media as a prosperous industrial city, but in reality it is nothing more than a crime infested, industrial wasteland. Living in Carcer City is like a struggle to survive, every year over hundreds of murders are committed in Carcer City, gangs rage bloody wars against one another, city officials are extremely corrupt, police brutality, murder, rape, mugging and other crimes are an everyday element. The chances of getting robbed, injured or even killed is very high which makes walking alone down the streets at night in Carcer City almost like committing suicide. Due to all the heavy industrial activity Carcer City has an incredibly high level of pollution and in fact, even on what can be considered nice sunny days the skies are dark and cloudy because there is so much air pollution being poured into the skies above the city. In short, life in this nightmarish industrial hellhole is very rough on it's citizens which is no wonder why Carcer City has earned the title of Most Dangerous Place In America. Carcer City is divided into three Boroughs/Islands,
Concord
Concord is the smallest of Carcer City's three Boroughs and is the starting point of the game's story. Concord was the last Borough to become apart of the city and has only been since 1889. Half of this Borough consist of surban neighberhoods. Throughout the suburban areas, there are many abandoned houses which have been burned by arson. The other half of the Borough is the Glenshaw Heights which is a mix of small, three story apartments and old mill buildings that have been converted into housing projects.
Neighborhoods and Districts in Concord
Glenshaw Heights
Ravenwood
Southside
Leesville
Toll Island
Portland
Dominated by ghettos and industrial disctricts, Portland is the second Borough unlocked in the game. Compared to Concord, Portland is much larger. It is home to Gavlain Park, Carcer City's version of Liberty City's Middle Park. Unlike Middle Park, Gavlain Park is dirty, almost every tree is dead and withered, and is also the spot of gang violence and murder.
Neighborhoods and Districts in Portland
New Dublin
Fort Carson
Little Asia
Lebanio
Northcord
Rumford Bay
Stones
Wenthrop
Pondunk
Gavlain Park
Westworth
Cleveland Heights
Southport
Cartwood
Mantleburrow
Desmond Industrial Park
Winslow Island


West Carcer
The third and final Borough unlocked in the game. West Carcer is the largest, most dangerous, and most populated of the three Boroughs. Despite having the largest population in Carcer City, West Carcer is in a state of extreme deteration. Urban decay is a common sight in most neighberhoods. Most of the West Carcer's gangs are the most dangerous in all of Carcer City. Despite being in a complete state of ruin, it is home to the upper-class neighberhood of Wapona Hills.

[size]
Neighborhoods and Districts in West Carcer
Brentwood
Livingston
Darkwoods
Arbiter
Fint
Los Albos
East Los Albos
Port Lauderdale
Kingston Beach
Carcer Mark
Smiths Hill
Westside
Lost Paradise
Cottonmouth
Old Town
Douglas
Carvington
Archer
Campden
Carcer Mark
South Port
Jefferson
Denton's Junkyard
Central
Leamingford
Wapona Hills
The Story
1991
The game opens up with a cutscene. This cutscene shows a young Ricky Adams, putting on his outfit (which in the game is his default one): A red, unbuttoned plaid shirt with a white t-shirt underneath. A pair dark blue jeans, and Chuck Taylor All-Stars. Ricky then places a black ski mask over his face. Approaching him from behind is his friend, Dave. Dave, like Ricky is wearing a ski mask however, unlike him Dave is holding a sawed off shotgun, which he hands to Ricky.

The scene then cuts to Ricky and Dave outside of a convenience store, wearing their ski masks. When the two burst into the story; Ricky pulls out the sawed off and takes out the only two security cameras in the store, while Dave points his gun at the cashier and demands money. Suddenly, one of the customers inside the store pulls out a gun and attempts to shoot Ricky. However, he is immediately shot in the leg by Ricky, and is then shot multiple times by Dave as the other customers scream in horror. The two,then turn their attention to the cashier and demand money. The cashier opens the cash register, and after handing them their money. Suddenly, the sounds of police sirens can be heard outside. The two are forced to run out of the backdoor. As they try to run away through an alleyway, the two enter a small gunfight with the CCPD. Dave is killed during the gunfight and Corey James, Ricky and Dave's getaway driver, drives off in fear of being arrested, leaving Ricky no other choice but to surrender. He is then handcuffed and beaten by several police officers. The scene then fades to black..
Present Day, 1996
Ricky is shown in his jail cell inside the Clarance County Jail. Suddenly, the doors open and he is guided out of his cell and down a long hallway by two guards. The guards then take him though a door, behind it, a man holding Ricky's cloths from the day he robbed the convince store hands him cloths. After quickly changing into them, he is guided out of the prison by the two guards. After walking outside, he sees his uncle, Tommy Adams parked outside the prison entrance. Tommy, who is slightly drunk; let's Ricky drive him back to his house in Ravenwood, a neighborhood located in the Borough of Concord.

At first, Ricky's life seems stable working for his uncle, driving around collecting autoparts from him. He even helps fend off some (unarmed) robbers who are trying to steal parts from Tommy's auto-repair shop. However, one day while Ricky is rummaging around Tommy's shop, he is approached by a man known as Sean "Top Gun" Parker. Top Gun is the leader of a local street gang known as the Southside Saints. He is a frequent customer at Tommy's shop, and has heard about Ricky; whom he asks if he's interested in helping him with something. Ricky agrees, in exchange that he is fairly paid.

his first job, collect money from a druggie who owes money to the Saints. Top Gun hands a cell phone to Ricky, who is given the address of the druggie's house and goes there. When he arrives, the druggie runs out of the house and drives off. Ricky is forced to follow him via car, this later ends with Ricky beating him up. After returning to Top Dog, he is given another task: Travel to Glenshaw Heights, sell a few bags marijuana and pop anyone who tries anything funny. Ricky agrees, Top Gun then hands him a few bags of marijuana to sell, and a Pistol. After selling a few bags, Ricky is attacked by another drug dealer who is working for the rivals of the Southside Saints; the Glenshaw Heights Posse. Ricky fends him off and after a while does some more work for Top Gun. Later on, Top Gun introduces Ricky to Tyler Whyte. Tyler is a former member of the Southside Saints, and a good friend of Top Gun. Tyler asks Ricky to come to Portland and assist him with a few problems. Ricky accepts.

While working for Tyler, Ricky is introduced to Robert "Robbie" James, and his younger brother, Corey whom originally was working as a getaway driver for Ricky during the night he was arrested. Both brothers are in charge of a Meth ring, and have been doing so for the past few years. Ricky works for the brothers killing off rival dealers, acting as an enforcer towards customers who haven't paid their debts, stealing Meth from other criminals, sabatoging drug deals between different gangs, taking back stolen drugs from some Neo-Nazis. He even destroys a Meth lab belonging to a gang of psychocic Methheads. During his time working for the two brothers, both Ricky and Corey act as if they never even knew each other. Eventually, Ricky also meets another associate of Tyler Whyte, Trey Mendaz. A high ranking member of Da 5 Families street gang, who has Ricky help with inner disputes between the five sets that make up the Families.

Later on Ricky receives a call from Robbie, whom asks Ricky to meet him at his apartment. Ricky agrees and heads on over. Upon seeing Robbie, Robbie tells Ricky that he feels that Corey is going to have him killed in order for him to take over. Ricky and Robbie head to the penthouse that Robbie and Corey run their meth cartel. As they arrive, Corey makes a run for it while a small armed gunmen attack Ricky and Robbie. After killing off their attackers, they escape the penthouse. With Corey nowhere to be found, Ricky begins a search for him. His search takes him into West Carcer, there he begins to attack Corey's buinesses, including drug lab, strip club and an abdandoned warehouse used to store Meth. With no sign of Corey, he seeks help a member of the Los Innocentz street gang. Seth agrees to help find Corey. Their search take them on a nightmarish journey, which brings them into contact with other West Carcer criminals. With no sign of luck, Seth hires a group of Hoods to find and capture Corey, and bring him to them. Both Ricky and Seth meet the Hoods in a parking lot. When the Hoods arrive, they reveal to be working for Corey and shoots at the two. After Seth bails out on him, a bloody gun battle proceeds. After killing off all but one of the attacking Hoods, Ricky gathers information about Corey's wherabouts.

Ricky heads on over to the safehouse, where Corey is being guarded by Hoods which is an abandoned apartment complex with a large maze-like interior that Ricky must make his way through. After massacring every Hood in his way, RIcky sees Corey trying to escape, but this time Ricky chases after him in a high speed car chase. The chase ends with Ricky ramming Corey off the road and chasing him on foot through the suburbs of Concord. This second chase comes to a close when they reach a waterfront. Before he can jump in the water, Corey is shot in the left leg and shoulder by Ricky. This is where the player must chose...

Spare
Ricky approaches him and aims his gun at Corey, who is heavily bleeding from his wounds and asks why he ditched him and Dave the night of the robbery. Which only ends with Corey responding: "I'd rather run away than waste my time in jail...". Ricky looks down at him and puts his gun away, his only words are: "Selfish Coward". He then leave Corey to bleed to death from his wounds and walks away as the camera fades into black with the sounds of police and ambulance sirens going off in the background.

Revenge
Ricky approaches him and aims his gun at Corey, who is heavily bleeding from his wounds and asks why he ditched him and Dave the night of the robbery. Which only ends with Corey responding: "I'd rather run away than waste my time in jail...". Ricky aims his gun at Corey's head and calls him a selfish prick, which he then pulls the trigger and blood splatters onto Ricky's shirt. Ricky then leaves as the camera then focuses on the darkened, cloudy skies.

End Credits Song





Main Characters




The Protagonist: Ricky Adams


Born in 1966. Ricky Adams is the 30-year old protagonist of Grand Theft Auto:Carcer City. A man of Native American decent, Ricky was born on an Indian Reservation somwhere in Red County, San Andreas. At an early age he moved to Tudor, Alderney; for a while his father worked in the Acter Industrial Park. Ricky's childhood was nightmare. From until he was 15, Ricky's father was an abusive alcholhoic who abused him and his mother. Not only that, but Ricky also witnessed violence commited by Tudor Chapter of the Angels of Death biker gang and other criminal groups. His hectic life only got worse when his parents where killed in car accident on the Plumber's Skyway. Rather than being put in foster care Ricky went to live with his uncle Tommy Adams, out in Carcer City. During his first year living in Carcer City, Ricky was exposed to the massive amount of crime and violence that plauges Carcer City. Despite trying to raise him right, Tommy could not prevent Ricky from becoming a product of the harsh environment that he'd been exposed to. By the end of his freshman year in high school, Ricky was a complete juvinielle deliquent and had a reputation amongst his friends and neighbers. By the time he was 16, he had already recieved charges for assault, vandalism, and tresspassing. After dropping out of high school at 18, Ricky still lived with Tommy. As years passed by, he became more desperate as he could not live off Tommy for long and so, one fateful night: He, his friend David and another indvidual (Corey James) attempted to rob a 24/7. However, the robbery did not go so well, and Ricky recieved five years in prison. The five year sentance was the result of using the stolen money from the store to bribe the CCPD.



Criminal Record
•1981-Assault
•1982
-Vandalism
-Tresspassing
•1991-Armed Robbery


Corey James
The main antagonist. As a child, he and his brother were orphaned for a time amd eventually, they began to move from one foster family to another. After bailing out from the 24/7 robbery in 1991, he was reuinited for his brother and became hooked on Crystal Meth. Together, he and his brother formed their own Meth ring in 1993. Corey basically: "Doesn't give a sh*t" about anyone other than himself. He is also an extreme coward as he tends to run away when things aren't going his way.

Tommy Adams
Ricky's uncle. Tommy is a war Veteran, severing in Vietnam War. After returning to the States in 1975, Tommy moved to Carcer City which at the time entered a state of extreme decline like most other Rust Belt cities. For a time he was extremely poor until 1980, when he and his friend opened up an autoshop together, which he has been working at since. In 1980, he became Ricky's legal guardian and had tried to raise him right. Unfortunatly, he couldn't.

Tyler White
Formerly a member of the Southside Saints. Tyler White grew up in Carcer City and has lived there for pretty much his whole life.

Robert "Robbie" Adams
Robbie is the older brother of Corey Adams, the main antagonist. Robbie is almost completely the opposite of his younger brother, though is still a major criminal. While the years of being in foster care and going from one foster home to another made Corey weak, it made Robbie stronger. Robbie claims that "All the Meth, money, and guns" only made it worse and that it's his fault for bringing Corey into it all.

Seth Rodriguez
Seth Rodriguez, a thug running with Los Innocentz. Seth reveals to be helping Ricky because he owes Robbie for helping him out in the past. Seth seems to dislike Ricky, as shown by him ditching Ricky during the set up. It's hinted that Seth is slightly sadistic and his humor can be very twisted at times. He is known to most people outside of Los Innocentz as "The Boogyman".



Minor/Supporting/Random Characters
Top Gun-The leader of the Southside Saints and Ricky's first employer.
Donny Willams-A childhood friend of Ricky's. He has been a total wreck since Ricky last saw him.
Erica Fritz-One of the first girlfriends available to Ricky in the game. Ricky meets her while working to Top Gun.
Trey Ivy-An unknown rapper who wants to make it big. Ricky runs into him on the streets, and helps defend him from some loan sharks.
Julia Brianson-A former girlfriend of Ricky's. She and Ricky meet while he is working for Top Gun. At first she stats off as a friend character, but later on they begin dating again.
James Earl Cash-A notorious serial killer, who Ricky offers a ride, little does Ricky that Cash is a cold hearted serial killer until he attempts to steal Ricky's car from him. He appears as a random character.
Lionel Starkweather-A former Vinewood director, who has been ejected out of the mainstream movie scene and has been forced to make underground snuff films. Starkweather wires Ricky to be the star of one of his first snuff films.
Claude "Buick" Davis-A high ranking member of the Southside Saints. Rick meets him while working for Top Gun.
Binbag-An overweight, baggy cloth wearing, nasty as can be Meth cook. He is first encountered while working for Robbie and Corey. Ricky runs onto an angry Binbag (whom wields two swords made out of the frame of a car) in Denton's Junkyard. During this encounter Ricky kills him.
Doug "Freakshow" Demmons-A man who has scars covering one half of his face, making him appear hideous. Ricky saves him from a group of Skinz who are harassing him.
Kenneth "Scarecrow" Jesperson-At first he appears to be a harmless homeless man wearing paper bags, but in reality he is a former murderer and a cannibal. He attempts to take a bite out of Ricky, who then punches him in the face. Later on he is killed by Ricky.
William Hambrough-A pimp working for Da 5 Familes. Ricky meets him during a few missions while working for Trey and helps him collect a few debts during a random character encounter.
Gary Schaffer-The corrupt Police Chief of the CCPD.

Gameplay Changes And New Features
Grand Theft Auto:Carcer City's gameplay features some new changes and improvements. The RAGE engine has been updated to allow more realistic physics. The Cover System that was introduce in GTA IV returns and benifits greatly from the new improved physics. GTA:CC uses the same level of graphics as Red Dead Redemption.
The world of Grand Theft Auto:Carcer City builds up from what Rockstar introduced in both Grand Theft Auto:IV and Red Dead Redemption. Pedestirans to start off with, act like real people and do realistic things such as reading newspapers, getting into arguments with one another, commiting crimes, protesting, and occasinonally attempting to commiting suicide, and more. Not only that, they also have their own lives and have places to go. There is also more interaction between pedestrians and the police. Not only do Random Characters return, but GTA:CC also includes Random Encounters like in RDR. For example, a Street Criminal may attempt to mug or carjack Ricky. Riots can also happen at any time. Ingame Friends/Girlfriends are now optional and are not required for 100% completion, they do not call the player and instead required the player to call them in order to arrange an activity. Each Friend/Girlfriend has their own rewards and benefits when the player has a positive relationship with them.

There are also many little, yet highly realistic details that make the environment of GTA:Carcer City so real. For example; there might be trash and litter on the ground.
As stated in the location description the skies of Carcer City are mostly cloudy, and so the lighting the game is similar to that of the Undead Nightmare DLC for Red Dead Remption with the sun trying to poke it's way through the clouds that never seem to clear up. Not only that, but there sems



Taking Hostages:
A new addition to the gameplay is the ability to take NPCs and hold them hostage. Taking a hostage, involves grabbing an NPC by pressing a certain button, and choosing a weapon to threaten them with. The player must then hold onto the same button that is used to grab the NPCs in order to keep their hold on them. Taking hostages will cause pedestrians and police officers to halt and not make any moves.

Drugs:
Similar to the Drug Dealing minigame of Chinatown Wars, the player can sell drugs to different NPC's and gang member as well. There is no side missions and instead is used as an another to make money when not doing missions. These are Drugs that the player can sell,
•Marijuana
•Ecstasy
•Crack
•Cocaine
•Acid
•Crystal Meth
•Heroin
•OTCs/Prescription Drugs (Pain Killers, Anti-Psychotics, Anti-Depressants, ETC)

In addition to being able to deal drugs, the player can also use them. Using drugs causes certain effects which depends on the drugs the player is using, for example Marijuana will cause the screen to become blurry and will the slow the game speed down a bit while Crystal Meth will lower down the player's health while at the same time increasing the game speed.

Gambling:
Players can now gamble. There are two types of gambling, Illegal and Legal. Legal gambling is done at Chips Casino while Illegal gambling is done in back alley gambling rooms.

Rampages:
Rampages return from the GTA III Era games, but this time, they are much different. Rampages are given to the player via payphone (much like Assassinations), the player will receive a call from Lionel Starkweather, the infamous snuff film director who also appears in Manhunt, who is hiring "talent" for his very first snuff film entitled Killfest. Starkweather will send the player and a camera crew to a certain location, there the player is given the task to kill groups of armed individuals while the camera crew records the player doing so. After the player completes all the Rampages, Starkweather will release Killfest and will send a VHS copy of it to the player to the player's safehouse, there the player can have the option to watch it on their safehouse's TV.

Chop Shops:
The player can take stolen cars and being them to chop shops were they are dissembled and have their parts sold. The amount of money the player makes from selling their vehicles to a chop shop depends on what car it is and it's condition, for example, more rare and high quality cars will get the player more money well more common and low quality cars generate less money.

Bribery:
Another returning gameplay element from the GTA III era games. When the player is given the option to surrender or to run away when being held at gun point at a 1 star wanted level they also have the option to bribe the police officer. This causes the player to lose at least one wanted star. Bribes can only be done if the player has at least one wanted star or if the player is pulled over and arrested. When the player is arrested, they are given the option to bribe the police officers to keep their weapons even after being arrested. This will only work on police officers and not SWAT team members and FIB agents.

Robberies:
Players can now rob from places. There are at least 2 different types places that can be robbed,
• Houses:There are 30 different in-game houses the player can rob. The player must sneak and quietly steal stuff from the house they are stealing from. Robbing houses creates a 1 star wanted rating.
•Convince Stores, Gas Stations and Fast Food Restaurants: Robbing these places is different from robbing houses. To rob these places, the player must walk to a cashier and point a gun at them. Then the player, while aiming a gun at the cashier, can say one of three things to the cashier, first, the player can threaten the cashier and say "Give the me the cash or I'll blow your f*cking head off" or something along the lines of that. The second thing can say is a more positive comment, something along the lines of "Please give the cash and nobody will get hurt". The third is a more neutral saying like "I need money, so give me all you got". After the player gets their cash, the player will receive a two star wanted level.

Using Stealth To Lose Wanted Level: The player can now use stealth to lose their wanted level. When the player has any wanted level, they can find a hiding spot from law enforcement. If they stay there for long, the player's wanted level will slowly go down. Unfortunatly, this can be a bit hard as sometimes the CCPD will bring in canine units to hunt down the player.
Weapons
Weapons are another important part of the GTA series. GTA:Carcer City offers a variety of weapons both old and new to the series. In addition, the player can now pick objects from the environment to use as weapons, these fall into the category of Environmental Weapons. Another new weapons category includes the Choke/Strangle Weapons category. These weapons are used to choke/strangle enemies without attracting any unwanted attention. Each firearm in the game has it's own realistic reload animation.

Being set in 1996, the 1994 Federal Assault Weapons Ban is still in effect and as a result the weapons choices in Legal Gun Shops are very small and limited. Luckily the player has the option to purchase weapons from illegitimate locations such as: Illegal underground gun shops, dealers in alleyways, the back of certain characters' vehicles, and certain gangs will sell them as well.
Carry-On
Environmental
Choke/Strangle

Knife
Baseball Bat
Brass Knuckles
Hammer
Crowbar
Pool Cue
Metal Baseball Bat
Police Baton
Golf Club
Crowbar
Machete
Sledge Hammer
Hockey Stick
Ice Pick
Axe
Wrench
Taser

2X4
Lead Pipe
Fence Post
Brick
Rock
Branch
Broken Glass Bottle
Glass Shard
Shovel

Rope
Wire
Chain
Barbed Wire
Belt
Plasic Bag
Pistols

(1.) Compact Pistol: The first firearm the player acquires, the Compact Pistol has weak power and has a low range. Not really meant to taking out large groups of enemies and is more of a close quarters weapon, but overall it's decent weapon none-less.
(2.) Pistol: A step up from the Compact Pistol. The Pistol is used by police officers, gang members, criminals and others. The Pistol has a medium range and takes at least three or five shots to kill someone. It's perhaps one of the most common handgun in the entire game and is an effective weapon.
(3.) Combat Pistol: The Beretta 92fs (A.K.A the Combat Pistol) is a powerful weapon when compared to the latter two pistols. The Combat Pistol has the same level of accuracy as the regular Pistol but is a little bit more powerful and take less shots to kill enemies.
(4.) Burst Pistol: This handgun fires in three-round bursts. Very effective.
(5.) Revolver: Chambered in .44 Magnum, this weapon is by far the most powerful weapon in the Pistols category. It's very accurate and has a long range, which also makes more deadly and effective. This weapon can kill with almost one shot of it's powerful rounds. The downside to this monster is that it cannot be used while moving because of it's recoil.
Submachine Guns

(1.) Machine Pistol: Perhaps one of the most infamous murder weapons of gangsters and criminals due to it's easily convertible open-bolt design. It holds 50 9mm rounds and is very cheap but it has a slow rate of fire. In short, it's almost like The Lost and Damned's Automatic 9mm in both function and effectiveness (it even has the same sound effect), the only difference being that the Machine Pistol holds more rounds.
(2.) Micro SMG: A bit of a step down from it's Micro Uzi based GTA IV counterpart. It has a bit of a higher rate of fire than the Machine Pistol, however it has a very poor range.
(3.) SMG: A powerful weapon with a high rate of fire. The SMG only holds 30 rounds and is highly inaccurate.
(4.) Combat SMG: The most powerful of all the weapons in the Submachine Gun category. The Combat SMG is perfect for almost any gunfight.
Shotguns

(1.) Shotgun: Your standard pump action shotgun. It can hold eight rounds and does a fair amount of damage. However it has a slow reload time.
(2.) Combat Shotgun: This weapon holds seven rounds in it's tubular magazine plus one loaded in the barrel. The Combat Shotgun fires in semi-auto and has a faster rate of fire than than the regular Shotgun and can do much more damage.
(3.) Sawed Off Shotgun: The Sawed Off Shotgun is the ultimate, close quarters weapon. What it lacks in range and reload time, it makes up for it's power.
(4.) Assault Shotgun: Firing in fully automatic. This weapon has a veru high rate of fire but is extremely inaccurate and holds twelve shells. This weapon can easily tear through enemies and vehicles. It is the perfect weapon for taking out large groups of enemies.
(5.) Repeater Shotgun: A rare, 10-gauge shotgun that's based on the sawed off version of the Winchester Model 1887. This weapon is very powerful and can be used on motorcycles, however it only holds five rounds. As stated, it's very hard to find.
Sniper Rifles

(1.) Sniper Rifle: Your basic bolt action Sniper Rifle. It's very powerful and deadly, but it has a slow rate of fire due to the need of pulling back the bolt.
(2.) Combat Sniper Rifle: A step up from the Sniper Rifle, the Combat Sniper Rifle can fire rounds in semiautomatic. However, it's not as powerful as the other sniper rifle and can be very inaccurate at certain distances.
Assault Rifles

(1.) Rifle: The Mini-14, or simply; The Rifle. The Rifle is the civilian version of a high powered battle rifle. It only fires in semi automatic and is not that powerful compared the other Assault Rifles.
(2.) Assault Rifle: An infamous design that's well known and used across the worlds by many different groups. The Assault Rifle is very powerful, and has a fast rate of fire. Unfortunately, it has a very poor range and is not that accurate. Still, a great weapon.
(3.) Carbine Rifle: The last weapon in the Assault Rifle category is the Carbine Rifle. It has the best range and accuracy of any other Assault Rifle. The Carbine Rifle is very powerful but is not found until about three quarters into the game.
Heavy

(1.) Rocket Launcher: An extremely powerful weapon. This weapon can instantly blow up vehicles and aircraft in one shot, it can also send enemies flying. This weapon and it's ammunition are very expensive.
(2.) Grenade Launcher: This weapon launches grenades at great distances. These grenades are very powerful and will instantly explode when they collide with vehicles. A new feature is to use Tear Gas instead of grenades.
(3.) Machine Gun: Big, scary, and powerful. The Machine Gun is a very powerful weapon first introduced in the Ballad of Gay Tony. Firing a high amount of ammo at a very high rate. The Machine Gun is hard to get and is very inaccurate. Still overall, it is a powerful weapon.
Thrown
(1.) Grenade Your basic thrown weapon. Kills any enemies and destroys any vehicles within the blast radius.
(2.) Molotov Cocktail: A bottle filled with some a flammable liquid of some kind. Upon impact, it will set anything ablaze.
(3.) Pipe Bomb: A home-made explosive. This weapon is slightly more powerful than grenades however it releases a large amount of smoke after exploding.
Gangs
In GTA IV, there was a major lack in gang presence. In Grand Theft Auto:Carcer City, gangs have a large presence in most of Carcer City. Gangs can be seen getting into bloody gunfights with one another, tagging turf, and selling drugs.
Southside Saints
African American, White
•Murder
•Rape
•Vandalism
•Racketeering
•Extortion
•Drug Trade

Southside (Concord), Ravenwood (Concord)
Out of all the four boroughs, Concord has only a few gangs. The Southside Saints are one of them. Being around since the 1970's, the Southside Saints was the second gang to be formed in Concord. The Southside Saints are notoriously dangerous. The Southside Saints have contact with a few of the gangs in Carcer City, but their only true allies are Da 5 Familes.
Glenshaw Heights Posse
African American, White
•Murder
•Racketeering
•Extortion
•Bootlegging
•Drug Dealing (Crack Cocaine)
Glenshaw Heights (Concord)
The main rivals of the Saints. The Glenshaw Heights Posse are the more powerful of the two gangs and is by far more dangerous. The GHP, as it is mostly called, is heavily in dealing drugs. They also have involvement in bootleging and are known run a small rackettering operation.
Da Five Families
African American, White and Puerto Rican
Crimes
Pondunk (Portland), Westworth (West Carcer), Northcord (Portland), Cottonmouth (West Carcer), Darkwoods (West Carcer)
The Most powerful of Carcer City's street gangs and by far the largest with around 1000 members. Da 5 Families is composed of five different sets which are also reffered to as "Families": three located in Portland and the other two in West Carcer. Da Five Families have been around since the early 1970's and have maintained a strong influence on their territories. Da 5 Families are a force to be reckoned with and are known to have connections with some of the other gangs in Carcer City.
E.S.R (East Side Ryders)
African American
Extortion
Racketeering
Prostitution
Drug Dealing (Crack, Cocaine, Marijuana, Crystal Meth)
Drug Manufacture (Crystal Meth)
Leesville (Concord), Wenthrop (Portland) Fort Carson (Portland), Arbiter (West Carcer), Smiths Hill (West Carcer)
The E.S.R is by far the most powerful gang in Carcer City. Heavily linked to Carcer City's drug industry and have experience in making and selling Crystal Meth, which their rivals (Da 5 Families) lack. They are known to drive customized Landstalkers and Virgeros which have been painted in their gang's color: Dark Blue. The exact number of how many E.S.R members there are is unknown as of 1996, but is estimated that there are many. They operate in all three boroughs and are known to be operate not just in Carcer City, but Alderney City, Loso Santos and parts of Liberty City.
Los Innocentz
Latino
Murder
Racketeering
Extortion
Drug Dealing (Acid/LSD, Ecstasy, OTCs)
Known to host raves throughout the Carcer City area. Will also sell Ecstasy during these events.
Los Albos (West Carcer), East Los Albos (West Carcer) and Carcer Mark (West Carcer)
Los Innocentz are a gang of demented Latino goths. While mostly young, they are a force to be reckoned with as they are brutal fighters and are not affraid to die. Los Innocentz are notorious for selling the hallucenogenic drugs; Acid/LSD and Esctacy (they also sell OTCs). They have an intense hatred and rivlary with The Jury which has been ongoing since the 1980's.
The Jury
White
Murder
Robbery
Extortion
Drug Dealing (Ectasy, OTCs)
Arms Dealing
Lost Paradise (West Carcer)
The Jury. Perhaps the strangest gangs Carcer City has ever seen. These depressed, vintage-goalie mask wearing 18-22 year old misfits roam the dark Carcer streets in the night, looking out for potentional rival gang members and anyone who threatens them. They are extremely good with melee weapons and can take a beating for the most part and are known to use ambush tatics on their enemies.
Carcer Boyz
Cambodian
Robbery
Extortion
Drug Dealing (Marijuana)
Port Lauderdale (West Carcer)
A gang made up of young Cambodian immigrants. The Carcer Boyz are extremly dangerous and are a force to be reckoned with. Their main allies are the E.S.R
Joker's Wild
German American
Westside (West Carcer)
•Murder
•Drug Dealing (Crystal Meth)
•Robbery

Originally starting out like any other gang, but their addiction to Ampthetimines has made them into psychopths and has also made them incredibly violent and desperate. The Jokers have been reduced to robberies and working as muscles for much more powerful gangs and criminals. They are based on a gang that originally was to appear in Manhunt called The Clowns. Their members can be indefitied by their shaved heads and blue demin jackets with their logo on the back (a sinister looking joker).
Neo-Nazis
White
•Murder
•Vandalism
•Drug Dealing (Heroin, Crystal Meth)

Denton's Junkyard (West Carcer)
The term-Neo-Nazis is used to describe two different gangs,
Skinz-Racist, homophobic, and all out hateful. The Skinz are a group of Neo-Nazi skinheads who are hated by every other gang in Carcer City, with the exception of their allies, the White Crusaders. The Skinz are known to be very, very agrassive.

White Crusaders MC-A Neo-Nazi biker gang. The White Crusaders are the weakest of the four biker gangs in Carcer City. The White Crusaders are the only allies of the Skinz and so the two gangs tend to hang around each other and will often work together. While the other three biker gangs hate each other with a passion, they hate the White Crusaders more than each other.
Lucky Clovers
Irish American
•Arms Dealing
•Drug Dealing (Heroin)
•Illegal Alchol Manufacture
•Extortion
New Dublin (Portland)
An alliance of Irish and Irish-American street thugs. They have been around since the late 1910's and at the time, where the most powerful gang in Carcer City. During the time of Prohibition in the United States, the Lucky Clovers were in their prime, selling booze illegally on a daily basis. Since then, their size has decreased. They are are a tough bunch and are well known for gun running and extortion.
Verdecis Crime Family
Italian American
Lebanio (Portland)
•Drug Dealing (Cocaine, Heroine)
•Money Laundering
•Extortion

The Verdecis. A small sized Italian-American crime syndicate. Since the 1920's, they have been involved in a bloody feud with the Lucky Clovers and seem to be holding out against their enemies, however they seem to show no chances of ever growing and increasing.
Triads
Chinese, Chinese American
Little Asia (Portland)
Murder
Drug Dealing (Heroin)
Drug Smuggling
Arms Smuggling
Rackettering
Extorion
Loan Sharking
Also known as the Chinese Mafia. The Triads are responsible for the most of the Heroin in Carcer City. While they are powerful and large, they prefer to stick to themselves and often try to avoid conflict with other groups. They also seem to involved in Arms Smuggling.
Albanian Mafia
Albanian
•Human Trafficking
•Prostitution
•Drug Dealing (Marijuana)
•Loan Sharking
South Port (West Carer)
During the 1990's, a wave of Russian and Eastern-European crime syndacates made their way to the United States. The Albanian Mafia is one of these organizations. They are heavily involved with Human Traficking. They are a dangerous group and are not affraid to attack anyone who gets in their way.
Chekoven Family
Russian
•Murder
•Human Trafficking
•Prostitution
•Extorion
•Loan Sharking
•Also known to run an illegal underground Pornography ring.

Old Town (West Carcer)
Like the Albanian Mafia, the Chekoven Family Bravata has only been in Carcer City. Despite this, the Chekovens are responsible for most of the prositution in the city since 1994 and are known to have a (weak) alliance with the Albanians.
Angels of Death MC
White
•Murder
•Rape
•Arms Dealing
•Manufacture of Crystal Meth
Stones (Portland)
One of the most well known biker gangs in the United States and even the world. The Angels Of Death are one of the most violent and active biker gang in Carcer City, not to mention the largest. Due to witnessing the horrors of their actions as a child, Ricky has a hatred for them.
Witches MC
White
•Assault
•Murder
•Arms Dealing
•Rackettering
Mantleburrow (Portland)
Based on the Pagans MC, the Witches are the main enimes of the Angels of Death. They are the second largest biker gang in Carcer City and like the AOD they are very violent.
Lost Angels MC
N/A
Mixed (All members are female)
•Murder
•Assault
An all female, lesbian-biker gang. The Lost Angels are often looked down upon by other gangs for obvious reason, and in turn the Lost Angels have a hatred for the other gangs in the city, especially the White Crusaders.
Hoods
Mixed
•Work as henchmen for other gangs and criminals
N/A
The Hoods are not a gang, but a massive alliance of thugs and criminals who work together as one big firm. They are considered to be at the bottom of the food chain and are used at thugs and henchmen for higher ranking criminals and groups.
Street Wannabes
Multiple
•Numerous
N/A
Street Wannabes is the term used to describe a number of minor street gangs found all throughout Carcer City, specifically in Portland and West Carcer. These gangs come from many different races, ethic groups, locations and, backgrounds. Most of these gangs are incredible small and almost never play a major role in Carcer City's underworld.
Law Enforcement and Wanted Level System
Law Enforcement
| | | |
| --- | --- | --- |
| Name | Appearance | Appears At |
| Carcer City Police Department (CCPD) | | 1 Star |
| SWAT | | 3 Stars |
| FIB/Federal Investigation Bureau | | 4 Stars |
Wanted Level System
Number of Stars
Description
Crimes To Attain Level
*
Police officers will attempt to arrest the player using non-violent methods. If the player attempts to attack a police officer using Melee weapons or their Fists, officers will attack the player using their Night Sticks. The police will also follow the player in their Police Cruiser.

Attacking a police officer unarmed or with a melee weapon
Attacking and/or killing civilians
Damaging or destroying a vehicle
Attacking, crashing into, or climbing on top of an occupied police vehicle
Discharging a weapon
Hitting a pedestrian or a police officer with a vehicle
Stealing a vehicle
Driving a vehicle with its alarm sounding
Driving past a toll booth in a civilian vehicle without paying (emergency vehicles are exempt from the toll)
Being seen by the police drunk-driving
Pushing or knocking over a police officer repeatedly by running into them
Spraying NPCs with a water cannon while driving a fire truck
Stealing money from a cash register in any accessible store
Starting fires or getting caught on fire
Obstructing justice when an officer is chasing or arresting a NPC
Being caught selling drugs

**
Police officers will begin to use more aggressive methods of stopping the player. They will fire at the player using their Pistols and will try to kill the player instead of simply stopping and arresting them. If the player is in a vehiclel., they will be chased


Attacking a police officer with a firearm or explosives
Aiming any weapon at a police officer
Repeatedly punching a police officer
Destroying many vehicles at once
Killing many people in a short space of time
Shooting someone in front of a police officer
Destroying a fuel pump at a gas station
Destroying a Securicar with firearms or explosives
Getting high in the presence of a police officer
Taking a hostage

***
At first CCPD officers will attack the player with Shotguns, and will attempt to run the player off the road with their cars. In addition to that, canine units are called in. After causing a bit more damage, SWAT teams are dispatched in order to deal with player. At this Wanted Level they'll primarily use Micro SMGs and Shotguns. A Police Maverick also joins the chase. Police Cruisers are replace by Interceptors.

Killing or wounding a police officer with a firearm
Entering the Clarance County Jail or Darkwoods Penitentiary
Continuing to destroy vehicles and/or killing pedestrians
Stealing a train

****
SWAT begins to take over the situation, and sends in more teams to kill the player. They will begin to block roads with their Enforcers, and will fire at the player with Combat Shotguns and SMGs. The FIB also chases the player if they are in a vehicle.

Continuing to retaliate against law enforcement
Continuing to cause damage
Holding onto a hostage for more than five minutes in real time

*****
FIB agents will shoot out of their cars with Combat SMGs. Snipers are called in, and another Police Maverick joins the chase.

Continuing to retaliate against law enforcement
Continuing to cause damage

******
A third Police Maverick joins, though SWAT agents will grapple down from this one while sharpshooters will fire at the player. Also, SWAT will use Carbine Rifles.

Continuing to retaliate against law enforcement
Continuing to cause damage
Entering areas of the map that haven't been unlocked yet
Vehicles and Transportation
It wouldn't be Grand Theft Auto without vehicles. GTA:Carcer City features a wide varitey of vehicles.
Radio Stations
C.P.R
(Carcer Public Radio)
Interview With Chief Schaffer: An unamned reporter interviews Carcer City's newly elected Chief of Police; Gary Schaffer. Throughout the interview, Schaffer gives small hints of his crooked, corupt ways which the reporter doesn't seem to notice. At one point, he explains that he has convinced the Mayor of Carcer City to take out funds from the city's school budget in order to equip the CCPD and SWAT Teams with better weapons.
Hot Topics: Hosted by man in his early 20's who had just gotten after the last host mysteriously vanished which ironically was after he spoke out against the CCPD and Chief Schaffer. Listeners call-in and discuss current events and topics with the host, however most of them end up with him recieving death threats and sometimes viewers end up calling him and asking him very stupid and off topic questions, some of which are extremly funny and/even slightly disturbing.
Across Carcer: This show follows a journalist as he travels across Carcer City, interviewing, random different people and trying to get a view of what it's like to live in Carcer City.
Television


VBC (Vice Broadcasting Channel)
•The Lonely Guy-A lonely, washed up writer living in Liberty City desperatly tries and tries to get laid. Unforutantly, his shenanigans get him into trouble.
•Then Sarah-Then Sarah follows a woman named Sarah, who works at a fictional magizine publisher. Sarah is a major freeloader and is usually taken care of by other people and often has stuff handed to her. Usually the other characters try to help make her less dependent but she always ends up having a temper tantrum which leads to her getting her way.
•The Best Pals- Parodying the hit sitcom Friends. The Best Pals centers around a group of friends, who seem to have a lot of issues.

CCC
•Medicate Me-A medical drama set in a hospital located in some dirty, run-down city in the midwest. This show features lots of kissing and making out, not to mention in the wrong places and at the wrong time (like during the middle of someone's open heart sugery). This show is a parody of E.R.

USBC
•Stacey The Teenage Bitch-This series follows a bitchy and sexually devious 18-year old who discovers she is a witch. After discovering her powers, she then begins to use them, for the wrong reasons.
•Father Knows Best-Father Knows Best is a family sitcom that follows your average American family. The father of the family is incredibly stubborn and thinks that he is always right, even though he never is. Each episode ends with the father saying "Like they say, Father knows best!", which is then followed by "No wonder why mom was looking up divorce lawers."

Kid's Corner!
•Weird Monster Thingies!-The title says it all. The series follows three monsters: A phalic shaped snake creature, a mutant bunny that acts as if he's addicted to Crack, and a fat, one eyed man-like creature who is always seen holding what appears to be a testicle in each of his hands. Each episode follows their attempts to scare innocent victims but usually it's the victims that scare them off.
•Hey Dick-Set in what appears to be Liberty City, Dick is your average pre-teen who's head is shaped like, you guessed it, a dick. He and his friends are always getting into serious situations and adventures which usually are almost always being interupted by someone making a comment about the shape of his head and during almost everything the other chacters say are jokes about his head.
•Ruffles & Beefcake-This shows focuses on the misadventures of a skinny, hot tempered (not to mention closeted) poodle named Ruffles and his side kick Beefcake: A big, fat, retarded cat who is the only one of the duo who's rational. It's obvious that this show is a parody of The Ren & Stimpy Show, but has twice the gross-out, toilet humor than it's basis, and not to mention lots of added crude, sexual references.
Internet and Cellphone


The 1990's can be remembered for the internet and cellphone boom. In IV we saw the internet and cell phone being treated like they were nothing, this time it's different. While the internet doesn't play a big role in the story, it will often be talked about on in-game radio and TV advertisements as the greatist invention of all time and will be talked about as revolutionary. The in-game internet feature that was first introduced in GTA IV is featured in GTA: Carcer City, but it is much different then it was in GTA IV. Most of the websites featured in GTA IV are either non-existant (as of 1996) or are very different then they were. Most of the websites will have some kind of interactivity. Players can use Watchmen, an email sending and reciving desktop program based on Microsoft Outlook, to send and recive emails. The graphical user interface of the computers in GTA: Carcer City, is influenced by Windows 95 as opposed to the Apple inspired GUI of GTA IV's computers while the computer's themselves . Because the game is set during a time before the internet became widespread, there are no internet cafes and can only be found inside the player's safehouses and as well as some other places. Players can go onto eBuy (a parody of eBay) where they can order weapons and body armor that will be delivered to a safehouse of their choice. Players can also go onto Carcer News.Com and read stories from across the Carcer City area.

Being set in 1996 there are a few changes to the in-game Cell Phone. The contacts option has been renamed to "Speed Dial", although they'll still list all characters' numbers. The player cannot send or reciveve pictures and text messages, or pictures. In addition to that, there are no themes for your phone, nor can you download ringtones. Players can use the cell phone when in cover mood and when they're running. The cell phone in GTA:Carcer City is modeled after the Motorla StarTAC, which was released the same year the game is set in.
Clothing
Grand Theft Auto: Carcer City includes a wide variety of clothing, most of which is ment to reflect the time it's set in.
Multiplayer
Multiplayer was first introduced in GTA IV, and has been included in GTA:Carcer City. Multiplayer can now be accessed via Pause Menu. There is also a new Multiplayer Menu, there the player can join games, start games, ETC. Free Mode, Party Mode, Deathmatch, Race and GTA Race Multiplayer game return, but there is also a few new Multiplayer Modes,

Survival of The Fittest: This game mode pits players against one another, similar to Deathmatch. However, the object is to see who can survive the longest for set amount of time. The last one standing wins, however if more than one player is left after the minutes is up, then the surviving players will be pitted against one another and who ever is left standing then, will be declared the winner.
It should also be noted that players can only die once.

Capture The Bag: Players will be separated into teams, each team must steal a duffel bag full of drugs from one another. Basically, it's Capture The Flag GTA style. To make things more interesting, it's not just the two teams that after each others' drugs, controlled by the AI are several different ingame gangs will also try to steal drugs from the players.

Manhunt: Two players will take the role of escape prison convicts, the CCPD has started a massive Manhunt for these convicts. The objective of this is to reach a safe spot without getting arrested (or killed) by the police. This game mode is always set at night and because of that, the player can hide behind stuff to avoid being caught.

Indoor Warfare: Similar to Deathmatch, players are placed inside a special indoor map which can range from small to large. The player can make use of the indoor environment and sometimes the lighting, for surpise attacks. In terms of rules, it's pretty much the same as Deathmatch. A team based version of this mode is avaible.