Note : you've to download Kams script for importing and exporting DFF for 3ds max .
First Make Col. :
That's easy follow me !
Well , I'm Selected Sabre's Col For Yardie .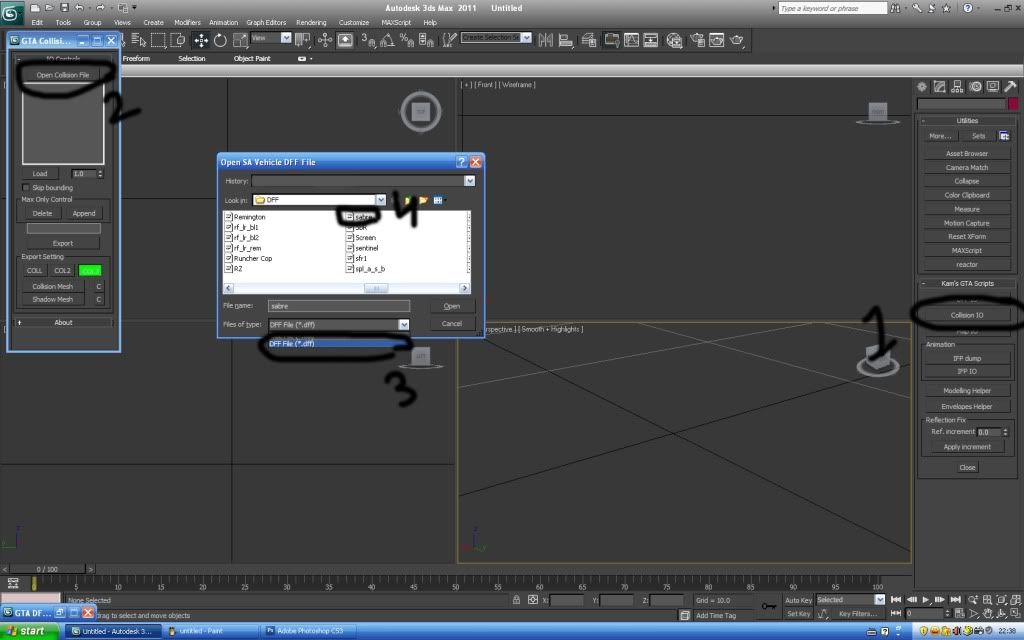 You've to Select an Original DFF SA Cars , For Example (Sabre,Blade) or any car (SA Cars) .
Write In This Bar Anything ex(Blade,Yardie,....etc)
Second Press DFF IO To Import Your Car and the Wheel of course !
Then Press H To Show the list , Find chassis_vlo , do it what's on picture exactly From 1 To 6 .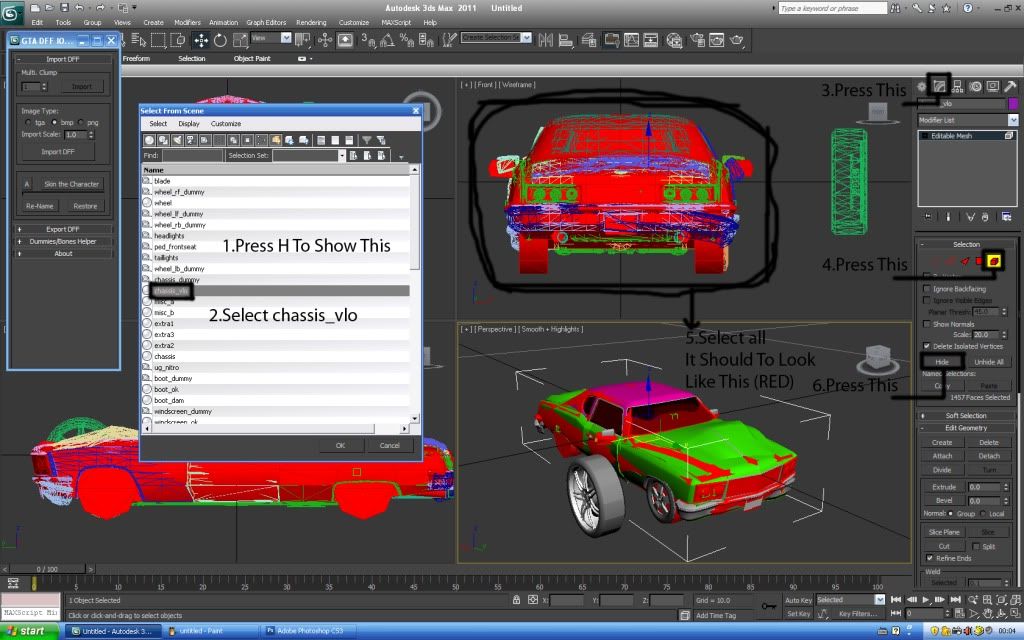 Press Hammar Icon To Unselect The chassis_vlo .
Then Move yor wheel up close to the old wheel Like this in the picture :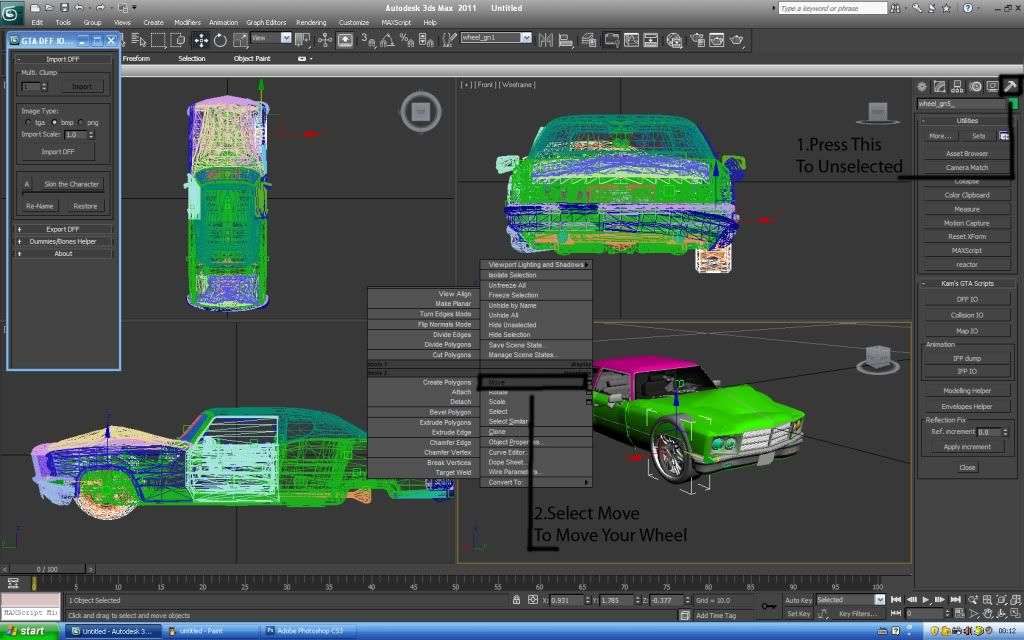 After this, Press Scale To Size Your Wheel , Note : Be Sure To Make Your Wheel Exactly Like Old Wheel's Size , If You Make Bigger , The Wheel'll Go Down The Ground In The Game . Touch The Point (Black Star) To Size Easier . My Bad ! Well Ignore The Num.1 !! Delete It After Scaling To Avoid Wheel In Underground !!!!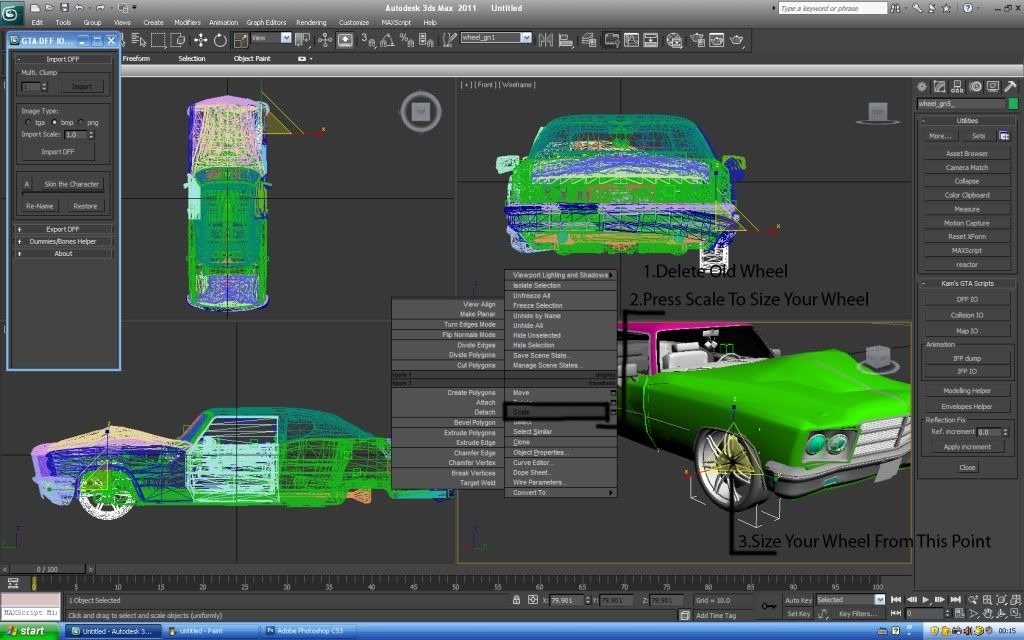 Well ,after deleteing Select Your Wheel and Follow The Picture's number :
First Zoom up To See Better !
Find The Wheel's Dummy (wheel_rf_dummy) .
Then Find Your Wheel(Your Wheel's Look Broken , alone in the corner) or you can select your wheel to know where's it (it look white) and move up close to Wheel's dummy (wheel_rf_dummy)Like In The Picture and press Connect to Wheel's dummy (wheel_rf_dummy) .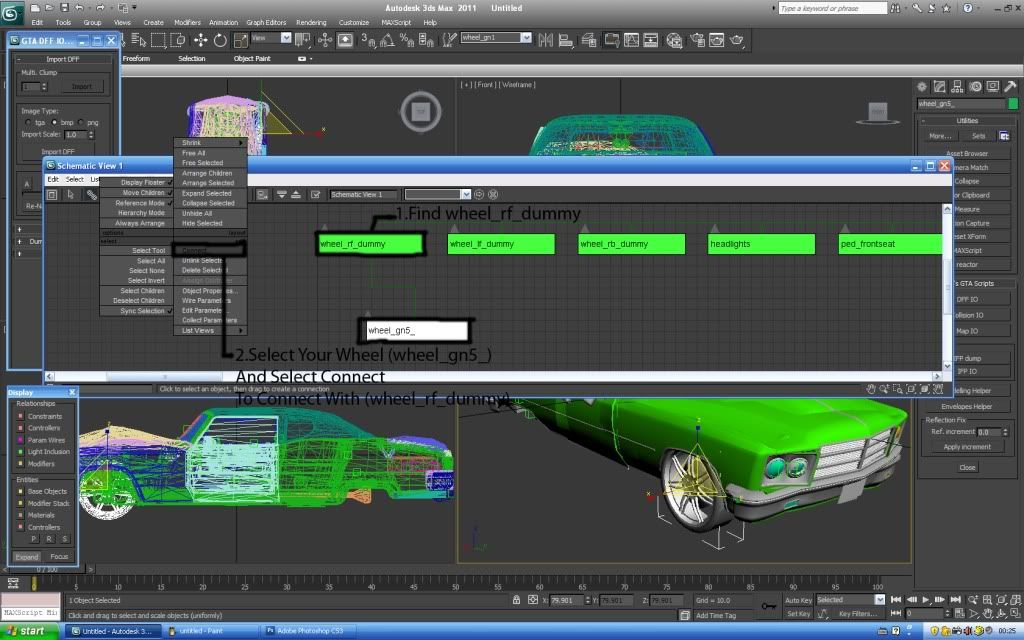 Note : all Wheel've a Different names ! But The Wheel's Dummy's Always The same name (wheel_rf_dummy) .
Then Close The Window .
Select Your Wheel And Follow The Steps In The Picture :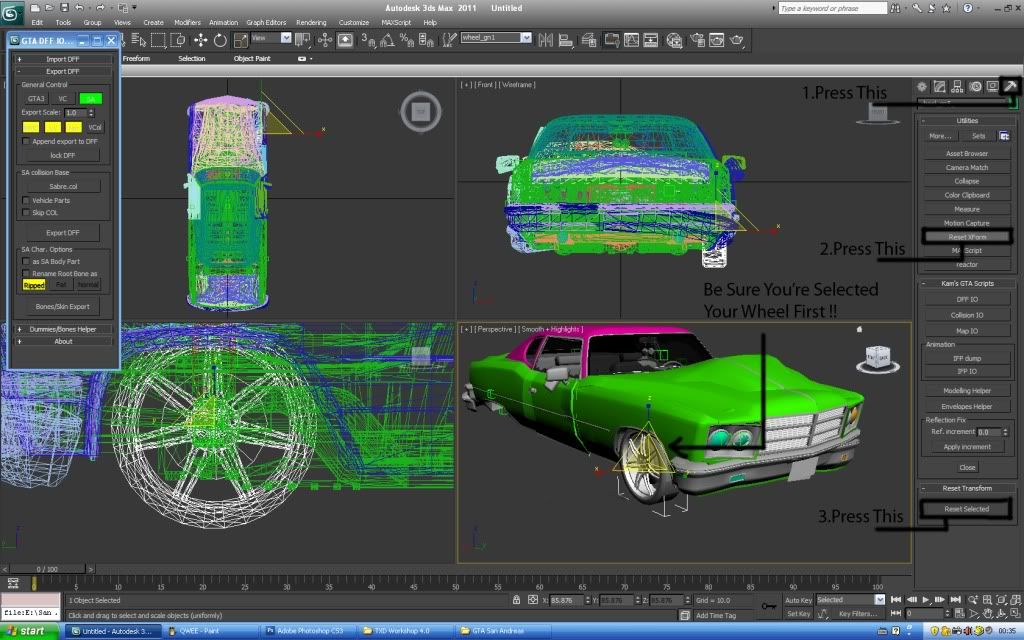 Note : You've to reset xform to avoid the uncorrect wheel's place .
Now You Car's Ready For Export , But Don't Forget To Unhide chassis_vlo !!!!
Follow the Steps !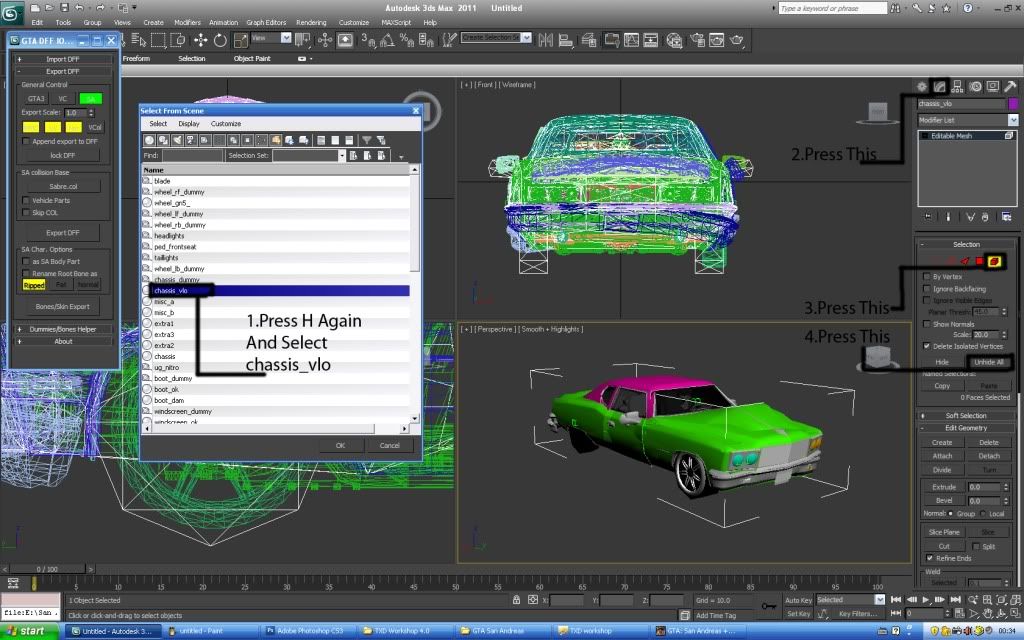 Well , After This , Press Hammar Icon To Unselect .
Select DFF IO .
Now Select Everyparts of the car (All) And Follow The Steps :
You've to select An Original Col .like (sabre,blade,tornado) etc .....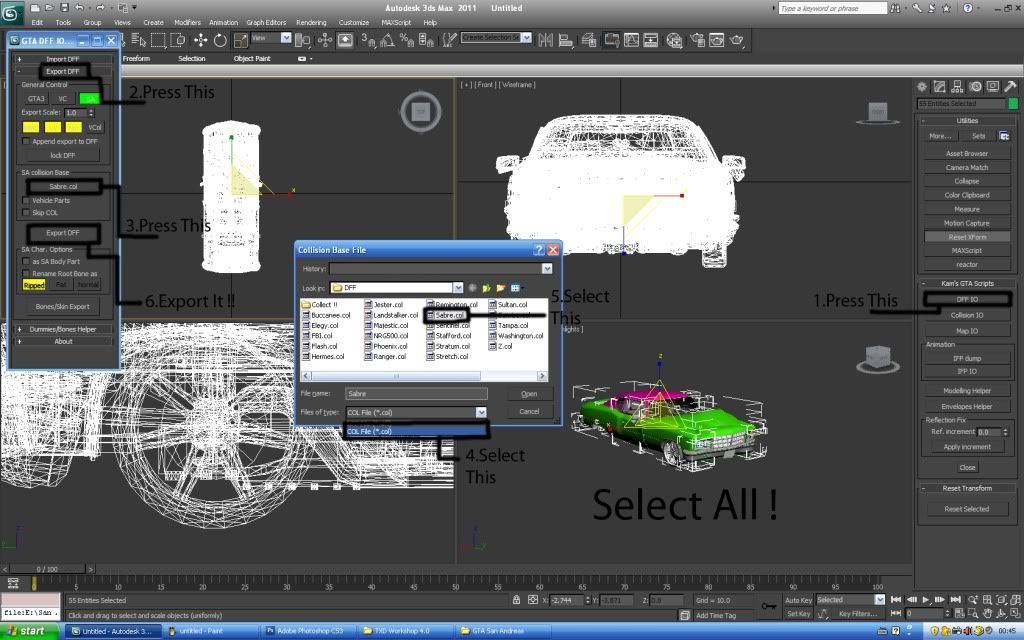 After Exporting the car , you've to add The Textures of the wheel (If Ya Didn't , The Wheel'll look White ! <missing textures> )
So You've to know how to add textures by TXD Workshop .
How ???
open your TXD Workshop ,
First Select (Open TXD) And select your wheel's TXD . then press (Export) and select Export all textures to bitmaps .
Second Select Your gta3.img .
Then Write Your Car's name(Ex..blade.txd) note you can find by writing car's name (to write , there's a bar in the left corner )
Then Select (Image) from toolbar , and select Templates And select (Insert image from templates)
And choose whatever do you like (16,32,8 bit) .
Then after insert image select your new image (The Yellow) and press (Impot) To Import your wheel's image one after one .
Note : Be Sure you're adding the textures at the car's textures , (ex, if add this car as blade , you've to add Wheel's textures to blade.txd)
and don't forget every textures you've import , RENAME The Image as What's the image of wheel is name . To Rename Double Click at the image for rename .
after insert all wheel's textures then press save TXD and Exit !
Cheers !
The Result :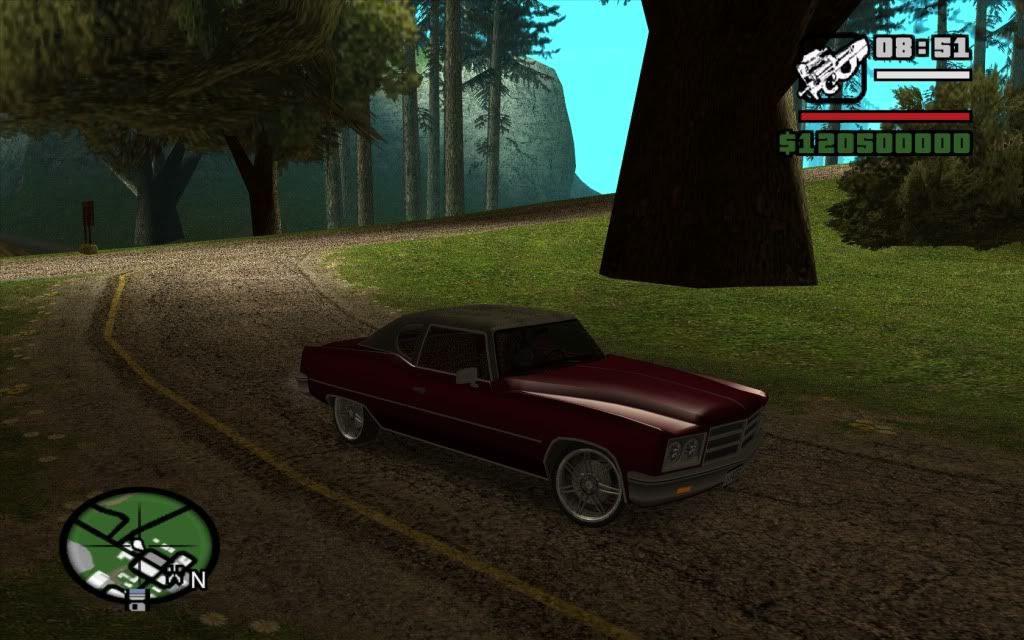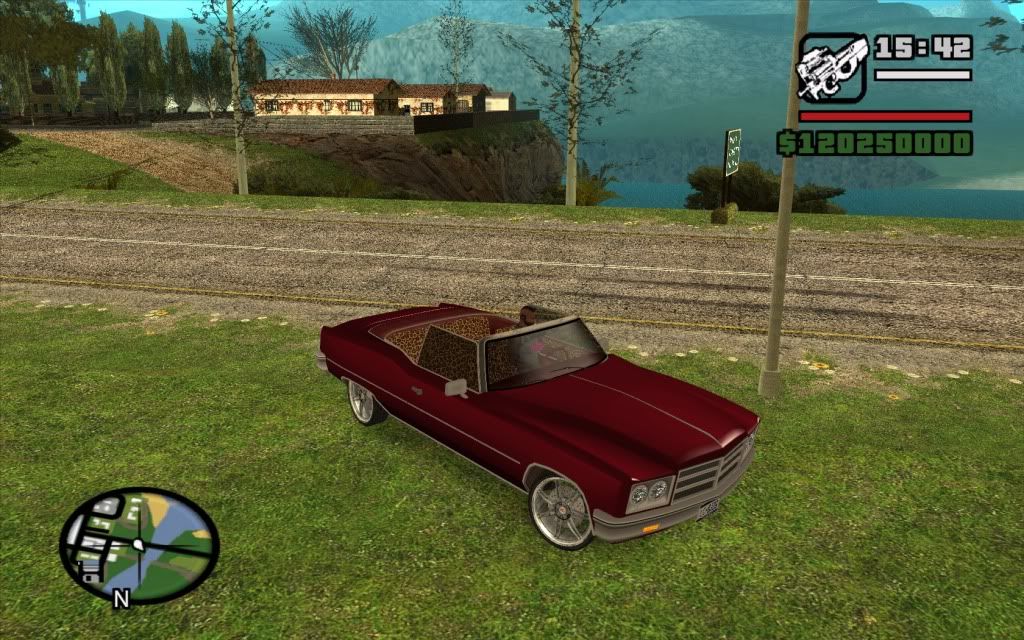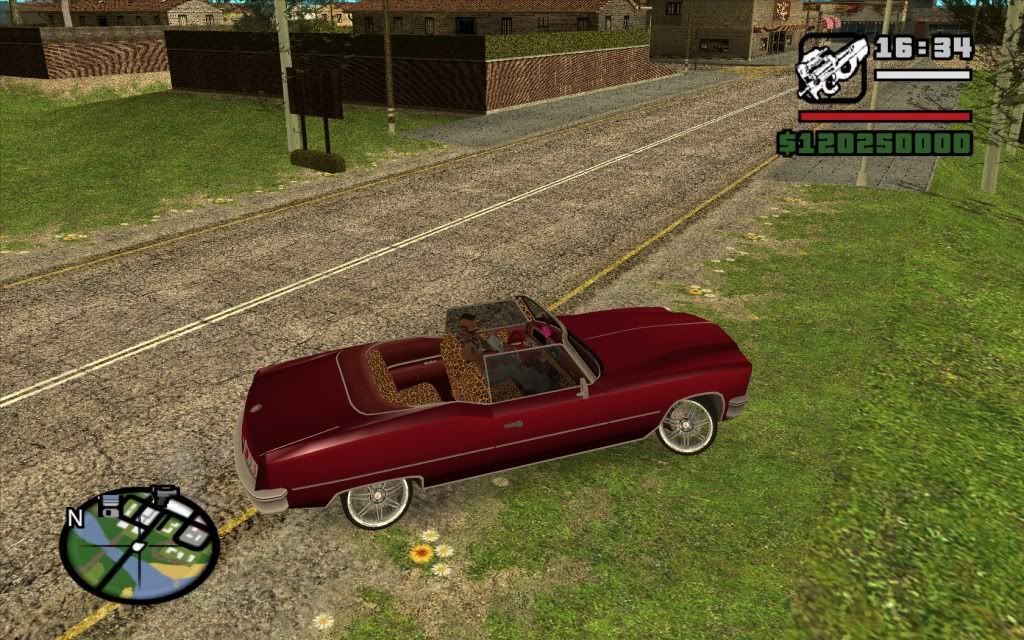 If anyone got trouble with this , Just send me a message to fix it .