KingArt' proudly presents



King Of The South: The Mod



aka T.I.P. Mod V2: Final Version


============================================================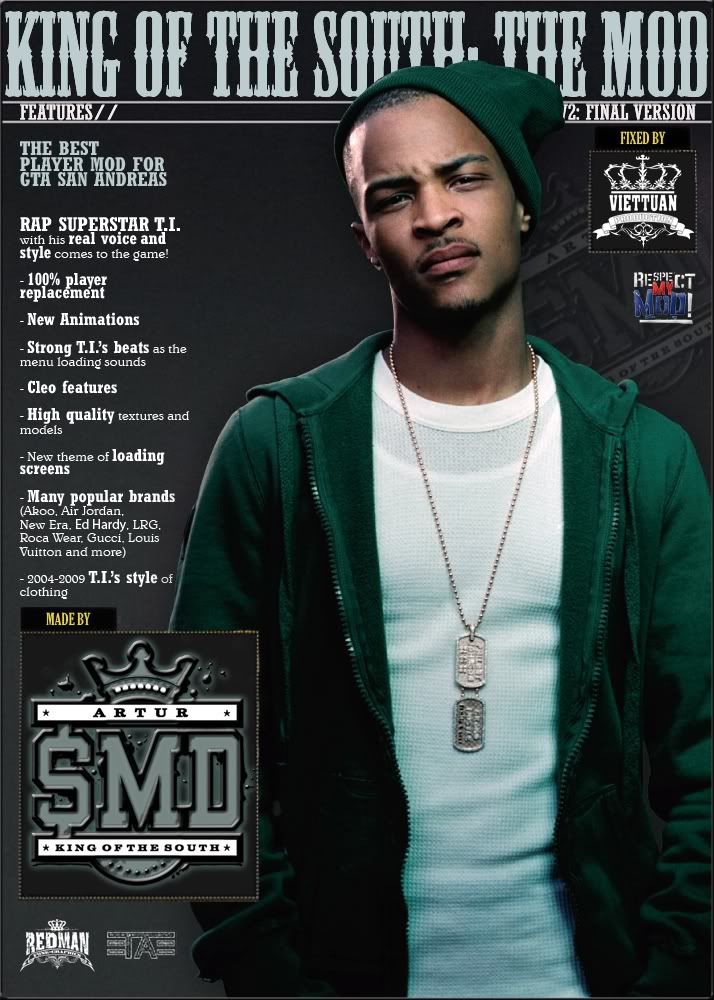 ============================================================

*The player version*
I promised the release would happen. Exactly! Me and my partner Viettuan have been working for a long time to make the Final version.
The mod has been developing since 2008. You can't imagine how much time we needed to make such a perfect mod like this one! There were sleepless nights and hours of googling, collecting information, pictures and videos... So..
This project is finished as the FULL version with all the pre-planned features and absence of bugs!
QUOTE (Bio)
T.I. was born on September 25, 1980 as Clifford Joseph Harris Jr. in Atlanta, Georgia. He is also known as T.I.P. and "Rubberband Man". T.I. is from the streets of Westside Bankhead Zone 1 in Atlanta. His original stage name, T.I.P., it stems from his childhood nickname "Tip", given by his grandfather. He later changed it to T.I. out of respect for label mate Q-Tip. He was dubbed "the Jay-Z of the South" by Pharrell Williams, T.I. gradually established himself as one of rap's greatest and most successful MCs during the early 2000s. T.I. has always carried a balance of smoothness and toughness, and though 2001's I'm Serious (released on Arista) didn't shoot him out of the gate Ć la Reasonable Doubt, he consistently grew and began a string of major hits with 2003's "24's." From that point through 2007, there wasn't any point when T.I. couldn't be heard within a couple hours on any given urban radio station throughout the U.S. 2003's Trap Muzik, 2004's Urban Legend, 2006's King, and 2007's T.I. vs T.I.P. -- all released through the MC's deal with Atlantic -- were Top Ten albums, and King even spent some time at the very top of the chart. Released in tandem with his debut screen appearance in ATL, King affirmed his status as a superstar.
One of the best updates. Styles from the "Front Back" video by T.I.
features:


Rap Superstar T.I. replaces the protagonist

T.I.'s real voice replaces the old one!!

Everything is replaced. Nothing old!

High poly models and textures

The realistic 3d head model

Brand new animations

Modern style of clothes

True T.I.'s style!

Many popular brands like Akoo, Air Jordan, Nike, New Era, Prada, LRG, The Great China Wall, Gucci, Louis Vuitton, Carrera, Ralph Lauren, Evisu and so on!

New CLEO features! (Change caps positions, zip up and pull hoodies, wear them with caps, change rags positions)

Strong beats as the loading sounds

New loadscreens to match the mod theme by Callister Cain

I been thinking... Remember the cleo script ZAZ made which made the face bloody when the player had low health? It lagged the game when the texture changed, that's why I didn't upload it. Still want it? I can include it, if you want

Credits:
KingArt' - you all already know me. The founder of the mod. Did lots of job on everything.
Redman" - my main partner who did a lot of texturing job on jeans, tatoos and jackets for the TIP mod v1. The TIP Mod V2 still uses some of his production.
=T.A= - my partner who did a great job on sneakers for the TIP Mod V2 I requested him. Some torso textures were also made by him.
Viettuan - hero! Fixed lots of bugs an alpha version had and finished CLEO scripts!
Typical T.I.'s style
The last update
DOWNLOAD
http://www.playgroun...artur_md-26020/
http://www.libertyci.../file32596.html
The ped versions:
As you might noticed, the mod was released as the ped version twice.
You can try it here!
IF AFTER THE INSTALLATION THE GAME DOES NOT WORK AND THE BLACK SCREEN TURNS UP:
There's the best way to fix the black screen problem.
1. Open "gta.dat" file using notepad (can be found in the DATA folder of the game directory)
2. Insert a line with the player.img at the beginning, so it will look like....
QUOTE
#
# Load IDEs first, then the models and after that the IPLs
#

IMG DATA\PATHS\CARREC.IMG
IMG DATA\SCRIPT\SCRIPT.IMG
IMG MODELS\PLAYER.IMG
IMG MODELS\CUTSCENE.IMG


......

and then the game works.
The lamest thing is, some people think that the "TIP MOD V4" is the last version over the internet. But it's absolutely unofficial, is not the release of our team, and is the same V2, but edited in the way I don't like, because of the white skin for the black guy. Some bullsh*t.



SO I WANT YOU TO KNOW THAT
TIP MOD V2: FINAL IS THE LAST VERSION OF THE MOD AND THE ONLY OFFICIAL ONE!
Edited by Artur$MD, 18 May 2012 - 07:30 PM.