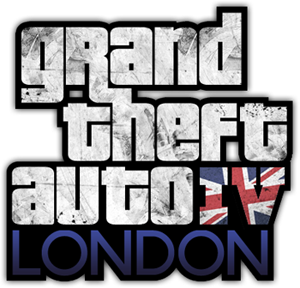 Theme
Grand Theft Auto IV: London
throws the gamer back to the 1980s, a world away from the glitz and glamour of Vice City in a violent depiction of Britain's transitional underworld. Introducing Raymond Caine, an infamous gangland murderer since disregarded to the depths of murky East End folklore.
The 40-year-old Caine cuts a strong, calculating demeanour, one of a hardened, habitual criminal. Raymond returns to London after serving an eight year sentence in high security prison fixated with propelling his character back into the only life he has ever known, ruthlessly determined to carve out a piece of the lucrative action for his own. Ray soon finds himself an unwelcome presence, appeased by former associates only out of fear for reprisal. Dispatched to the countryside to oversee a business transaction, Raymond is set up by an ambitious third party and finds himself raided of merchandise. Indebted to his bosses and target of retribution in a changing world of seedy vices and underhand deals, at what lengths will Raymond Caine go to reaffirm his reputation?
Once an amateur boxer of local fame, representing Great Britain in bouts, Ray grew out of impoverished youth to pursue an initial career in the Royal Air Force. Stationed in Gibraltar, here he would learn the basics of aircraft and weaponry while his capacity as a natural leader of men would be encouraged by the military. With an army of skills belying his lack of any formal education, Ray returned a highly sought asset by figures waiting with open arms to welcome him back to London.
For what he would become notorious, Raymond operated throughout the sixties an East End torture unit. In this role he would spread across London a wave of terror, one defying all attempts of police to stop him. At his eventual capture in 1973, those at court of the much publicised 'torture trials' heard tale of the former serviceman rigging a decommissioned army generator to the genitalia of a victim as to deliver numerous violent shocks of electricity. Also popular were disfigurement, the removal of teeth with pliers and their crucifying of antagonists by means of nailing them to the floor. The police also uncovered the operation of an underground monarchy, the twisted ruling panel victims would first be paraded before subsequent to a ruling of desired punishment. While others escaped punishment, strong evidence condemned Raymond to an eight year stretch in Category A. With the duration of his sentence served in a Northern prison, the rise of former associates would relegate the legend of Raymond Caine to only infamy.
An unstable, sociopathic personality, Ray cares little for relationships out of his exclusive circle. Intensely disliked by a progressive underworld who deem his character too dangerous to be accepted, Raymond projects an aura of constant power in that he appears a savage force free of constraints, acting as an individual force dictated only by his own megalomanic motives.
• Credits: