A word from the author:
OK, first of all this is a serious DLC idea for GTA IV. Well, R* did it with RDR so why not with GTA? Sure, it had a zombie skin in multiplayer, but how about changing the whole theme to zombie? I got inspired by various horror movies, horror games and of course the undead nightmare DLC from RDR.
Info

This DLC will be released on X360 live marketplace, PS3 PSN store and PC Windows live for 10$. A clean version of GTA IV is
necessary
but it is also combinable with other DLCs on discs (EFLC,CFLC). The game features a complete new storyline (not canon with the main story so its like Niko´s nightmare) with about 6 hours of gameplay. We play as Niko Bellic, that wants to save his family and friends from the spreading hordes of zombies.
The city changes a lot while progressing trough the storyline. It features destroyed bridges, collapsing buildings, broken streets and much more. It also features great new weapons such as the Ithaca M37, new vehicles like ´Willy´, many new side quests and activities. A main new feature is that we can play as other characters. Also, if you have an other DLC there are 3 bonus missions where we play as the DLC main character.
Artwork: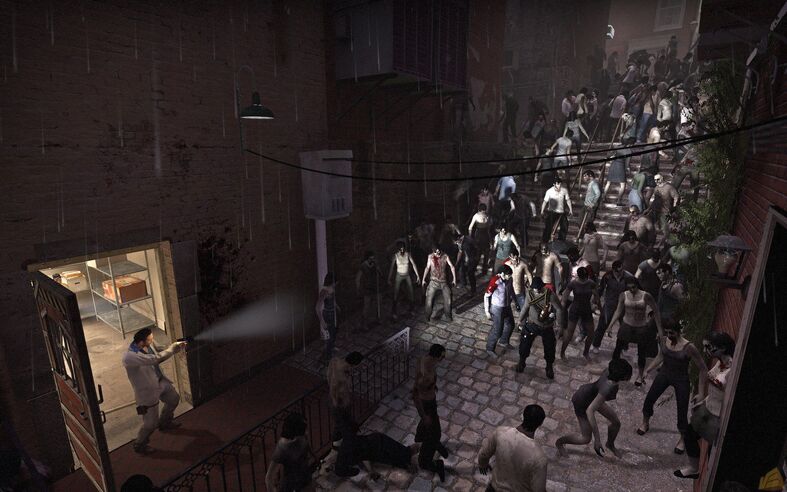 Vehicles:
Willy
Redemption
Shelby

Soundtrack
Note: This time the songs play even if you walk.
Saw theme
Resident evil afterlife theme
Nightmare on elm street theme
Mass Effect 2- suicide mission
Advent Children: one winged angel
Final Fantasy X theme
L4D Theme
Weapons
´Here you go, with this sh*t, if you don't survive the zombie apoclypse you deserve to die.´
Melee Weapons:
Golf Club
Based off of: A Golf Club
Description: Why do they call golf, golf? Because sh*t was already taken, though enjoy this wonderful blunt object to beat someone upside the head with.
Fire Axe
Based of off: A fire axe
Description: The professional's Choice…for lobbing off a zombie's head, rather common in L.C, you'll find one in any building just about, on walls near or in the case that holds them.
Chainsaw
Based off of: A Chainsaw
Description: When they invented this, the never thought I'd be used for the ultimate in maiming and killing tech.
Pistols:
Magnum revolver
Based off of: S&W Model 500
Magazine capacity: 5
Type: Revolver
Description: You want to drop something, and drop it fast, well use this, trust me, it'll die.
Silenced 9mm
Based off of: A silenced Glock
Magazine capacity: 17
Type: Semi-Auto Pistol
Description: This is a specialized weapon for assassination, good If you don't want a sh*t storm to happen.
SMGs:
Suppressed Micro Uzi
Based off of: A silenced Uzi
Magazine Capacity: 50
Description: Good for when you need full auto, but want to be quite.
Modified SMG
Based off of: A Modified MP5
Magazine Capacity: 45
Description: A modified SMG used by gangs in L.C, extremely powerful, and accurate, on top of a amazing rate of fire.
Sniper Rifles:
50.Cal Sniper Rifle
Based off of: A 50. Cal Sniper
Magazine Capacity: 5
Description: Big, and loud, not to good if you want to be silent, but great if you want to take out someone from a mile away.
Assault Rifles:
Modified AK-47
Based off of: A heavily modified AK
Magazine Capacity: 100
Description: A modified AK-47, with whole hell of a lot more punch then a standard AK, and 100 round belt clip, on top of a nifty little laser sight (for aesthetic purposes only) this bad mother f*cker will chew though any thing stupid or unlucky enough to be in front of it.
Shotguns:
4-barrel Shotgun.
Based off of: A 4 barrel Shotgun.
Magazine Capacity: 12, so 3 shots.
Description:
Here.
Special Weapons:
Flame Thrower:
Based off of: A standard issue 1960's Army Flame thrower
Magazine Capacity: 100 seconds of fuel
Description: Ever wonder what hell looks like, well wonder no more, just pull the trigger on this bad boy, and poof instant BB-Q
Hunting Rifle
Based off of: Remington model 700
Magazine Capacity: 1
Description: This Blot action bady might not be the fastest gun in the west, but it's actuate as hell, and packs a mean punch.
Minigun
Bases off of: A Minigun
Magazine: I lost count at 697
Description: This'll annihilate, any living creature in front of you, and then some, with a rate of fire that's faster than Lindsay Lohan going in and out of rehab, you'll have fun I guarantee it.
The Zombie Lexicon.
"Niko, just because your cousin tried to eat you, does that mean we all have to be unhappy? Forever?"
GTAIV: UN will feature various undead mutations. They have not real names, the survivors call them so.
The Stupid Zombie
These guys walk alone, destroy everything they can and try to eat their own limbs after they are blown off. They attack you with normal speed and bite you everywhere till you get infected. They are an easy target too. A headshot is critical and a blown off limb makes them even more stupid.
The Silent Zombie
One of the smartest zombies. Smell un-infected blood from 500 meters. They follow you all the way till you´re alone or hurt and jump on you, eat the half of your face and go back to the shadows. They look like the stupid zombies but their bodies have been less infected so its a rare occasion that you see one.
The Speeder Zombies.
Oh fu-. Too late. They did not even let tell you your last words. These fast creatures must have been sport icons. They run extremely fast towards you, mostly in a group and eat all your body. But they have a low health so use some machine guns on them.
The Pu**y Zombies
The name makes them lame but remember: To kill one zombie is not that hard. But to kill a horde of zombies that work together to kill you? My tip: Don´t go to open streets alone. Use alleys to avoid tons of undeads. Sometimes you have to cross a big road so get some survivors with you.
Mutations:
The zombies can mutate even more:
- Fire: Almost self-explainable, torched zombies can stand fire cause of their skin, but humans will turn into BBQ in seconds so the zombies have an advantage if they are on fire.
- Fish: Zombies that don´t need air to live and can stay under water.
- The black zombie: The bosses. They are somewhat bigger, other zombie´s limbs grow into their bodies and they look like some weird 6-armed and 3-legged (or is it...) experiment.
- Living zombies: It can be that a infected person stays a person but with a zombie mind and infected blood. They still can talk. It is pretty tough if your friend turns such a zombie.
The Point System
For everything we do, we get points. Multiplayer, singleplayer free roam, missions, side quests, collecting, everything. For the points we can buy ourselves upgrades, weapons and clothes. It is also important for those who are interested in online leaderboards. Everything gives a diffrent amount of points:
[U]
- A level one stupid zombie is worth 5 points, every level gives 2 more points and every mutation extra 3 points.
- A level one silent zombie gives 30 points, every level gives 10 more points, every mutation extra 20 points.
- A level one speeder zombie gives 7 points, every level gives 4 more points and every mutation extra 5 points.
- A level one pu**y zombie gives 3 points, every level gives 1 more point and every mutation gives extra 2 points.

- A undead rat gives 10 points, it adds 10 more points every 10 of them (eg. Undead rat nr. 2 gives 10 points, nr.69 gives 60 points.
- Every boss fight gives up to 10000 points (!)
- Every mission gives 100-1000 points.
- Every gang quest gives 200 points.

- Every won multiplayer game gives 2000 points.
- Every MP killed zombie gives 25 points.
- Every MP killed human gives 100 points.

- Level up in a stronghold/ganghouse gives you 100 points.
- Becoming the boss gives you 3000 points.

[/I]
[SIZE=7]The Survivors
So, I need idiot friends so I will not be eaten alone? F**k off.
An important aspect in UN are survivors. Each has special weapons, special tactics and can introduce you to new gangs/strongholds. Here is a list of survivors:
Douglas
Sig weapon: Suppressed micro uzi.
Skills: He can cook and he is sexy.
Abilities: He shoots faster than others, heals faster than others.
How to get: Complete mission 2, get 50% CS (Colony stronghold) relationship, make a total of 3 CS errands, become friend with Douglas.
Description: Douglas is the beauty princess kidnapped in a bad world. But when he has to, he can hold a gun. He used to be a top pimp in Bohan, before he went to Colony with his girls, which later got infected and he had to kill them. He can join Niko so he gets out of Colony.


Lola Del Rio
Sig weapon: minigun
Skills: She ´heals´ you in a few seconds, makes zombies follow her, can have sex the whole night.
Abilities: Can give Niko fingerless gloves, can have hot coffee with Niko to heal him, attaches zombies.
How to get: Complete mission 26, get 75% with the mafia and the porn stronghold, make 10 pimp jobs for the porn
stronghold, become her boyfriend.
Description: Finally, we see the legendary Lola. While shooting zombies it will be hard to look at them and shoot them. Why look at ugly zombies when you can look at her a$$? She visits the mafia pretty often and helps them out. She will join Niko cause she loves him.



Sonny
Sig weapon: 50 cal. sniper rifle
Skills: shooting, assassinating, sniping, weapons, tech.
Abilities: has a 50% higher accuracy than other survivors, can repair things, can repair weapons.
How to get: Complete mission 6, get 50% with the triads, get -25% (yeah, minus) with the lone survivor clan, do 3 errands for the triads.
Description: He comes from Los Santos, is an ice cold killer, is gay, has a wife and wants to kill his ex friends. After helping him out, he will stick to Niko.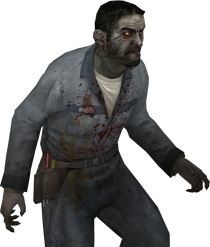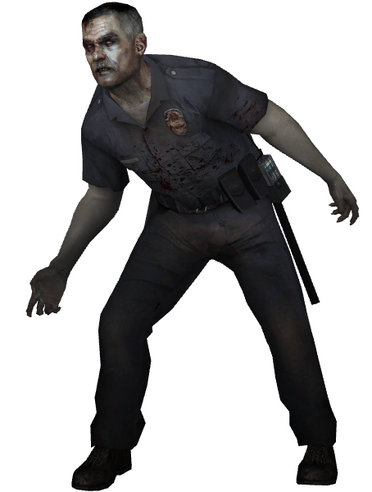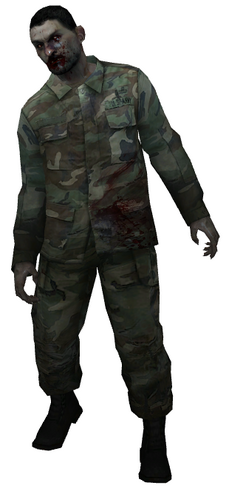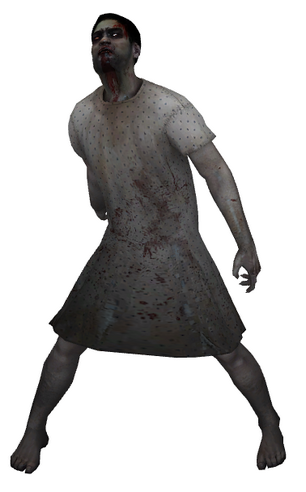 MORE COMING SOON!
Credits:
- Narcis_Speed6 for the logo and the statue.
- Robinski for zombie Niko.
- Rojo89 for the achievement icons.
Also everyone who gave me suggestions and everyone who supports this thread.
Thanks guys!
- Mr. c TO the J for the weapons and weapon info. (BTW the 4 barrel shotgun was made by myself)