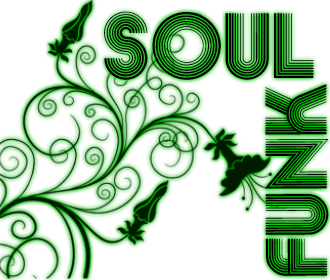 S

oul music is a music genre originating in the United States combining elements of gospel music and rhythm and blues. Soul is "music that arose out of the black experience in America through the transmutation of gospel and rhythm & blues into a form of funky, secular testifying." Catchy rhythms, stressed by handclaps and extemporaneous body moves, are an important feature of soul music. Other characteristics are a call and response between the soloist and the chorus, and an especially tense vocal sound. The genre also occasionally uses improvisational additions, twirls and auxiliary sounds.



F

unk is a music genre that originated in the mid-late 1960s when African American musicians blended soul music, soul jazz and R&B into a rhythmic, danceable new form of music. Funk de-emphasizes melody and harmony and brings a strong rhythmic groove of electric bass and drums to the foreground. Funk songs are often based on an extended vamp on a single chord, distinguishing it from R&B and soul songs centered around chord progressions.
Like much African-inspired music, funk typically consists of a complex groove with rhythm instruments such as electric guitar, electric bass, Hammond organ, and drums playing interlocking rhythms. Funk bands sometimes have a horn section of several saxophones, trumpets, and in some cases, a trombone, which plays rhythmic "hits".
Genre
Description
Smooth Soul
Smooth soul is a subgenre of soul music that developed in the early 1970s from soul, funk and pop music in the United States. The subgenre experienced mainstream success from the time of its development to the late 1970s, before its succession by disco and quiet storm.
Smooth soul is characterized by melodic hooks, funk influence and smooth production style. Unlike pop-soul, which predominantly featured dance-oriented music at the time, smooth soul was more ballad-oriented with generally romantic and seductive lyrical themes.
Neo soul
Neo soul is a term describing a style of music that emerged from soul and contemporary R&B. Heavily based in soul music, neo soul is distinguished by a less conventional sound than its contemporary R&B counterpart, with incorporated elements ranging from jazz, funk, and hip hop to pop, fusion, and African music.
Developed during the 1980s and early 1990s as a soul "revival" movement, neo soul emerged into the mainstream with the commercial and critical breakthroughs of several neo soul artists during the 1990s, as it was marketed as an alternative to the producer-driven, digitally-approached R&B of the time.
P-Funk
P-Funk is a shorthand term for the repertoire and performers associated with George Clinton and the Parliament-Funkadelic collective and the distinctive style of funk music they performed. The P-Funk groups had their heyday in the 1970s and continue to attract new fans thanks both to the legacy of samples they bequeathed to hip hop and the live shows that the bands continue to perform.
Regional Genres
Like with many other genres, different styles of soul music can be located throughout the map of the States, most notably Chicago Soul, known for Jerry Butler, Curtis Mayfield and their group The Impressions, Memphis Soul as represented by Al Green, Booker T. & the M.G's and many other artists - including Isaac Hayes - from Stax Records and Hi Records and Detroit Soul, also known as Motown for the legendary Motown Records, with Marvin Gaye and numerous other artist each give the soul music their own vibes and sounds throughout the United States.
* Thanks to Wikipedia for most of the info and the description
First off, shoutout to Tony.Cipriani for creating the original thread, but after asking Mark about it, we decided that it's about time to create a new one since the old one's latest post is from March '08.
----------------------------
Soul. Funk.
Hate it or love it, these groovy genres majorly influenced most of the modern popular music - hip hop, house, disco music, contemporary R&B, even some of rock and punk have soul and funk in their roots.
Whether it be soft, smooth soul or rockin', sexistic funk, everybody, from punks to hip hop heads have at least one soul and/or funk track they like to participate with. That's what we do:
Post music, discuss music, enjoy music.
I'lll start with my 3 favorite groovy tunes.


Curtis is my all-time favorite, even though rap is my dominant genre, I don't love any rapper's songs as much as I do Curtis'. Pure talent.
Rest in Peace, legend.



Isaac is second, but they can't really be compared.
This is a rather rare track, most of you probably haven't heard it, but you'll like it.



I love The Meter's drumbeats and basslines, that's what you call groovy n' funky.