A Full SketchUp to SA Conversion Tutorial



It has taken me ages to work out how to do this properly from reading heaps of different tutorials and putting information together and playing around. I thought that I would help people out by making a full tutorial about SketchUp to SA which has everything you need to know, including collisions, putting it in SA (IPL & IDE), shadows and other information. Well letís get started.

What youíre going to need:

Google SketchUp Pro: http://sketchup.google.com/download/
Coll Editor II: http://www.steve-m.c...ls/colleditor2/
TXD Workshop 3.7: http://www.megaupload.com/?d=T3B94SY8
MEd v0.32: http://www.megaupload.com/?d=4BAKEU8I
IMG Tool: http://www.gtagarage.../show.php?id=63
3DS Max: http://usa.autodesk....112&id=13571450
Kams Max Scripts: http://gtanet.com/kam/KAMS_Max.rar
OR
Gmax: http://www.turbosquid.com/gmax
Kams GMAX Scripts: http://gtanet.com/kam/KAMS_GMax.rar
Patience

Things that need to be done before beginning the tutorial:

ē Install Gmax or 3DS Max scripts. (Instructions included with download)
ē Have a model ready.
ē Scale your model. Do this by importing a model from GTA into your max then exporting it as a 3DS and importing it into your SketchUp.
Rules to follow:
ē Always make sure any file name has 6-8 characters in it that includes textures, models, anything that has to do with your model.
ē All textures are BMP(This is to make sure its compatible with everything)
Instructions:
1. Check if your textures are BMP. Do that by going to Paint bucket then clicking on the drop down menu and selecting ĎIn Modelí. Delete any textures that you arenít using. (Tip: To convert any JPG to BMP just right click on the texture and click Ďexport texture imageí then save it as BMP)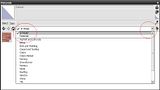 2. Export the model as 3DS. Do this by going to File > Export > 3D ModelÖ Use these settings:


It will export the textures so you may want to make a new folder to export your model into.
3. Open either Gmax or 3DS Max (Iím using Gmax here but itís the same on 3DS Max) Go File > Import and find your model. It will come up with 2 boxes for the first one choose these settings:


For the second one just click no.
4. Change the name from Ďmodelí to the name of your model.


5. Click on Utilities then click on DFF IO.



6. Click on Ďskip COLí and click ĎExport DFFí save it in the same location you exported your 3DS file.


7. Now for the collision there are 2 different ways I know of to do the collision Ill tell you both.

The first way is Puma06111991ís way and I give him full credits for this and take none.
Itís a video tutorial a really good one thatís easy to follow. Hereís the link http://www.gtaforums...howtopic=416377 Make sure to watch it on for HD by right clicking watch on YouTube. All he practically does is group the model then trace it with pen tool and delete the original model. You donít need to trace the whole model only the parts that need a collision.

Once you have finished tracing your model and have deleted the original save it as a different name. Then export it as a 3DS and open your max. Now go to material editor.

For Gmax users click new and select GTA COL Surface. Now clicking and hold on the thumbnail in the top left corner of the material editor and drag it onto your model.


For 3DS Max users click on standard then click on GTA COL Surface. Now clicking and hold on the thumbnail in the top left corner of the material editor and drag it onto your model.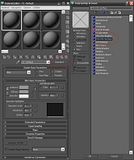 Click on utilities then COL IO this window will come up:



In the first red circle type the name of your model. Click on Collision Mesh in the second circle then click on your model it should change to the name of your model. Now just hit export and save the COL in the same folder as your DFF.

Second way of creating collisions. This way is simpler but I donít think it works very well at all. After you have exported your DFF just click on the COL IO Script and do same thing as in the last step of the previous method.

8. Open TXD Workshop 3.7. Click on File > New. Now select 32 BPP. Press Ctrl + INS to duplicate the picture. Duplicate as many times as you have textures. Click on import then go to the folder you exported from SketchUp to and select a texture. (Note make sure you use the textures that were exported with the model NOT the ones that you used on the model) Double click on the texture in TXD workshop it will come up with a box type in the exact name of the texture except without the extension. E.G Groundco not Groundco.bmp. Once you have done all your textures click on Image at the top and click compress all images. Now click save TXD and save it in the same folder as your DFF and COL. Exit.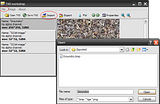 9. Navigate your self to your GTA SA directory the find your models folder then open gta3.img with IMG Tool. Click on Commands > Add. Now add your files (.COL, .TXD, .DFF) Now rebuild the archive. Exit.

http://i448.photobuc...Tutorial/11.jpg

10. Open MEd v0.32 and select your GTA SA directory. Now click on New File in the IDE section. Right click and create a new folder. It can be any name you like. Save the IDE in that folder make sure you save it as the same name as your model. Now with your new IDE selected click New Item it will come up with a window. Click on browse to right of model name and scroll down to the bottom to you find your model click it then click ok. Do the same for the texture.

http://i448.photobuc...Tutorial/12.jpg

11. Click on the IPL tab and click new file and save it in the same location as your IDE. Now click new item and select your IDE which should be at the bottom. Then select your model and hit OK.

http://i448.photobuc...Tutorial/13.jpg

12. Click on the scene tab and select your IPL and some others in the location of where you want to place your object and hit render. Now your object will be at coordinates 0,0 which is in the middle of the map. Use the arrow buttons to move it to your desired location or type in your own coordinates. Once done save and exit.

http://i448.photobuc...Tutorial/14.jpg

13. Open GTA SA and it go to the location of where you put, if everything was done correctly it should be there.


Now for Shadows (Optional)

1. Open Coll Editor II and open the collision file of your model. Right click on your model name in the list and select Target version > Col 3.

http://i448.photobuc...Tutorial/15.jpg

2. Click on edit mode. Then click on the face tab, untick back facing. Now select the part that you want to have a shadow TIP: Hold ctrl and select faces) Once done right click on the name like step 1 and click shadow mesh > Get Selected Faces Only. Now your done save the COL and put it in gta3.img with your other files.

http://i448.photobuc...Tutorial/16.jpg

Done, you should have your model in GTA SA with a shadow now. If there are any parts you donít understand just reply and ill see if I can help. I spent a few hours writing this tutorial. It should have everything you need to know + more. There are different ways to do different things like with the shadow I think that can be done in 3DS Max but I havenít tried. This way works. Also I think you can use 3DS Max instead of MEd though every time Iíve tried to get a map into 3DS Max it hasnít worked. If youíre wandering why your MEd or gta3 looks different to mine thatís because Iíve cleaned my GTA SA which means thereís no nothing on it. Iíve tried to make this tutorial as noob friendly as possible.

This tutorial wouldnít of been done without the help of other tutorials like Pumas, unis and other people.

If your models look dark in game follow Pumas tutorial here: http://www.gtaforums...howtopic=416157 If you have time look at all of pumas tutorials there really quite good just run a search for puma.

Heres a download for the whole tutorial as a Microsoft Word Document:http://www.megaupload.com/?d=O7O1A08T

Any Questions?