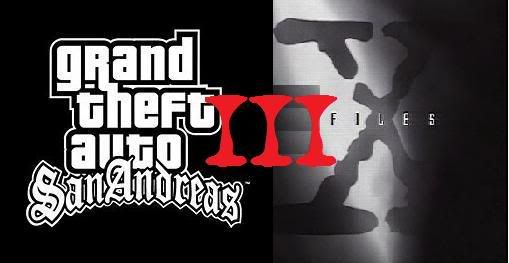 GTA X-Files III
NOTE: This mod is no longer a story. As I was kinda rushed to finish this, there maybe some bugs. A major complaint with X-Files II was it was hard to find myths. No longer. In X-Files III just simply look for a red marker, at any time, and you've found a myth.
What's new?
Technologies, and an all new party which will cause some frustration
What will you be doing
Myths
- Bigfoot
- Yeti
- Aliens
- Leatherface
- Jason
- Ghost Cars
- Samara
- Lizard Creature
Killing myths
Completing the party
Media
Screenshots here:
http://s178.photobuc...../X-Files III/
Release Date
NOW! It's finished! Download:
Notes
- For party, look at the back of Shady Cabin
- If you don't know where Shady Cabin is, it's across a wooden bridge by the Bigfoot area.
- Please report all bugs!
= PLEASE NOTE AT THE TIME OF PACKAGING/FINAL TESTING I WAS VERY TIRED SO I MAY HAVE MISSED SOMETHING IN PACKAGING OR MISSED SOME BIG OR ERROR IN THE CODE. HOWEVER MY FINAL TEST WAS SUCCESSFUL AND I COMPLETED THE MOD =
http://www.mediafire.com/?dmmqz444gw1
Edited by james227uk, 16 February 2010 - 08:29 AM.