GTA: Monarch City
Content (In descending order):
Post 1
Artwork
Story
Characters
Gangs
Added Gameplay/Content
Wanted System
Weapons
Radios
Side Missions

Post 2
Cars
Easter Eggs/Other Miscellaneous items
Artwork
Another
And Another...
Story:Background:
England is well known for football's fanatical side. Football Hooliganism included fighting, throwing of objects and sometimes led to death for some. Football teams' 'hardcore' fans would attack the opposing teams' supporters and even destroy parts of their stadium (ripping up chairs etc).
Beginning of game:
It is 1998. You play a man called Brian Henderson (currently aged 19), a football hooligan and a devoted fan to England and Milton FC, he's also part of the Milton Bushwackers. You play a few missions in enclosed areas, in these missions, you learn how to fight, use melee weapons and driving. The final mission set in 1998 takes place in and around a Monarch city derby match with West Hart FC, where you learn to throw and pick up things (like in IV) and how to grab. You then get arrested by Riot police. You have a older brother, Michael (aged 22 and also part of the Milton Bushwackers) and a dad called John (aged 49). Brian's mother died when he was 10.
Cutscenes before actual game:
You see Brian getting sentenced and him going to prison whilst the credits roll...
The actual game:
Brian's 10 (trials date was after '98) year sentence is up and he's out of prison, but he has little education, a bad record, no money and the Bushwackers have dissolved, what will he do?
The first part of the game you see Brian standing outside Clackenville Prison, he calls his brother, but there's no answer, you learn how to use the Monarch City Underground which you take back to your dads house. He reveals he's a middle-ranking man in the Preston Firm and you tell him you're looking for money for a house, a series (about 6-7) of missions involving robberies, murders, car thefts and muggings you move on after your father recommended you to the head of the Preston Firm, Mr. Richard Preston III, he gives you more high-end, higher pay jobs, such as kidnapping, murder, arson etc. Eventually he then recommends you to his upper-class friends, one takes you up, his name being Mr. Alfred Wellington (this is where all the British stereotypes come out), you do missions for him and he becomes your friend.
This is the turning point... You get home from your last mission, you find your dad dead and your brother and Mr. Preston (later dies) wounded badly (mission to take him to hospital). You then find out that your father was in severe debt and he had a meeting with Mr. Preston to discuss more pay and a loan to pay off Loan Sharks. Despite your father's death you keep living in the house. Funeral day comes, all his friends turn up, including Alfred Wellington and Horaz Sefagili, a member of the Sefagili Turkish Mafia. During the funeral, the loan sharks come and attack and try to destroy the coffin (like in IV), you try to drive off, Alfred and Horaz come to help (your brother cannot, he's in hospital). After the mission and the killing of the attackers you learn that also the killer of your father had connections with the Clackenworth Crime Syndicate (Irish Mob), Horaz is impressed with you gun handling skills, he offers you help in finding your father's killer exchange for you helping them. The Sefagilis are in a everlasting war against the CCS, a series of missions involves you being an agent in the CCS. The Turkish Mafia strand ends in a bloodbath fight in which the Turkish Mafia wins (you sided with them), you also found out your fathers killer now lives in Tacton Towers.
You then are called by Masat saying that there's a deal going on around Tacton Towers with the Yardies over Arms trade. He tells you to go down and watch them. Everything goes wrong, you are left with a bunch of dead Turkish-Cypriots and a load of Clackenworth-Allied Jamaicans. You return back to Masat in a fury, he explains everything, but Brian doesn't believe it. Whilst you're still friends with Horaz, you refuse to work for the Sefagilis. Without the backing of them Brian looks for a new gang to help him find Patrick Murphy. He finds the Bangladeshi Man Dem, a street gang based in Tacton Towers. In exchange for them helping you, you help them fight the SS 18's, a neo-Nazi gang. You then go on to kill their leader Keith Sage whilst he gets moved from Wickworth to Clackville Prison (similar to the O'Malley mission). You then find Patrick Murphy and he tells you that he was hired by the Loan Shark, Adnan Kachavic, unfortunately, he was part of the Albanian team that robbed Securitas in 2007, the UK's biggest robbery, and so has good protection. Brian then returned to the Preston Firm in Burwich. As this time, Michael was due out of hospital in which you meet up with him etc. During the time spent with the Turkish Mafia and the Bangladeshi Man Dem the Preston Firm fell apart, Brian thought that the only way of Adnan was rebuilding the Preston Firm with his brother and getting to him that way. After everything he'd done. The higher ranking members of the firm accepted him and his brother as the leader of the Preston Firm. After a few missions you do a bank job with your brother, Alfred Wellington and Horaz. The bank is where Adnan's money is kept. After, you and the Preston Firm are rich.
You do an arms deal with the Yardies in South London and meet Bobby McKenzie (Lil' Jacob with a different appearance and a weaker accent). As a friend you help him deal drugs to people, unfortunately one of the deals was tipped to the police in which you get caught.
Now it's in the final quarter of the story... You are then forced to work for the police you meet the man on the other side of the deal, Salim Ali Ahmed, a member of the Muslim Men, you become friends. You are moved to Central Monarch City and do errands for them, after you go back to Burwich and back to the Preston Firm. In which you expand the firm out west, an area with a lot less crime then places like Crayford, Burwich and Tacton Towers. After the success you then go off and kill Adnan.
Character's thus far:
Name
Age
Race/Nationality
Gang Affiliation
Role
Photo
Brian Henderson
22/33
Caucasian - English
Many...
Protangonist
Here
Michael Henderson
25/36
Caucasian - English
Preston Firm
Major character
Here
Bazza Tollworth
32
Caucasian - English
None
Very Minor character
Dave Jones
24
Caucasian - English
None
Very Minor character
Kevin "Kev" Law
32
Caucasian - English
None
Very Minor character
Henry "Henners" McKenzie
20/30
Afro-Caribbean - Jamaican
Yardies
Minor character and random encounter
John Henderson
52/63
Caucasian - English
Preston Firm
Major Character
Richard (Dick) Preston
67
Caucasian - English
Preston Firm
Helper of Brian
Alfred Wellington II
34
Caucasian - English
None
Friend of Brian
Horaz Sefagili
25
Turkish
Sefgili Mafia
Friend of Brian
Gangs thus far: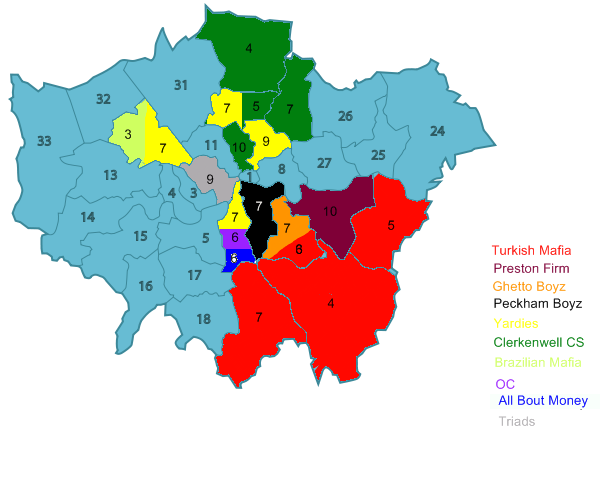 - please note, I've used the real names on the map only!
| | | | | | |
| --- | --- | --- | --- | --- | --- |
| Name | Influence/Notes | Territory | Notable Gang Members | Weapons | Cars |
| Preston Firm | Fairly Influential, second cockney mafia | Burwich | Richard Preston (leader), John & Michael Henderson | Glock 17, Benelli M3, MP5's (only for higher ranks) | Ecord w/ bodykit, PMP 600 (only for higher ranks) |
| Sefagilis | One of the biggest in Monarch City | Crayford, Boxley, Hamden, Lexington | Horaz Sefagilis, Masat Sefagilis (leader) | Tec-9's, Desert Eagles, Remington 1300 | Dilletante w/ bodykit, Faction w/ unique paintjob and spoiler |
| Clackenworth Crime Syndicate | One of the biggest, if not the biggest | Illington, Havingrey, Washam Forest, Denford | Partick Murphy, (father's murderer) and Mike Adams (leader) | Uzi's, Desert Eagle's, Benelli M3, and on the occasional member and AK-47 | Turismo (for higher ranks), Cognoscenti (for higher ranks), Faction w/ bodykit |
| Football Hooligans | Very Minor, only appear at weekends | Everywhere that has a football ground | Formerly Brian and Michael Henderson | Cricket Bats, Knives, usually fight bare knuckle | N/A, normally walk or take public transport |
| Chavs | Very Minor, normally wander alone or in groups of thress | Certain locations i.e rough areas | N/A | Knives, normally bare knuckle when the cowards actually fight without a knife | Factions w/ bodykits and stereo boosts |
| Colombian Cartels | Minor, no locations, but they are around | N/A | N/A | Glock 17, occasionally a Tec-9, knives | Sentinel (mafia version), Isuko's |
| Monarch Posse | Very influential, very powerful | Havingrey, Latbath, Bronk, Hackley | Henners, Bobby McKenzie | Desert Eagle, Benelli M3, MP5 | Rastah Huntleys, custom Isuko's and custom Factions |
| Brasileiro mafa | Not very influential, only do behind-the-scene crimes like fraud and drug-dealing | Bronk | Robson Pereira Cathos | Knives, Glock 17, occasionally a Tec-9 | Custom Sentinels (different to mafia's) and custom Oracles |
| Packham Boys | Quite Influential | Southbridge | B-Tip, Flow | Uzi, Glock 17, Combat Knives | Custom Dilletantes, Factions, Lokus |
| Gangsta Crew | Quite Influential | Lexington | Tino, Dunkno | Uzi, Glock 17, Combat Knives | Custom Dilletantes, Factions, Lokus (all different to Packham Boyz) |
| Latbath Man Dem | slightly less Influential than the Gangsta Crew and the Packham Boyz | Latbath | Ol' Father Killa | Uzi, Glock 17, Combat Knives | Custom Fortunes and Merits |
| B.A.M (Bitch£s and Mon£y) | Equal to L.M.D | Matbath | Greezy, Taito | Uzi, Glock 17, Combat Knives | Custom Vincents |
| Triads | Not that Influential, but are a strong unit | Wellington | N/A (maybe Woozie) | Uzi, Glock 17, Combat Knives | Custom Feroci's and Intruders |
Added Gameplay:
-
Marked Cars:
These are cars that when marked appear outside your house where the respawn until you unmark them (Note: They only respawn if you destroy the car or if you lose it). You're allowed one marked car per house.
-
Gun Shops:
There are two types of Gun Shop:
- Legal: These allow you to buy legal guns after you pass the shooting range challenge.
- Illegal: These allow you to buy Illegal and homemade weapons and parts for guns without needing to pass the shooting range, but they are more expensive.
- There are also hardware shops.
-
Mobile phone:
although it hasn at changed much, there are different types and you have the ability to save photos
-
Robberies:
There are three types of robbery: Ram-raiding, an ordinary robbery and a smash and grab.
- Ram-raiding is when you ram a car into the shop* and take whatever.
- And a smash and grab robbery when the objective is to take products from the shop window when you smash it **.
- And an ordinary robbery is similar to the one in Vice City except the type of shop depends on the wanted level:
Any kind of small-sized shop = **
Any kind of medium-sized shop (this includes small jewelry shops and betting shops) = ***
Any kind of large shop = ****
* = You need a car that has been modified for this, or a simple pick-up will do. After you can empty the shop
**= You need a handheld weapon of some sort. The items will be automatically transformed into money.
Car Modification:
San Andreas' car customization is back! Not a day goes by that I don't see a car that hasn't been modified in any way. Good for racing and your car can be imported to online racing. Combined with the marked car feature, you shouldn't feel the need to stock it at the back of your garage.
Modifications include:
- Performance parts - exhaust, engine, brakes, suspension
- Body Work - front/back bumper, hood, spoiler, sound system, side skirts, tinting, rims, neon, lights
- Decals/paint, set paintwork, or you can select the type of paint with the colour circle.
- Other - Armour plating, Bullet proof glass
- Motorbikes can now also be customised.
Pay 'N' Sprays
- You can now choose the colour of your car.
- You can also choose if you want just a repair.
Slashing tyres:
- This can be done with any knife.
Things to do
- Side Missions - Taxi Missions
- Random Encounters
- Tags
- Robberies
- Events - Comedy Club, Music Concerts, Theatre
- Pub Quiz
- Firearms Certificate (shooting range)
- Paintballing
- Go-Karting
- Playing football
Places to go
- Paintballing (non-lethal shooting)
- Go-Karting
- Football Stadiums
- Landmarks
- Comedy Club
- Pubs - includes drinking, darts and sometimes pool
- Music Venues
- Theatres
- Nightclubs
- Strip Clubs
- Takeaways - randomized between Kebabs, Fish and Chips, Pizza and Chicken.
- Main restaurants - Burger Shot, Cluckin' Bell, Garrys Bakers, Farmer's
Murders:
- Murders are simply ways of killing people without getting noticed. The radar will appear blue (like in SA) or dark-blue.
- Dark-blue means upon killing no-one will call the police.
- Blue means that the police will be called, but if you get out of a zone (will be marked) you will not receive a wanted level.
- This is effected by location, weapon and other ambiance (them screaming etc).
Grabbing:
- Pushing a button will grab a person (dead or alive).
- If they're alive, you have a certain amount of time before they break free.
- Beit dead or alive, you can put them in your car's boot, or you can move them out of sight.
Random Enounters:
-They can now lead to strands of missions (they don't effect the main story), this leads to extra bonus's.
Gang Friendliness:
- Starts as neutral for all gangs.
- As the game goes on
all
gangs will feature at some point (whether it be in a side mission or a story mission)
- As you complete missions your 'respect-o-meter' with the gangs will change.
- The order goes: [LIST]
•
Hated
- Will be attacked on sight
•
Untrusted
- Will be attacked if you pull out any weapon or if you harm anyone even if there's a police presence
•Neutral - Will be attacked if you kill a civilian or if you pulled out a gun with no police presence
•
Trusted
- Will help if you're getting mugged. Will only attack if you harm a gang member. Both will only happen with no police presence
•
Friendly
- Will help when there's police and mugging. Will only attack if you kill a gang member (obviously the member will retaliate if punched). They also know who you are.
Random attacks:
- These include muggings, attempted murders/assassinations and revenge strikes*
- You can also find others getting this, women can be seen getting attacked and thrown to the floor. When spotted the original attacker attacks you or runs. Whichever if he's gone the woman/man gives you a small amount of cash in return for your help.
*= Revenge kills happen when a gang member is killed, these only happen occasionally. However if you kill a higher ranking member (they ride in better cars and have bodyguards with good weapons), there DEFINATELY will be a hit on you.
Mail:
- By pushing L1 at your door you can pick up letters. These can contain anything, from hitman requests to blackmail.
Wanted System:
| | | | | |
| --- | --- | --- | --- | --- |
| Stars | Effects | Weapons Used | Vehicles Used | How to get this wanted level |
| * | One copper chasing you on foot, you will get fined but not busted | Baton | None | Fighting (with hands), hitting a police car, arson on a car (no one inside) |
| ** | A few coppers are after you, you will get busted | Stun guns, batons, Glock 17s | One normal police car (2 coppers, but both APO's) | Assault or murder (with melee weapon), fighting with a copper, robbery, burglary, armed whilst having a * |
| *** | Multiple coppers are after you, still can get busted. | Glocks, Benelli M3 Super 90 | 2 Police cars (2 coppers each), 1 Sultan Police car(2 coppers) | Killing with a gun (doesn't matter who), multiple killings with a melee weapon, robbery |
| **** | Lots of coppers are on you, even called out the chopper and the more heavy duty SO19's, it's shoot on sight from now on | Sultan police cars (2 coppers), Police vans with 5-6 coppers in them, 1 Helicopter, 1 News helicopter | MP5's, Benelli M3's | terrorism (car bombs, grenades etc), killing multiple coppers, killing lots of civilians, robbery |
| ***** | The police are pissed, bigger better weapons and vehicles are on the menu | Many SO19 vans that have been upgraded, many sultan cars, many Isuko's | Benelli M3, MP5, Glock, G3SG1 Sniper Rifle, G36. Snipers appear on roofs higher than you. | Killing lots of coppers, extreme terrorism (RPG's, excessive use of grenades) |
| ****** | Now the army are pissed, and now you're f*cked. | SO19 vans, 2 Hunters, many armoured Mesa's, Rhino's | All previous mentioned, however, the soldiers are more accurate and take better cover. | Essentially just causing carnage. |
Other notable Police:
- Plain Uniform officers, not a set presence, but if you cause trouble near them they'll arrest you.
- Riot Police, only present when there are riots.
The Weapons are:
Pistols:
Shotguns:
SMGs:
Assault:
Rifles:
Heavy:
Thrown:
Melee:
Glock 17* - Illegal
Desert Eagle - Illegal
Skorpion* - Illegal
Remington 870 - Legal
Sawn-Off Shotgun - Illegal
Benelli M3 - Illegal
Tec-9 - Illegal
Uzi - Illegal
MP5* - Illegal
AK47 - Illegal
G36 - Illegal
M4 Carbine* - Illegal

Karabiner 98 Kurz - Legal
PSG1 Sniper Rifle - Illegal
Drugunov Sniper Rifle - Illegal
Tear Gas - Illegal
Molotov cocktail - Illegal
Grenade - Illegal

Satchel Charge - Illegal
Flame Thrower - Illegal
RPG - Illegal
Minigun - Illegal
Screwdriver** - Hardware
Hammer - Hardware
Shovel - Hardware
Meat Cleaver - Hardware
Ice Pick** - Hardware
Knife** - Hardware
Cricket Bat - Hardware
Combat Knife** - Illegal
Chainsaw - Hardware
Notes:
- Satchel charges can be placed under cars
*= Can have suppressors on them
**= Can perform a stealth kill
Radios:Side MissionsRandom encounters (can lead to mission strands!)
- Pathos: He's finished promoting himself in LC and has now flown over the London to promote over the pond. He talks about Niko saving him.
- Bob: A Homeless drunk and crack addict, but they're ambushed by a gang, you kill them, the dealer's killed, Bob's now got loads of crack, and loads on money.
- Gangsta Crew/Packham Boyz/B.A.M: Both do the first mission with two people, leads to the same strand of mission against the L.M.D
Miscellaneous Missions:
- Taxi Missions
- Firefighter Missions
- Paramedic
- Alfred Wellington's Assassin Missions (after befriending)
- Rampages
- Illegal Street Racing
Story Missions:
-
Milton Bushwackers 'R' Us
-
A Nice Day For A Nice Blood-Shedding
-
Derby Day
-
Home Time
-
Shoot The Bastard
-
You're Fired!
Side Missions:
-
Dem Latbath Boyz
-
Pop 'em Where it 'urts
Please note that this thread is still under construction! And constructive comments and queries are welcomed with open arms!