[REL|SCR|2.0]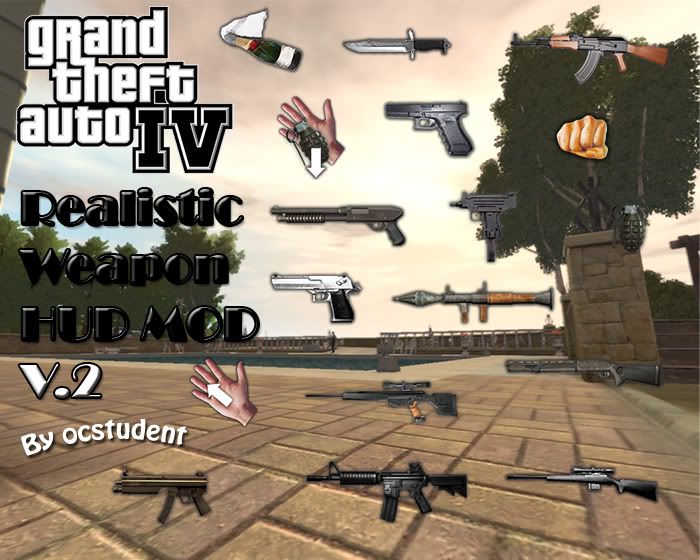 Realistic Weapon Hud V2
Replaces default weapon and fist icons with their real life counterparts.
To install use a program like SparkIV or OpenIV to open your yourgta4folder/pc/models/cdimages/weapons.img
Then import the huds into the desired weapons.
For the fist icons go to yougtafolder/game/textures and replace the fist icons with the ones from this mod.
Pwease comment and download
Screenies from ingame
The JPEG compression crapped the pictures up a bit but what you see on the promo picture is exactly what you see ingame. The bearded Niko is something that I'm soon to release.
________________________________________________________________________
I've been working on this for a long time and the quality of this mod, I think is way better than my previous versions.
Made for gtaforums. It replaces the ingame weapon huds with realistic weapons. Please comment and download. No stealing please. If you want to use this in a mod of yours contact me first. This has come out of beta stage and will be the final version if there aren't any problems.
Everything below here is old and outdated
_________________________________
Version 1.2 Fixes
NEW M40 SNIPER HUD
NEW MICRO UZI HUD
Version 1.1 Fixes
BETTER EDGE SMOOTHING - NO MORE WHITE EDGES
FIXED PROPORTIONS
NEW AND IMPROVED WEAPON LOOK
Please comment and download.