QUOTE (batik89 @ Dec 20 2009, 15:38)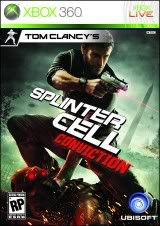 Is that the final boxart of Conviction? Or Ubisoft will change it before the game release?
I'll put this game into my next year's shopping cart along with Mafia II and Red Dead Redemption. I'm very curious about Fisher's story. Is Lambert still alive? What happen with 3rd Echelon? Etc. For the gameplay itself, no doubt.. I'm gonna consider this game as one of the best stealth-action game ever made.
I sure hope they change it to something more sleek-looking.
It just reminds me of those awful Mission Impossible posters. eeew.