For Immediate Release
Currently SJS has several of it's Agents on assignment
in an undisclosed location and are unavailable until further notice.

-----------------------------------------------------------------
WELCOME TO THE BLACWATER TRADE UNION
BTU is not a posse, but a union of both posses and individuals who share a standard of excellence.
Our goals include organizing members into a single union, working toward offering a place for those members to bring enthusiasm and creativity to their experience,
and promoting solidarity and co-operation in the fight to champion freedom. Our beliefs state: "An Injury to One is the Concern of All."

Our beliefs also state Blackwater Trade Union is on the right path to organizing members and serves for the justice of members' rights.
Three factors uniquely distinguish BTU from other unions: First, Blackwater Trade Union calls for the creation of a SINGLE union for skilled and un-skilled members alike.
This would strengthen members' individual skills and the union as a whole against all opposition. Second, the union takes care of it's own by watching after union interests when the appropriate representative isn't available. Third, the union's goal is to establish co-operative operations between individuals and posses as members of the union.
HISTORY
In the 1870s, the Butchers of Liberty City attempted to establish a union of their trade. This effort was met forcefully by the employers of the city, who frequently forced their employees to choose between the union and their jobs. In these circumstances, it was deemed best to dispense with typical open forms of organization and, using methods of secrecy, take their union underground.
The Blackwidow Unification Founders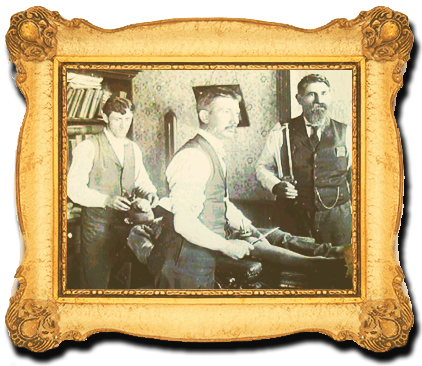 In December 1879, three members of the Liberty City Butcher's Union, Fredrick Graf, Thomas Duanes, and ***, moved south and established the underground union The Blackwidow Unification. The nature of the early organization is known only by the holders of the first permanent offices: President, Vice President, and Chief Officer. Until 1910, it was expressly forbidden to divulge even the name of the organization to non-members. One example, printed communications referred to the union as the " * * * of North America", with *** representing "BWU".
The secrecy of the organization made it the subject of an endless series of sensational and often ludicrous rumors, such as the press-reported "Criminal Cult Combination". Due to misrepresentations such as these, the union decided to go public in 1910 so that its attackers and accusers could be answered. 1911 marked the first national convention of the "Blackwater Trade Union", held in Blackwater. The union's principles, goals, and new name were, at long last, made public.
The Lead Organizers of the Union
(These positions are permanent and are not subject to votes)


Name

– Title –

XBL GT

/

PSN ID




NiallDavids

– President –

NiallDavids

/

NiallDavids




WizardOfTruth

– Vice President –

CrippledRuby




TBA

– Chief Representative - Sickrage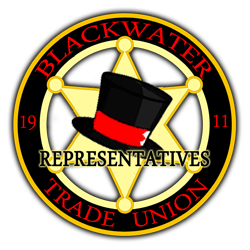 Responsible for designated areas and the well being of union members.


Name

– Area –

XBL GT

/

PSN ID




Tikkyiguana

– TBA –

TikkyIguana




Sickrage

– TBA -

TriCycle Tracy

These are union approved and supported individuals, businesses, and posses that are privileged to union benefits.


Name

–

Title / Posse

–

XBL GT

/

PSN ID




NiallDavids

-

Silver Skillet Café, Blackwater

–

NiallDavids

/

NiallDavids




Hedgimon

- The Brotherhood Of Redemption –

hedgimon




gameboybp

- The Brotherhood Of Redemption –

gameboybp




Strength

-

The Damned

-

ZG Strength




Timmobile

-

TBA

-

Timmobile


[/size]



Sigs n Avatars


(More soon)