English:
This is my Cleo Mod named "FIRE IN SF".It lets burn an old building near the old factory in doherty SF.Firefighters appear at the location go out and extinguish the fire.After they have done their work, they will enter their Firetruks and drive away.2 Police cars will block the road and drive away after the fire is extiguished.
Deutsch:
Dieser Mod lässt es in SF in einem Gebäude in der Nähe von der alten Fabrik in Doherty brennen.Die Feuerwehr erscheint sofort vor Ort.Die Polizei versperrt die Straße.Die Feuerwehrmänner steigen aus und löschen das Feuer.Anschließend steigen sie in ihre wagen und fahren weg.Die Polizei öffnet dann die Straßensperre.
Titel: Fire in SF Mod CLE
By: mapper08
Email:
[email protected]
Homepage: mapper08.blog.de
23.02.2009
Size: 0.99 MB
Download(mirror-GTAinside.de)
Download(mirror-GtaGarage)
Sceens: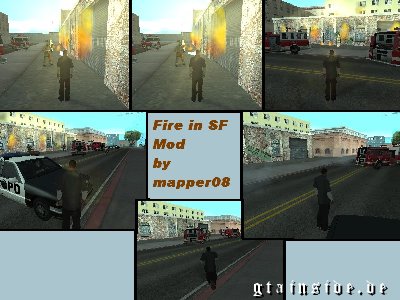 Edited by mapper08, 07 March 2009 - 12:28 PM.