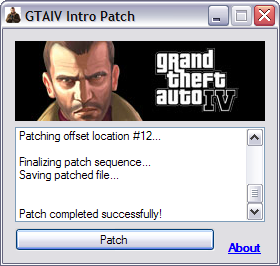 Ever get tired of reading the same messages and looking at the same intros when you start GTAIV? Well, now you don't have to look at them any longer. With this Intro patch, you can zoom right passed the intros and get to what you really want. It's real easy to use, just click Patch and let the program do the rest. If you don't have the game installed in the default location, you will have to locate it manually. There's really nothing to it, give it a shot!
NEW in v1.1:
I fixed the way it checks if the game has been patched. I also added a restore feature, if it's patched already, that allows you to remove the patch if needed.
NOTE:
Please make sure your game is moddable, by using my
Mod Assistant
or similar, before applying this patch.
You will need the Microsoft .NET Framework v3.5 installed in order for this program to run correctly.
http://www.microsoft...19-81da479ab0d7
Download:
http://www.sendspace.com/file/ea3vw5
Mirror #1:
http://www.gtagaming...a-iv/tools/1862
Mirror #2:
http://www.thegtapla...ile.php?id=3523