John Murphy and the female contact are dead, El Zilcho.
They're taken out. Although there was a third party member when I got there. I had not taken out the unknown individual, so I will leave it up to you.
SIGN IN DATABASE
Time has to be quick for an assassin. After a good nap I left my safehouse on a venture to Old Lady Shears, a good client of mine who gives a handful of profitable contracts every two weeks.
I gave her a mindful greeting, glancing over my back to check on anyone listening/looking in on the private alleyway meeting. She told me about a contract that would do well, but I told her that I would only be able to do it only after my first priority. I said goodbye, went inside the Banshee that I parked near the curb and pulled near the front of the Superstar Cafe.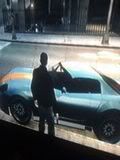 I walked inside and paced, eyeing any pair who may match the description. I traveled to the second floor knowing that the female and Murphy were not present on the first.
Immediately, a feet away was a nice, food-catered table. James Murphy and a female contact sat there, along with a blonde-haired and brown leather-jacketed man. James Murphy took a puff out of his cigarette and sneered as he made a rude remark when I approached the table.
I had verified the targets, along with the unknown third contact, who was not explained in the briefing; James Murphy: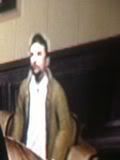 The Female Contact:
Unknown Third Subordinate: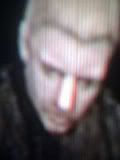 I pulled out my pistol and blasted a bullet inside the contact's head in order to stop her breathless shrieks, who cowered in fear over the table just seconds before. The loud resonating bullet brought terror into the people's hearts and a spate of blood from the victim's wound. She died on the spot. By the time I switched my aim to a shell-shocked Murphy, the unknown third man at the man dashed down the stairs. I brushed his escape, knowing that he did not concern my pay. Quickly I shot Murphy, I believe, in the head or the neck as he slumped in his seat.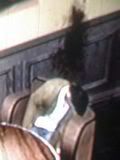 I believed he was dead from the moment I was checking the contact's corpse, but somehow he got up from his slump and lingered slowly and effortly down the stairs with a hunch; he pressed his hands against his stomach, even though I believed he was shot point-blank in the head. By the time I was done with checking the contact's corpse, he made it down and the police were notified of shots fired. I cooly walked down the stairs, knowing Murphy would not get far. Surprisingly instead of getting out, he stumbled towards the cafe's counter.
I reached inside my black leather jacket and shot Murphy a couple of times. Some of the bullets that bursted out of the chamber had struck the target, while some nearly missed. I walked up near Murphy to complete the hit, only to know that at the last second he gave his last breath and his sights of the world; stumbling and collapsing against the red stools. Success.
Hurriedly after a second's worth of celebration, I rushed out the door to my Banshee. As I reached for the door a cop on my left side held a gun toward me. Almost instinctively I aimed back, before controlling myself to learn the ways of an assassin and not gain such powerful and unneeded attention.
If I had gone into my car, I would of surely been arrested. Instead, I ran across the street and vaulted over a barred parking lot and stole a Calvacande. As I broke inside car, a stray bullet had struck me, damaging me. I quickly got out of the lot and had driven as far away as I can. I managed to escape in the end, and I returned back to my loft for a job-well-done rest.