Well... dont go psyco now coz its in Australia but this city believe it or not has the most crime in Australia. Specifically Northbridge. Taxi drivers dont wanna go there.
Besides look how good the city looks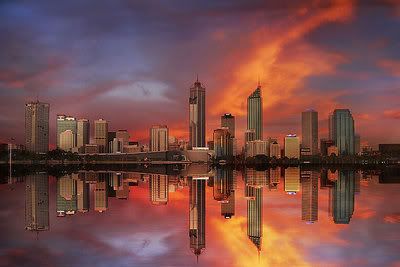 As at December 2004, Perth was the highest city for burglary in 2003.
In 2003 the prison population increased by 3.4% with a similar increase in 2004
Eric Cooke
Cooke was the central figure in several murders in Perth during 1963. After a crime spree he was captured later that year and confessed to the murder of five people and non-fatal shootings of three others. He also confessed to over 250 burglaries.
Cooke was the last person hanged in Western Australia on October 26, 1964.
In two related cases, John Button was accused of the murder of his girlfriend Rosemary Anderson and Darryl Beamish was accused of the murder of Jillian Brewer. Despite a last minute confession from Cooke prior to going to the gallows for the two murders, the two men were tried and convicted as police believed Cooke to be a notorious liar. After serving long sentences both men have only recently won pardons after their cases were reopened!
Shirley Finn
Shirley Finn was a flamboyant Perth brothel madam whose murdered body was found in her parked car in South Perth near Royal Perth Golf Club on June 23, 1975.
The murder remains unsolved, and it prompted a State Royal Commission into policing in the sex industry Commission of Inquiry to Inquire into Matters Surrounding the Administration of the Law Relating to Prostitution (1976). Thirty years after the murder, West Australian police re-opened a cold-case review of the murder.
Perth Mint Swindle
In 1982 a gold heist netted persons as yet unknown 68 kg of gold bars from the Perth Mint.
David and Catherine Birnie
A husband and wife team faced charges of abduction, rape, torture and murder of four women in suburban Perth during 1986. Both received life sentences in Western Australian prisons for their crimes.
In January 2000, acting Western Australian Attorney General, Kevin Prince, said that while the Birnies can be considered for parole in 2007, he thought they would never be released unless they became too frail or senile.
David Birnie hanged himself in his cell at Casuarina Prison on the morning of 7th October 2005. He was given an indigent's funeral at taxpayers expense after no one came forward to claim his body.
Claremont serial killings
In the 1990s two young women were murdered and a third disappeared in the area of Claremont, Western Australia. All three women disappeared from the same suburb in similar circumstances, leading police to believe an unidentified serial killer may be behind the crimes.
To date no-one has been charged with the murders of the women despite an intensive police investigation. Several suspects have been identified and are believed to be subject to ongoing police surveillance.
Ora Banda shooting and Don Hancock bombing
After retiring as head of the Perth CIB, Don Hancock purchased the tiny pub at Ora Banda, near Kalgoorlie. In October 2000 several members of the Gypsy Jokers motorcycle gang entered the pub and started to abuse the barmaid, who was Hancock's daughter, after which he threw them out. Later that night, one of the bikies, William Grierson, was shot dead as he sat around the campfire.
In September 2001, Hancock, returning from a Perth horse racing meeting with book-maker friend Lou Lewis drove into his driveway. A massive car bomb planted under the car at the race meeting, was remotely detonated and exploded, killing them both instantly.
Police believe that the bombing was a payback by motorcycle gang members for Grierson's murder.
If you watch the news in perth, the first thing you see everyday is a murder case
.......and also....Hieth Ledger is burried here