FOR ALL OF YOUR JAWS: SAN ANDREAS NEEDS PLEASE VISIT OUT MODDB, CLICK HERE!
VISIT ZAZ'S SITE FOR SOME AWESOME CLEO MODS!
The team is working on a mod for San Andreas, based on the JAWS movies. The banner is this.
The cover/box art is this.
New Poster:
Old Poster: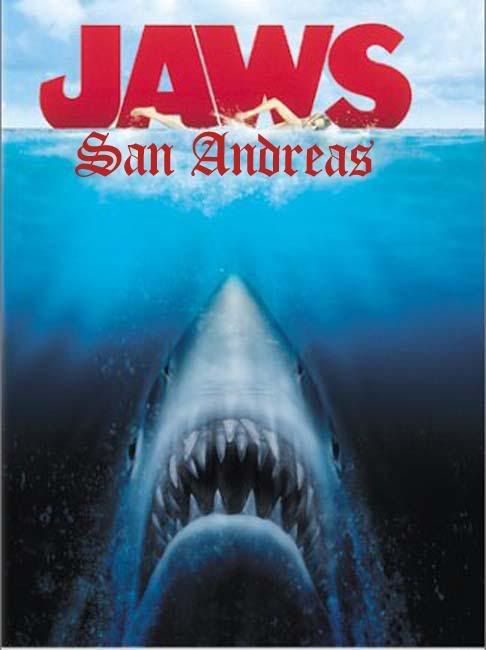 So... If people would like to see the mod

come to the forums and see the work:
JAWS: San Andreas Forums
Now the description of the mod.
Jaws: San Andreas will be a conversion mod being made for GTA: San Andreas. You will experience Jaws trying to kill, Missions based on the Movies. Boats from the movie such as the Orca play as Roy Schneider and many more. This mod will hopefully be released within the next 6 months. During that time we will need to get people to sign up for the mod.
The Team:
Mod Leader/Administration/Map Positioning/Radio DJ/Texture Artist: Doctor Emmett L. Brown
Mod Co-Leader/Coder/Sound Editor/Radio DJ/Administration/Texture Artist: FireUpTheDelorean
Coder/Mapper: Osaka
James227uk - Advanced Coding
The Grove - Character Modeling
Contributers:
Contributors:
Wesser (Coding Help)
Nokiaman (JAWS: San Andreas Banner)
ZAZ (Shark Attack Coding and Getting the JAWS mission together)
elanman (Telling us that we were featured in the 'PC Gaming' magazine, also helping me too decide on things for this mod!

)
Thank You all for your contributions!
Former Members:
K.I.T.T. (Co - Leader)
Kowahh (Vehicle Modeler)
Help Wanted!:
Vehicle Modeler
Videos:
JAWS: San Andreas Mission Opening Introduction:
JAWS: San Andreas 0.1a Preview: (No Mission)
First Video of JAWS: San Andreas: (BETA)
One Mission of JAWS: San Andreas: